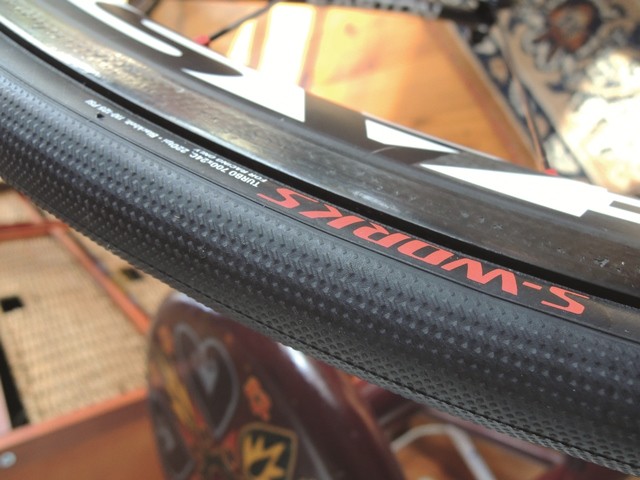 Specialized's Turbo range of tyres has been its rubber flagship for some years now. If you've wanted to race or ride fast on Specialized then a Turbo is what you would choose. The new S-Works clincher is in the same category but has had something of a makeover for 2013.
The driving force behind this new tyre is Specialized's new Rapid CLX clincher wheels, in particular the 60mm version. This model has a 24.4mm rim width so the Turbo 24c matches it perfectly. A lot of work on the aerodynamics of tyre widths has been going on for the past few years. The results have shown that a wider tyre combined with the correctly shaped rim can be more aero by changing the way secondary wind (where the air hits the bike after the wheel moves through it) hits the down tube. Consequently, many manufacturers are producing wider rim and tyre combos and that of course is what we have here. That's not to say that you can't ride these tyres on a 23mm rim, it's just that the combination above is, as far as Specialized are concerned, the perfect one.
It's noteworthy that Specialized claim that this tyre is faster and has less rolling resistance than their Turbo tubular tyre. Even more so when you see that this is a tyre with tread on it. During testing I found this tyre to be very fast. I don't know whether it's the fastest on the market, but certainly it is up to racing quality. Very much so.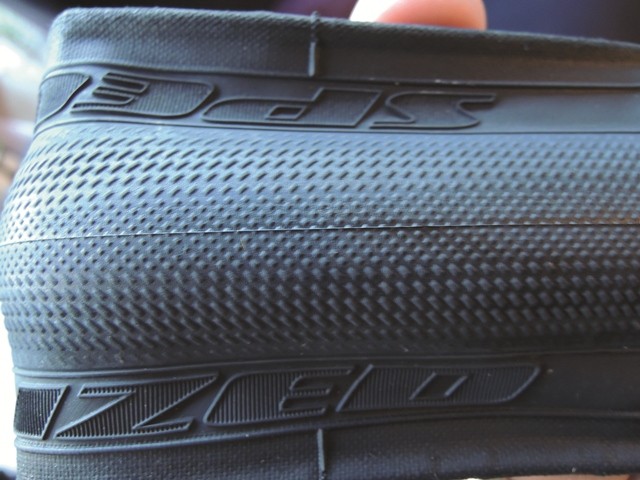 I also appreciated the Turbo 24c's grip on the road. Grip is a hard thing to measure in a tyre. My previous feeling was that a slick tyre has more grip than a treaded tyre because it provides a larger contact patch. The tread on the Turbo 24c however, is something quite different. As you can see from the picture it is completely minimalist, rising only a fraction from the main part of the rubber. Perhaps having such a tiny tread allows the tyre to grip without losing rolling resistance. Specialized have also made the profile of this tyre perfectly round for progressive cornering. I hate it when a tyre has a sharp transition from the centre to the sides. There's none of that here, just perfectly predictable progression as you lean into a corner. I also felt confident riding into corners with gravel wash-out and had no problem at all keeping the bike upright.
If I had one criticism, it lies in the weight. Two hundred and twenty grams is hardly heavy, but is still 50 grams heavier than some of the lighter race tyres on the market. That said, I suspect that these tyres will last longer and be less susceptible to punctures. And when you look at it like that, what's 100g?
We saw last year in the review of the BMC GF01, with its 28c tyres, that manufacturers are moving towards wider rims and tyres. We've also seen it with Zipp, HED and some others. If that's the case it's good to know that tyres like this will be available to keep us riding fast.
Price: $100
Distributed by Specialized
www.specialized.com