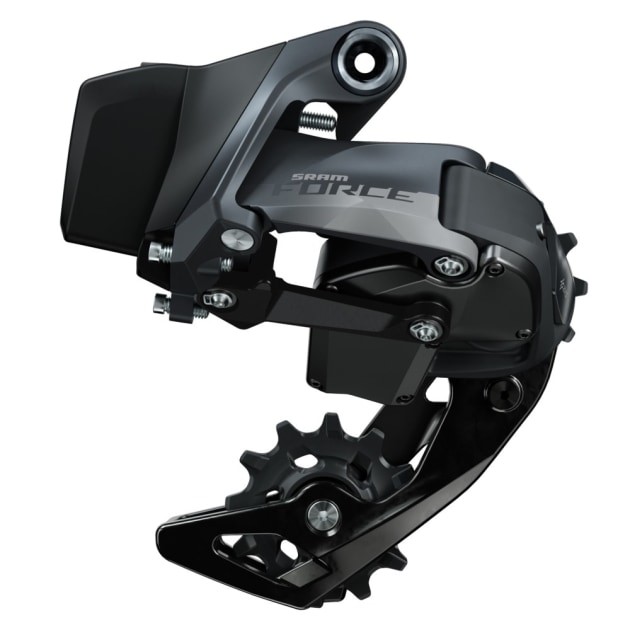 It's been long-rumoured and now is here – SRAM have released eTap in their mid-level Force groupset range.
SRAM say that Force eTap AXS offers the key features of RED eTap AXS – modern gearing, advanced chain management, and easy personalization – all in a more affordable package.
Key points are –
Groupsets include rear derailleur, front derailleur (unless you order 1x), controls, brake calipers, rotors (if applicable), crankset, bottom bracket, cassette, chain, battery(s), and charger
Groupset pricing varies based on brake type selection and 2x or 1x drivetrain selection
2x Hydraulic Road Disc Brake: Approx $3765AU
2x Rim Brake: Approx $3480AU
1x Hydraulic Road Disc Brake: Approx $3270AU
1x Rim Brake: Aprox $2900AU
SRAM Force eTAP AXS
Front Derailleur
The SRAM Force eTap AXS front derailleur is AXS enabled for easy personalization. The redesigned derailleur offers better rear-tire clearance—for those that explore all roads—and works perfectly with all chainring combinations.
Streamlined for more rear-tire clearance
SRAM Yaw trimless cage technology with an optimized cage profile for new SRAM RED front chainring combinations
Compatible with existing eTap batteries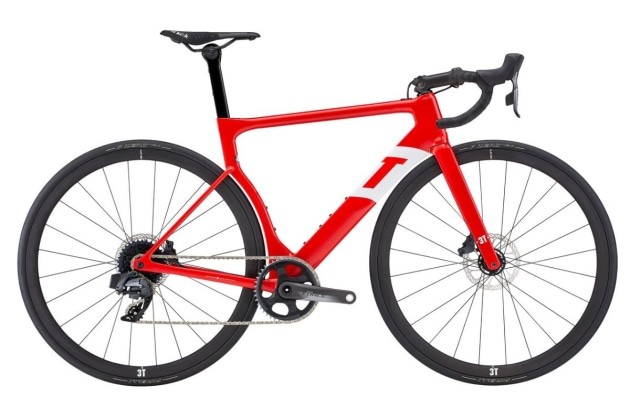 Rear Derailleur
One rear derailleur to rule them all, SRAM say the Force eTap AXS rear derailleur is designed for both 1x and 2x systems. It capitalizes on X-Range™ gearing technology for enhanced range and chain management and features larger pulleys for improved durability and efficiency. Strong, smooth, quiet and AXS™ enabled.
SRAM AXS enabled for easy personalization
Chain management technology keeps drivetrain quiet and secure
A single rear derailleur for all gearing combinations, including 1x and 2x
Larger pulleys and steel bearings for increased durability and efficiency
Compatible with existing eTap batteries
Chain
Beyond an incremental improvement. SRAM say the Flattop chain creates a lighter, quieter, stronger chain. Ride far, long and fast—this chain can go the distance.
Flattop technology enables a narrower chain with quieter operation and increased strength and durability
Hard Chrome plated inner link plates and rollers for reduced wear and prolonged life
Requires new Flattop PowerLock
Cassette
Designed for the next generation of drivetrains, SRAM say the Force XG-1270 cassette is optimized for electronic shifting and features X-Range™ gearing technology. Smooth, precise shifts, from 10T on up.
Features at least five one-tooth jumps for a smoother gear progression
10-tooth start helps provide a wider gearing range
Designed to work with an XDR™ driver body
MINI CLUSTER construction reduces weight and increases durability
Zipp wheels produced after April 2015 are XDR ready. This includes wheels with the following rear hubs: 176, 177, Super 9, and Cognition
Available in 10-26t, 10-28t, 10-33t
HRD Shift-Brake System
Wireless electronic shifting and hydraulic disc braking: the best of both worlds. SRAM claim their Force eTap AXS HRD shift-brake system integrates top technology into an efficient package and offers AXS for easy personalization.
AXS enabled for easy personalization
Simple and intuitive eTap shift logic
Award-winning HydroHC brake platform
Textured shift paddles and hoods for control and comfort
Personalize for your hands and preferences using Contact Point Adjustment and separate Reach Adjust
Bleeding Edge technology for easy and clean bleeds
Shift-Brake Lever
Combining the tradition of mechanical rim brakes and the precision and efficiency of modern electronic shifting, SRAM say their Force eTap AXS shift-brake levers are fully wireless and fully personalizable.
AXS enabled for easy personalization
Simple and intuitive eTap shift logic
Customizable fit with Reach Adjust
One port per side for Blips
Large SRAM eTap paddles provide positive controls for rider input
For use with mechanical rim brakes
Crankset
SRAm say that these days riders want more range and closer steps between gears—and that's the driving design principle of the SRAM Force crankset. It offers smaller chainrings with a consistent 13-tooth gap between size variants, delivering smooth, accurate and dependable shifting for the modern rider.
X-Range gearing technology gives you more range and a smoother gear progression, so you're always in the right gear
Crisp and accurate front shifts
DUB bottom bracket adds durability and simplicity
Can be upgraded to a power meter
Available in 48/35t and 46/33t
Crankset
SRAM say the Force 1 crankset is now lighter, stronger and simpler—non-aero chainrings can now be installed with a single tool.
Single-ring drivetrain simplifies functionality and reduces weight.
36-46t chainrings can be installed with a single tool, making gearing changes a breeze.
SRAM X-SYNC wide-tooth, narrow-tooth chainring technology provides maximum chain control.
Can be upgraded to a power meter
Power Meter Spider
Existing SRAM eTap AXS cranksets can be upgrader to include a power meter with this spider, featuring Quarq DZero technology.
AXS enabled for easy monitoring and firmware upgrades
Bluetooth Low Energy and ANT+ compatible
Power readings are accurate within +/-1.5% and aren't affected by climate conditions during a ride
Measures right and left leg power balance
Uses a CR2032 battery that last for 200 riding hours and changes without tools
Power-upgrade compatible with the following RED® and Force eTap AXS cranksets: RED 1x: 36-46t, Force 1x: 36-46t,
Force 2x: 46/33t, 43/58t
Power-upgrade compatible with the following RED and Force eTap AXS cranksets: RED 1x: 36-46t, Force 1x: 36-46t, Force 2x: 48/35t, 46/33t