It's one of the highest, longest climbs in Australia – Karen Forman climbs the iconic Charlotte Pass.
The climb to the iconic NSW ski resort of Charlotte Pass begins as soon as you leave whichever Jindabyne coffee shop from which you decide to start.
It's a a relentless, continual climb that will take you from an altitude of 910m to 1,841m, with very few opportunities to stop pedalling along the 42km route. However, the road surface is so smooth, the scenery so beautiful and the wildlife so abundant that you will probably be too enthralled at your surrounds to be too concerned about the constant ache in your quadriceps.
If you choose to undertake your ride into Kosciuszko National Park just after the Australian ski season officially ends on the October long weekend, the sight of snow still built up on the sides of the road is sure to have you feeling like you are riding a stage of the Giro d'Italia.
It's a feeling members of the local Jindabyne Cycling Club know all too well. Each year, when the National Parks and Wildlife Service opens the road at Perisher, riders and visitors retrieve their bikes from the garage and embark on the Clearing of the Snow Ride.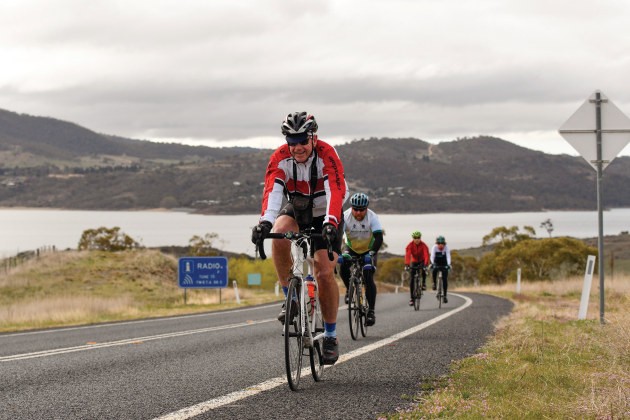 As Bicycling Australia discovered, joining 40-odd men and women for the 2018 edition, there's nothing quite like this climb anywhere in Australia. Without a doubt, the most scenic months would be October and November while there is still some snow on the higher levels. The road can get busy over the Christmas and New Year period when mountain bikers and hikers descend to ride or walk the historic 9km gravel road from Charlotte Pass to the summit of Australia's highest peak, Mt Kosciuszko (2,228m).
With an average gradient of 2.9% and a top gradient of 7.4%, the ride to Charlotte Pass will give you a solid workout, a chance to experience the Australian Alps and the delights of Kosciuszko National Park and a history lesson.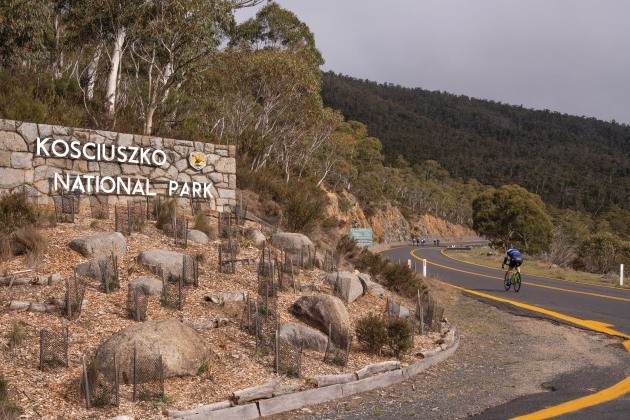 Getting there
Jindabyne is the ideal place from which to start your ride. It is a five-hour drive from Sydney, two-hour drive from Canberra or an hour-long drive from Cooma airport. Jindabyne offers a large number of hotels, motels, holiday rentals, all manner of eateries and stunning views of Lake Jindabyne, created in the 1960s when the Snowy River was dammed as part of the Snowy Mountains Scheme. The local cycling club is proud to show off its alpine backyard, warmly welcoming visiting riders on its regular Sunday training ride and the Wednesday night 100-lapper at the Jindabyne Sport and Recreation Centre velodrome.
When leaving Jindabyne for Charlotte Pass, be sure to pack some snacks, cash and an extra water bottle. It's worth remembering alpine conditions can change without warning, so check the forecast before you leave, and be prepared for wind, rain and snow even into December.
Jindy to Perisher
Follow the signs to Perisher as you head west out of Jindabyne. Be mindful of the left turn on Alpine Way towards Thredbo (and another iconic Australian climb, Dead Horse Gap) on the newly created second lane opposite the last fuel stop/café and caravan park 1.8km from the town boundary.
Welcome to a false flat that will warm your legs up nicely – but don't be surprised if a headwind kicks up. Five kilometres into your journey you will pass the NSW Government's Gaden Trout Hatchery. There's a chance for a stretch out with a 1km downhill to the Thredbo River. Here, the lines on the road turn from white to yellow and the National Park (and hard work) begins.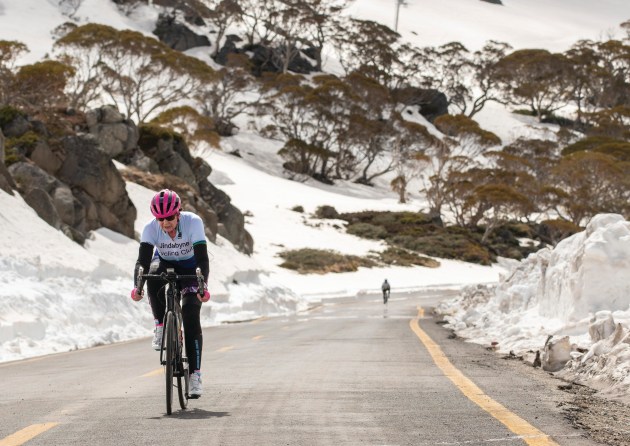 Look around and you will see kangaroos, wallabies, deer, wombats, perhaps a snake. By the time you reach the ranger station at 12.6km, you will have been climbing steadily for 4.5km.
In October, wattles bloom among the gum trees as you reach 1,255 metres elevation and Sawpit Creek. Twenty-five km to go and the road gets steeper again as you hit one of the longest, steepest sections.
After Wilsons Valley you will see the old police station on the right and enjoy a small break from pedalling before you climb to Rennix Walk. Here you will get your first unhindered view of the Great Dividing Range, still snowcapped on the day we did the ride. Stop for a photo!
The local cycling club is proud to show off its alpine backyard…
Pass the turnoff to Guthega ski resort and there is a glorious downhill to the historic Sponars Chalet. From Diggers Creek, there is a steep punchy section taking you up to Dainers Gap and some more stunning views at 1,650 metres. Your reward for all the climbing comes with a fast 1.5km downhill section to Wragges Creek; then you are climbing again to Prussian Creek, 27.7km into your ride.
Soon, the Perisher chairlifts will come into view. Cross over Pipers Creek and climb some more to Smiggin Holes, glance at the ski runs on the right then continue uphill and then downhill to Perisher Snow Resort.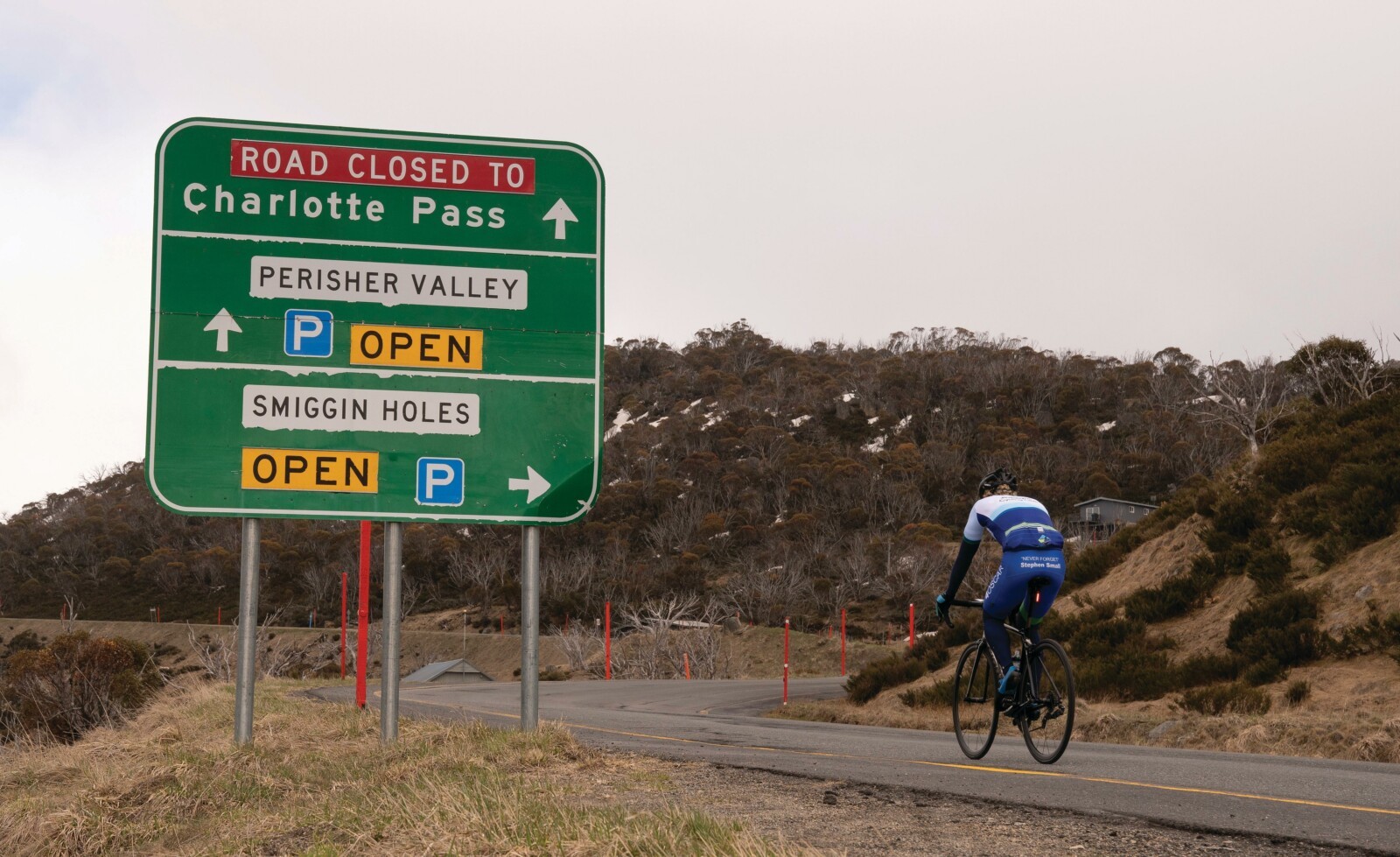 Beyond Perisher
If you need a bathroom visit, stop at the Ski Tube Terminal. There is unlikely to be any food outlets open, but you will find an ATM to grab some cash for Eyre Café on the way down.
Kosciuszko National Park has more than 200 species of alpine flowering plants and provides important habitat to nationally endangered species. Ancient snow gums, twisted and stunted from the blasting effects of wind, snow and ice, mix with alpine ash and fragrant alpine mint bush. Above the treeline only heath, snow grass and the hardiest plants face the cold.
You only have 10km to go to the summit! The climbing continues but eases considerably as you ride past Perisher's Centre Valley at 1,790 metres. When you hit Betts Creek, you get a downhill reprieve with 5km to go and then another great photo spot at Spencers Creek (1,730m) where on the day of our ride snow up to a metre deep blanked the edges of the road.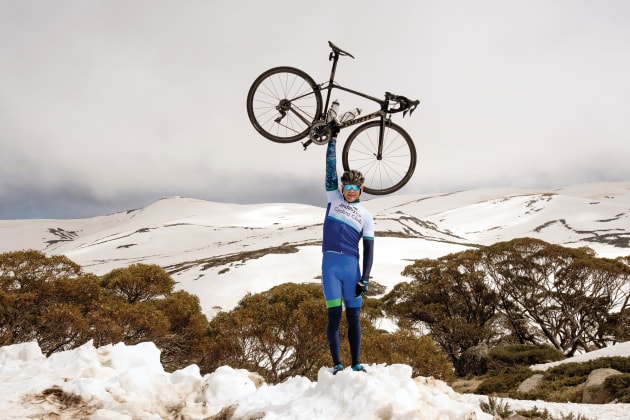 A sign welcoming you to Charlotte Pass – 'The Highest Ski Resort in Australia' – gives you a choice to turn left into the historic village or continue straight ahead. Watch for parked cars lining the sides of the road as you enter your final Strava segment, Lot 6 Kosciuszko Rd Climb, which at 5.9 per cent brings you to the 'circle'.
You have arrived and will see stunning 360-degree views including Mt Kosciuszko and the option of a 9km walk to the summit.
Then, get set for a fun trip back down again – but be prepared for a couple of challenging climbs before you can enjoy a fun and fast downhill run into Jindabyne. 
Want a local's advice? Visit 
www.jindabynecycling.com.au
Fast Facts
Longest segment – Thredbo River to Perisher
3.5%, 23.1km, 819m ascent
KOM – Daniel Molyneux 
January 2015
50min 30sec
QOM – Lucy Bechtel 
November 2015
1hour 3min 38sec
Final segment – Final Ascent of Charlottes
0.5%, 6.3km, 
105m ascent
KOM – Pin Gu
january 2016
9min 1sec
QOM – Emma Heath 
January 2018
11min 27sec