As the name suggests, the Bont Vaypor T is based on their popular Vaypor shoe. This version, made especially for the boards, boasts hand made monocoque, unidirectional carbon and a single buckle, lace up combination that is pure track. Just like the Zero's that carried Bradley Wiggins to victory in the Tour, they can be fully heat moulded and have just a 3.6mm stack height.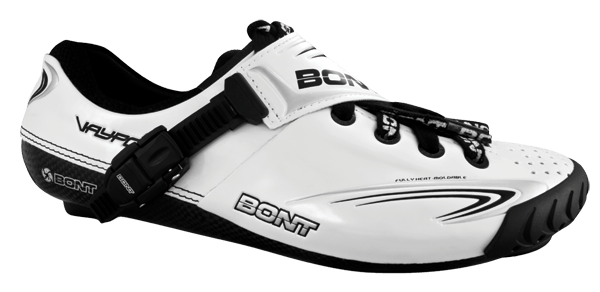 As with all Bont shoes the forefoot is wider to prevent compression of the nerves between the metatarsals, which often results in the common "hot foot" sensation. Bont say a wider, more relaxed foot allows more pedalling force to be spread across the width of the foot. Similarly, the medial longitudinal arch support prevents pronation, a major cause of knee injury and helps keep your knee tracking straight.
The Vaypor T is available in four colours; white, black, lime green and neon yellow. They also come in standard, wide, narrow and full custom widths.
Price: $ 399
Distributed by: GKA Sports Distribution
Ph: (03) 9308 8000
www.bont.com