Merida's latest high end race bike, the Scultura Evo SL, combines those elements you think of first when talking 'bike' at the cafe. It's light, stiff, comfortable, responsive and looks great. Oh and did I mention it's light? Really light! When the courier (girlfriend) rocked up with the Scultura in the back of the car from the Bicycling Australia office, I met her in the garage and couldn't get the bike out quick enough. Everyone loves a new toy to play with don't they? Lifting the bike, I nearly threw my shoulders out as the required force to lift this lightweight machine was way less than I put in.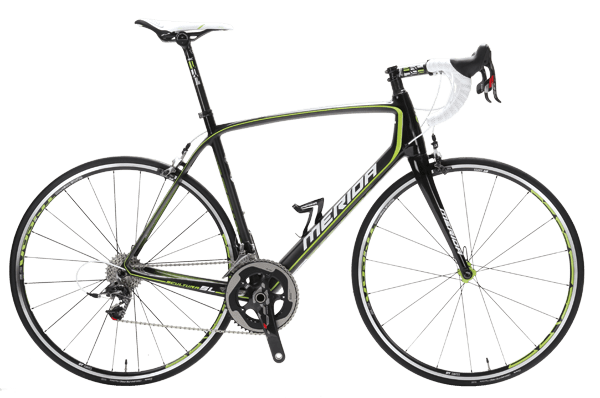 I did a double take, checking the car to see if I only had part of the bike. I couldn't believe how light it was, so I bolted into the house, sidestepping comments such as, "Why do you have another new bike to ride? I only have one bike, why do you get to have so many?" to put it on the scales.
The Merida comes with the new SRAM Red 2012 as its running gear. I added Shimano Ultegra pedals, a Garmin 500 with cadence sensor and a second bidon cage and whacked it on the scales to see the tiny figure of 6.4kg blinking at me. Still 400g under the UCI weight limit for racing. Merida list the frame weight in their spec sheet at 844g including the seat clamp, derailleur hanger and headset cups. The complete frameset with forks weighs in at 1,290g which in anyone's books is a lightweight frame.
Aesthetically, this bike looks really good. Merida (along with everyone else mind you) have gone for the black frame with a minimalistic addition of colouring. Naturally, they have used their official green colour as a nicely flowing line around the frame, including the rear stays, which gives it the appearance of pushing forward. I like it. What confuses me though is the black part of the frame. At the front of the bike under the headset and running along the underneath of the bottom tube into the bottom bracket, the bike is gloss black. Basically, the 'inner' part of the frame is a matt black, which gives you the impression they either couldn't make up their minds, or ran out of gloss before putting the bike into the market. Personally I think an all matt option or all gloss would have been better, but it's open to opinion.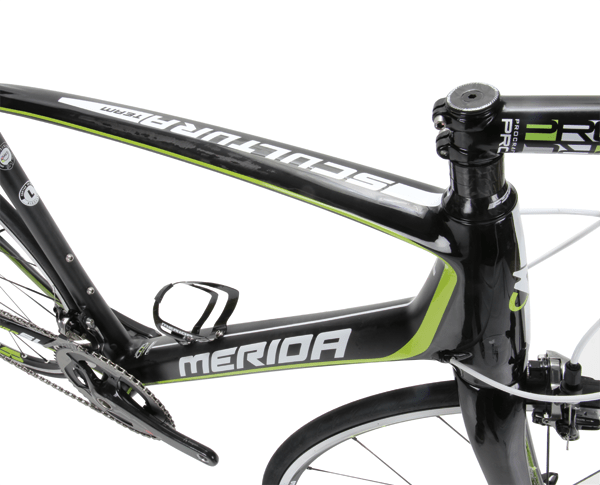 What Merida knew perfectly well and implemented into this bike was the required stiffness. Every pedal stroke I took on this bike drove me forward with a hunger to go further and faster than I have experienced on other bikes. The propulsion was immediate and rewarding. The handling was precise and responsive. It didn't matter whether I was climbing a hill seated or out of the saddle, or in the pack rolling around trying to get to warp speed (most likely getting dropped). Every slight change in direction, lean, cadence, pace etc, was immediately felt and superbly executed by this bike.
The 86mm wide bottom bracket, using the BB386EVO standard, is very stiff. By using this technology Merida say they were able to get their R&D guys and tech heads to add an extra cross sectional area in the down tube and chainstays, giving extra rigidity and a direct transfer of power and it certainly felt so. The chainstays are also very short, only 400mm instead of the normal 410mm, and this aids in the steering performance, creating an aggressive handling feel which I thought was fantastic.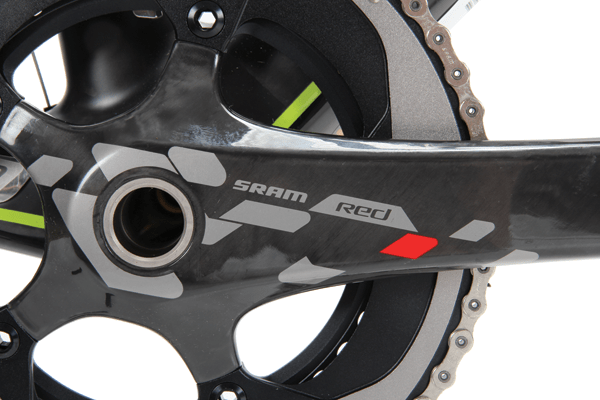 So, all these high end performance features and the Scultura's crazy light weight must make it pretty uncomfortable to ride for a long time, right? Wrong! Not only did this bike really perform at a high level and would be fantastic on the race circuit, but it is extremely comfortable to boot. Again, we can thank the tech heads at Merida for this. It's not new technology from Merida and I know it's their job to come up with all this stuff, but combining their use of 'Flex Stays' with their high performance technology has really worked to make a comfortable ride. The seatstays basically flex vertically, oh so slightly and this is the first part of the comfort plan.
The second part of this plan is new technology and they are calling it 'Bio Fiber Damping Compound'. What is it really? It's flax! What's flax? Flax is a combination of layers of compound within the top and bottom edges of the chainstays and front and rear edges of the seatstays, which they say dampens the vibrations that normally travel up the bike frame and into your body through the saddle. Less vibration equals more comfort. More comfort equals less fatigue. Less fatigue equals higher performance. Higher performance equals quicker times. Quicker times equal better results and that all leads to larger bragging rights.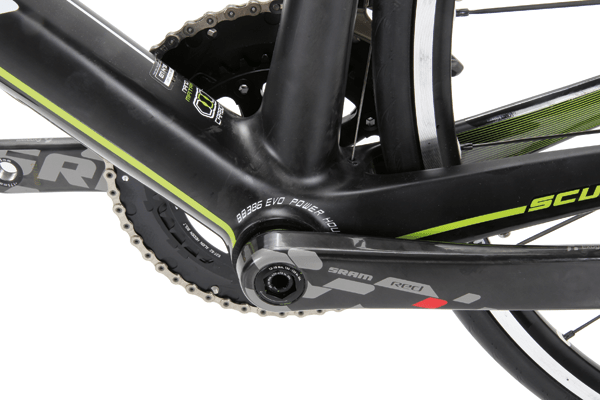 SRAM Red 2012 has been reviewed for you here in Bicycling Australia before, (July/August issue 2012) so I won't go into it much at all. The bike I tested came with the new SRAM Red which for the main part was smooth, and gear changes were made without any dramas. For those who prefer to run Shimano Di2 on their bikes, Merida have included in their design on this bike a universal internal cable routing system which works perfectly for both mechanical and electronic shifting. So you can buy the frame from your dealer and have him build it up with Di2 if that's your fancy. The Di2 battery would sit snugly underneath the bottom bracket, making battery charging an easy exercise.
Moving to components, the DT Swiss 1450 Tricon wheelset certainly looks the part. Clearly custom coloured with the Merida green on black to match the overall colour scheme of the bike, they look great. They rolled well and coming in at 1497g fitted in perfectly with the lightweight concept of the Scultura EVO itself, particularly considering they are aluminium road wheels. They offer tubeless rim technology and hubs with a ratchet system. They have bladed, straight pull spokes, which apparently create a high tension wheel which is stiffer and more responsive. Just like the concept of this frame. The only issue I had with these on the second ride I went out on was this annoying ticking sound which had my mates asking what was wrong with the bike. A quick once-over and a tighten of a spoke solved this problem. Had the crappy, bumpy roads loosened a spoke or where they not finished in the factory properly? I don't know, but it was a minor issue and solved pretty quickly.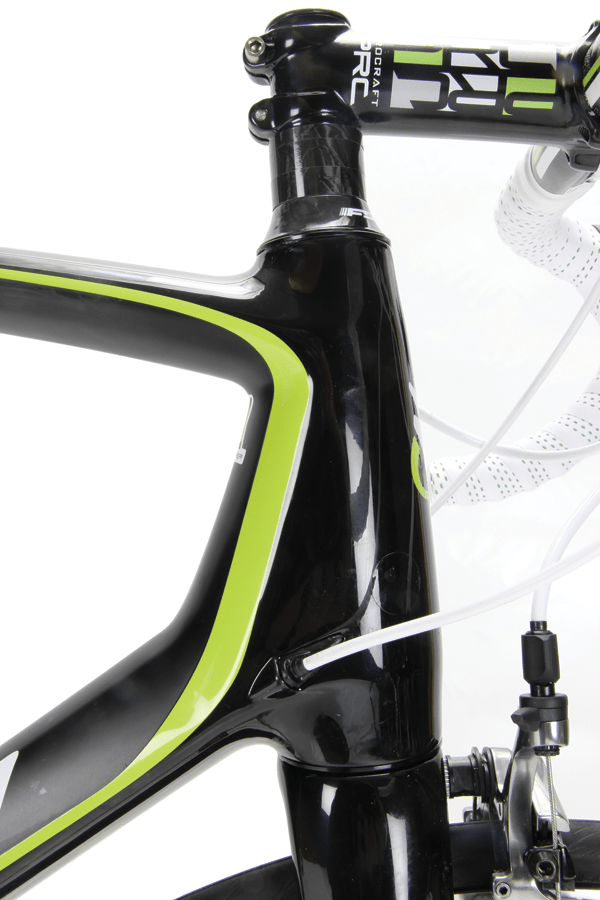 The Selle Italia SLR seat which comes standard on this bike is extremely comfortable. I mean, how could it not be? Most things Italian that you can sit on or in usually evoke feelings of comfort, and this seat is no different. Again, the seat has been custom coloured with Merida's green running throughout the mainly white seat. Which, I might add, complements the white/green custom-taped bars and white cabling.
The FSA K-Force bars, yet again colour matched with a streak of the Merida green, like every other part of the build on this bike, work perfectly well. They do exactly what they are meant to do and the angle of the drops felt good. I didn't like the way the bars angled out away from the bike though, which, coupled with the SRAM Red shifter/brakes, that also angle away from the bike, made me feel like my arms were both being dragged away from my body when sitting up with my hands on the shifters. Is it a major problem? Of course not. A simple replacement option at time of build with an angle that suited me personally would obviously overcome this issue. However, you might love this feel, plenty of riders do.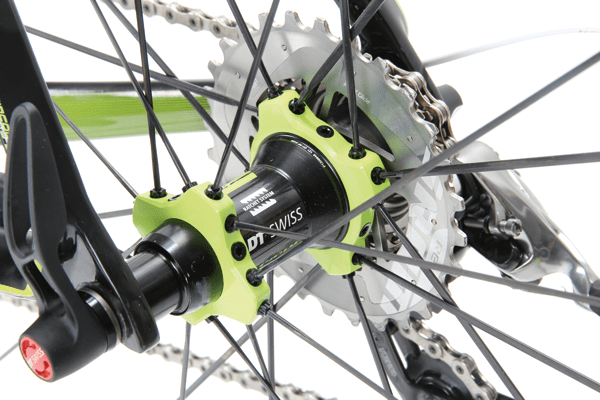 Another insignificant issue I encountered was the Merida bidon cage. Clearly this is nothing that would stop me from buying this bike. Just a little something that annoyed me every time I rode, yet simple to replace and solve the problem. I get that they were trying to minimise weight in their carbon bidon. However, I'm pretty sure an extra millimetre or two in the circumference of the bidon opening wouldn't go astray. Every time I took a drink, no matter, what type of bidon I was using, I had to fight to get it back into the cage. The FSA cage I added to the bike in comparison allowed the bidon to slide in effortlessly yet still held the bidon in place without rattling around.
I keep glancing around my office at this latest offering from Merida and can't help but smile. We had fun together. Bonded even, and I'm not looking forward to returning it. In the pursuit of giving the cycling world a high-end, lightweight racing bike, I think Merida have come up with the goods. The Scultura EVO is definitely a great looking bike and with all the colour matched build parts from other industry leaders it looks like a pro itself. So much so that Team Lampre will be using this frame for the 2013 season. It's so light, yet maintains a stiffness you would expect from something much heavier. The performance feels 'race' with every turn of the crank delivering. The responsiveness is fantastic. I had a few minor concerns with aspects of the bike build, but nothing to do with the frameset and the issues I had were with personal preference, nothing bad.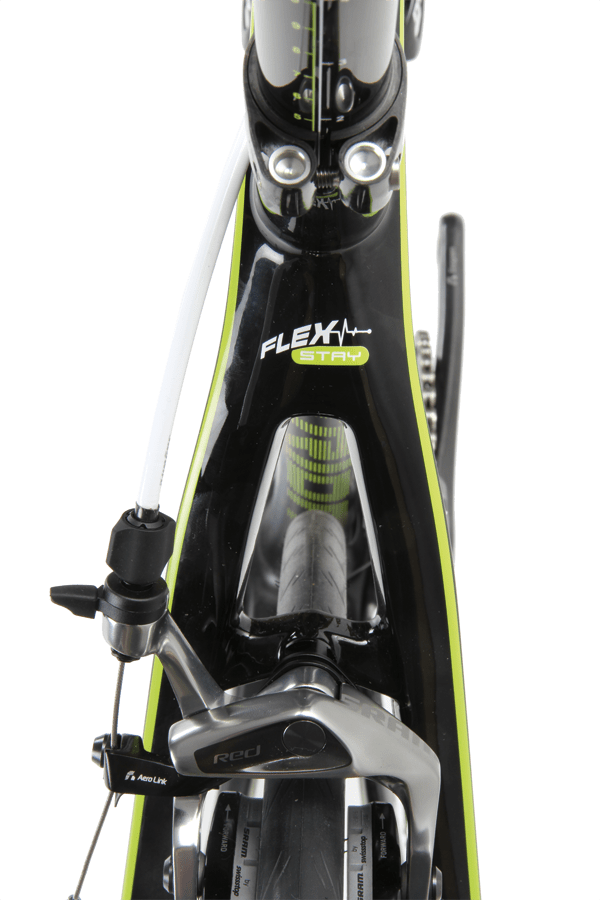 Would I buy this bike? Damn straight I would! With a retail price of $6,699 its great value for money. You're able to get a really high performance bike for under $7,000. Personally I'd make a few changes which would push the price slightly higher, but whatever way you look at it, this is a bike I'd be proud to train on, race and even stand beside at the coffee shop telling everyone to look at my ride.
Summing Up
Quality
This is a quality bike. It is Merida's top of the line race bike for a good reason. The carbon is high end, the build options are high end, it performs just as you want it to and looks great. It's also one of the most comfortable bikes I've ridden.
Performance
This bike rides exceptionally and I can't see anyone complaining about how well it performs. It feels aggressive, like it wants to chew up the road you're on and spit it out behind you. It's stiff, and the stiffness allows it to be very responsive. You are going to want to race this one.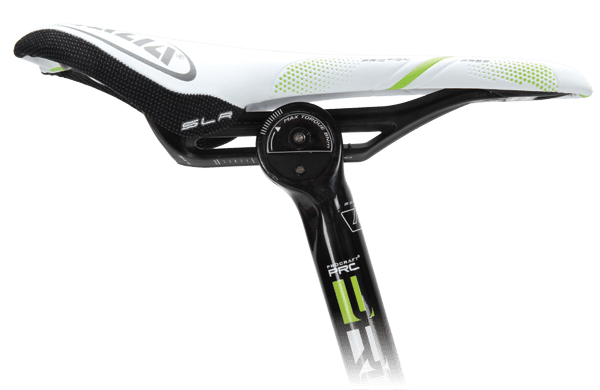 Value for Money
For just under $6,700 you can own a high performance, lightweight machine used by a pro team, built up with high quality components. That is the definition of value for money. Personally I'd change a few things, which would increase the cost, but even so, you would still not come close to the scary $10K mark.
Overall
I'd buy this bike at the drop of a hat. I've ridden other bikes I've been happy to hand back to their owners to get on my trusty steed. The Merida Scultura EVO could become my trusty steed. Its lightweight, high performance, great looking design ticks the boxes for me. The stiffness, responsiveness and aggressive nature of this bike make it a great race bike. The comfort makes it a great bike to train on for half a day. Added together, you have something you can't wait to wake up to and burn around the streets on.
Specifications
Frame: Scultura Superlite BB386
Fork: BC CF Superlite -S Taper
Head Set: Procraft PRC
Stem: FSA
Handlebars: FSA K-Force Ergo OS
Saddle: Selle Italia SLR
Seatpost: Procraft PRC
Shift Levers: SRAM Red
Brakes: SRAM Red Carbon
Front Derailleur: SRAM Red
Rear Derailleur: SRAM Red
Cassette: SRAM Red 11/28
Crank: SRAM Red
Bottom Bracket: BB386EVO
Wheels: DT Swiss RR1450 Tricon
Tyres: Vitoria Diamante Pro Radiale
Bidon Cage: Merida Carbon
Price: $6,699
Distributed by Advance Traders
www.advancetraders.com.au