With memories of the tumultuous 2017 Tour de France still fresh in the minds of many, organisers have announced the route for the 2018 edition, the 105th running of the world's greatest race.
A touch over 3,300 kilometres in distance, the 2018 Tour is among the shortest of the 21st Century with race director Christian Prudhomme clearly continuing the theme of shorter, more intense and more combative racing.
"We especially wanted to emphasise stage variety and the routes that may prove decisive," Prudhomme said at a gala launch in Paris amid a crowd of 4500.
"(This will be done by) combining legendary climbs with brand new ascensions or ultra-dynamic formats, to provide a vision of modern and inspired cycling," he continued.
The 2018 Tour will start in the Vendée department and Pays de Loire region on Saturday July 7, a week later than usual. It will finish at dusk in Paris on Sunday July 29, concluding with the hugely popular final circuits of the Champs-Elysees.
2018 Tour – The Stages
8 Flat stages
5 Hilly stages
6 Mountain stages and 3 altitude finishes (La Rosière, Alpe d'Huez, Saint-Lary-Soulan col de Portet)
1 individual time-trial – 31km
1 Team time-trial – 35km
2 Rest days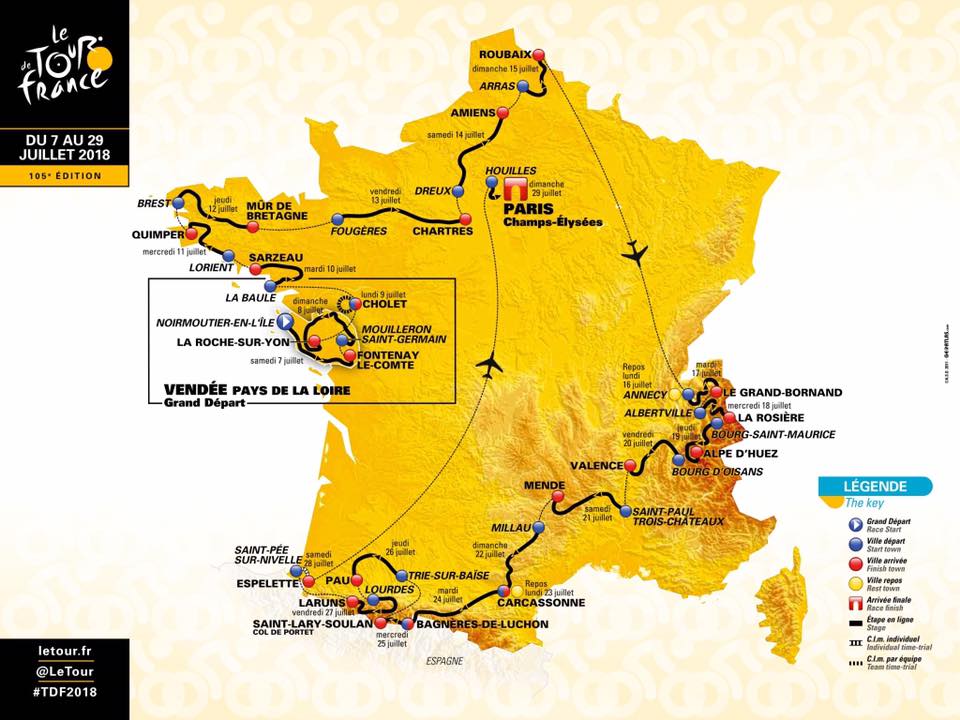 Organisers said the innovations planned for the 105th edition "might inspire boldness among the most daring riders in the pack", which will be reduced to 176 after the UCI issued a directive to limit teams to 8 riders.
La Course Back To Just 1-Day
The 2018 edition of the women's event, La Course, has returned to just one day of racing. This will be held on Stage 10 of the mens race, the women covering 118km from Lake Annecy to Le Grand Bornand.
2018 Tour De France: Three Standout Stages
Covering 154km, Stage 9 of the 2018 Tour de France finishes in the town of Roubaix but not before riders cover 15 sectors and just under 22km of pave. Finishing outside the Roubaix velodrome, this is sure to be one of the cycling highlights of the year.
Stage 12 will undoubtedly be the 'Queen stage' of the race. With a total of 5,000 metres of climbing, the 175km stage concludes at the top of Alpe d'Huez.
Stage 17, at just 65km, is one of the shortest Tour stages in decades but that's not to say it will be easy. More than half the stage is uphill and it culminates at Col de Portet after a 16km, 8.7 per cent final climb.