For a bike trail of salty winds, hidden wildlife and delicious cafés, Marie Barbieri pedals Adelaide's magnificent metropolitan coastline.
When picturing the South Australian coastline, you might automatically think of the wild, surf-bashed Fleurieu Peninsula or isolated cliff-tops inhospitable to those on two wheels. But don't pack away that helmet yet. Adelaideans are fiercely proud of their bike-magnet metropolitan beaches and with good reason. Cycling is amongst the most popular activities along Adelaide's shores, with serious routes for thehard-core cyclist and snaking boardwalks over unspoilt sand dunes for leisure cruisers. Overlooking gulf St Vincent is a natural paradise suitable for all abilities and it'll cost you little more than calories to join the people who have already discovered its beauty.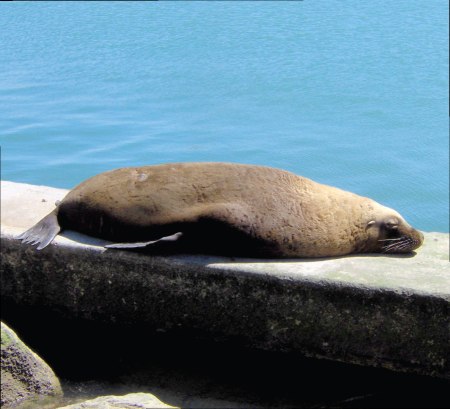 Beachside Bliss
Adelaide's Coast Park is a ground-breaking project and the first of its kind in South Australia. Upon completion, it will be a 70km uninterrupted linear trail that hugs the metropolis from Sellicks Beach in the south to Outer Harbor in the north. The 30km section from Brighton beach to Outer Harbor, the most popular for all cycling abilities, consists of sealed foot and bike paths interspersed with on-road cycling. The ride journeys through an exquisite tapestry of natural habitats where wild birds and reptiles (such as the coastal bearded dragon and venomous brown snake) make their home. Dotted along the way are BBQ/picnic areas, landscaped lawns, benches, drinking fountains, public showers, educational plaques and expansive dune systems undergoing continual plant regeneration.
Brighton to Glenelg
To train for Adonis-shaped thighs, you should start your ride at charming Brighton. Bistros buzz on quaint Jetty Road and the smells of breakfast will entice you into one of its bohemian cafés. At A Café Etc, wallpapered in authentic Marilyn Monroe memorabilia, you'll find many fellow cyclists kicking back at alfresco tables. Join the beach turning right onto Esplanade. This strip boasts some of Adelaide's most expensive real estate, with rows of old-time cottages squatting humbly between state of the art penthouses and glass-fronted mansions. At the end of the Esplanade and after a small section of sealed beach path, follow the bike sign turning right onto Gladstone Road to bypass the protected and expansive Minda Dunes. Some of the indigenous vegetation prior to European settlement remains within this precious dune reserve, which is best admired on foot from the beach. Turn left onto King George Avenue, and cycle anticlockwise around Minda's perimeter returning back to the beach via Repton Road. At its end, Somerton Beach Café will hail you over to its beachfront tables. Elevated above the dunes, this pit stop has to be amongst the best positioned on the coast. If you don't end up 'derailed' here, continue riding along the coastline. When the road turns right onto Broadway, continue straight ahead onto the shared path. The Broadway Kiosk can be a problematic spot. Its wafting aromas will send you wobbly on your wheels as they seduce you in to sample some of the delicacies inside.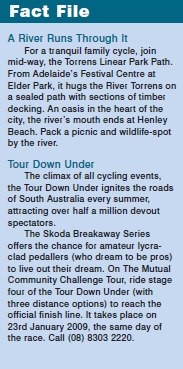 Weaving along the beachfront path, you'll soon arrive at historic Glenelg. This is the site where the European settlers of 1836 (and first official immigrants) established themselves on mainland South Australia. If you have the time, slip inside Glenelg's ornate town hall. Stealing the photographic limelight, it houses Glenelg's Bay Discovery Centre which runs a permanent exhibition of the town's social history; from early migrant settlement to modern-day beach culture. Today, this hip and trendy beach resort is conveniently connected to the city by tram (though bikes are not permitted onboard). Once you've absorbed bustling Jetty Road, a kilometre of heritage buildings, vibrant cafés, galleries, funky shops and boutiques, take a mini cycling detour (3.5km return) onto the Proclamation Trail. This ride takes you from the site of the early settlers' first landing, where the shark proof baths once stood and across the Patawalonga Creek where you'll eventually come to the site of the Old Gum Tree.
Still standing, though somewhat arthritically, this is where the 1836 Proclamation was read, declaring the establishment of the new government. Having completed the loop, head north again until you reach Holdfast Shores Marina. This is Glenelg's upmarket restaurant quarter, and is almost entirely surrounded by water. Head under the white footbridge (pedestrian overpass) and veer left by Wigley Reserve, following the bike path sign. Curl round to wheel your bike across the short footbridge over the Patawalonga Creek weir, rejoining the bike path at Tarniwarra Park.
At the end of North Esplanade, continue north along the sealed Coast Park path. Glenelg's sand dune restoration area will rise proudly to your right, where sleepy lizards often hang out for a bit of cyclist-spotting.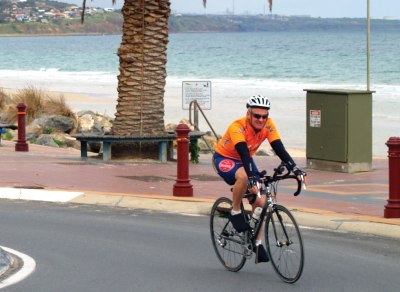 West Beach to Henley Beach
Pass the SA Sea Rescue Squadron on your right and the small marina on the left. You'll see colourful activity at the boat haven, including at times, sea rescue training which is always worth stopping to watch. Continue along the excellent sealed path through blindingly white sand dunes, decorated with native plants in a riot of colour. You'll be forgiven for sneaking through the dunes' timber boardwalks for a chilled moment on one of the newly-built boardwalk lookouts. Eventually you'll emerge from the dunes by the West Beach Surf Lifesaving Club. The sealed path continues past Henley Sailing Club until you cross the bridge over the mouth of the River Torrens.
When you are suddenly overwhelmed by the smell of fish, you'll understand why Australian pelicans and cormorants dominate this outlet. The waterline is necklaced with anglers who've been fishing here for decades, flanked by walls of white powdered sand dunes. Pedalling on through Henley Beach South, you'll hit the Esplanade. There may be no bike lane, but the road is extra wide with very little traffic. The local council plan to have the bike path on this section of Coast Park completed by 2010. Commonly used as a meeting point for picnickers and sun worshippers, the grassy lawns of Henley Square are framed by a vibrant hub of cafés and bistros. The Coffee Club is a favourite for cyclists enjoying their caffeine fix. For light meals and liquid refreshment, check out Bacchus Wine Bar.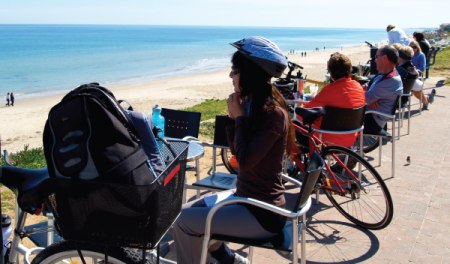 Henley Beach to Semaphore
The next stretch of coastline might be seen as the least enjoyable by recreational cyclists but experienced riders will have no problem at all. At the end of the Esplanade, you'll have to turn right onto Marlborough Street, left onto Seaview Road, followed by a right onto Terminus Street and immediately left onto Military Road. Unfortunately this keeps you away from (though parallel to) the beach for almost 7km of road without a bike lane as the Tennyson coastal reserve and homes with private frontage are only accessible to walkers. Again, the council are currently deciding on whether the bike path on this section of Coast Park should run above the Tennyson dunes or be integrated into Military Road. And Adelaide cyclists wait in eager anticipation. Turning left onto Bower Road you'll pass 19th century Fort Glanville—one of Australia's most intact, remaining coastal forts. Rejoin Coast Park by crossing the Semaphore to Fort Glanville Tourist Railway line. Serious cyclists might prefer the painted bike path on the Esplanade (with several mini roundabouts), though recreational cyclists will prefer the sealed beach path which snakes its way alongside the sensational dune system that leads to Semaphore Jetty. This State Heritage-listed jetty once housed a kiosk, baths, as well as passenger, pilot and quarantine launches. Originally featuring two 'L' shaped heads and stretching out to 670m, today you'll find fishermen reeling in their catches, and photographers awaiting the sinking sun at the end of its now 462m length.
Semaphore to Largs Bay
Sand, sea and more sand pretty much sums up the flavour of cycling Adelaide's coastline. The traditional owners of the metropolitan coastline, the Kaurna indigenous people, saw its dune systems as central to their way of life. Providing food and shelter, the dunes were far more extensive than they are today. Yet this precious ecological system was recently threatened. European settlement and urban development severely compromised the dunes. Often flattened (removing their windbreaking benefits), they were built on directly, with their life-giving plants used for stock grazing. Add to this the damage from storms and Adelaide's beaches' significant erosion is explained. Shockingly, during the 1960s, some of Adelaide's beaches were completely devoid of sand. The 20 year long Adelaide's Living Beaches Strategy which began in 2005, is now redistributing sand to beaches most at risk of dune loss with rock and clay exposure due to rising sea levels. Local cyclists are thrilled to hear this, and are also relieved at the reduction of sand carting trucks that used to congest the roads. Sand is now being transported via concealed pipelines.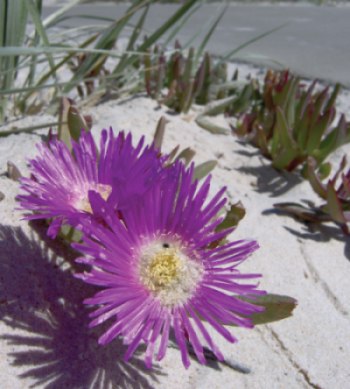 Largs Bay to Outer Harbour
The final stretch of Coast Park is renowned for its diversity of flora and fauna. The Largs North Shared Use Recreational Path is nature at its best in Adelaide. Look out for coast sword-sedge, coast saltbush, multicoloured pigface, Spinifex, native juniper, sea berry saltbush, dune wattle and the beautiful white and blue-leafed cushion fan flower. It's not just plants though. The much loved coastal bearded dragon hides in the shrubs and dunes, as well as the rock-dwelling stumpy-tailed lizard, often found soaking up the rays. Hear the chatter of honeyeaters in the native vegetation and see the nankeen kestrel hovering above them before it takes its meteoric dive on prey. You'll also spot them in the tall Norfolk Pines as you finally cruise along Lady Gowrie Drive. Remember not to venture into the dunes here as they are also the prime habitat for the highly venomous eastern brown snake! Pushing on for your final leg, you'll pass North Haven Marina—highly recommended for a waterfront dinner at sunset. Cooling down, you'll reach the overseas shipping terminal at Outer Harbour at the tip of Le Fevre Peninsula.
This is where container and cruise ships arrive in Adelaide. Park your bike at the car park and head left to the beach where you can try to count the, sometimes hundreds, of Australian pelicans fishing off the breakwaters. So get yourself into Adelaide and the revs into your thighs. Dune-carving bike lanes, saliva inducing cafés and world-envied views await your discovery.