Adding to the current motorcycle debate in the professional cycling world, a new study has shown that a racing cyclist could gain an increase in aerodynamics from having a motorcycle riding behind them.
Research at University of Technology Eindhoven, University of Leuven and the University of Liege has shown how a motorcyclist riding right behind a racing cyclist can reduce the air resistance for the cyclist by almost nine percent. In a time trial, such as this Friday's forthcoming 9.8 kilometer Giro d'Italia prologue in Apeldoorn, this could mean a decisive advantage.
The researchers used computer simulations and wind tunnel measurements of scale models of a rider in a time trial position in front of a motorcyclist with two riders. The tests calculated that a motorcycle at a distance of 25 centimeters behind the cyclist can cut the air resistance by almost 9 percent. If there are three motorcycles, the reduction can be as much as 14 percent.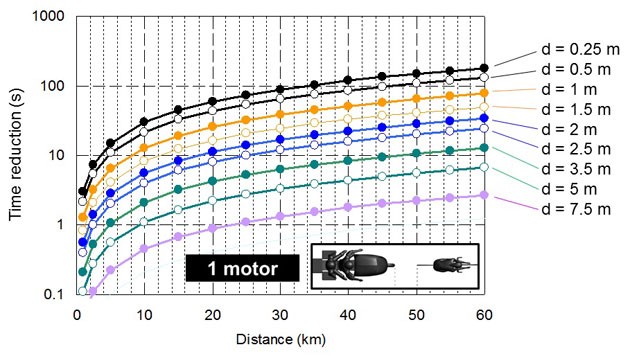 The reduction in air resistance and increase in time advantages are still present when the motorcycle is 7.5 meters behind the rider.
Depending on how long a motorcycle rides behind the cyclist in a short time trial a few to several seconds can be gained and even more as the distance of the event increases.
The reason there is an advantage is because the motorcycle disrupts the low pressure behind the rider creating less drag. The change in air pressure can be seen below.
The researchers advise the UCI to modify the rules on motorcycles in cycling races not only from a safety perspective but also given the measured undesirable aerodynamic advantages that riders could gain. They are appealing for the regulatory ten meter distance to be increased to thirty meters and, moreover, to ensure there is compliance with this distance. They join the riders in asking the UCI to take stricter action concerning in-race motorcycles.
Keeping in mind that 25 centimeters is way closer than most motorcycles will ever get behind a rider, but because the effects are still observed past the 7.5 meter mark there is some merit to the research. The University of Technology Eindhoven conducted a study last year that suggested riders could benefit from a closely following team car too.
Read more at the TU Eindhoven website here.