Rupert Guinness. Images: Troy Peters

No stranger to ultra-endurance cycling, journalist Rupert Guinness offers an insight into his latest remarkable feat: riding across America without leaving Australia.
It began as so many seemingly crazy ideas do: with an off-the-cuff suggestion that I quickly laughed off after it was first put to me.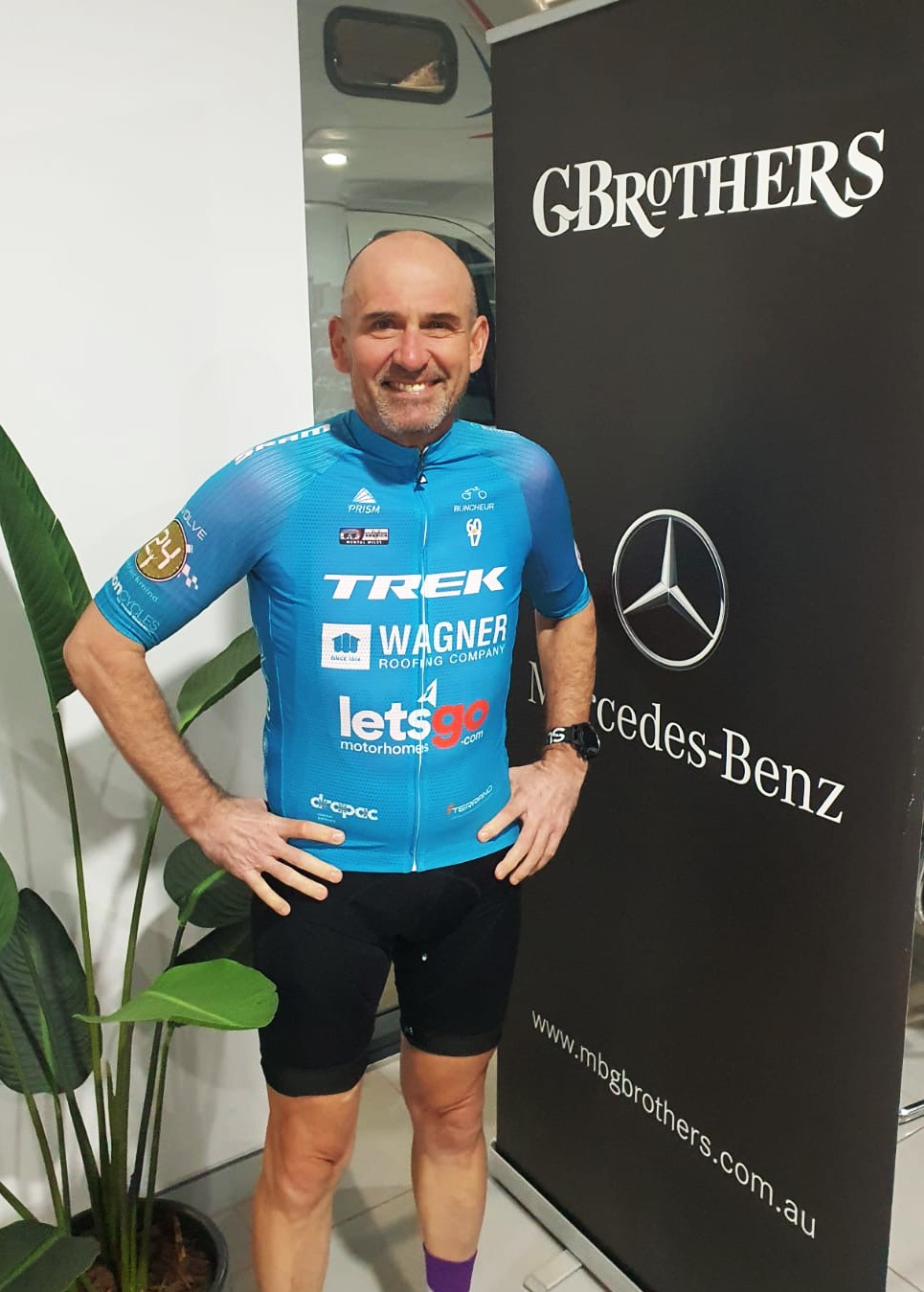 When Anthony Gordon, my Race Across America (RAAM) crew chief and acclaimed filmmaker/storyteller, suggested riding a virtual RAAM on a smart trainer after the real thing was cancelled on April 3 due to COVID-19, I had no inkling he had already asked some of my support crew if they felt I was up for the challenge that would last 12 days, the time allowed for solo riders to finish and avoid elimination in RAAM.
Little did I know how deep the seed of this idea had been planted into my mind by Anthony. After flirting with it over a few quiet rosés at home that night, I replied to him the next day, saying, 'Let's do it.'
Sure, I can now say I am really glad I did 'do it,' despite the unexpected effects beyond the obvious overall fatigue that subsided in the following weeks. They included the dental work of five fillings, one tooth extraction and an implant; two MRI scans and one ultrasound scan on my left hand that sustained severe ulnar nerve damage, as did my feet but to a lesser degree.
Japan's Hirokazu Suzuki was so deserving of the race winner's trophy made by Mikaya Pottery of Botswana. He was in a class of his own as the only rider to complete the 4500km distance with 4539km.
3357 Stationary Kilometres
But as the oldest rider at 58, I was immensely satisfied with my eighth place for a total of 3357km of the 4500km ridden in an event that had 20,000m more climbing and was estimated to be 30 per cent harder than RAAM for which I already had a fully paid spot for 2021.
Bettering the 3248km qualifying mark for RAAM also reaffirmed that my preparation for the 2020 event had been well on track. It's good to know that with my teeth and nerve issues aside, I finished in good health for my 12 days in which I was medically monitored throughout by my support crew medico, Troy Peters (a paramedic), with four ECGs and blood pressure tests twice daily.
The outcome? Riding 18 to 20 hours a day at the G Bros-Mercedes showroom in Mona Vale in Sydney, I burned 84,271 calories, lost 2.9kg in weight and recorded a 97 per cent average oxygen saturation rate.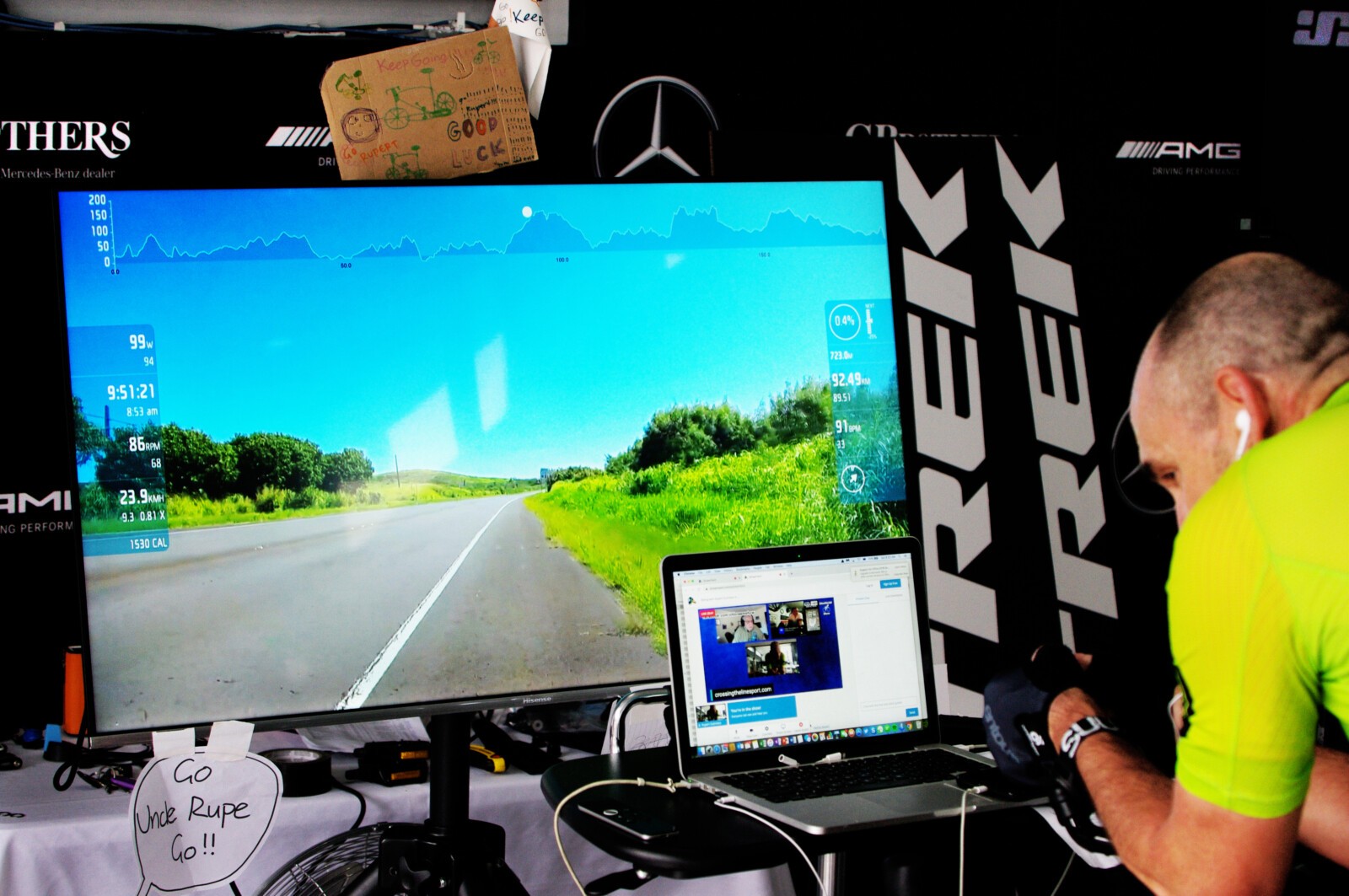 Added motivation to race the VRAAM, the first ever international virtual cycling race, came from its overriding purpose: to generate some positivity in challenging times, and heighten awareness for the beneficial impact of exercise on mental health.
60 = 17
Our cause was boosted by support from Associate Professor Simon Ronsenbaum from the University of NSW whose world acclaimed research has shown that 60 minutes of exercise a week can reduce global depression by 17 per cent – hence, VRAAM's 60=17 insignia.
And clearly there was a global appetite for people to embrace this initiative in a time bound by COVID-19 and its lockdowns, health protocols and social, sporting, travel and economic restrictions.
…I realised I would need every ounce of mental and physical energy for the next 12 days…
By the start on June 16, 208 individuals from 30 countries had entered to race it on the Australian app FulGaz in one of three categories – VRAAM over 4500km with 17 riders, a virtual Race Across the West (VRAW) over 1450km with a field of 81 starters, and 'The 60' where 110 entrants were to ride 60 minutes a day.
And behind them were their support crews, friends and sponsors. After VRAAM was announced, I continued my Slovenian coach Marko Baloh's training program, but focused on the smart trainer to adapt to long stationary riding spells in the saddle. Thankfully, my RAAM support crew still supported me. Likewise, my RAAM sponsors who not only pledged to support me in RAAM 2021, but also came in to do some riding in VRAAM. Some new sponsors also came on board.
Uncertainty still lingered. There were so many questions about the race with it being unprecedented. How would it unfold? How many riders would enter, and reach the 4500km distance? What traction of interest would VRAAM generate? What direction would a planned documentary, Mental Miles, to be produced by Anthony, now take?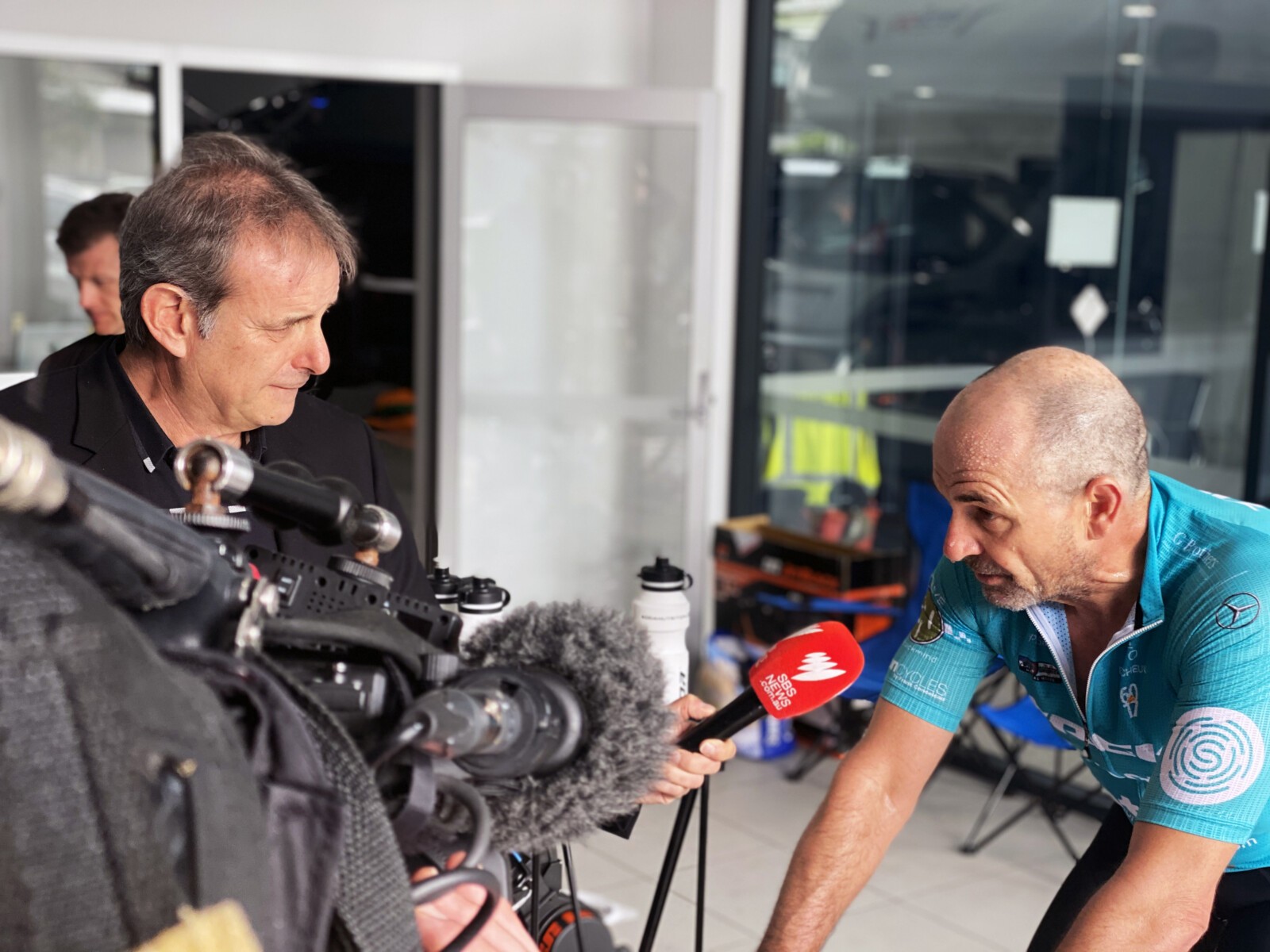 Fortunately, VRAAM conjured a lot of interest, and quickly, thanks to a Herculean social media campaign on Instagram, Facebook and Twitter with videos and stories. Australian mainstream media saw value in the story, including The Sunday Telegraph, ABC Grandstand radio, the Nine Network, SBS News (outside of its brief as our supporting broadcaster) and The Sydney Morning Herald and Adelaide Advertiser newspapers.
The cycling media, hungry for live racing, also came on board. Bicycling Australia, Cycling Tips, GCN (Global Cycling Network) and VeloNews all covered it; as did the SayWatt Podcast, Lee Kreider RAAM Show, The Adventure Blog and roadcc.com.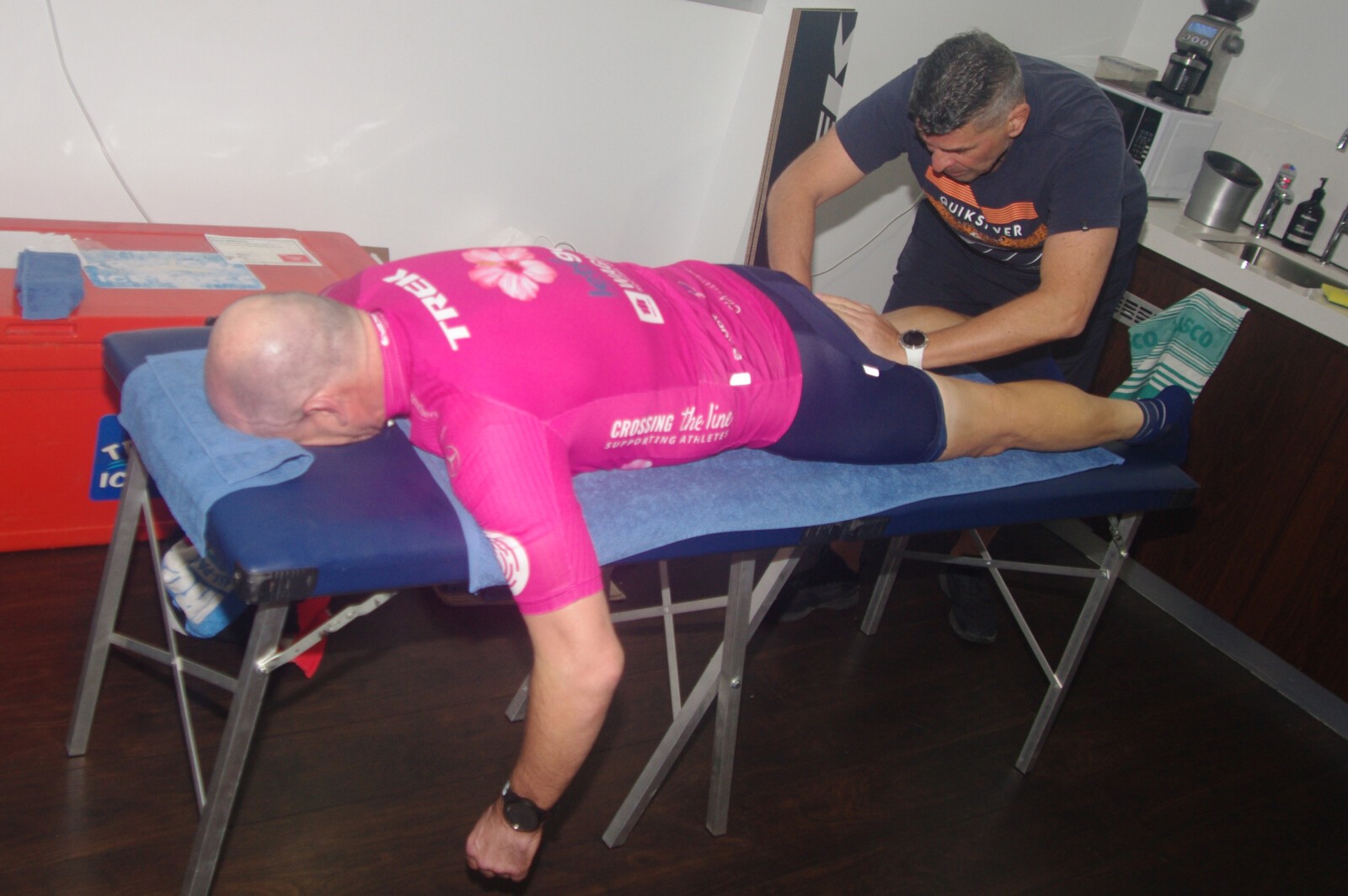 Due to COVID-19 restrictions, our team's preparation had to make do with weekly Zoom meetings and WhatsApp messaging. Although, Anthony would still meet me regularly for strategy chats or photo/video shoots. Meanwhile, he simultaneously went about creating a VRAAM event team made up of Revolve24 race founder and organiser David Fell and my social media manager, Sally Heginbotham. They worked with FulGaz owner Mike Klusacs, whose team designed the route – 214 videos of US rides knitted as a sequence – in consultation with Anthony, David and RAAM organisers
As VRAAM neared, I would often feel so much was happening so fast. It was only when the race started that I could focus on my one task: to ride the bike, as Anthony would say. Even then, I realised I would need every ounce of mental and physical energy to do so for the next 12 days. Time passed less as days, but as a series of processes: ride, eat, drink, rest … ride, eat, drink, rest – 'rest' being from 10-minute naps to two or three hour sleeps, pending my state of mind and body and need for physiotherapy or massage during which I would sleep.
What really struck me was the 8.6 million reach of VRAAM on social media alone, and the support of family, friends and fans. From social media, to text and video messages to visits, attention was non-stop.
I had visits or calls from my fellow Eastern Suburbs Cycling Club members, riders from the Tour XOz and Mental Wheels tours and former The Sydney Morning Herald workmates. There were cyclists such as Mitchelton-Scott professional Sarah Roy, 2016 Paris-Roubaix winner Mat Hayman, 2017 IndiPac first finisher Kristof Allegaert of Belgium, British ultra-endurance cyclist James Golding, and Australian Paralympic cycling hopeful Ben Said.
Other athletes were Olympic and world champion rowers Drew Ginn, James Chapman, Angus Moore, Jack Hargreaves and Gearoid Towey, retired Australian professional footballer Andrew McDermott, rugby Wallaby Dean Mumm and Test cricketer Stuart MacGill.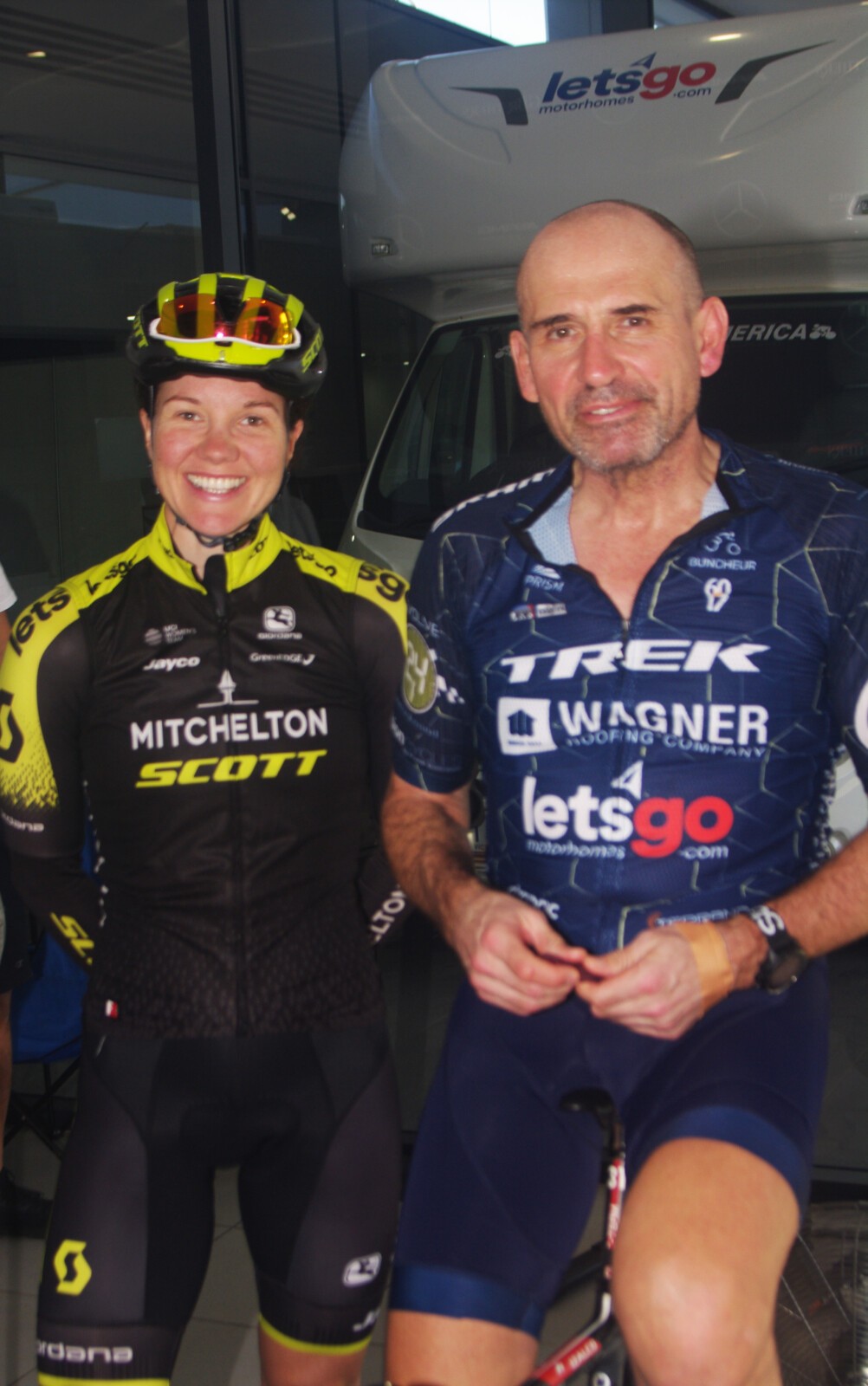 Others were cycling commentator Phil Liggett and his wife, Trish, National Sports Tribunal chief executive John Boultbee, and former New Zealand professional triathlete Dean Jagusch, owner of one of my first sponsors, Wagner Roofing, which is based in Maryland through which RAAM finishes.
After his staff sent a series of video messages of support that brought me to tears, he sent another where they rode the last kilometres of RAAM into Annapolis, where we hope to be in 2021, before joining live for my final minutes.
All this off one 'crazy' idea! After VRAAM finished at 11pm on Sunday, June 28, I went into our Let'sGo motorhome to undress from my champagne and sweat drenched race kit into dry clothes. I was so happy for my eighth place.
But then, in my solitude, it dawned on me that the real success was that we – me, my support crew and all who worked on or participated and supported VRAAM – had taken part in something that was not just new, but extremely special, and that in some way we did generate a little positivity during tough times.
Crew Chief: Anthony Gordon

Logistics Manager: Kent Williams

Medical Officer: Troy Peters

Chief Physiotherapist: Orla Cunningham

Head Performance Coach: Tony Kiss

Social Media Manager: Sally Heginbotham

Chef and Kit Manager: Libby Bennett

Nutritional Advisor: Brett Davidson

IT/Comms Manager: David Fell

Media Officer: Peter Cunningham
Rupert Guinness's VRAAM Sponsors
Trek

Wagner Roofing Company

Let'sGo Motorhomes

Prism

G Brothers

Tour XOz

BikeExchange

Revolve24

SRAM

Albion Cycles

Crossing The Line Sport

Drapac

SUUNTO

CIA Advertising

Rudy Project

eastscycling.com.au

Terrano Systems

Marko Baloh Coaching

Images: Troy Peters