So far as Strava segments go it's far from glamorous. It's just 1.2km in length and although a short section does touch 10%, there's a grand total of just 35 metres of pain. Hardly Alpe d'Huez, the Arenberg or Beach Road – it's been ridden a total of 9 times by 6 people.
But the quiet suburban segment of 'Two Hills' at Endeavour Hills near Melbourne achieved international infamy this week, going viral after an ugly spat based on accusations of "stealing KOM's", going "deep in the pain cave to take me down," and vilification over a one-sided segment war.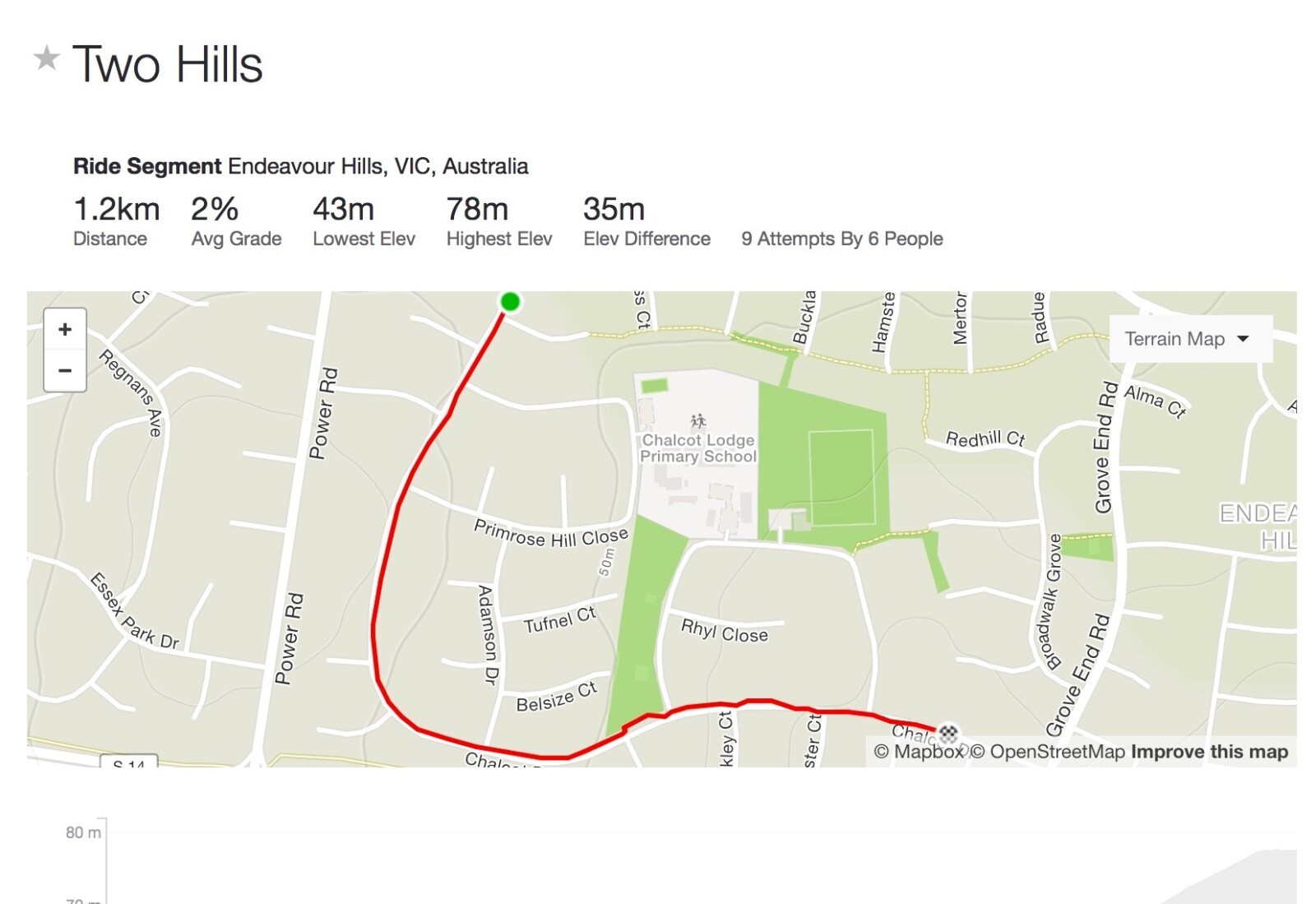 Accusations Fly After Rider Scores KOM
"You've spent the past 16 months chain attacking my KOM's," was the first response to a fellow riders Strava feed after he posted a 58km outing that included the new fastest time up 'Two Hills'.
"I've seriously considered deleting my Strava account to stop getting emails telling me you've stolen what is it?" the fellow Strava member – who's now chosen anonymity – continued.
"30 or 40 KOM's now. Frankly it's been very disturbing your obsessiveness and I've wondered what I've done to deserve such treatment from you?" he continued.
The post attracted over 400 Strava kudos (or likes), close to 200 comments, and has featured on social networks and cycling news websites around the world.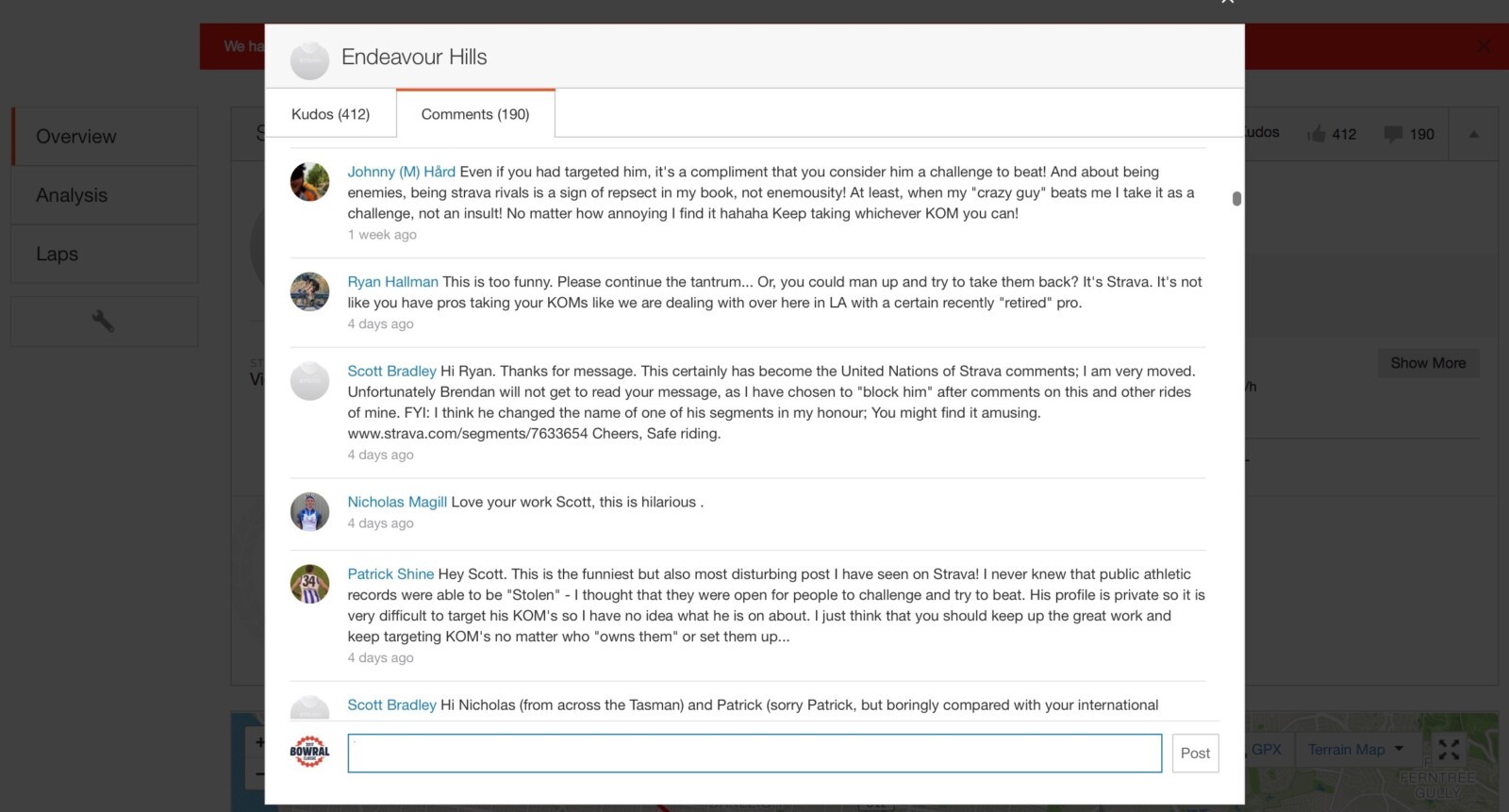 Strava Spat Or Fair Call? You Be The Judge
"Strava Athlete: Your rides are solely based around stealing KOM's, and the level of planning and obsession that goes into your hunts is quite high, and don't buy for a second that you don't specifically target my KOM's. There have been far too many times when you have made the conscious decision to pick one of my segments and put yourself deep in the pain cave to take me down. You choose which one's you go for, and obviously you've taken a liking to mine as there's no one else who you've even stolen a fraction of what you've stolen from me.
You claim that it's nothing personal, but how can explain doing what you've done over a 16 month period? I've taken your beating. There's been close to 40 of them. There is something seriously wrong with you if you can't recognise that your actions are causing me pain, and I don't know how to get through to you to stop. This is not a game, and you have gone well and truly overboard. Just because I have a large number of KOM's shouldn't give you licence to devote what has been close to a year and a half of your life to taking me down. Seriously what are you getting from this? I'm not your enemy. I haven't stolen a single KOM off you, and frankly I've got better things to do with my time.
I've taken your beating and kept quiet, but everything you have written above indicates that you intend to keep your one sided war going, and wouldn't be surprised if you are already planning your next attack on my segments. Seriously stop. Do you get pleasure in making enemies on Strava? What have i done to deserve this treatment from you? You never answered that. You just babbled on about how you have a right to steal everybody's KOM's because they're public property. and obviously because I have many, this gives you licence to steal them all…..
There's enough segments out there that you can happily steal off others for years and years to come. As to your crack about the pot calling the kettle black. I've set-up over 800 segments over the years. The majority of mine I created. Not stolen."
Are we taking Strava too seriously? We are keen to hear your thoughts. Have your say in comments below.