He's been surveying Australia's electoral landscape for almost 30 years. But the ABC's Antony Green has also navigated plenty of electorates on two wheels, as Peter Maniaty recently discovered.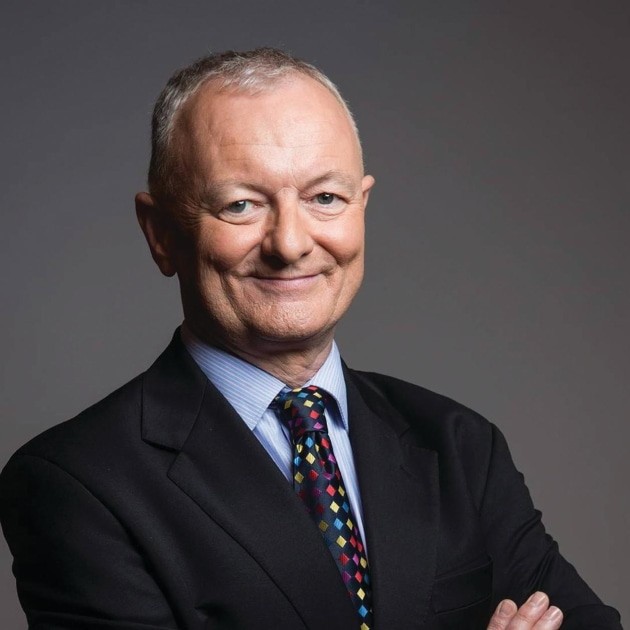 Canberra is a long way from Belgrade. While there are few Australian electoral boundaries to worry about in the Serbian capital, both cities loom large for Antony Green in 2019. One for his work as Australia's pre-eminent psephologist. The other for pleasure as the Sydneysider tackles Europe for his fourth time on two wheels.
Sitting down there's a distinct verve in Green's voice and body language. He speaks fast and has an endearing energy, understandable perhaps given we're meeting during what really is peak season for an election analyst.
Hot on the heels of multiple by-elections in 2018 and the recent NSW State Election comes Green's 'La Grande Boucle', the 2019 Federal Election where the Canberra fortunes of Morrison, Shorten and Co will play out. Yet as focused as the 59-year old is on the upcoming election – his 10th national poll with the ABC – you get the distinct impression he has one eye firmly on Europe in July. Not for the Tour de France, but his next big cycling adventure, following the Danube River from Belgrade to Prague.
MAMIL? Not really.
While the one-time computer programmer, whose family emigrated from the UK as 'Ten Pound Poms' in the 1960s, has owned and ridden bikes for most of his adult life, Green explains it was turning 40 that set the wheels in motion for his transition into a serious road cyclist and today sees him the proud owner of a Focus Cayo, his first carbon fibre bike. Yet despite having nearly twenty years and many thousands of kilometres under his wheels, Green is still reluctant to call himself a MAMIL.
Curiously, especially given his day-to-day profession surrounds him with numbers and analytics, he also has little interest in crunching his ride data. "I refuse to be a full-blown MAMIL where you're obsessed with every new bit of equipment and PBs all the time," Green chuckles. "I am on Strava, but I don't worry too much about performance or even have a power meter. While I do have a Garmin, it doesn't actually detect anything!"
He then backpedals slightly, explaining he did use a heart rate monitor for a short time, but after establishing his threshold heart rate was pretty normal for his age, he didn't see the point in wearing it. "I just wanted to make sure I wasn't pushing my heart beyond what I should be, and I wasn't." All good then.
The long game.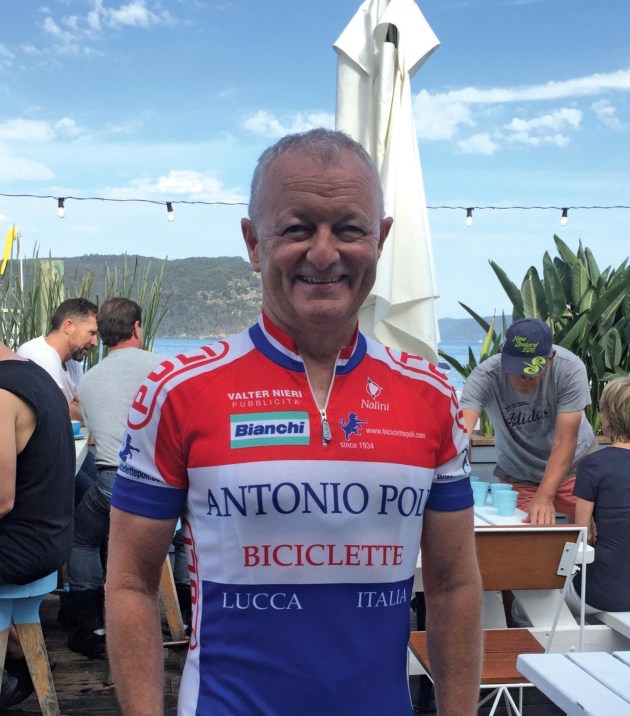 He may be jovial and bubbly. But the more we talk, the clearer it becomes Green is not a man to do things by halves. For instance, his first serious sojourn into cycling was not the typical fare of a Sydney newbie, say a gentle weekly tap to Bobbin Head or return cruise to La Perouse. He threw himself in the deepest of deep ends, signing up for the aptly-named 'RTA Big Ride' from Tweed Heads to Sydney.
At over 800km you could forgive him for being a little daunted. But he suggests the biggest challenge was actually the camping. "By the end of the trip I was sick of sleeping in tents far more than the riding," he laughs.
Since then, Green has compiled an impressive palmares of long distance rides both in Australia and Europe, including a searching 1,700km trek from Brisbane to Cairns over three weeks and an epic 2,100km marathon from Rome to Paris in 2012. "That was an organised tour over three weeks, the distance was probably a bit long for the amount of time we had," he says. "Four weeks may have been better, especially given 
the jetlag. We did 130km on the first day!"
Training wheels.
Serious riding demands serious training. At the start of the decade it saw Green join Dulwich Hill Cycling Club in Sydney's inner west, where he remains a regular face on weekly bunch rides. "I wanted to give more discipline to my training, and it's a lot more motivating to ride longer distances in a bunch," he explains. "The main reason I train (with the club) is to keep my fitness up for touring. If you're going to be riding 70-80km every day for four weeks, you can't just show up.
"I also find I sleep a lot better when I'm riding. I had some troubles with my back about ten years ago too, and when I got on the bike they went away," he continues. "I try to ride regularly, although it does get a bit hard when there's an election on. I'm also not very persistent through winter, maybe I'll ride nine months of the year."
What does a standard Antony Green training week look like? "Generally it's the club rides like La Perouse, Earlwood Hills and maybe out to Watsons Bay or Waterfall. I generally don't have the time to spend entire days on the bike, but if I do Waterfall regularly I find I can ride 130km a day pretty easily when I head to Europe."
Given his penchant for Europe, is there a secret bucket list of epic Continental climbs Green is slowly ticking off? "Not at my age!" he laughs. "I happily avoid cols. On Rome to Paris we did climb Alpe d'Huez, but I don't have any desire to climb more mountains. I can get over hills when I have to, but I'm not interested in flogging myself up mountains every day.
"I want to see things, enjoy the food, the company, the culture," he adds. "When I rode Rome to Paris we did pay a little extra to be on the Champs Elysees for the final stage of the Tour de France, we saw the riders come past five times, champagne in hand. Funnily enough I was surrounded by a lot of Aussies boasting about their PBs up the cols. I felt like asking, 'yes, but did you enjoy the scenery?'"
Does he have any interest in following more of the Tour one day? "No, just the sheer volume of people, it's completely mad," he laughs. "I hate crowds so I'm much happier doing trips with smaller groups, having lots of nice food and nice wine."
To this end, come July 2019 Green won't be following the Tour de France, but the Danube River some 2,000km away on the other side of Europe. "The tour I'm doing runs over four weeks from Belgrade in Serbia, through Budapest and Vienna, then into southern Germany before finishing in Prague. People my age are often 
doing boat cruises along the Danube," he grins. "I'll be riding it instead."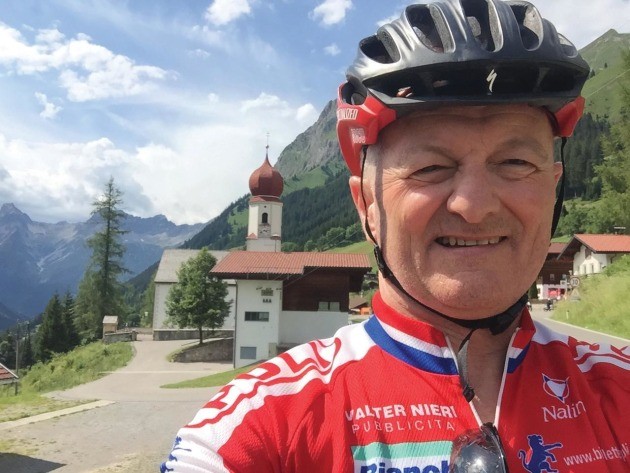 Crash bang.
It comes as no great surprise to learn Green, like many of us, has suffered the almost inevitable 'middle-aged off'. "I had some time off the bike about four years ago because of my shoulder," he recalls. "That was my first big injury. I had a pretty heavy crash and, about a week later, I finished the job by tearing my rotator cuff. That required surgery but thankfully I had a near perfect recovery."
Many riders struggle to regain motivation after a major accident, but in something of a middle-aged epiphany, it actually spurred Green on. "After the accident I figured I should make the most of my riding while I still could," he admits. "It was completely my own fault, momentarily not paying attention and running off the edge of a cycle path, it was soft and the front wheel sunk, I flipped."
Easy does it.
"I'd describe myself as quite defensive as a rider," Green points out. "There are certain roads I wouldn't ride on, like Cleveland Street in Sydney for example. I think you're mad to ride there. In most cases there are usually other ways to get around. I don't ride to work at Ultimo, it's not even 15 minutes from where I live, but the traffic is crap. I did ride at one stage but it's just not worth it, especially as it's not far enough to help with my fitness anyway."
The conversation segues naturally to the ABC and, more specifically, the sources of Green's livelihood and fame – elections and politics – although he's at pains to explain the two are not the same, something he's eternally grateful for. "My background is far more about elections than politics. I'm rarely in Canberra and I don't miss it," he says. "I haven't done a Pollies Pedal either. Frankly I can't imagine having to spend a week with a bunch of politicians on bikes!
"The only person I really mix with in politics who rides is [political strategist] Glenn Druery. He's an old friend who's done all kinds of long distance challenges including the Race Across America. He's a lot more hardcore than me. But at 62kg and 163cm I don't have a huge engine or the ability to store vast amounts of energy for rides like that. There's a limit to what I can do without completely stuffing my metabolism."
I get the distinct impression Green, humble and full of self-deprecation, is somewhat better on the bike than he's letting on. Sure, he may not ride across entire continents like Druery, but he's certainly completed his share of long rides. One such journey saw him venture south to Kiama just after Christmas last year, roughly 130km. How do I know this? Simply because he posted the Strava link on his Twitter account, entertainingly describing the route using the various electorates he passed through on the day. "I don't always do that, it was just a bit of a laugh," he says. "But when I did the Brisbane to Cairns ride, there was a running gag in the bunch about asking if I knew what electorate we were in. Usually I did!"
Given all this, how many electorates has Green actually cycled though over the years? "Well, I've done a lot in NSW and Queensland, as well as quite a few between Adelaide and Melbourne. But there are plenty more. I wouldn't have ridden even half."
Best you get back on your bike then, Antony. Safe travels.