Merida is one of the most prolific manufacturers in the bike industry making an enormous amount of products for many other related companies. After enjoying an extended review of the company's premium-level Scultura we soon realised why … this is a top-level bike, one we thoroughly enjoyed and are in no hurry to give back.
It was the last real ride before lockdown, one that will linger in memory for months and a wonderful way to recall how life used to be.
The legendary West Head / Akuna Bay area near Sydney was the testing ground and, as is often the case, hundreds of riders were out. Singles, small bunches, larger groups .. most smiling, happy and enjoying one of the nation's great road rides.
A few short days later we were living in a different world … one where bunch riding, that activity that keeps so many of us fit, fast and accountable, was banned and solo rides – technically for exercise only – were the new normal.
So it has been through this most unprecedented of periods that the latest test bike to arrive at the Bicycling Australia office has become the goto exercise platform & sanity saviour.
Arriving prior to the office closing and mass exodus to impromptu home-based offices – the Merida Scultura 8000 has proven itself the perfect lockdown partner. Transported home in its carton, the bike was assembled in the lounge room one damp March morning. Several days of wet weather followed and, as tempting as it was, i just couldn't bring myself to taking this brand spanking new matt black beast out in the rain.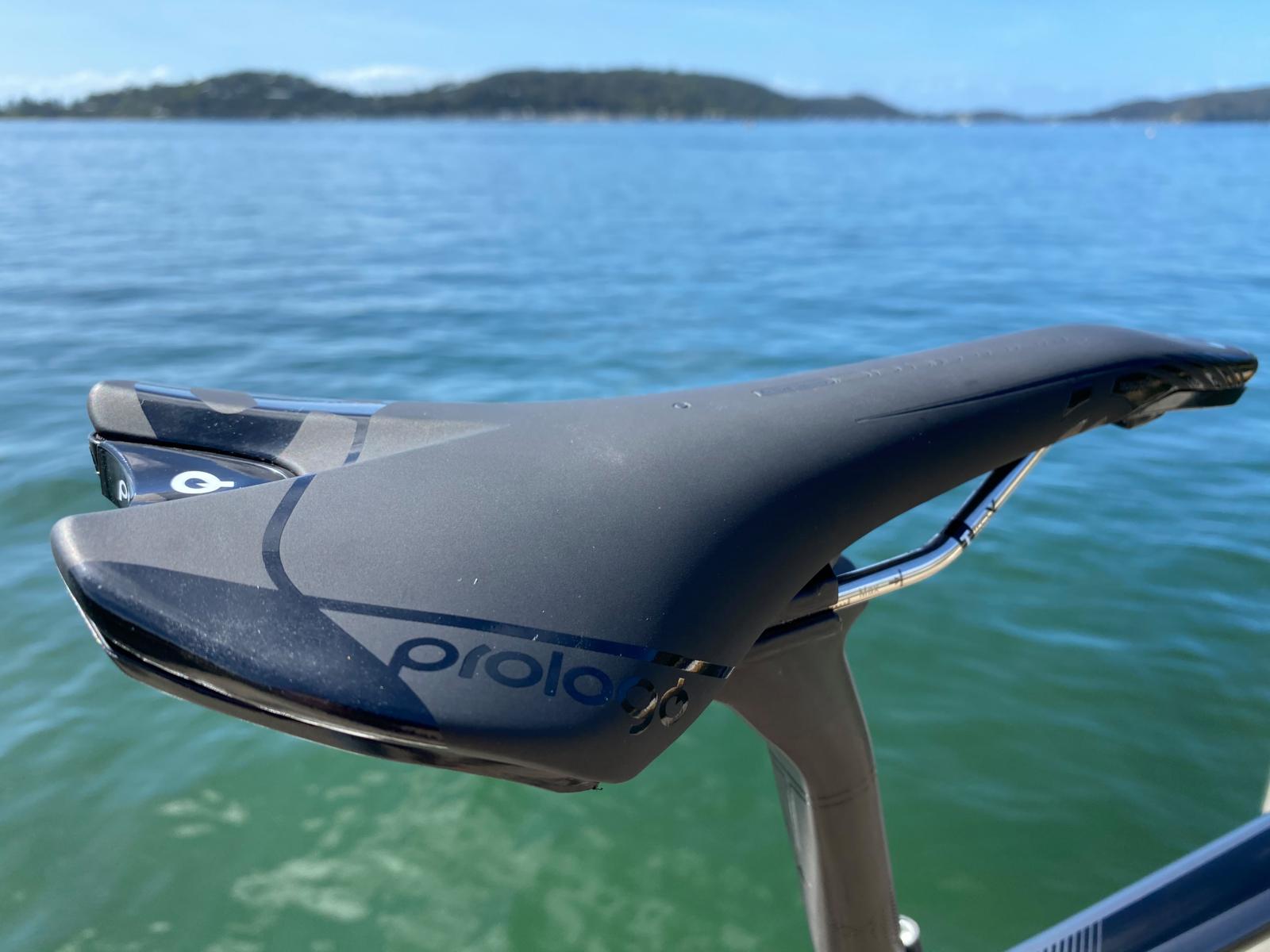 The Bike Is a Tease
I swear the Merida knew full well it was teasing me. There it sat, in pride of place on the Westwood Designer Bike Stand in the living room, it's aggressive, decisive and purposeful lines screaming 'let's ride'.
Those few days were in fact a good opportunity to study the design, look closely at the build, and properly acquaint with this legendary model from Merida.
The second most senior model in the range, the headline feature is the top-level CF4 grade carbon and build. Drivetrain wise, the 8000 features Shimano's Di2 Ultegra groupset. Wheels can make or break the look, feel, handling and performance of any bike and this machine comes appropriately dressed.
The test bike features Fulcrum 40mm carbon disk wheels, the 'Wind 40's'. At a shade over 1600 grams for the combined wheel set this is not bad for standard issue equipment. The wheels are responsive and ride well, offer quality levels of comfort, and do set the overall build off very nicely.
To the brakes, look closely and you'll see the alloy 'cooling fins' on the disc mounts – another neat feature, probably more cosmetic than effective for most of us, but certainly adding to the Scultura's performance credentials. Certainly over long 20 or 30km European descents these may help! But there's no way of locally qualifying that at this time.
To the cockpit and here we see another area of weight savings – an in-house carbon stem and handlebar (hardly surprising as Merida make a massive number of components for many of the world's major bike brands).
High-Level Inclusions
There's obviously also a carbon seat post along with a high quality and funky looking lightweight clamp. Above that is a pro-level Prologo Scratch saddle – perfectly comfortable and not one we would change if keeping this bike long term.
Look side on and you'll see a slightly taller head tube combined with a longer than expected wheelbase. Yes it's a comfortable bike, particularly on those 60+km rides and, we'd expect, 120 to 160km Gran Fondo events where it would shine.
The steering, as we experienced on those magical lefts and rights on the Akuna Bay East descent, is direct yet comforting and reassuring. There's no twitchiness here … the bike is sure-footed and certainly inspires confidence.
Sticking With 25c Tyres
Coupled to the geometry are the standard 25mm tyres. We would have expected 28's and yes, they would fit. But the 25's hung on well and performed faultlessly on those the short local technical descents.
…Overall the Merida Scultura 8000 is a great-looking, versatile and super-desirable bike…
As we know the Scultura model is well established in the Merida lineup – it and the Reacto being the company's core road offerings. Over the years both models have been regularly updated and tweaked, and over recent years have massively benefited with significant input from WorldTour team Bahrain-McLaren (formerly Bahrain-Merida).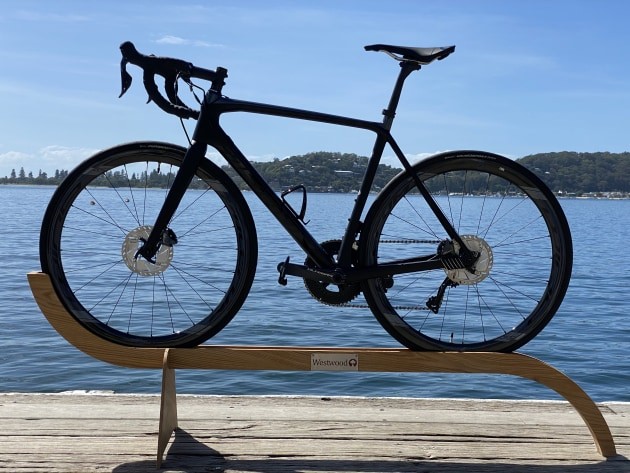 Make no mistakes, this test bike is not masquerading as a high-end all-round race bike, what we have is a genuine professional grade platform designed for serious riding.
Tyres and wheels firmly attached to the uneven bitumen as we rounded that final left hander at the bottom of Akuna Bay East, the Scultura seemed to enjoy the next few flattish kilometres of road that follow the magnificent shoreline.
How Does It Climb?
As Akuna regulars know all too well, from here the only way is up with two options available – the 3 km climbs of Akuna east or west. Continuing west and onto the start of the climb and that's when this bike felt to come into it's own.
As the roadway started to rise the 7.5kg overall build shone through. While retaining that solid road feel, overall stiffness particularly when out of the saddle, and a well balanced and seamlessly integrated build throughout, the Scultura handled uphills with ease – the bike's WorldTour pedigree became obvious, particularly when the going got vertical.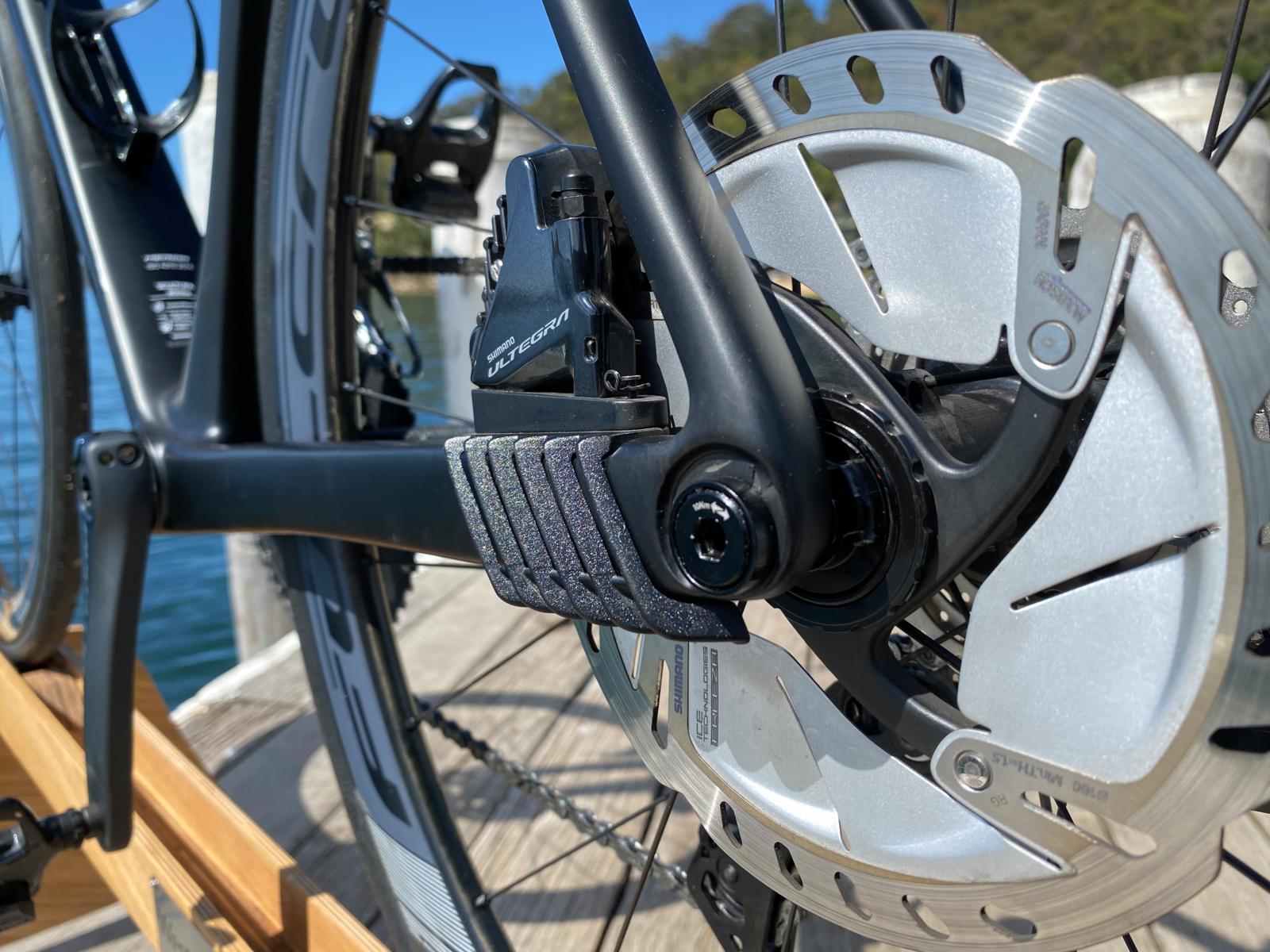 Overall the Merida Scultura 8000 is a great looking, versatile and super desirable bike. With its CF4 level frame, the Scultura is very much the same steed as used by the Bahrain-Merida World Tour team. A bitumen all-rounder and race bike for all? It certainly seems so.
Performance
Solid and dependable handling and road feel thanks to the CF4 pro-level frame design + 12mm through axles. The CF4 model features the R.A.T (Rapid Axle Technology) system, fast to open and close.
Build
As mentioned in the review we had a lot of time with this bike (and hopefully will have even more during 'lockdown'!) This equates to more minutes to look closer at fit, finish and features. We like what we see! Attention to detail is top notch here … paintwork is superb and the subtle uses of matt to gloss finish are on trend and look great.
Overall
To be honest we were not initially 100% excited to be reviewing a Merida Scultura. The bike just doesn't come across as a 'must have dream machine' or ooze the style and class a select band of others seem to. That all changed within a few days of ogling over and indeed riding this black beast. It now seems indispensable and proved the perfect lockdown partner – the ultimate escape and mental health maintenance machine. Nice one Merida, we're impressed!
Specifications
Frame: Scultura CF4 Disc
Fork: Scultura CF4 Disc
Size range: XXS-XL
Size tested: M
Weight: 7.5kg
Bottom Bracket: FSA 386-BB30 PF6000
Groupset: Shimano Ultegra Di2
Gear ratios: 52/36, 11-30
Chain: KMC X11EL
Wheels: Fulcrum Wind 40 DB
Tyres: Continental Grand Sport Race 700x25mm
Brakes: Shimano Ultegra hydraulic disc
Bar: Merida Carbon
Stem: Merida Expert Carbon, 31.8mm & -5 degree.
Seatpost:MERIDA Team SL, Carbon 27.2mm S-Flex
Saddle: Prologo Scratch 2
Price As Tested: $6699