Nero Continental maybe Australia's newest UCI Continental team, but they still had high hopes for what could be achieved in their first year on the tour. So when the small issue of a global pandemic hit, those hopes turned into a waiting game with some very raw realities.
Cyclists competing at Continental level are effectively amateur-professionals. They juggle jobs, study and normal life with the rigours of professional levels of training, all in a quest to break into the coveted World Tour ranks.
One such rider on the Nero Continental squad is Jay Vine. The Canberra local joined the team in 2019 and made a huge splash on the domestic scene. He carried that form into the team's first UCI race here in Australia with a 5th place overall at the highly regarded Jayco Herald Sun Tour, beating World Tour Professionals and National champions alike.
Jay's ultimate goal is to ride in the World Tour, however, when the racing world shut down overnight, his focus and his motivation had to change. Jay has been kind enough to pen a very personal look at his COVID experience, and even offers a few tips on training and motivation.
JAY VINE: MY COVID EXPERIENCE
'Like most cyclists, I have a very regimented training schedule. Typically I allow at least a month to prepare for a big race and, in a normal year, be looking at 100 race days – including those major events. I am going to share with you how I have physically and mentally approached this COVID period because as someone who relies on structure and planning, the occasional global pandemic makes that completely impossible.
Needless to say, it has been a huge challenge.
Unlike other athletes who raced until the end of last year, I stepped back from larger races to focus solely on preparing for the summer of cycling – predominantly to focus on races that were due to occur between January and March. The Herald Sun Tour in February was probably my biggest focus at the beginning of 2020 and after this, event I would have a small window to regroup before we started racing internationally. You know what they say about best laid plans!
So when COVI-19 hit in March we knew there would be some disruptions to the racing. But we had no idea quite the level of disruption we were to face. At the end of March, international lockdowns were implemented and we had been advised that all international racing and domestic races were to be postponed for at least 3 months, and most likely 6 months. This left a lot of us riders with a long period where it was too soon to start preparing for races that were 6 months away.
I decided to take 14 days off the bike straight away and to focus exclusively on base work. I set myself some different training challenges. I completed my first ever Everest (where a rider will ascend and descend a given hill, Mt Ainslie in my case, multiple times, in order to have cumulatively climbed 8848 meters or the elevation of Mt. Everest), I jumped back on a mountain bike after an 18-month hiatus and I focused on just enjoying my riding rather than riding purely to train.
Jay Vine's Everest Highlights
Motivation for me has never been a problem. In many respects, this is due to riding options around Canberra and the wider ACT affording me the luxury of different terrain and different styles of riding.
Kept Sane By Zwift
With COVID-19 restrictions shutting down most external activities for the month of April, it meant no one could ride (or socialise!) with anyone outside their own household and were restricted to exercising in their neighbourhoods. This meant I had two options; ride laps of my suburb, or I could jump onto the virtual streets with Zwift. I mainly opted for the latter, though to be fair, I needed little excuse. Zwift had kept me sane and training during the massive bushfires over the Australian summer.
Normally, at this point in the season, I would be used to living and racing with all the guys on the team regularly. Under current restrictions I have not even met some of them in person. It is very weird but we are trying to make the best of it, working hard to keep our online community engaged with the team's YouTube channel or instagram, posting features on what we have been up to.
In terms of how we navigate our training and social contact as a team during the period of isolation, we have kept up with fortnightly Zoom chats and regular messaging – much like everyone else! This has been really valuable given we have riders all over Australia and a single rider in Japan, and its probably something we will keep up after we resume our normal training.
Remaining Focussed
Whilst this has kept me busy I would be lying if I didn't say motivation at this point had started to falter. I have never lost the love of riding a bike, but the intensity and volume of training that is required to perform at our level coupled with the every impending race date really pushes you.
With no tangible goal on the horizon a day or a whole session is sometimes is missed. I suspect I am not alone on that front! My priority is to keep a decent baseline, something that I can work from happily as soon as definitive dates are released.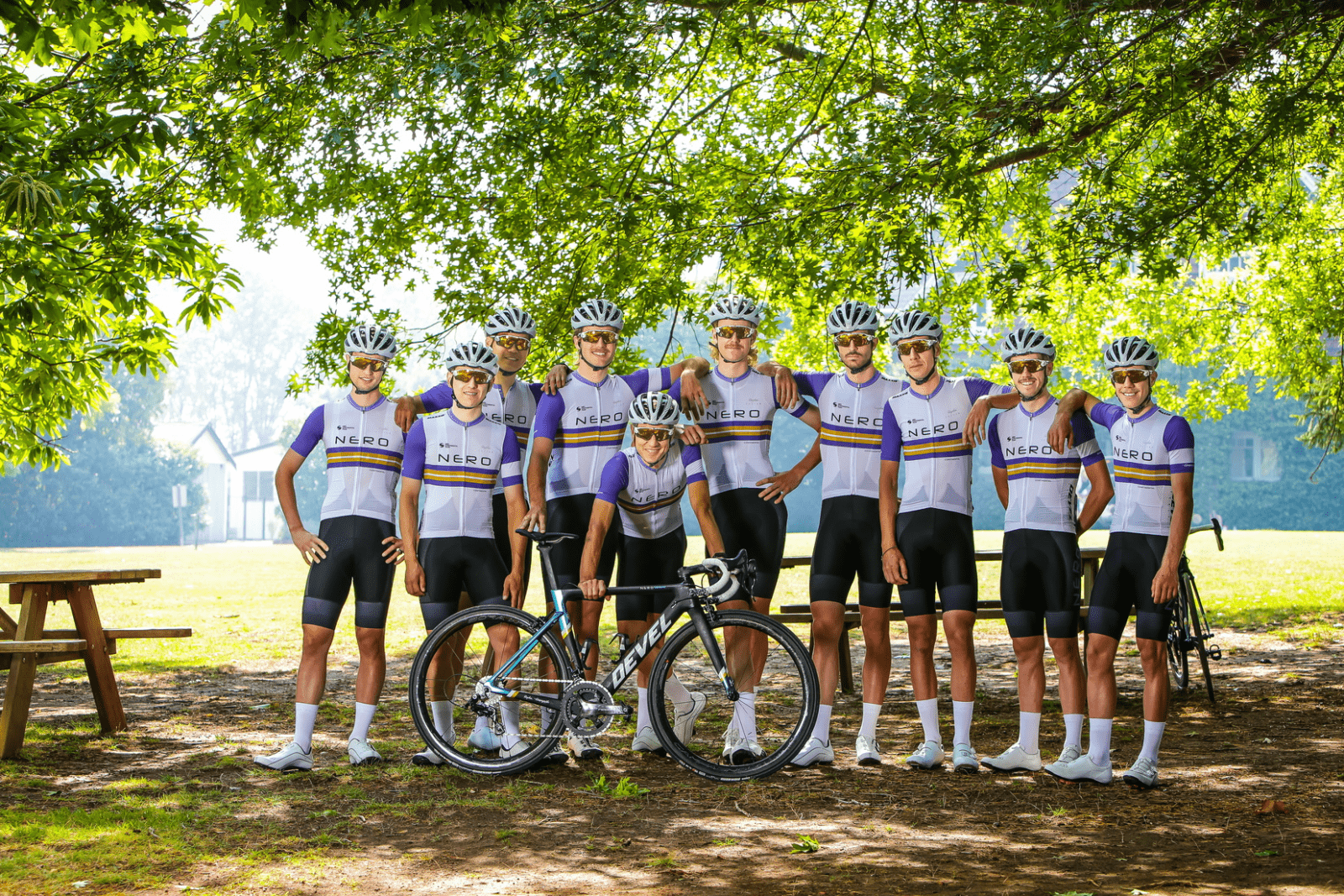 So as I sit here at the beginning of June, with a proposed domestic NRS calendar of events for the back half of 2020 (all reliant on the restrictions being continually eased of course), I can acknowledge that the chances of the team doing international UCI races are very low.
Still, I can't really think about specific goals just yet, and I don't know how things will fare when dates are set. But I can tell you, that I simply cannot wait to pin a race number on again … and nothing compares with the high of competing in a bike race with your team.
You can follow the Nero Continental journey throughout the year via their YouTube channel and on Instagram @nerocontinental