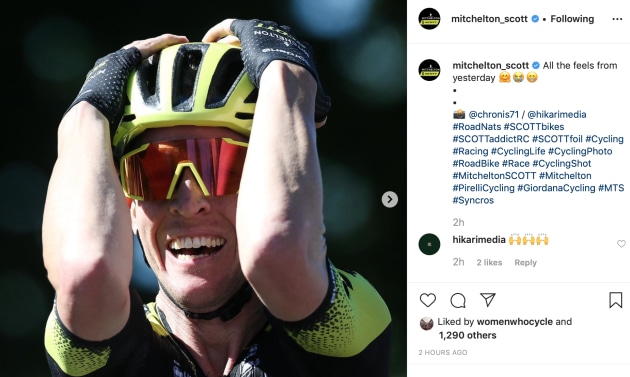 'I've been 12years with Cam, it's great to see persistence paying off for him…'
The words of Matt White, Sports Director of Mitchelton-Scott, as he reflected on Cameron Meyer's big win at the 2020 Nationals in Buninyong on Sunday.
Absolutley elated and describing it as one of the most significant of his numerous major victories, Cam Meyer said he'd wanted the national jersey for 12 long years.
"I fell in love with this race so long ago and I've been so close so many times," he said.
"Someone asked me the other day, 'you've got nine world championships why do you want this one so much?', but my brother has won it, Luke Durbridge one of my best mates has won it, and I just wanted it so badly," he explained.
Eager to slip into the green and gold banded jersey, Meyer said he was thrilled to be taking it to Europe where he will wear it proudly.
"As soon as the summer comes around and I land on Australian soil, this is one of the races I think about," he said.
"I can't thank my teammates more. I was given a lot of responsibility today with a bit of leadership and there's a lot of pressure that comes with that, but my teammates were incredible. We were on the front foot, we always had someone out front and I had someone helping me the whole time. In the end strength in numbers won and today was my lucky day."
RoadNats To Stay In Ballarat For Three More Years
The Australian Road National Championships will stay in Ballarat until at least 2023 with backing from the Andrews Labor Government enabling a new three-year deal with Cycling Australia.
The 'Road Nats' have been held in and around Ballarat for 14 consecutive years. With new funding confirmed this will now extend to a 17th year, providing a boon for local sports fans and a major boost for jobs and businesses across the region.
Cycling Australia released the details during last week's event, and said in 2018 the Road Nats injected $3.6 million into the Ballarat economy.
"The Labor Government has locked in the national titles thanks to funding from its marquee Major Events Fund, with significant support from the City of Ballarat," they said in a Press Release.
"The Road National Championships were first held in Ballarat in 2002, with the event returning to the city in 2007 where they have become a fixture on the Australian sporting calendar."