As spring begins to bloom soon it'll be time to strip away those bulky winter layers and embrace the changing weather. While the unpredictable nature of spring makes it a commonly difficult time of year to dress for, making the clothing choices that are versatile and adaptable to whatever mother nature throws at you can mean the difference between enjoying your ride and simply tolerating it.
One cycling manufacturer that has proven its quality and bold progressive design is Capo Cycling Apparel. Founded in 2004 by Gary Vasconi and Robert Carbone, Capo products are designed and developed in the US and manufactured in Italy. For spring, Capo has focused on colourful, geometric patterns and technical fabrics with a focus on products that have a 'next to skin feel'.
Temperature regulation is one of the most important characteristics of your spring cycling jersey and something Capo have covered extensively in their Leggero (knicks RPP $299, jersey RPP $249) and Fresco SL (knicks RPP $359, jersey RPP $289) jerseys. Both featuring fabrics that encourage moisture transfer, UV protection and breathability, these jersey's will have you looking and feeling good. Capo has also embraced eye-catching designs with the aim to encourage you to hit the pedals hard.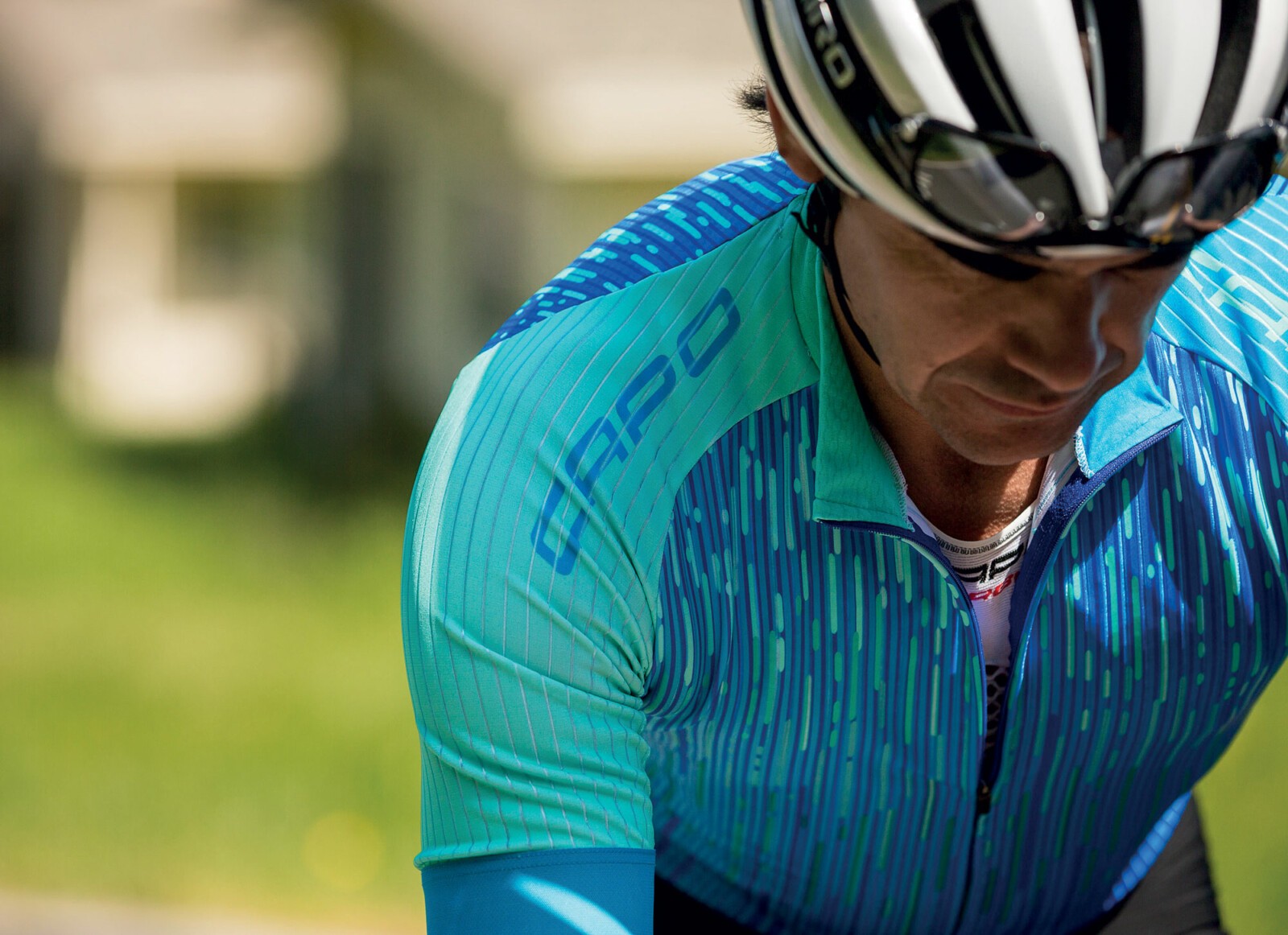 One particularly notable aspect of the Fresco SL jersey is the addition of eyelet mesh underarm inserts to encourage ventilation. While only a small addition to any jersey, mesh inserts can help you cool down quickly and efficiently without affecting your form on the bike. Both jerseys are also kitted out with Italian fabrics and an 11-panel design to ensure a snug race fit.
Layering is one of the most effective ammunition against the moody spring weather as layering gives you the ability to peel off layers as the temperature rises throughout your ride and visa versa. Baselayers are arguably the more understated part of a cyclist's wardrobe and can provide a more practical way of managing body temperature and potentially protecting your skin from gravel rash following a crash. Base layers are arguably the unsung hero to your cycling wardrobe and can be worn during all seasons of the year.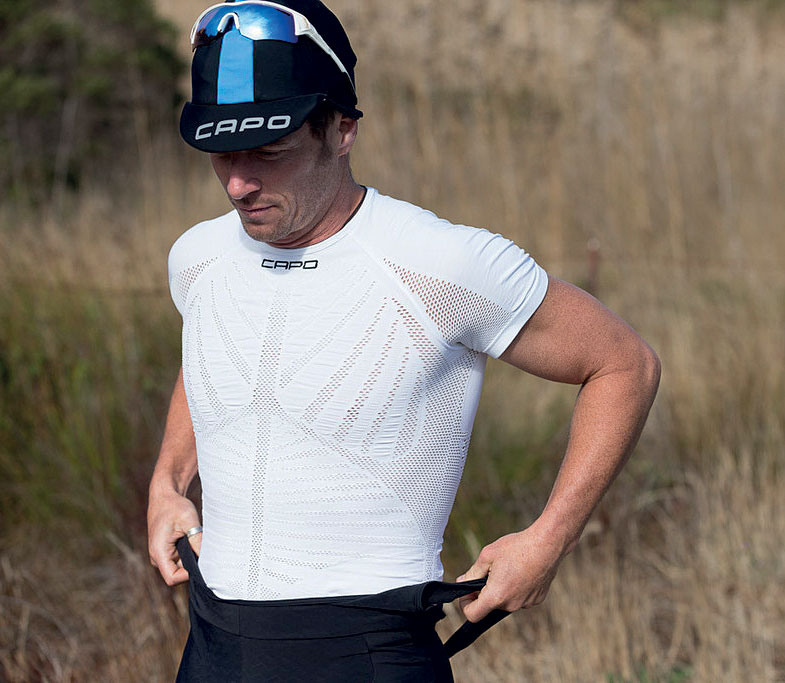 Your base layer should function as a tight, breathable, second skin, with the ability to wick moisture while also holding in any warm air generated from your body heat. For colder spring mornings I highly recommend a base layer with sleeves and a high neck, such as the Torino 3D base layer (RPP $129) as opposed to a singlet style base layer, to avoid any drafts and temperature loss.
Arm, and knee warmers can also prove to be an incredibly effective alternative to a long sleeve winter jersey and full leg knicks and are arguably some of the most important garments in any cyclist's wardrobe. With their ability to be easily removed for temperature management, arm and leg warmers are vital for days with even the slightest wind chill. Key attributes of arm and leg warmers are thermal insulation and non-slip coverage via elastics at the base and bottom of the warmer and length.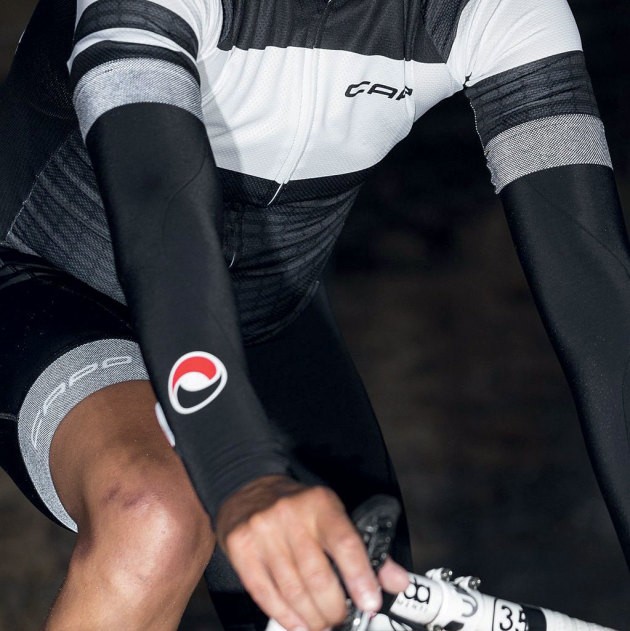 Again, you want your arm and leg warmers to be form fitting without being constricting- there's nothing worse than leg warmers that cut off circulation during your workout. One particularly notable aspect of all Capo arm warmers is their length. It's no doubt cyclists generally have skinny arms, this means that ill-fitting arm warmers may need to be pulled up to prevent them slipping down. Unfortunately this can cause an annoying little gap between the bottom of the arm warmers and your gloves, not ideal for cold or wet weather. Capo has designed their product to not only be form fitting and sit snug against skinny arms, but also to have a little extra length to prevent this annoying gap appearing.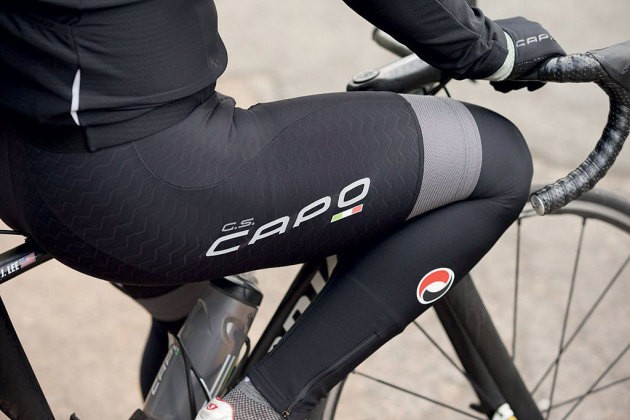 While it's impossible to buy a jacket to fit all types of weather, featuring a gillet or 'wind vest' in your collection is unmistakably important. Commonly the most lightweight part of a cycling wardrobe, the gillet is used as a wind barrier and can be the difference between enjoying your ride and being cold during your ride.
However one thing to note when purchasing a gillet, is to ensure it is snug. If your gillet is loose against your body it's purpose of wind-blocking will be lost and it'll act more like a parachute than a protective layer. Designed from a 'Compatto Membrane', Capo's Pursuite Compatto Wind Vest (RPP $189) boasts a 360-degree stretch that blocks wind and resists moisture. While this gillet will protect you from the elements it is also ultra lightweight and packable, ensuring you the ability to remove it easily if and when the weather changes.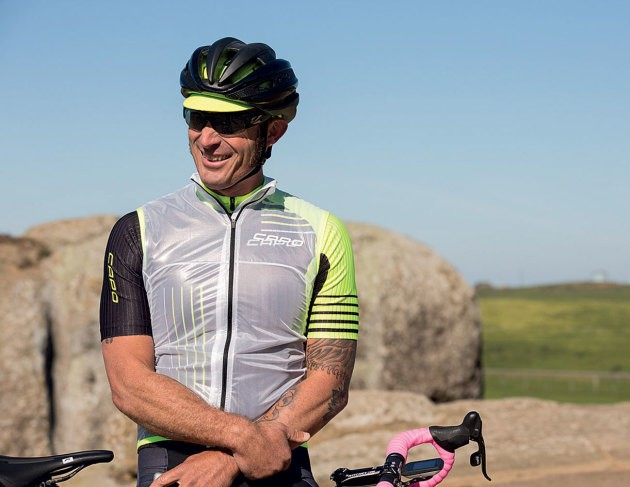 As with arm and leg warmers, warmth, movability and grippers are vital to a quality product. If your gloves aren't warm enough, if they're too tight or too loose, and if they don't have grippers you'll have a difficult time staying hydrated and snacking during your ride. One suggestion to avoid thick winter gloves is the addition of cotton inners to your long-fingered lightweight gloves as this can add extra warmth without compromising movability.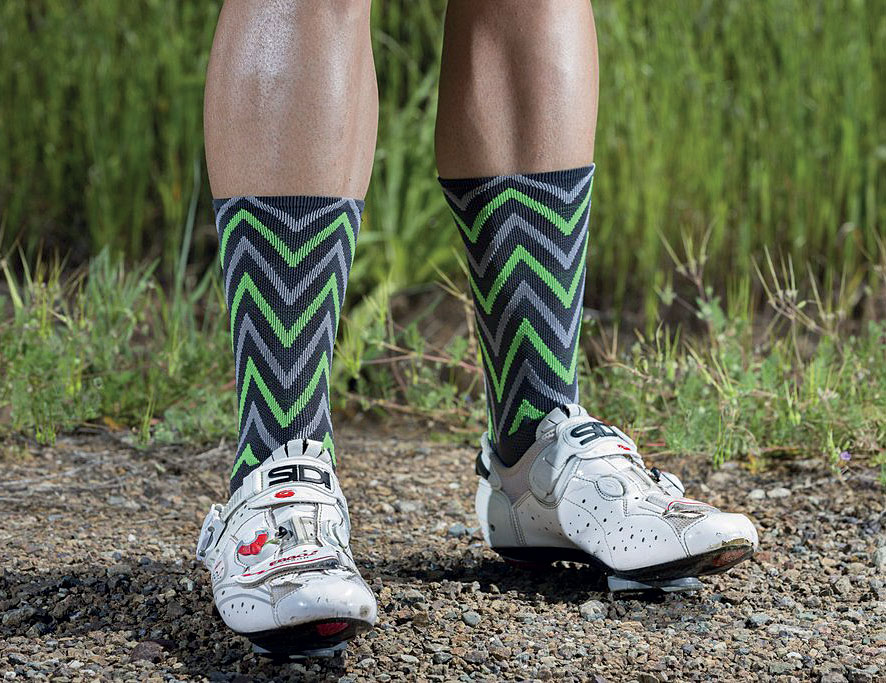 Aside from warmth and movability, the Capo sock range features products made from Meryl Skinlife fabric- a fabric with key characterises in odour control, antibacterial agents and maximum comfort. In particular the Vivo 200 Meryl® Skinlife 15cm sock (RPP $35) features another eye catching, vibrant design but is also durable, breathable and ideal for potential wet weather as this sock is sure to save you from that 'wet dog' smell, while also protecting you from bacteria- these socks are sure to put a spring in your step.
While spring riding can come hand in hand with unexpected weather, simple changes to your cycling wardrobe such as layering and choosing moisture resistant/temperature regulating gear can make your ride that much more enjoyable.