The 3rd annual Bowral Crit is coming up on Saturday October 21 with registrations still open for this fast-paced, thill-a-minute racing.
Criterium racing is as old as the sport itself but offers a faster, more furious and decidedly more modern take on bike racing. It's more like T20 Big Bash than test cricket and offers maximum exposure to an enthralled audience.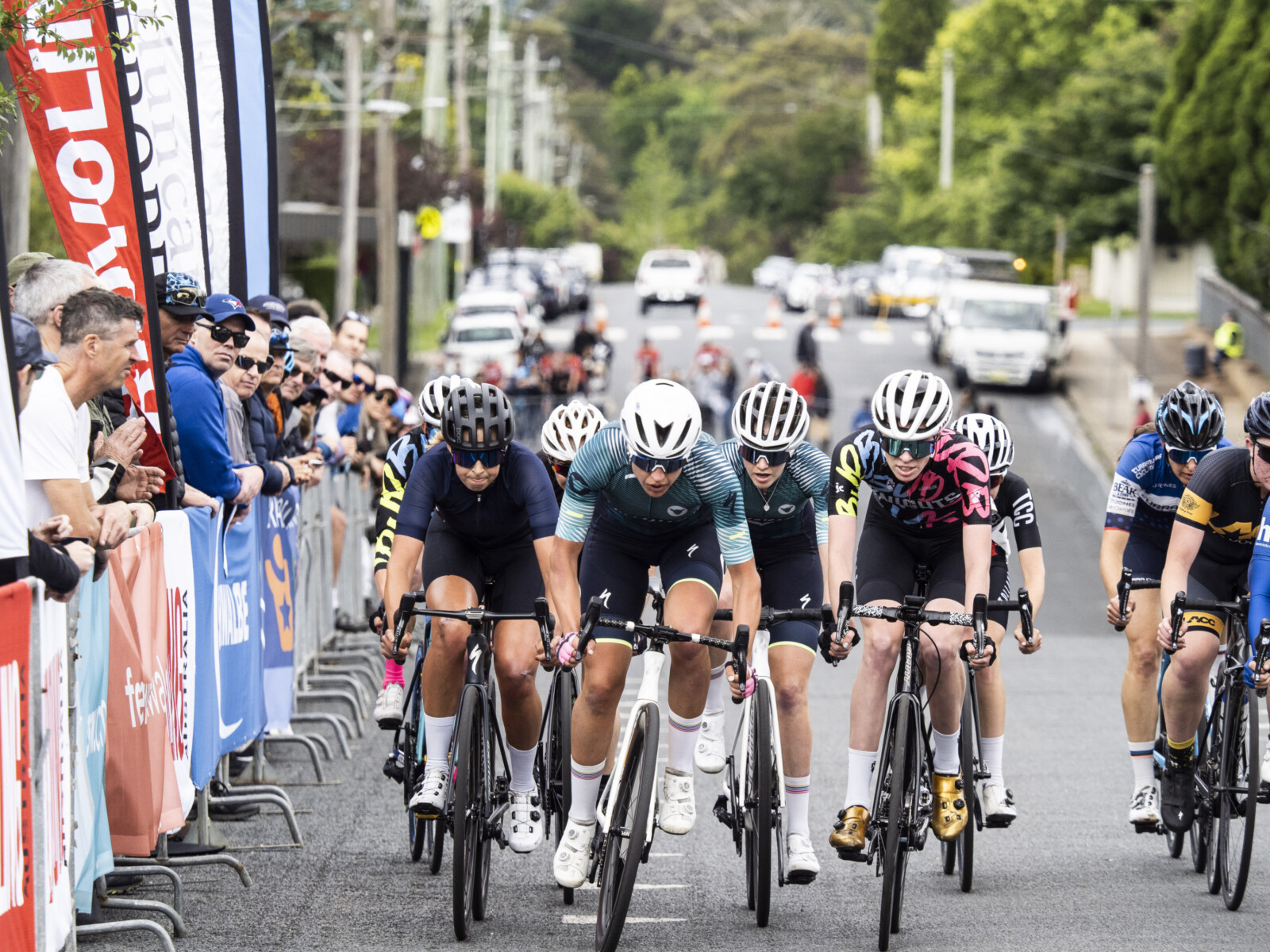 A major new criterium was recently added to the national calendar—the Bowral Crit is held in conjunction with the popular Bowral Classic Gran Fondo in the Southern Highlands south of Sydney.
AT A GLANCE
Date: Saturday, 21 October 2023
Time: 12:00pm – 5:00pm
Start / Finish Line: Loseby Park, Bowral
Price: $65
Prize pool: Over $4000 + Primes
Registrations Close: 11:59pm Monday, 16 October 2023
Limited spots available! 50 riders per category.
Categories:
Category 1 Men
Category 1 Women
Category 2 Men
Category 2 Women
Category 3 Men
Registrations close at 11:59pm on Monday 16 October – Register now via www.bowralclassic.com.au
How To Race A Crit
Three prominent riders who have raced previous Bowral crits are Myles Stewart, India McLean and Ayden Toovey.
All impressive athletes, we asked each of them five questions.
Myles Stewart,
Nero Continental, Wagga Wagga, NSW
Growing up in Wagga Wagga NSW, Myles fell into cycling after a number of injuries forced him off the rugby field. His progression through the ranks of local and state racing was as fast as his finish, joining the UCI Continental Nero squad at the beginning of 2020.
Myles continues to progress his cycling while balancing an electrician's job and studies. Known for his spirited finishes, he is a natural-born racer and loves a good criterium.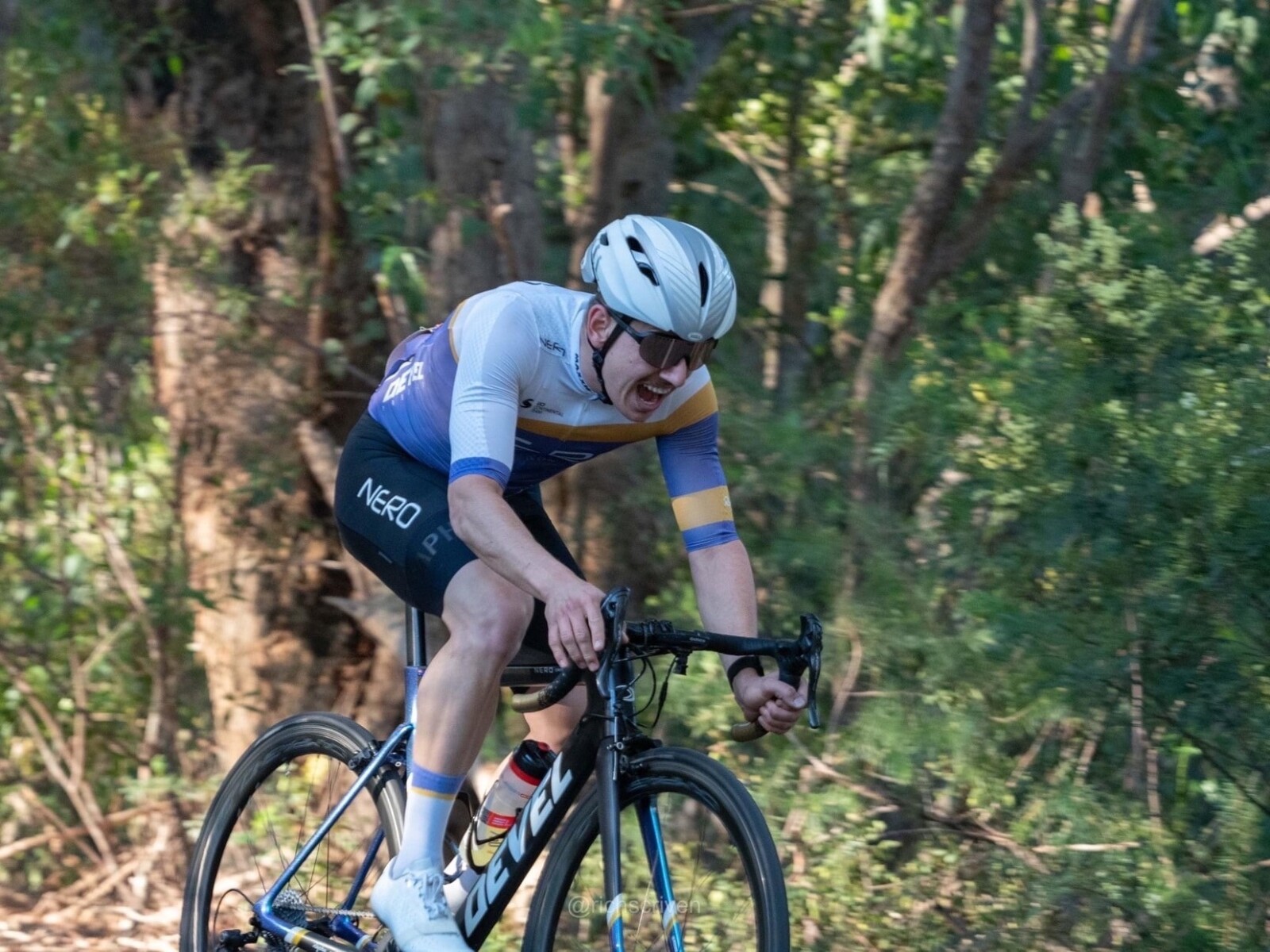 BA: What is it you enjoy most about crit racing?
Myles: Crits are an opportunity to hold nothing back. I love the intensity of the racing, there is a real rush from riding that hard. But let's be honest: the best thing about a crit is winning one.
BA: Do you train or prepare differently for a crit over a road ride, race or event?
Myles: Not really, I'm lucky to have a fast enough finish that if I can get to the finish line around the front of the race I have a good chance to get a result. That said, the best way to train for criteriums is to do more of them—it's one of the reasons I had been travelling from Wagga to Sydney on weekends to try more racing. It was also a great way of seeing my Sydney based teammates [Jesse Coyle, Chris Miller and Leo Yip] and racing with them.
BA: What's your preferred criterium setup (bike, tyres, wheels & equipment)?
Myles: You can't beat a full aero set up for criteriums. That's why I love my Devel AO1 Nero Edition frame, paired with the deepest section wheels I can find. Tyres—I can't recommend the MAXXIS High Roads enough. You just have to remember to set them up tubeless, that's when you get the benefits.
BA: What would be your top 3 tips for someone who wants to get into crit racing?
Number one is just ride them. I know it sounds obvious, but the more crits you enter the more comfortable you'll feel. Ask your local club about what racing is in your area and just have a go.
2. Don't look back! One of the things you see a little in lower grades is racers constantly looking behind or to the side in the bunch. Keep your eyes in front and everything else will take care of itself.
3. Have fun. Crits, especially club crits, are a chance for you to try different tactics. Don't be afraid of attacking or just having a go.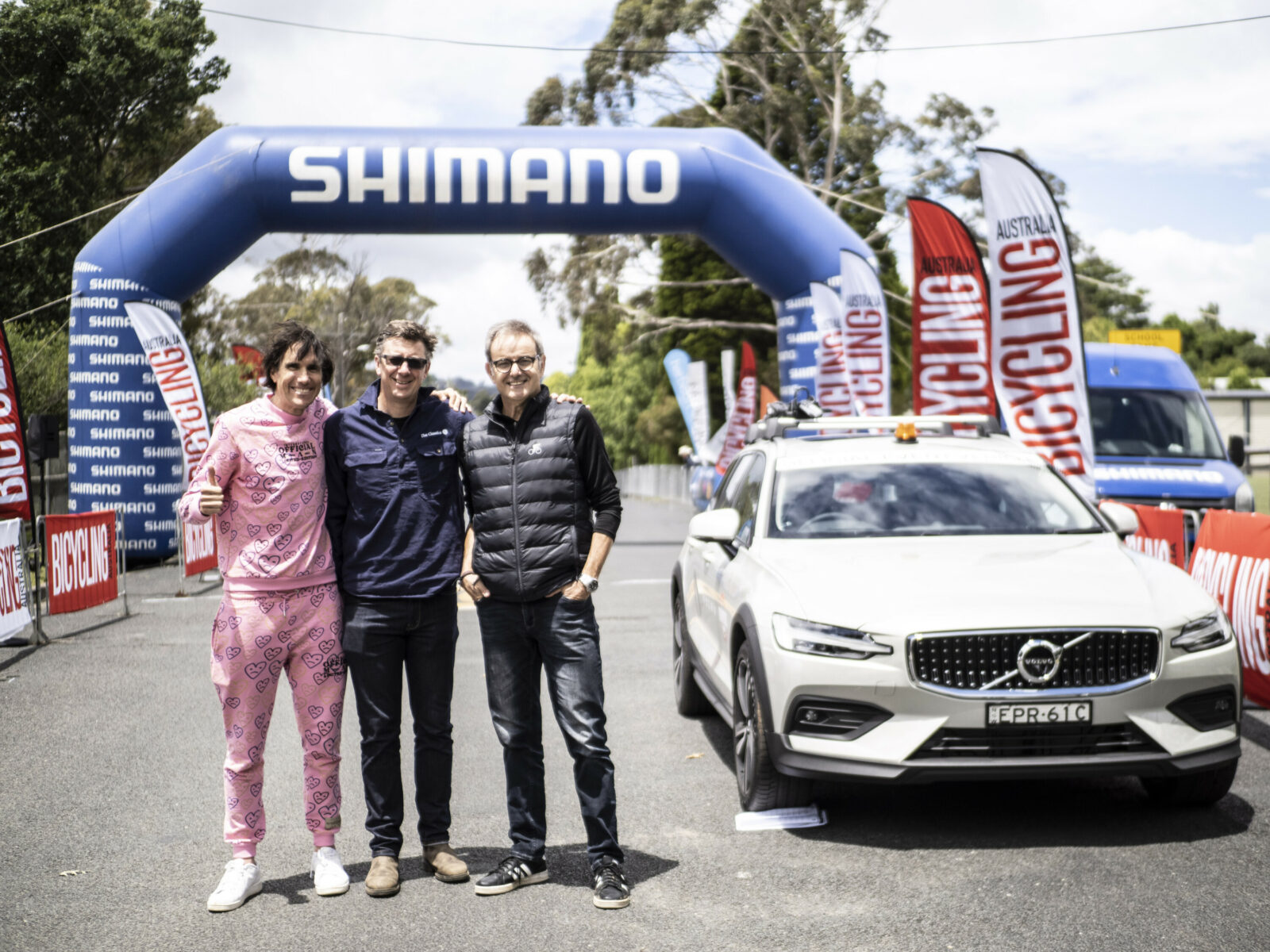 BA: Tell us your standout criterium memory?
Myles: My best and worst memory was at the NSW U23 State Championships in 2020. It was at Heffron Park, a place I hadn't ridden much at all. I rode well to get in a four-man breakaway and thought I had a good chance of winning. When it came to the sprint I went a little early and was beaten on the line by Tom Bolton to finish second. I was happy to get a silver medal, but I did learn a lot that day.
India McLean, InternationElles, Sydney
BA: What is it you enjoy most about crit racing?
India: I love crit racing because it intensifies all aspects of racing. In less than an hour your fitness, cornering skills, and racing strategy are all put to the test. Staying alert, making snap decisions and being able to strategise while being fatigued is a skill in itself. And it can mean that the strongest rider does not always win, which can make it exciting.
BA: Do you train or prepare differently for a crit over a road ride, race or event?
India: Crit training is different. It needs to prepare you to be fatigue-resistant, explosive, and able to recover quickly. This is because, unlike a road race where much of it will be spent in your aerobic zone over a longer period, a crit will use more of your anaerobic system in a shorter period.
This means your training will need to be more focused on repeatedly producing high-power efforts with short recoveries. The need to constantly move between your anaerobic and aerobic systems will mean that you will also need strong aerobic fitness. This will help you clear the lactic acid faster so you are ready for the next effort.
For anyone starting out it is important to start with your aerobic fitness base and then shift workouts to include explosive anaerobic efforts. By taking this approach you will be able to sustain power for the whole criterium, and will also develop the ability to push out large watts for short periods and recover in minimal time.
BA: What's your preferred criterium setup (bike, tyres, wheels & equipment)?
India: My criterium set-up is not that different to my road racing set-up. Criteriums can really test out your bike handling skills, so I prefer to use the set-up I am most familiar with and trust, so I can stay focused on the race.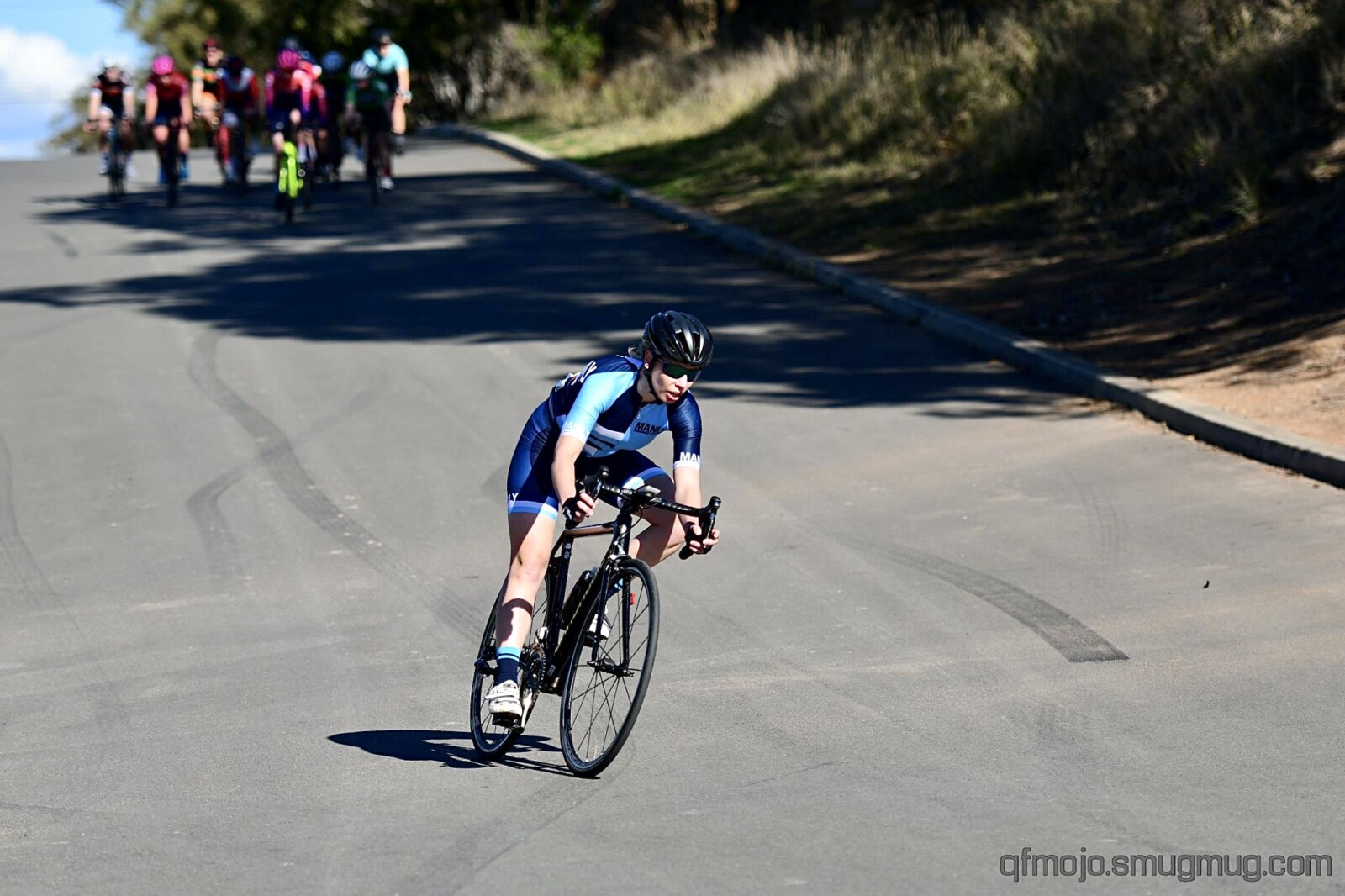 Although I do like to run a wider tyre—at least 26mm, or even 28mm. Having this extra contact with the road can make a big difference with grip, and therefore your speed, when cornering.
I also like to pull the carbon wheels out for a criterium. In this style of race, the aero benefit can make a big difference if you are in a break, or contesting the sprint.
BA: What would be your top 3 tips for someone who wants to get into crit racing?
India: Tip 1 – Stay Calm. Everyone is suffering.
The first 10 to 20 mins of a criterium can start fast, with plenty of attacks and breakaway attempts. During this frenzy, you may be questioning if you can hold on and then the pace calms down. By staying calm and focused on pushing through to stay with the bunch, you will often find a lull in the attack comes, and you can recover and get back into the action. You will be surprised how many times you thought you were done (but so was everyone else) and you are at the end of the race contesting the sprint.
Tip 2 – Energy Conservation. Like all races, energy conservation can be the winning move. If you get to the end with the most left in the tank you're much more likely to win. With the intensity of criteriums, this can be even more true.
Some ways to conserve your energy include moving up the bunch at the right time. Wait for a lull in the pace, and never try and move up a bunch that is strung out trying to chase a break. Stay away from the front unless you have a great reason to be there—of which 'feeling strong' is not one. Save those strong legs for a breakaway or the final sprint.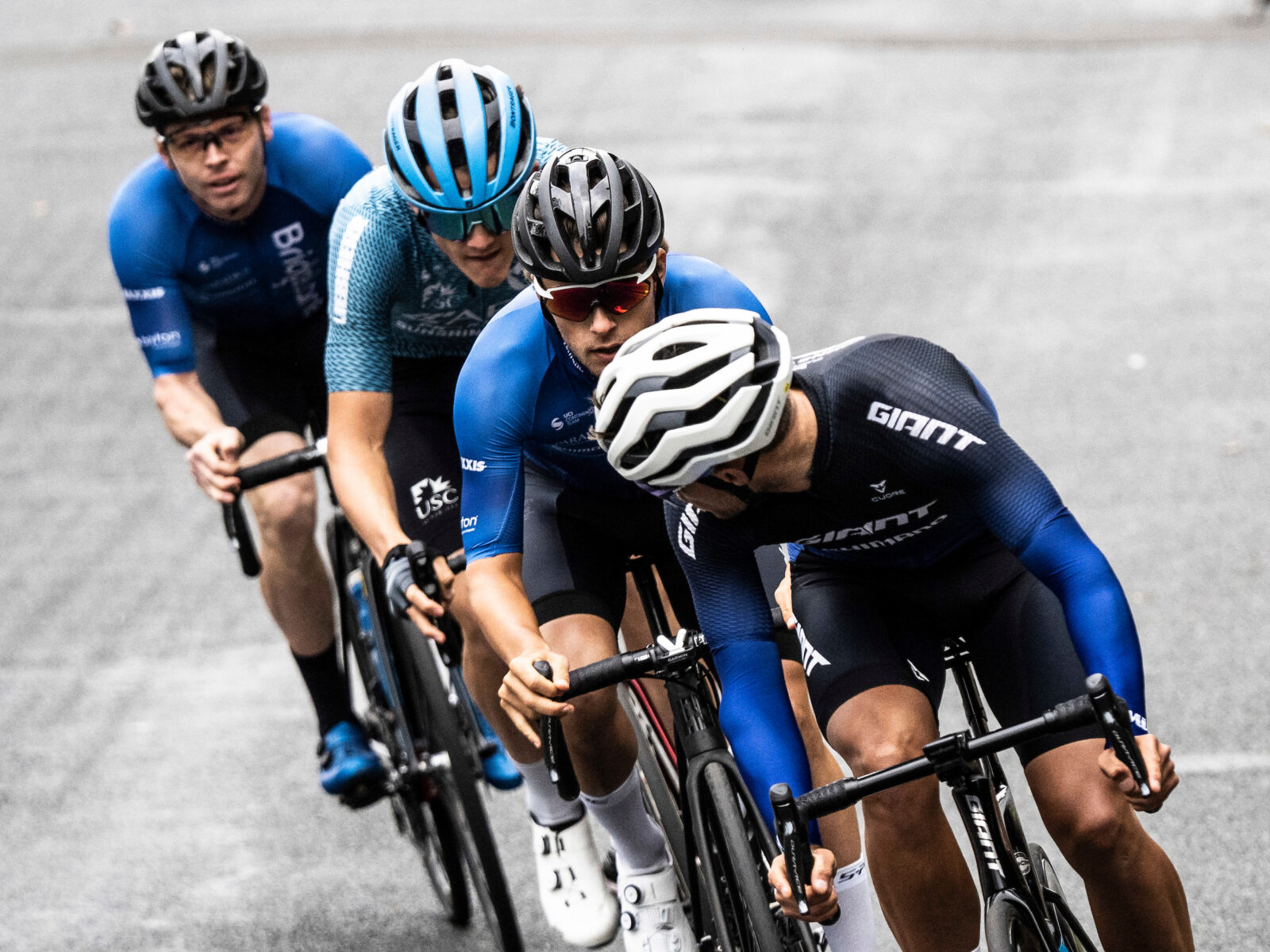 Tip 3 – Positioning. The corners in criteriums (particularly on a hot dog circuit) can mean riders at the back of the bunch are having to brake and then surge harder through corners—the concertina effect. Your goal should be to stay towards the front-third of the bunch.
The ability to stay towards the front of the bunch is a skill in itself. It requires constant thought and effort, because if you are not actively moving forwards you will be at the back of the bunch before you know it.
It's also important to give yourself options in a crit and to avoid getting boxed between riders. Ideally, you should stay on the downwind side of the bunch and on the edges so you can easily move if there is an opportunity to catch a draft of a rider as they come past to move up in the bunch.
BA: Tell us your standout criterium memory?
India: Definitely winning the Masters National Criterium Championships in Dec 2020 on the Gold Coast.
It was an event I had trained hard for. On the day, I rode strategically and stayed towards the front. I was focused on energy conservation and got the jump on the competition with a long sprint down the straight to take the gold medal by a couple of bike lengths.
Ayden Toovey,
Team BridgeLane, Canberra, ACT
BA: What is it you enjoy most about crit racing?
Ayden: Crit racing is very different to road racing. Everyone can ride a crit, but not everyone can race one. What I mean by this is that crits typically have a few technical features to test the riders skills/fitness/abilities and nerve.
Although there are many road races that test all the same things, technical skill is perhaps the most important in a crit, as opposed to raw power/fitness being the most important in a road race (in most instances, but certainly not all).
Depending on where you are, generally the atmosphere is quite large for crit racing, as spectators can stay in one spot to watch the race unfold from start to finish as opposed to watching the riders fly by for 10 seconds in a road race. I like the atmosphere that comes with crit racing, the power and skill usually associated with crits, the tactical games and more often than not the fastest rider doesn't always win.
BA: Do you train or prepare differently for a crit over a road ride, race or event?
Ayden: As I mentioned above, crit and road racing require the same fundamentals to perform well. Both are slightly skewed to what is more important (depending on the course).
Generally crits max out at about 1.5hrs of racing, which is far less than the average road race. This means you don't have to be as aerobically fit as you would normally be for a hilly road race.
Backing off the number of kilometres you ride and increasing short explosive efforts mimics what crit racing is generally like. Decelerating into a corner and accelerating out of it repeatedly, while also jostling for position, cornering and trying to stay out of trouble as best you can in fields ranging up to 150 riders—this all can be quite nerve-wracking, as there can be many different outcomes with so many people racing so close together trying to do the same thing, be in the first 10-20 wheels all race.
BA: Your preferred criterium setup?
Ayden: My preferred crit setup would be a 54-39 11-25 Shimano groupset, accompanied with Dura Ace C60 tubulars and disc brakes. The chainring would be big enough for most fast sections of the crit course along with the sprint finish itself.
…The best crit racers are the ones that are most rounded: they aren't necessarily the quickest / most tactical / fittest rider…
But also a small chainring if needed on potential climbs to try and preserve the legs for crucial parts of the race. 11-25, so there is less of a jump between gears. One cog difference on a cassette can increase/decrease the cadence anywhere from 2-12 revolutions per minute (depending on cassette size), which can be a massive difference in a sprint.
The C60 wheels would be fitted with Maxxis highroad tyres—the C60s are deep, fast, great for cornering and they also look great and are perfect for a crit. To finish it off I'd wear a skinsuit to keep as aerodynamic as possible.
BA: Your standout criterium memory?
Ayden: It's hard to go past the American crit scene. The crits in the US are pretty much a small festival with the criterium being the main attraction.
One race that I've been lucky to have competed in is Tulsa tough, located in Oklahoma. It's a three-day festival featuring varying courses and a sensational atmosphere.
Cry Baby Hill is the final day of the three-day block. The crowds are insane and probably as close as you'll get to the fans you see on the roadside of a hilltop finish in the Tour de France.
Cry Baby Hill is renowned for a small climb in the course, which on its own isn't anything difficult, but doing 90 minutes worth of racing around it makes the hill seem like a wall by the end. The competition is always strong with fields of 150 riders. All these elements make for a very exciting few days of racing.
To register visit www.bowralclassic.com.au