Mark Cavendish, one of the greatest sprinters in the history of cycling, has decided to postpone the end of his professional career for another year.
The reversals of his previous retirement decision means 'the Manx Missile' will have one final opportunity for Tour de France stage win number 35. Currently level with the great Eddy Merckx on 34 TDF stage victories, it's no secret that Cav wants to bow out on top.
Cavendish will continue to ride with the Astana Qazaqstan Team until the end of 2024.
"I was looking forward to not having to get up and train every day and not to be away from home for such a long time," he said this week.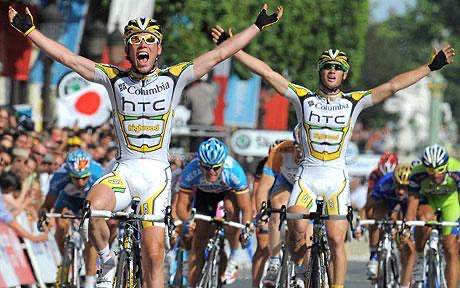 "But crashing out of the Tour de France was not a finish of my career I hoped for. But it is what it is. Together with Astana Qazaqstan, we grew incredibly as a team this year and it felt like a real family."
"So, the first thing Alexandr Vinokurov said to me there at the Tour de France after my crash was 'why not do another year?'.
"My first reaction was "no, no…". I was not ready to change my decision, I was in peace with it… Then, I discussed it with my family, my kids and I got their answer: 'you should carry on, well, just one more year…'
38yo Cavendish said he believes he's ready for this another year as a professional rider.
"I am happy I can do it and finish it with Astana Qazaqstan Team," he said. "I love this team and even beyond the next year I'd like to do something more for this project."
Alexandr Vinokurov, the General Manager of Astana Qazaqstan, said it's no secret that TDF stage victory number 35 is Cavendish's end goal.
"At Stage 7 this year he was very close to breaking his historical record. However, a heavy crash a day later crossed out all the plans of both the rider and the team.
"I believe that a true champion should not end his career this way. So, I asked Mark if in a few years he would regret that he didn't try again, and, in turn, suggested to reconsider his decision, to stay for another season, and still to try to win a stage in the Tour de France.
"I think Mark thought about it seriously; it's not easy to reconsider the decision already made, but in the end Mark agreed, and he will spend 2024 as a rider of Astana Qazaqstan Team.
"As for the plans after 2024, certain discussions are underway, and the team is interested in continuing cooperation with Mark. But, of course, first of all our thoughts are about the upcoming season"