Curve's reputation for exquisitely badass bikes has been in play since the founders first started crafting titanium in 2012.
Since then they've pushed the boundaries of cycling rigs in a way few other bike brands can, creating performance bikes for road, off road, and all road that are celebrated in adventure racing.
This bike, a Belgie V3, is a high-performance machine in an elegant modern package that will stay with you through the decades.

It comes from Curve, the quintessential Australian adventure cycling brand, who maintain a playful yet intense dedication that stands them apart from the rest. In a time when bike brands are updating their colour schemes each year and you can tell a bike's age by its shade of fluro, Curve continues to polish their titanium bikes to a fine burnish.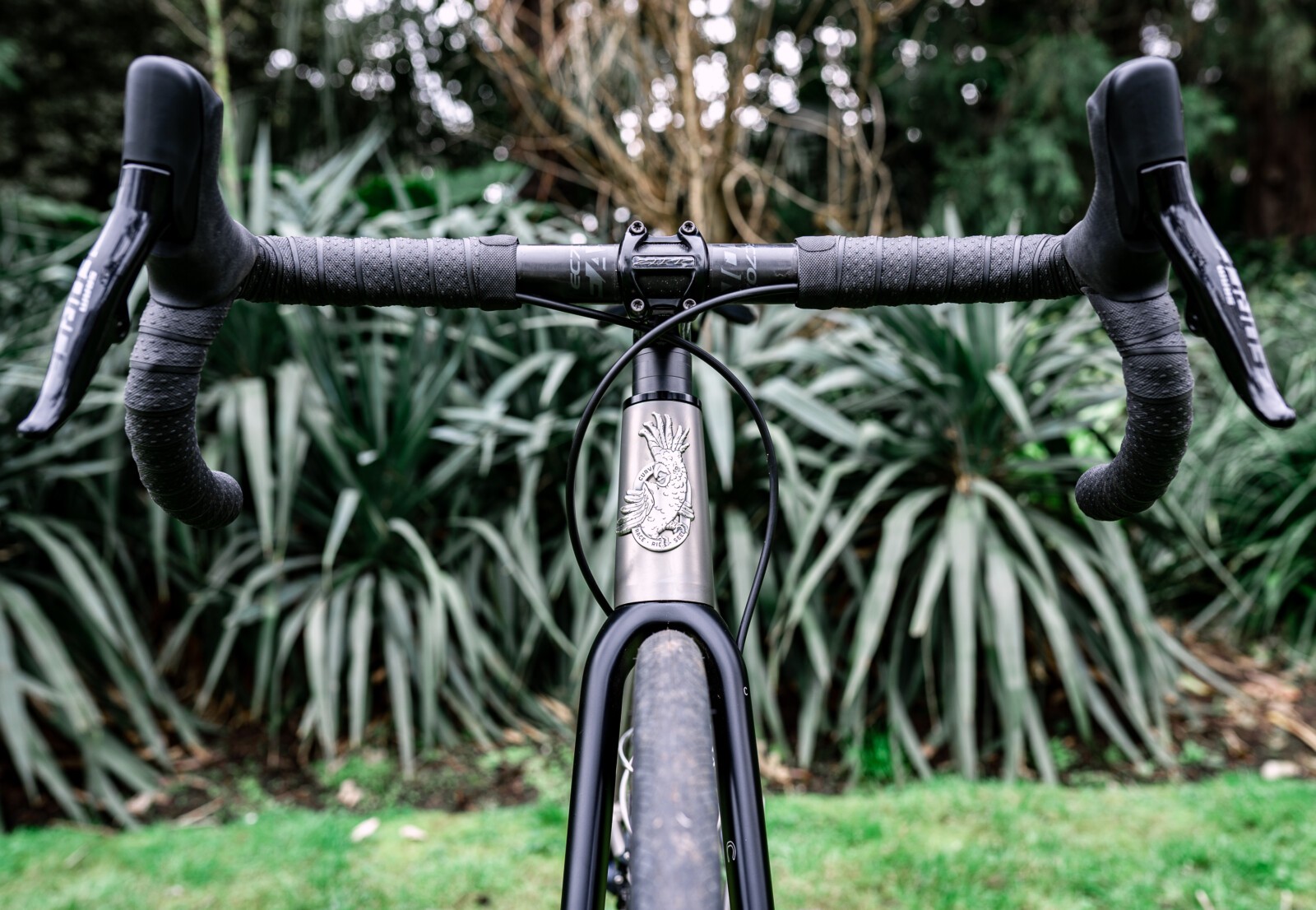 A bike brand that is dedicated to a precious metal sounds like something out of the Wizard of Oz, and yet in Abbotsford Melbourne you can find a treasure chest of bikes crafted from the finest aerospace grade titanium. Bikes that have won the toughest endurance bike races in the world, raced the National Road Championships, and in their latter iterations, carried me around the locked down Melbourne for a vigorous test.
I was testing the Belgie V3, an aggressive titanium road bike fitted with disc brakes and SRAM Force eTap mountain bike style gearing. The V3 is prepped for climbing in the toughest country with a 46/33 on the front and a 10-36 cassette, and fitted with sizable disc brakes for coming down the other side.
…Curve's titanium bikes perform consistently under conditions that have grown men weeping and carbon chainstays cracking…
A straight seat post and lower front prepares for tucking into the frame on descent, while slightly angled wide bars provide a feeling of stability despite the bikes agility. The V3 is the third iteration on the original Belgie, a titanium road bike that shot to fame after winning the 6,800km Trans Am race piloted by co-founder Jesse Carlsson.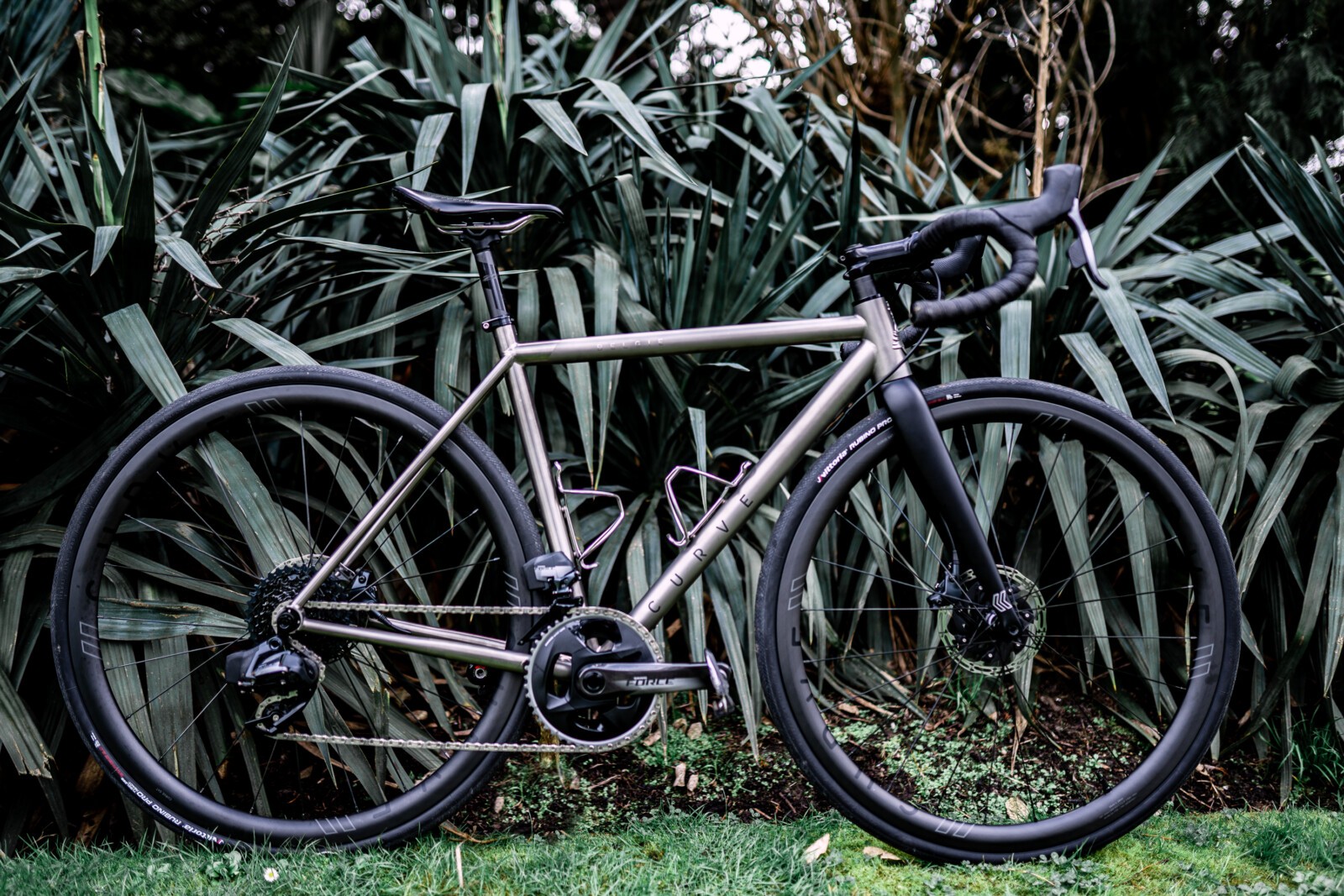 Since then, the Belgie V3 has benefitted from clever engineering that allows it to fit both mechanical or electronic groupsets in a lighter, faster package. 32C clearance increases tyre choices, while the tapered head tube and integrated headset shed grams and provide aero gains.
The titanium tubing performs silent miracles on buzzy roads, absorbing much of the noise that carbon frames would ordinarily transfer to your hands.
Winding up to a sprint, the frame responds in a way that only titanium can, rebounding after each pedal stroke to set itself up for the next without losing power or resorting to razorblade stiffness.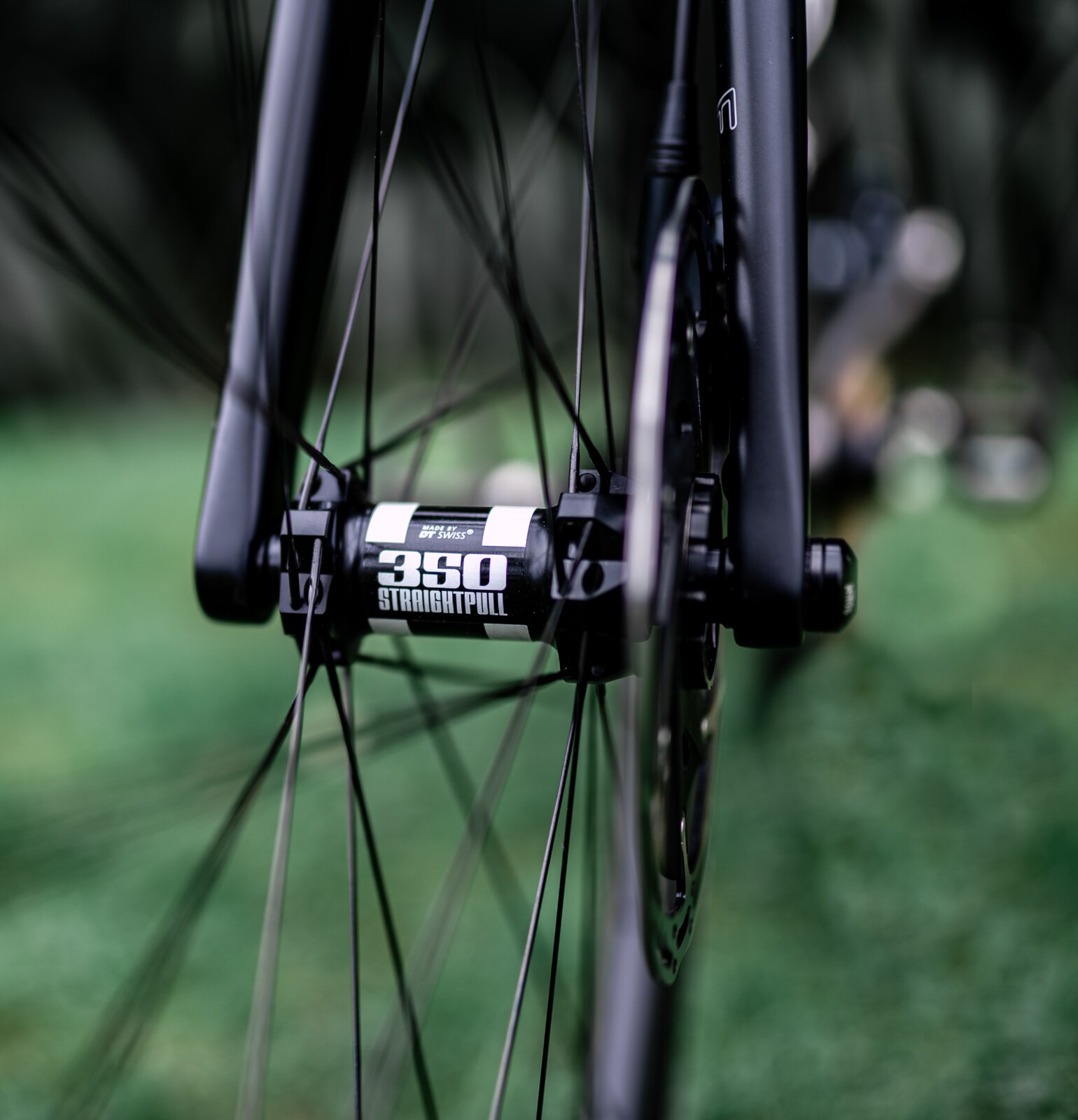 Cornering is a test that the V3 rises hungrily to meet. Perfectly balanced in all directions, the V3 is responsive to weight changes without becoming neurotically twitchy or in danger of over reacting.
From wide sweeping bends to switchbacks on a pedestrian bridge, the balance combined with wide 30C tyres and tubeless makes cornering the V3 a thing of intuition.
The G4T wheels are another Curve special designed with road in mind. Carbon with tubeless technology, they utilise the much lauded Sapim CX-Ray aero bladed spokes combined with DT Swiss 350 Centre Lock Straight Pull hubs for a robust performance wheel.
A choice of 35mm or 45mm depth profiles leaves the aero-or-not decision to the riders preferences. The thru axle provides additional peace of mind and security. The V3 makes for a confident ride, capable of responding to technical riding demands and greeting power increases with certainty.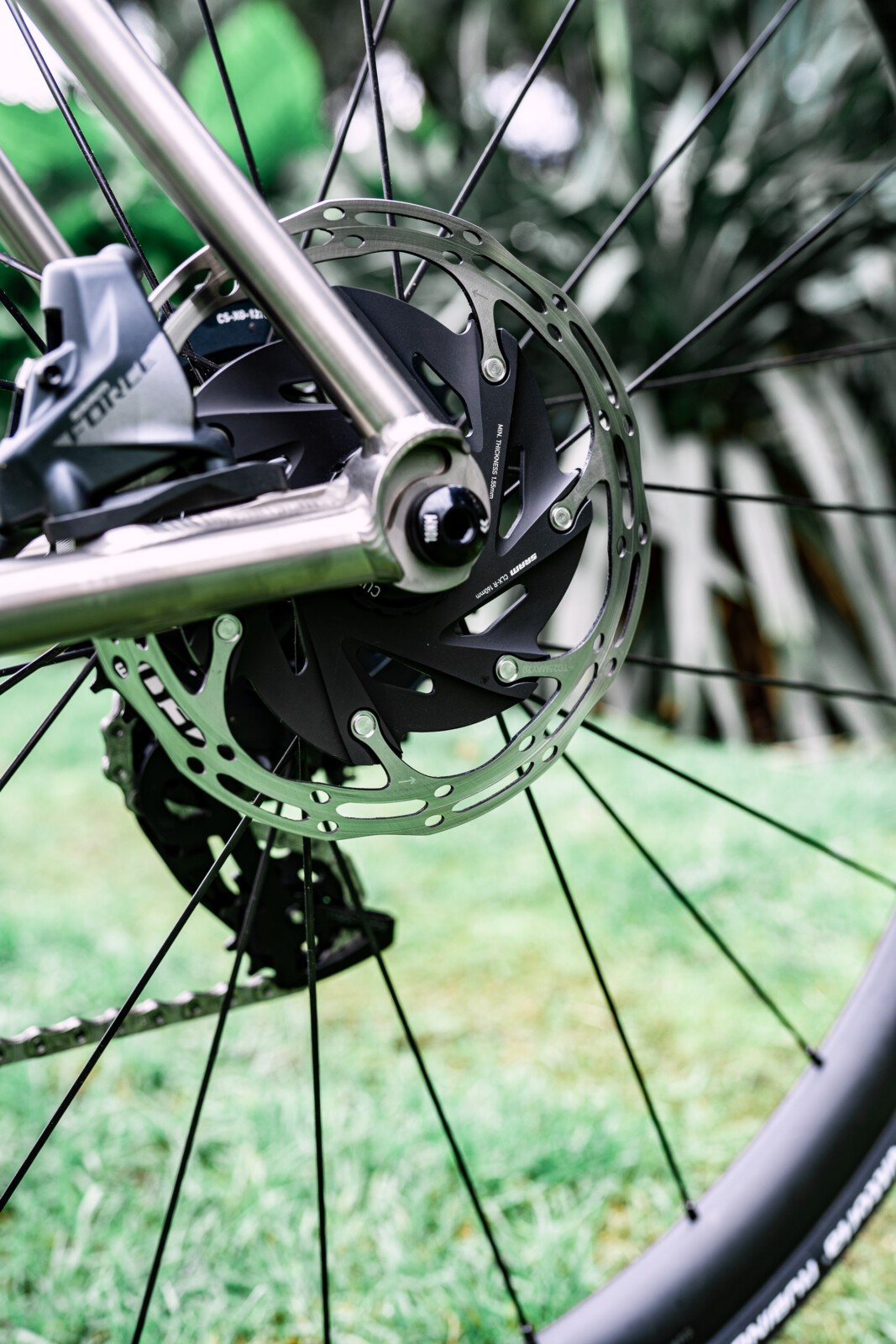 Summing up
Quality
A lifetime warranty on the titanium frame, carefully considered specifications and some of the industry's best componentry combine to create a bike with exceptional quality.
Performance
Performing at the highest level in the toughest conditions across the world, Curve bikes are some of the most vigorously real life tested bikes on the planet.
Value for Money
Titanium bikes are valued higher for longer, with most owners holding onto their bikes much longer than they would a traditional carbon road bike and avoiding upgrade creep.
Overall
A bike to invest in for performance and adventure, for a good time and a long time.
Specifications
Fork: Curve 700c Road Disc

Headset: Curve Integrated 42/52 semi internal

Wheels: Curve G4T

Groupset: SRAM Force AXS eTap 12sp

Brakes: Force eTap AXS HRD Flat Mount Disc

Rotors: 160mm

Crank: Force 2x12sp DUB 48/35t

Bottom Bracket: Curve T47 DUB 68mm

Chain: Force 12sp

Wheels: G4T 35 -700C2, 35mm deep

Hub: DT Swiss 350

Bars + Stem: Zipp SC SL Beyond Black

Seatpost: Zipp SC SL Zero Setback

RRP as tested: $9,999
Bicycling Australia contributor Coco Louise Henry caught up with Adam Lana, co founder of Curve to find out more about what makes this bike brand so unique.
CH: What is your vision for Curve?
AL: There area couple of things. We aim to be the biggest adventure bike brand in the world. And we want to have no shit products, it's a bit of a tag line for us. We've got adventure and fun in our DNA, and that's across the country or on your way to work.
Exploring with your bike is a concept that we would like to deliver all over the world.We would love to manufacture locally, and we're constantly looking at different like 3D printing to bring some of the manufacturing into the local market.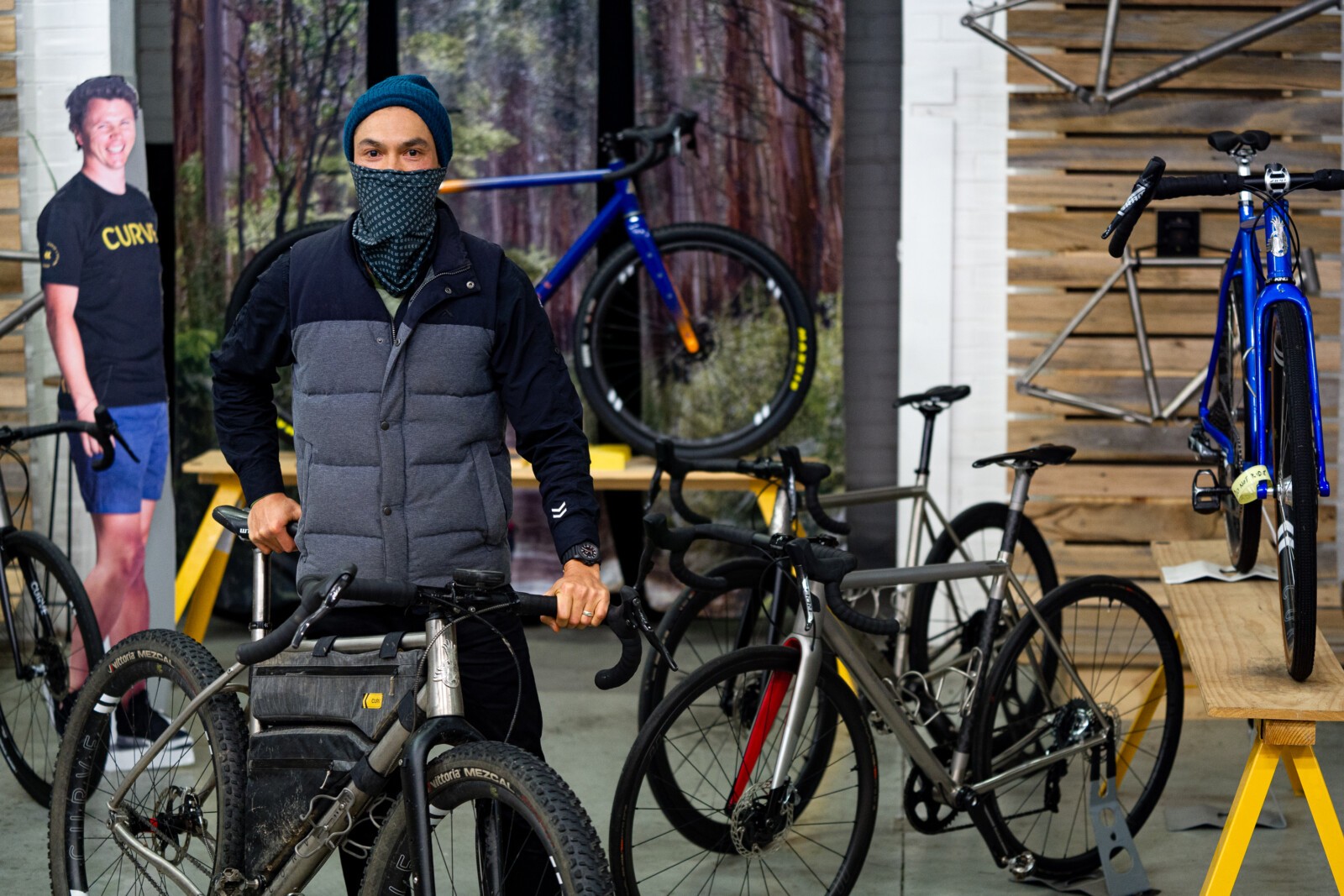 CH: Does the Curve team run with every idea, or is there someone in the team who dials you back in?
AL: We see what we can actually do, some great ideas have to be shelved and sometimes the crazy ones get up. Jesse has been wanting to develop a 36 inch wheel bike and he's banged on about it for long enough that we've decided to give it a shot. It helps that he has this big ol'brain and a PhD in Applied Physics.
A wheel size that large is going to reduce the impact of corrugations in the desert, and once it's up to speed they hold their speed for quite a while.
There are bike brands that just try to take market share without growing the market or innovating. Clearly that isn't Curve. The world is going to be a much better place if everyone had a bike and everyone cycled. The cycling community itself is so vibrant and awesome, it gives so much to each individual person. If there's something that wecan do to improve and grow it then we do it, if it's a bike, a race or a community event.
CH: Are Curve bikes just for endurance racing?
AL: No. I think there's a bit of adventure and endurance in all of our bikes, but they're also serious road bikesbeing used for performance road racing and crits. The titanium does make them a little bit easier going and takes the edge off the road so they are comfortable, and that lends itself to the endurance perception.
CH: I've known Curve for years, but the cockatoo head badge is new. Can you tell me about the cockatoo?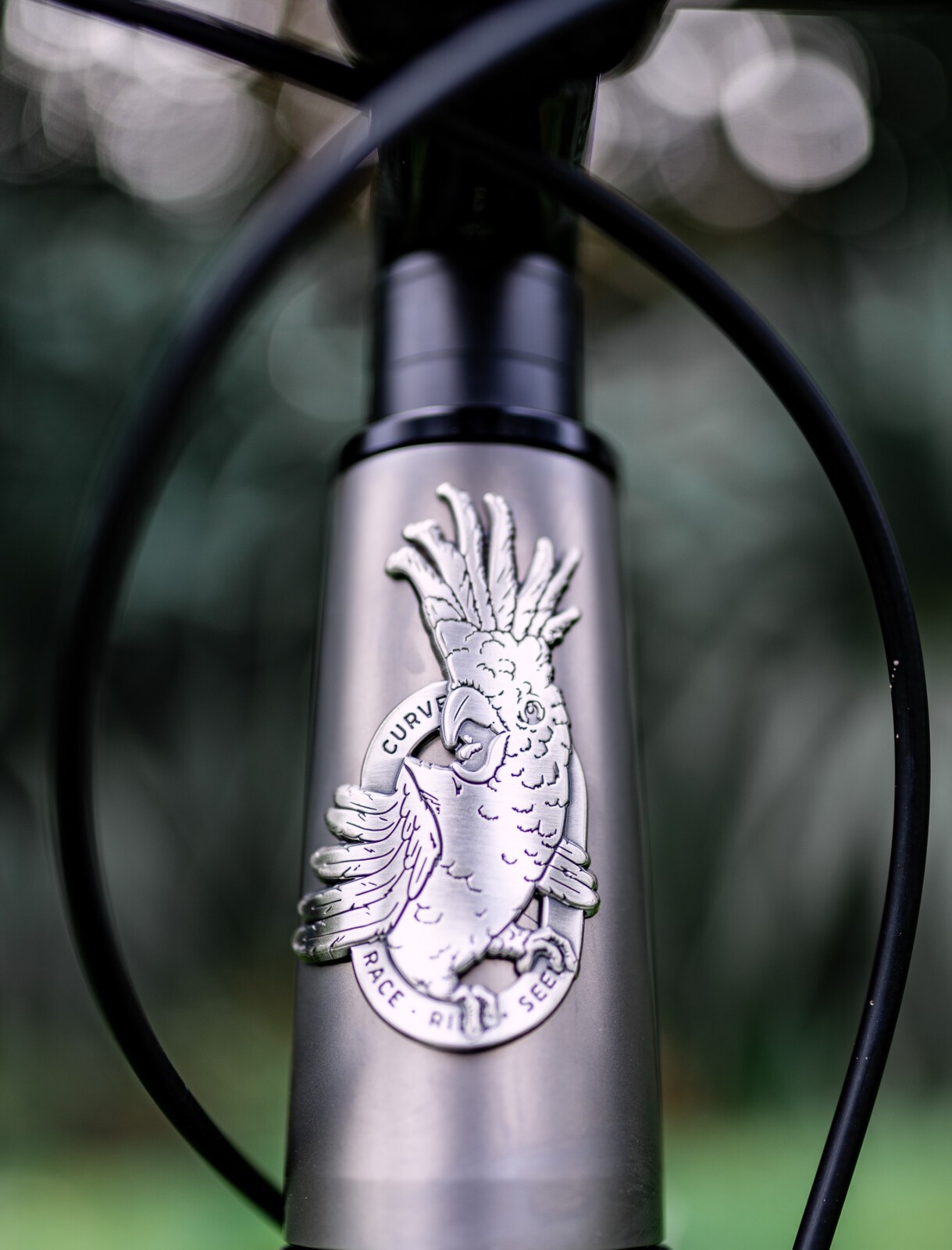 AL: We call it The Cocky, it's our first head badge as a bike company. We briefed a design agency that we were looking for an Australian spirit animal that is unmistakably Curve and they came back with The Cocky.
The Cockatoo are elegant, beautiful and free birds, but they also have this outlandish larrikinism and squawk. They're not the quiet hummingbird in the corner, they strut and everyone knows about them. It's perfect for us.
CH: You don't build gender specific bikes, why is that?
AL: No we don't. We've got great riders and we ask them what they want in a bike, we don't decide what they need based on their gender.
Before you buy a bike we'll advise you to go get a bike fit first and if we see anything that isn't going to fit the standard build we can customise around that. It might be a fully custom bike or different shaped bars or gearing, but not a gendered bike.
CH: The Belgie V3 I've got has some serious gearing on it. How do you choose what componentry to put on the bikes?
AL: We have a meeting every week and we can spend an hour discussing what bike tyre to put on a certain product. Everyone chimes in with their experience and it's great because riders get something that's really well thought out and tested, not just something that's cheap and available that needs to be upgraded when they leave the store.
We choose firstly based on what we would want to ride, and secondly what is suited to the price point.
CH: Is there an ethos behind this or is it something else?
AL: We use a lot of titanium, which is a precious metal with its own brilliance. You don't need to do anything besides let it shine, it's a paring down to a modern classic. Someone pointed out the other day that you can look at some brands and you know what year they are because of the paint job.
We're not in the game of getting people to upgrade every year. It's about having a bike that you're going to enjoy and have for a long time.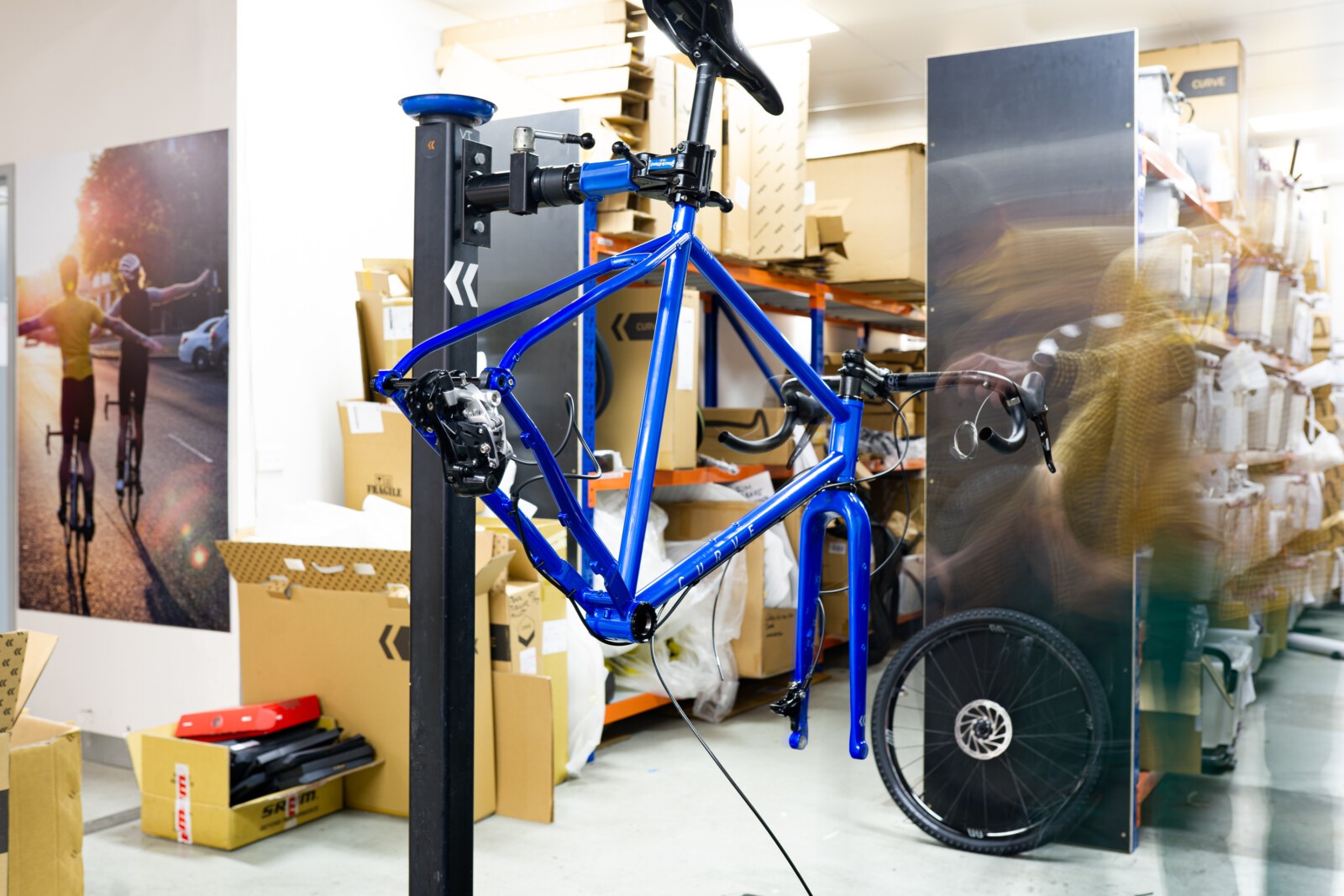 CH: So, I have the BelgieV3 and it handles amazingly well. How did you do that?
AL: It's the culmination of titanium, innovation and advancements. At Curve we have all been mountain bikers and we've taken the philosophy and tech from off road and applied it to road. There's a whole bunch of mountain biking stuff that has made its way into road bikes. Think disc brakes, tubeless tyres, they're all from a mountain biking background. The idea of making a bike that's fun, responsive and comfortable is what we're aiming for and we haven't limited ourselves in pursuing it.
CH: Seeing as it's a road bike I tested it out on sprint and got a heck of a surprise. What was that about?
AL: That's the titanium again. Carbon is traditionally quite soft so when you put power down it flexes, and you lose some of that power. So, to make a sprinting bike they'll build up the bottom bracket where the power transfers with layers of carbon to strengthen it and reduce the flex, the trade-off being that it then becomes very stiff and it has no rebound.
CH: And if I want to buy the Belgie V3 how much will I be investing?
AL: $9,999 for the whole bike, or $3,999 for the frame set.
CH: And the return on investment?
AL: Years of fun, happiness and a lifetime warranty. The resale value is really high because they rarely
go up for sale, no one wants to part with them.
CH: Is there anything exciting coming up for Curve that you can give us a sneak peek on?
AL: We are launching the Ultra, it's the endurance version of the Belgie designed to sit on all day and hold a straight line or flow through sweeping corners. It's the road bike offering by a company behind some of the finest adventure bikes in the world.
For more about Curve visit Curve Cycling