With the nation now in lockdown many are asking if they can still ride their bikes. In this simple & straightforward Q & A we answer the questions you are asking.
Can I still ride outside?
Yes.
Exercise is encouraged. Many are using the bike to stay sane + also for the practical reasons of a trip to the shop for essentials such as food & (dare we mention it …. toilet paper). The advice from specialists is this – don't overdo it! While exercise can help strengthen the immune system, extended strenuous workouts can have the opposite effect, particularly for the 24 or so hours after. And remember to follow commonsense hygiene guidelines including washing your hands after the ride.
Can I ride in a bunch?
No. Bunch riding is obviously a group activity. It is irresponsible to be riding with any more than 1 other person at this time.
Are bike shops allowed to open?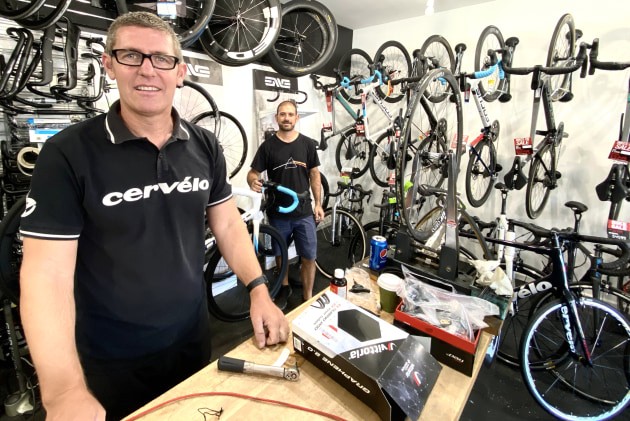 Yes.
Phone or message your local bike shop for more.
Are the shops busy?
Yes! Many bike shop staff and industry insiders we've spoken to over the past few days have reported steady to strong business. We need to support the cycling industry, now more than ever! So support your LBS and help keep them busy through this difficult time.
How should I go to the bike shop?
Phone ahead! Many local bike shops are open by appointment only. Stores are limiting the number of customers inside at any one time, typically with a maximum of two customers. And hand sanitiser is available at most stores.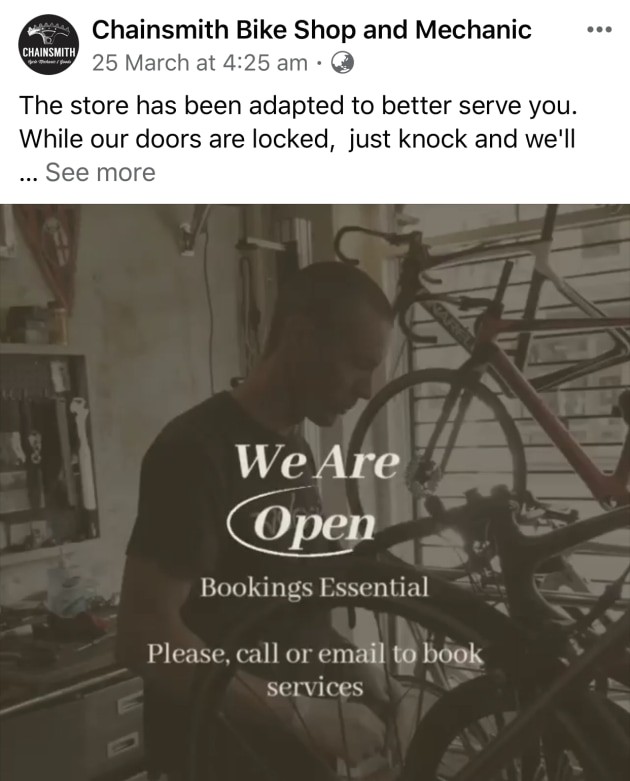 What if I need my bike serviced?
We have been told of numerous workshops being absolutely inundated with work. Many people are opting to use the bike to get outside, breathe some fresh air and much-needed exercise. Some workshops are booked out for weeks so phone or message in advance to make an appointment.
How about using the local cycleway or path?
Yes – but keep your distance.
Exercise is one of the 4 primary reasons we are legally permitted to venture outside. Bikeways and paths are open but many are reported to be busy! For example riders using Canberra's lakeside bikeway say it has never been busier. With this in mind keep your distance, pass other safely, and ride with common sense.
What about Indoor Training?
Solo only … Spin classes and gyms are closed.
Indoor training is booming – never have so many people been logged into the major online apps such as Zwift, The Sufferfest, Trainer Road or Fulgaz.
Where can I buy a Smart Trainer?
They are in short supply – several national distributors have told us they are completely sold out.
We've been told the Wattbike Atom is still available in Australia but sold out in many other countries. You can also search online or phone your local bike shop. You may also want to check Facebook cycling buy/ swap & sell groups.
How is Bicycling Australia weathering the crisis?
We are putting the final touches on our next edition while doing all we can to help the cycling community #RideOutTheCrisis.
We have also just launched a fantastic subscription offer – sign up and join the Bicycling Australia family to support us, the sport and industry as a whole. Click here to subscribe to print + digital and save 40%: https://bit.ly/2vWY8lA
And you can get instant digital access to Bicycling Australia here: https://bit.ly/3dAY9wJ
Any other questions?
Have your say in the comments section below.
The Final Word … The 'Tour de Front Garden'