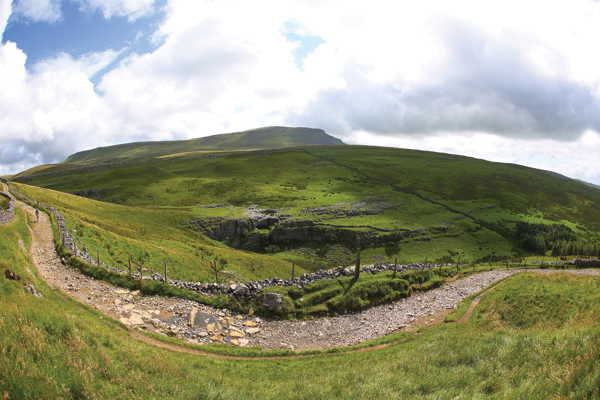 Yorkshire is England's biggest and wildest country, and is a land steeped in cycling tradition. Steve Thomas 'skinnies-up' and takes a cyclocross bike tour around its famous Yorkshire Dales.
By heck, what a difference half an hour makes. The sun was out, the sky was blue, and we were skimming along a stony Yorkshire Dales trail, on a virtual Three Peaks cyclocross recce ride. Just 30 minutes earlier we'd been huddled in a steamy corner at the Pen-y-Ghent Café in Horton-in-Ribblesdale, peering at the rain through the condensation on the front line windows, safely protected by bacon butties and a pot of tea.
It was mid summer, and so naturally it was hurling down with sideways rain and howling like a banshee outside. These incessant rains had accompanied us on our entire journey over to the Dales, but as time was short there was to be hanging around on standby for a 'good day'; come rain or shine we had to make the most of it, as is often the case in these parts.
With crusts all chewed and the tea strained to its last drop, we stepped out into this darkening and daunting whirlwind, which appeared to be coming from the shadowing Pen-y-Ghent mountain; the famous last ascent in the Three Peaks Cyclocross race.
Luckily for us we were heading due north, pretty much as the iconic rough-cut race does itself, and the only direction that showed any cracks in the blackening torrent above us.
Some of the actual race route is not permissible to ride, as it passes along footpaths or permissive rights of way, some of which only open up once a year to allow the race to take place, so we'd knitted together a mash of trails and roads to replicate the route – only without the ultra steep bike-carrying summit pitches.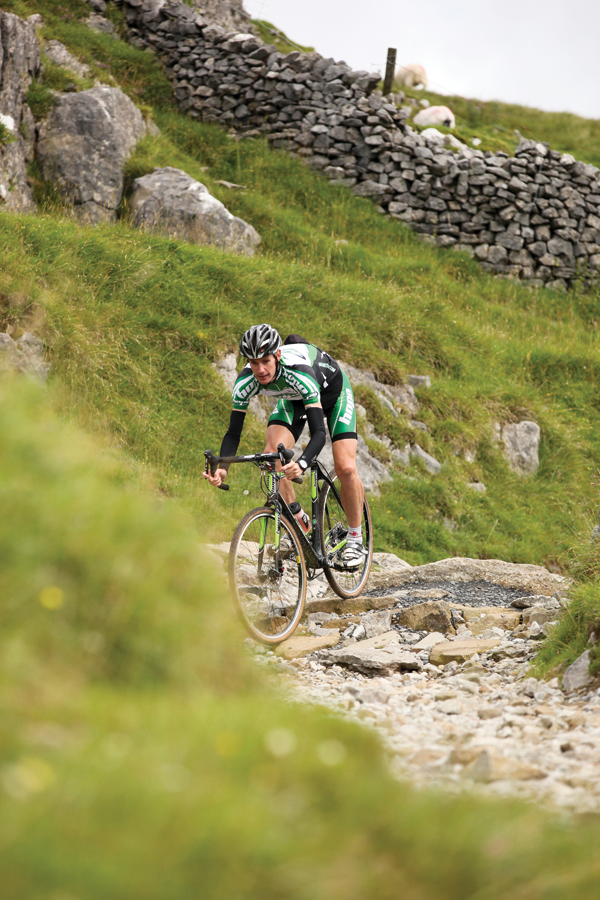 We hadn't even had chance get muddy and the state of play had changed; the sun came out, glisteningly glorious, and oh so welcomed. It's a long and steady slog to start the ride, which could have put a real 'dampener' on the day should the Dales gods not have been with us. Spirits and enthusiasm lifted faster than the clouds
Back on track and open Dales views were amazing as we headed up to Cam End, which is accessed along a permissive bridleway (of which there are many in the Dales). In the distance we could spot the iconic Ribblehead Viaduct, a famous landmark on the race route, and being as the weather was good early ride enthusiasm dictated that we took in an extra boomerang-like out and back excursion to see this mighty stone structure which was well worth it, although I would pay for that extra climbing later in the day – although I guess that's like blaming the last drink for a hangover.
A mixture of ruts, rocks, and a final steep descent lead tentatively around and then off Dodd Fell, destination Gayle; a small Dales market town. The last time that I'd ridden this route was around ten years earlier, and little had changed in that time, apart from my declining fitness levels and extra gut wrap.
This rocky section had cased double punctures that time around, but we were lucky this time. On such skinny tyres and with a rigid ride it can get slithery on these Dales rocks, but it's all part of the fun.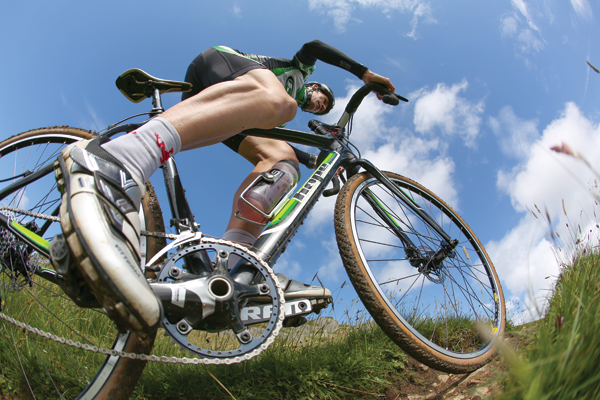 With Gayle done and dusted (and a potential café stop missed) a roller coaster of a road section leads up Stake Moss. It's a real leg drainer of a road section, especially on heavy tyres, but the long and winding descent is a treat for sore legs. Although after negotiating it on a cross bike, you'll be shaken like a finely blended cocktail.
On the way down it's hard to take things in, as you're vision is blurred by jarring and your mind is focused firmly on staying upright, but when you stop at the bottom and look back you can see this twisted rocky snake of a trail slithering its way across the fells and over the horizon.
The day was moving on, and we were now on the opposite side of the final mountain of our own Three Peaks ride; the infamous and towering Pen-y-Ghent. After passing through a farm gate it was time to dismount and carry up and across a steep sided grazing meadow. I couldn't imagine throwing in three extra monster-sized carrying sections into the ride, which is what happens in the Peaks race, the riding itself is more than enough.
Trimming around the fell-side the route rumbles onto towards the final and longest descent of the day, the rattling and jarring drop down Pen-y-Ghent lane, and back to base, leaving us both shaken and stirred, in more ways than one – a superb and grand day out.
Yorkshire Cycling Culture
Yorkshire is the country's biggest county, and a region steeped in cycling history and tradition. Brian Robinson, Barry Hoban, Beryl Burton and mountain biker Steve Peat are but four of Yorkshire's greatest cycling names.
It's a land famous for its stainless steel, and its steely terrain and riding are just as tough and polished. If Yorkshire was a country in its own right it would have ranked 12th in the final London Olympic medal table, which offers some reflection on its sporting wealth.
As well as the annual home-grown Three Peaks Cyclocross race, Yorkshire has hosted both World Cup road and mountain bike races in the past and this year it will host the Tour de France grand depart.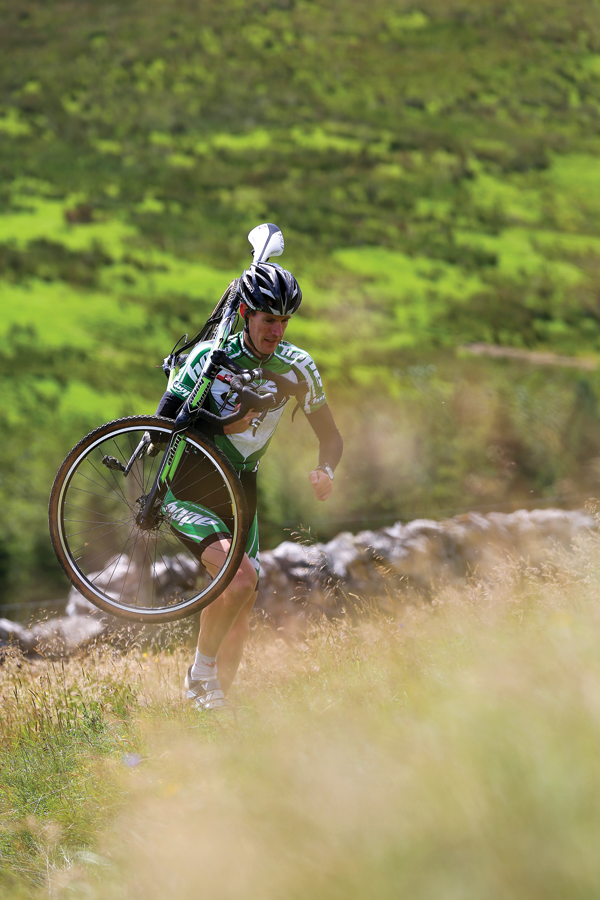 The Yorkshire Dales region of the county is an impressively visual and very rugged and mountainous area, and is blessed with some of the finest rough-stuff riding in the whole of the country. This makes it the perfect place for a spot of 'attainably epic' cross bike touring, as well as some fantastic and windswept road riding.
When To Go
The north of England has very fickle weather, and it does rain a lot – all year round. The prime times for riding are between April and September, which is mid summer.
It pays to avoid UK Bank Holiday weekends, as it gets very crowded on the roads and trails, and accommodation is at top rack rates.
Eating, Drinking and Sleeping
There is no shortage of accommodation options in the Yorkshire Dales, and rates are similar/slightly lower than in Australia. Luckily the area is well served with campsites and bunkhouses, meaning that you can travel on a low budget is you wish.
The Dales Cycle Centre (Richmond) also has decent bunk accommodation www.dalescyclecentre.co.ik
Check out www.yorkshiredales.org.
Yorkshire Tea, Grub and Ale
All villages and towns have pubs, and many have cafés too. These are the best options for eating out – be sure to sample the famous Yorkshire bitter beers, typically served at room temperature.
Pen-y-Ghent Café in Horton (www.3peaks.co.uk) is an ideal starting point for the route detailed bellow, and a good place to sup traditional Yorkshire tea and cakes.
A favourite eatery with cyclists in the region is the Dalesman Café at Gargrave (near Skipton).
Café listings by region can be found at www.cyclistcafes.co.uk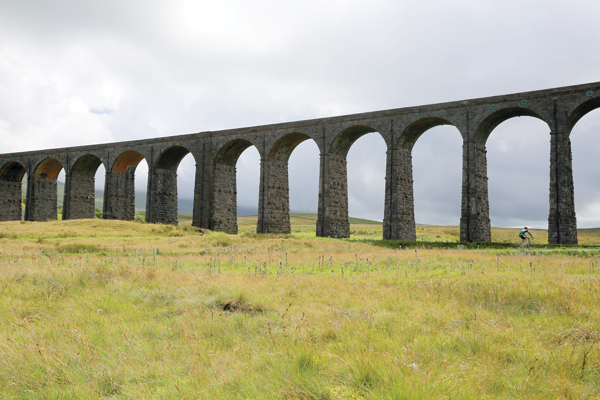 Bike Shops etc
There are some great bike shops in most Yorkshire towns. For riding in the Settle/Three Peaks area, a good option is Three Peaks Cycles; www.3peakscycles.com.
The Dales Bike Centre is also an excellent place for all things cycling, eating, and also sleeping; check out www.dalesbikecentre.co.uk.
Getting There
The best international air gateway is Manchester, although Leeds-Bradford Airport is also a good option. Rental cars are relatively cheap in the UK (although fuel is not) and your own transport does make things very easy.
If you intend touring from place to place then you can take a train to Settle (which is also the starting point for the scenic steam train Settle-Carlisle railway).
Bike spaces on trains are best reserved in advance. Check out www.nationalrail.co.uk.
Where to Ride
Yorkshire is a huge county, with endless riding opportunities of every kind. The Dales area takes up the hilly north western corner of the county, and is arguably the best place to ride.
A great base for riding here is Settle (www.settle.co.uk), a small and very well facilitated market town.
The main thing is to be sure to avoid the Trans-Pennine main roads (such as the A59), and to stick to 'B' and minor roads whenever possible.
A cyclocross bike is perfect for this, as you can mix and match road and non-technical trails, although there is some awesome pure road and mountain biking here too.
There is also some superb and tough riding around Appletreewick, which is east from here (www.appletreewick.net), there are some great pubs and B&Bs here, as well as a bike centre) (www.thebikelivery.com).
You can find more route and general cycling info on North Yorkshire at www.northyorkshirecycling.co.uk, and also at www.dalesbikecentre.co.uk (has good accommodation, bike shop, café etc), www.yorkshire.com and www.cyclethedales.org.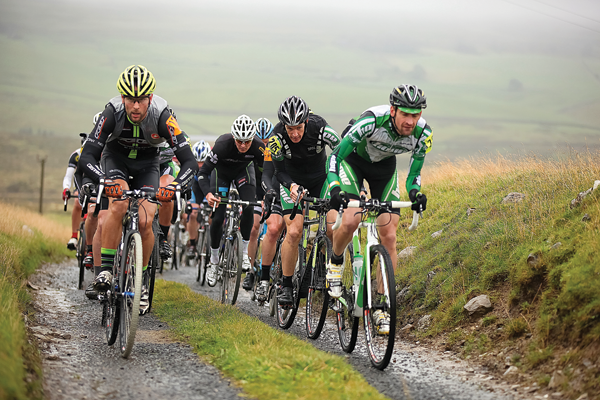 Where Can You Rough Ride?
The UK off-road 'rights of way' system means that bikes can be ridden on any trail of 'Bridleway' status and above, although to add to the confusion many of the footpaths in the Dales have a permissive usage status for bikes, which is generally marked on the ground.
You can find some great routes and other local info at www.yorkshiredales.org
Le Tour in Yorkshire
The Tour de France will of course be starting in Yorkshire in July 2014, and the first two stages of the race will take place in the county. You can check out the stage routes at www.letour.yorkshire.com. This site also has route and other useful cycling info.
In conjunction with the grand depart a Yorkshire Cycling Festival will also take place. Check out www.festivalofcycling.org.
The Three Peaks Cyclo Cross
The annual Thee Peaks Cyclocross race takes place at the end of September each year, and has done so since 1961. The race is a 38-40 (61-64km) mile epic loop, and is known as the toughest cyclocross in the world (www.3peakscyclocross.org.uk).
Parts of the race route are only permissible to use on race day, so an exact replica ride is impossible, so we've stitched together a doppelganger 40-mile (64km) loop, which as close as it gets (but without the steep run-up sections).
The Ordnance Survey Landranger 98 map is what you'll need to sketch it out (using the given grid references – GR).
1. Start from the car park in Horton-in-Ribblesdale and head north into the village. In the village centre turn right on to the Pennine Way (GR808726).
Follow the stony track up hill until you eventually reach the gates and junction at the edge of a forest (GR816778). Go through the gates and turn left, almost doubling back on yourself.
2. Turn right at the next gate, and stay on the Pennine Way. Follow this track until you reach a trail junction at Cam End (GR802804).
3. Turn right here (still following the Pennine Way).
After a brief hardcore section turn left and follow the track around the side of the hill. As the main track descends to the left, go straight ahead on the narrow track. Follow this track up to the old stone wall, and then descend to the farm (GR859876).
4. Follow the road down, turning left and then right at the staggered junction. Keep left, and then right, as you pass through the centre of Gayle and follow the A684. Take the next right and then the first right after this and pass through Burterset and climb over to Semer Water.
Climb the steep road out of the dip and then keep to the right as the road bears left (following the stony trail). Bear left over the top of the hill and cross Stake Moss and then descend to a T-junction (GR944805).
5. Turn right along the road to Buckden village. In Buckden turn right and follow the narrow lane along Wharfedale, until you pass a farm and a plot of trees (GR905786).
6. Turn left here and push/carry up and over the hillside to Hatton Gill (GR879767). Turn right along the road towards the farm, and then turn left onto the bridleway and climb across the field to the gate at the top right of the field.
7. The trail undulates (right) along the hillside until you reach the trail junction beneath the summit of Pen-y-Ghent (GR824743).
8. Turn left, and then immediately go right, and follow the narrow track down to another gate. After this gate turn left and descend Pen-y-Ghent Lane back to meet the main road, turn right here and retrace to Horton.