Australia's list of cycling holiday hot-spots now features the scenic Tweed section of the Northern Rivers Rail Trail, which opened on 1 March 2023 in northern New South Wales.
Extending over 24 kilometres of countryside in the Tweed's lush valley, the Tweed trail connects via the townships and villages of Crabbes Creek, Mooball, Burringbar, Stokers Siding, Dunbible and Murwillumbah, all once key train station stops along the original railway line, built in 1894.
The Tweed trail is the first section of the full 132 kilometre Northern Rivers Rail Trail to open and welcomes walkers, runners and cyclists to breathe in nature, explore country towns and immerse in the region's rich agri-tourism offerings, from farm-gates to foodie hot spots.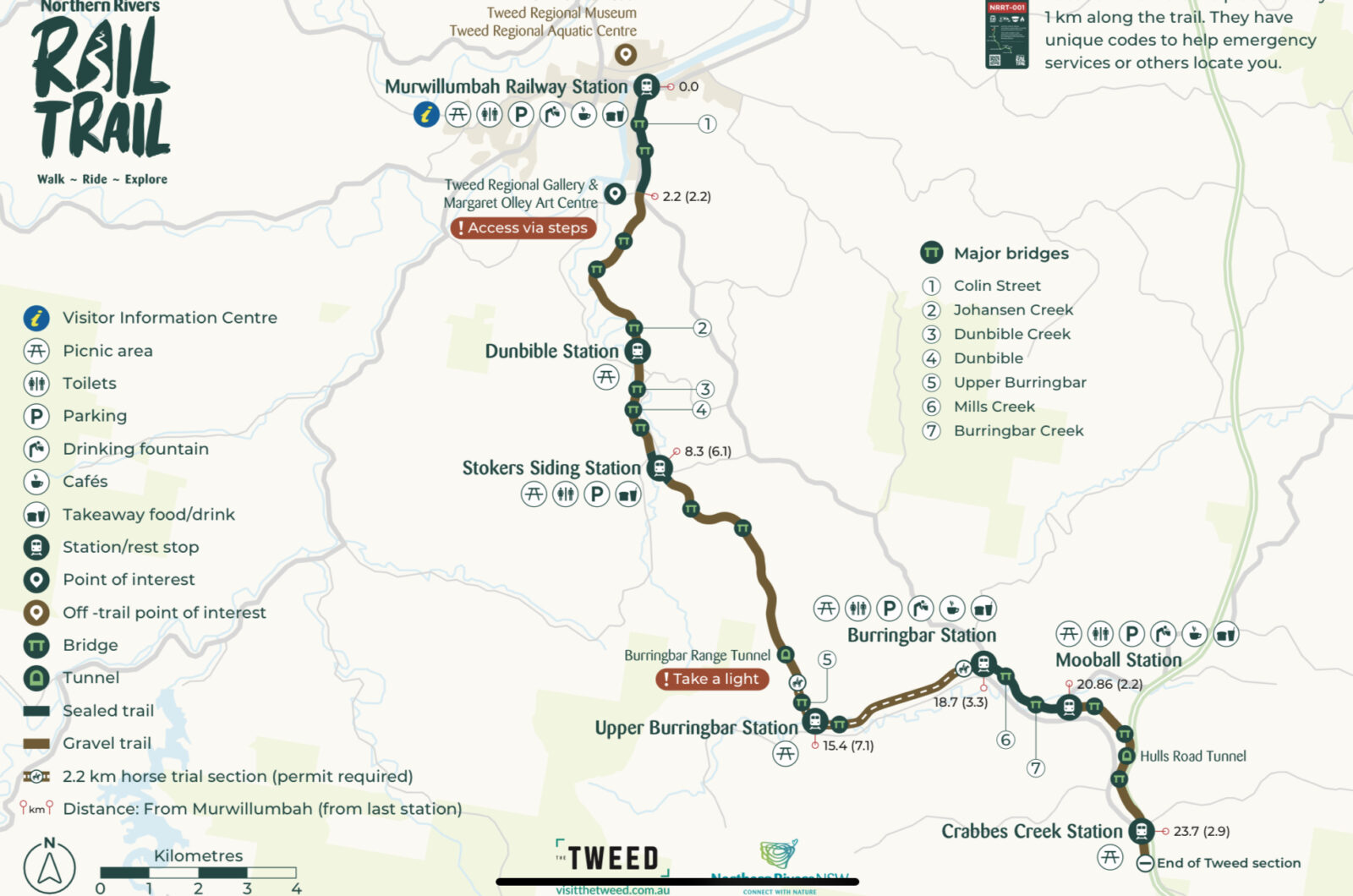 The trail features 2 original tunnels – including the 500 metre long Burringbar Range tunnel – and 26 bridges, with 16 of these on the track itself. It's a smooth and picturesque trail with both sealed and gravel sections, passing through landscapes from lush tropical settings to local farm life.
Better yet, this new trail is much more than just a ride with plenty to see and do along the way.
Murwillumbah to Dunbible – Art Deco to Art Gallery
Riding north to south, the trail heads out from Murwillumbah Railway Station, a beautifully restored original building that also houses a Visitor Information Centre, bike hire and coffee – so you can fuel up before hitting the trail.
Take time before or after your ride to explore Murwillumbah's original art deco architecture and vibrant cafe scene, with plenty of shops to browse and food stores to stock up on locally made pasta, cheese, gelato and more.
A couple of kilometres in, you'll find a stop-off point to visit the Tweed Regional Gallery and Margaret Olley Art Centre, one of Australia's leading art spaces. You can lock up your bike and take a short stroll to the gallery, and also grab coffee or a bite at Apex Dining.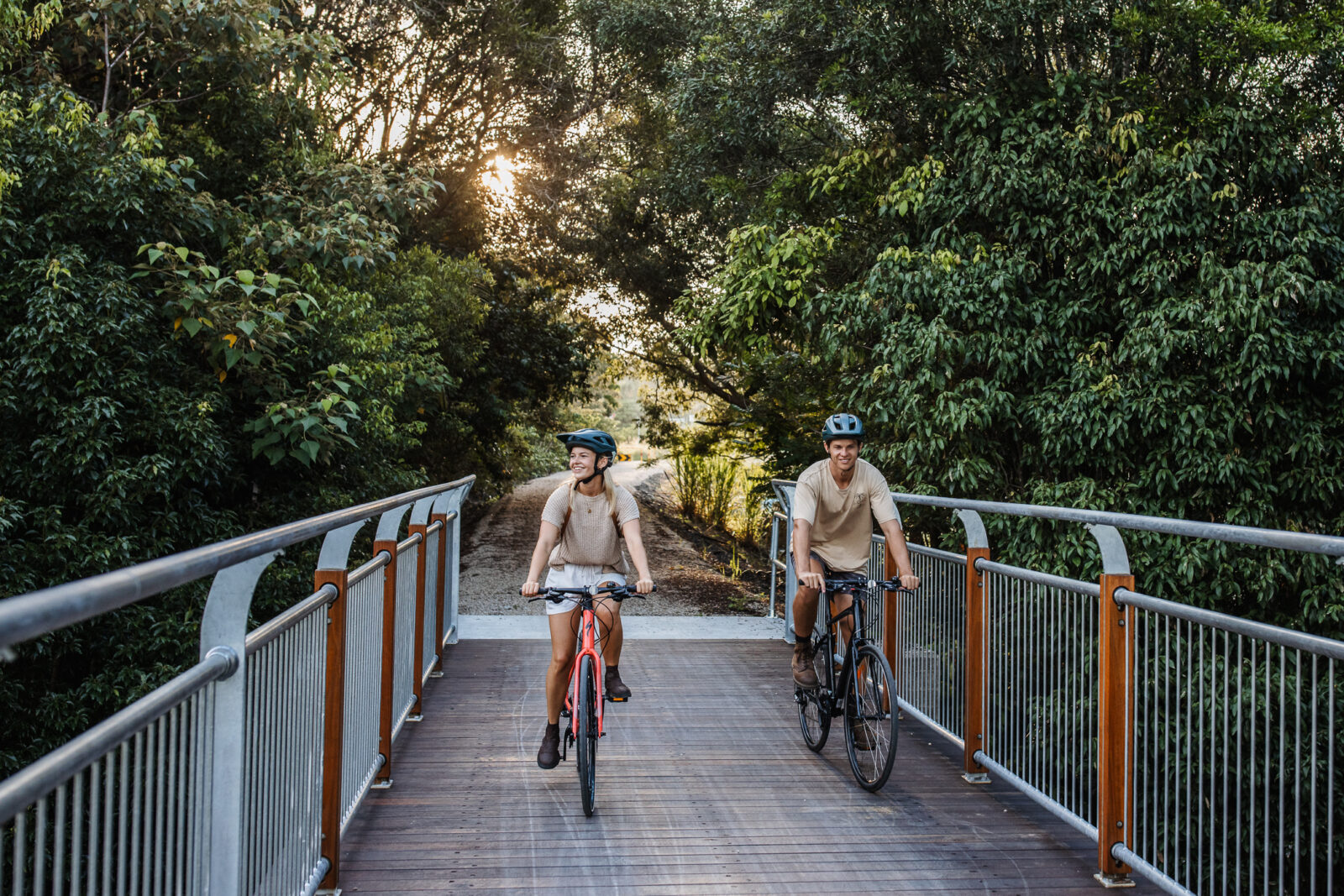 Dunbible to Stokers Siding – Historic Bridges and Creative Villages
This section of the ride features some of the major bridge highlights of the trail including the Dunbible Creek Bridge, a beautiful heritage feature that has undergone major repairs and restoration as part of the trail development.
Said to mean 'black apple tree' in the local Bundjalung language, Dunbible grew as a farming district in the 1880s with farm life still a feature of the area today.
You'll cycle over more scenic bridges on the way to Stokers Siding, home to a creative arts community and the Stokers Siding Art Gallery, housed in a 1921 heritage building. Also in town is the Community Printmakers Studio, where inspiration can be found for fans of etching, lino and woodcuts.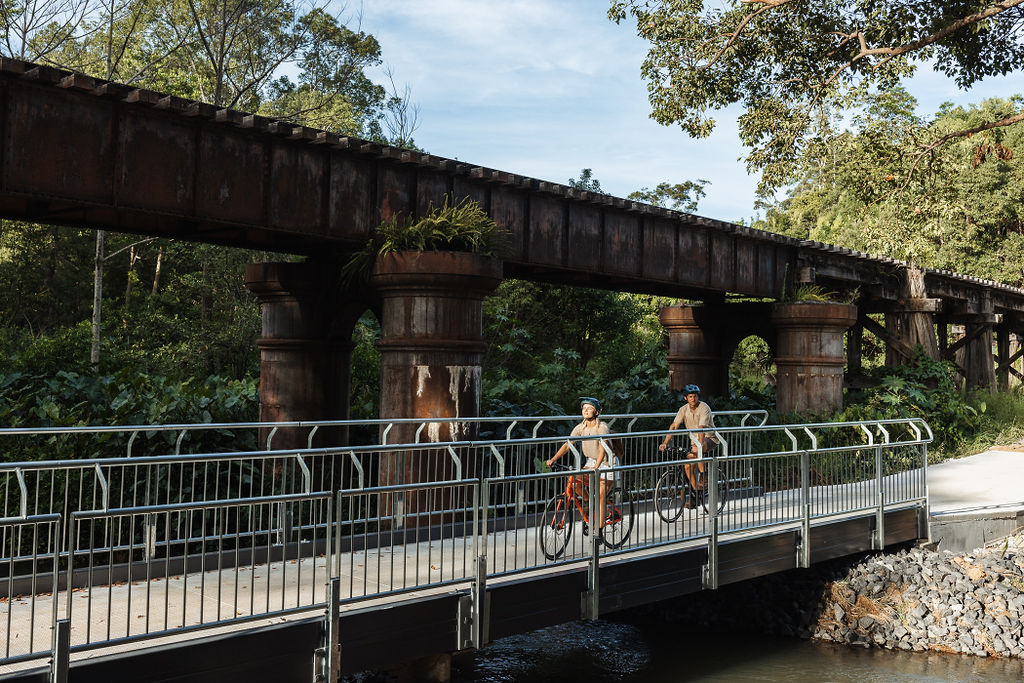 Stokers Siding to Burringbar – Farm Life and Burringbar Tunnel
Onwards from Stokers Siding village, take a moment to immerse in local Tweed farm life with a stop at Hosanna Farmstay.
This haven for resident farm animals brews a great coffee and serves breakfast, lunch and dinner onweekends. You can also choose to break up your ride with an overnight stay in a homestead, cabin or your own tent.
Riding on to Burringbar you'll traverse gorgeous countryside and encounter one of the trail highlights, the 500 metre long Burringbar Range Tunnel – note that it's a dark tunnel so bring a head torch!
The township of Burringbar also invites a pause, with the iconic Heath's Old Wares and Collectables store tempting vintage-lovers and the bustling General Store on hand for all manner of on-the-go needs.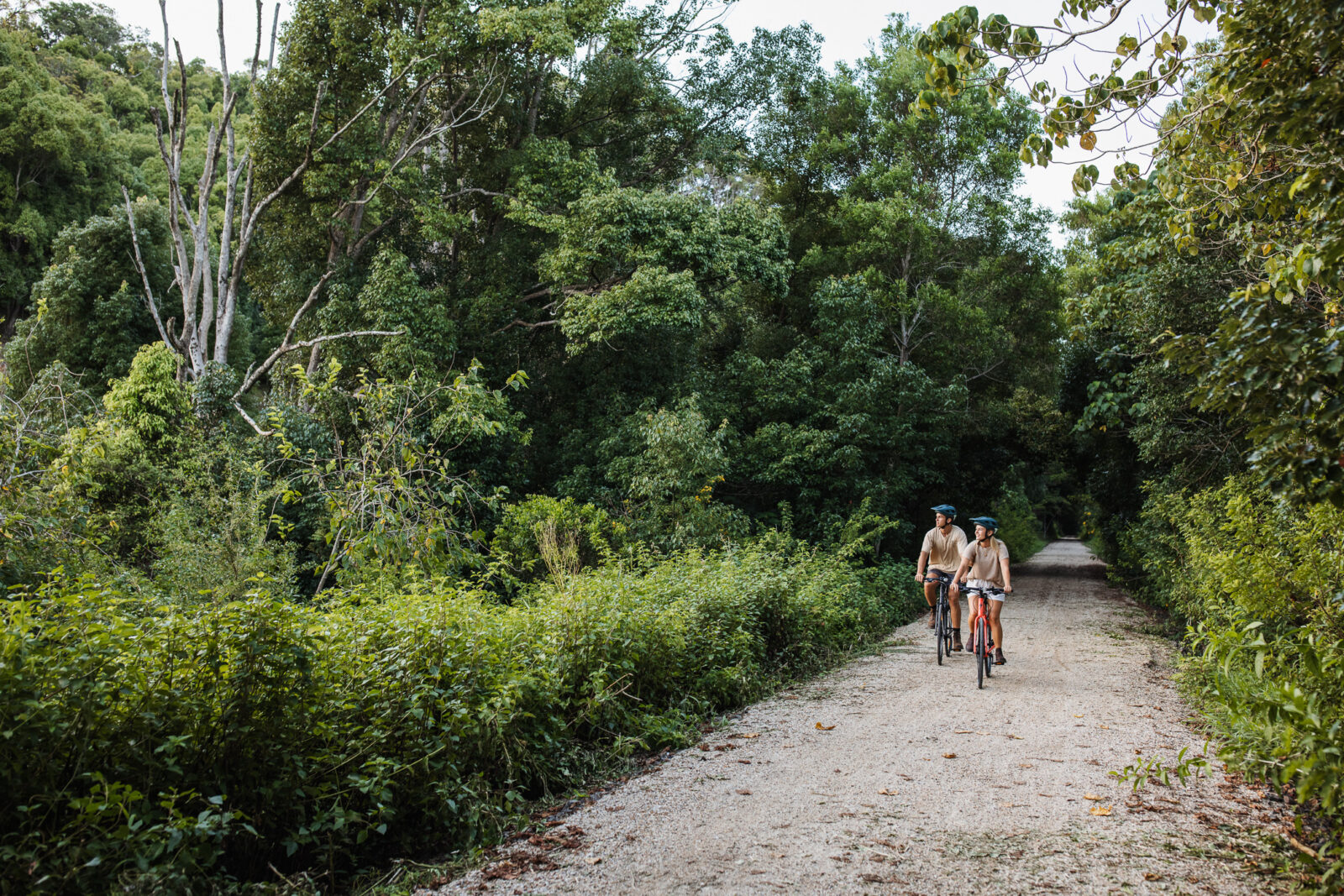 Nearby, Tweed Valley Whey Farmhouse Cheeses is also a great place to stop, sample artisan cheeses and buy your favourites to enjoy later.
Burringbar to Crabbes Creek – The Home Stretch
This last tranquil stretch of the trail passes by fertile farmland and pine tree canopies, crosses a number of bridges and through the arched Hulls Road Tunnel on the way to Crabbes Creek, originally known as 'Pimble' to the local Bundjalung people, for whom this area holds Ancestral significance.
The small village of Mooball, distinguished by the various black and white cow prints found around town, is a great place to circle back to and finish the trail. Enjoy lunch and a refreshing drink at the 1930s Victory Motel or cafe fare at the Moo Moo Roadhouse.
A shuttle ride from Mooball back to Murwillumbah can also be booked.
More information at northernriversrailtrail.com.au or visitthetweed.com.au