'A fascinating beast' … Maybe not the words you'd expect to hear when reading the description of a new model bike, but considering the amount of times these three have sprung to mind over the past two weeks, entirely appropriate.
This is a unique offering. Yes it's a CX as the name suggests, but, after three weeks covering varying terrain on this blue beast, I'd argue the following. It's also an entirely capable endurance bike, a long-distance touring bike, a competent commuter and eye-opening (not to mention eye-catching) urban explorer. More about these points later, but it's also a more than capable go-to roadie, could it be the perfect allrounder? For some, quite possibly.
Before expanding on this 'fascinating beasts' wide-ranging capabilities, lets jump back a step or two and answer the question many asked during last Saturday's Sydney cafe ride … "It's a what?"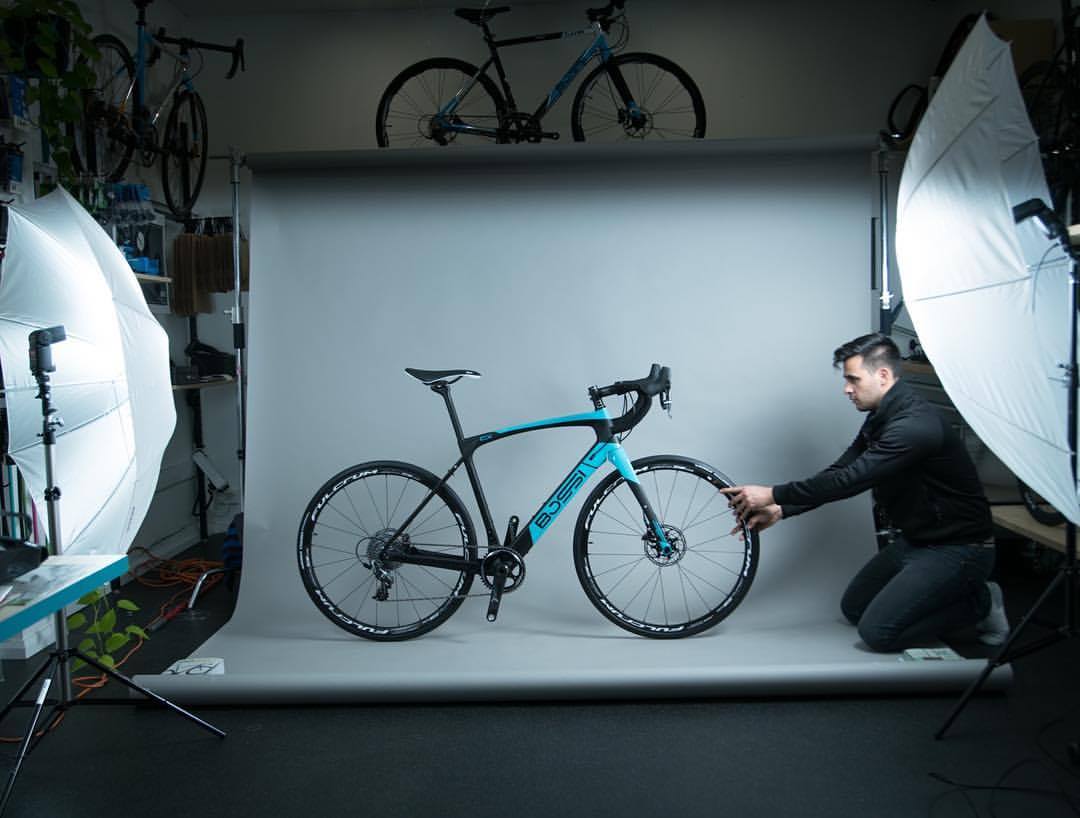 Introducing Bossi Bicycles
A Sydney-based start-up and brainchild of long-time cycling enthusiast James Bossi, the bike was born of a desire to improve the versatility of a standard road bike.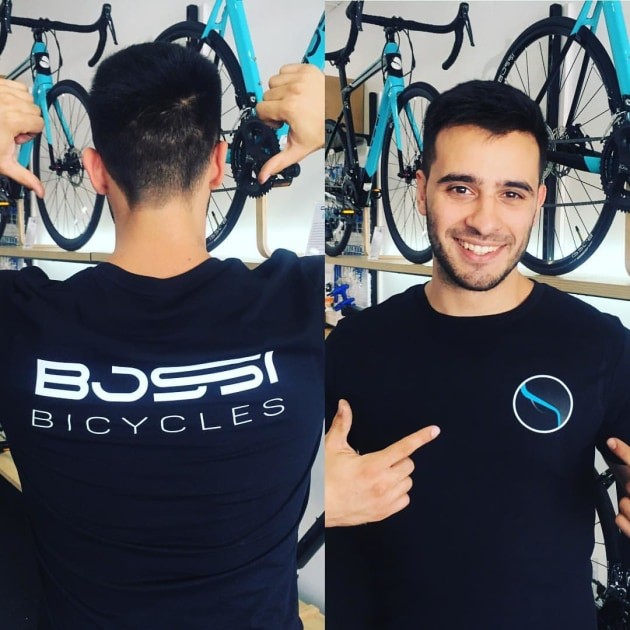 "We thought 'how do we take the fast and fun nature of riding a road bike, and make it more useful for day to day life'," he told us over a coffee at an inner-city cafe close to Bossi's Annandale retail premises.
"We've employed an endurance geometry, added you mounting points for panniers, used through axles for stiffness, flat mount discs for solid braking, mounts for 3 water bottles and clearance for up to 27.5 inch wheels to name a few features."
"If you want to ride it hard like a roadie you can, go off-road or touring you can, or swap the wheels come the weekend … it's a very versatile platform."
Coffee over, it was back to the Bossi retail store to ogle over other bikes in the impressive range. From commuters through to alloy and carbon roadies – all at impressive and realistic price points – it was easy to imagine this relative new player quickly establishing its place in the all-too-fickle bicycle market.
That First Ride
Setting off from an acreage on the outskirts of Sydney, it was a crisp spring Saturday morning. First up was a 400 metre driveway loop consisting of sand, then grit, gravel, rock and back to dirt. Nearby there were criss-crossing tracks, a short, sharp climb, drop-off descent, and numerous obstacles.
Clipped in and ready for some fun, a few hot laps were mandatory prior to heading out onto the road. The slick 28mm Michelin Power Endurance tyres handled the off-road conditions surprisingly well. Rapid to respond under acceleration, the 36 -11 cassette coupled with the 42t single chainring was perfectly suited for quick and wide-ranging changes through the compact, tight and undulating course.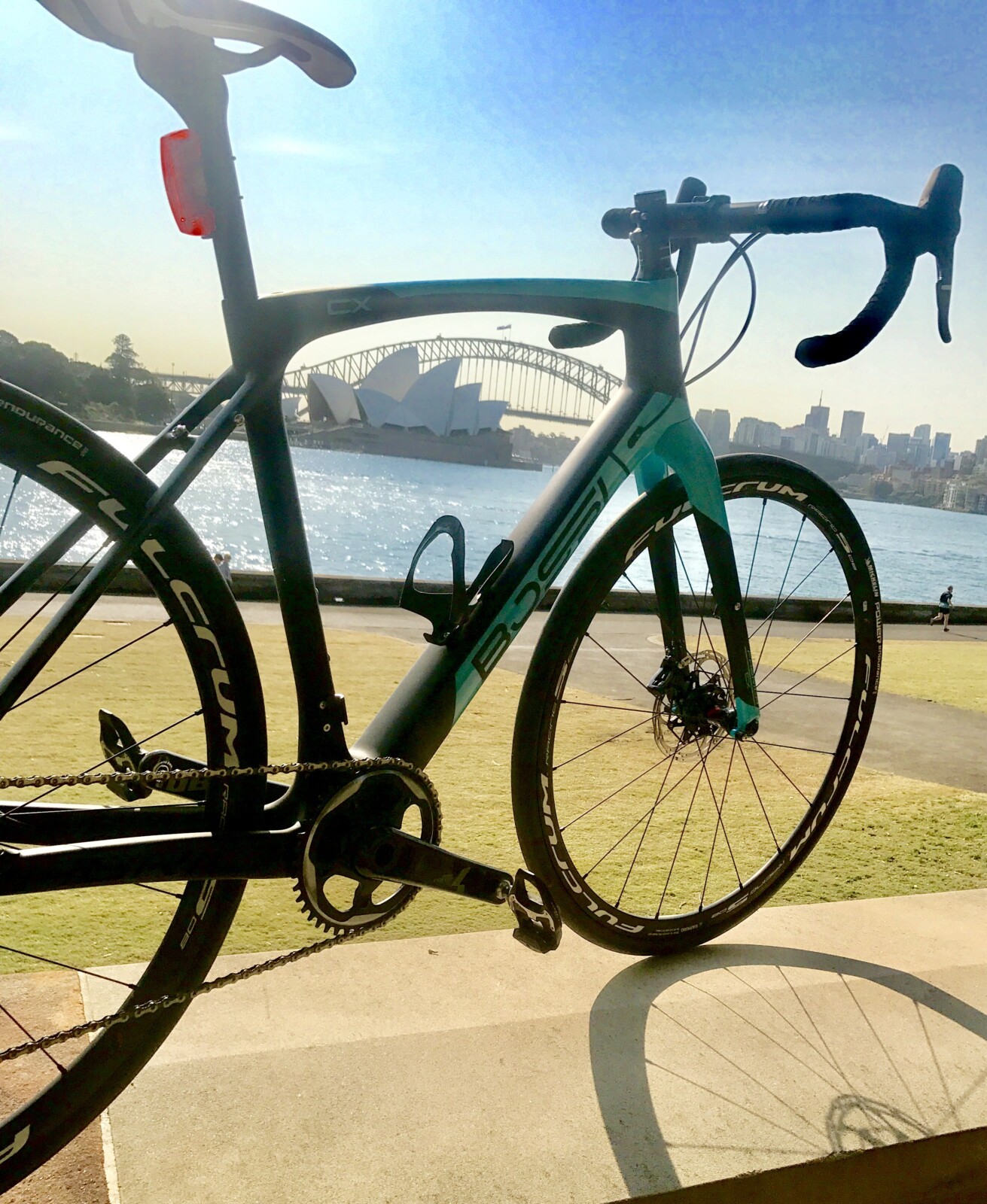 Out of the saddle and guiding the bike up a climb or down a steep drop, you cant help but notice the enormous clearance in both fork and rear stays. Designed to take up to 27.5inch mountain bike wheels, there's clearance for tyres to 50mm!
As you're probably now thinking, the design brief for this unique machine must have been something along the lines of 'go anywhere, do anything'.
'It's go to be heavy?" you might be thinking. Surprisingly not – the Torayca T800 carbon frame weights in at 1100grams with the fork 420grams. Fully built, and with SRAM Force 1x configuration and Fulcrum Racing 5 disc wheels it pulled the scales to 8.2kg.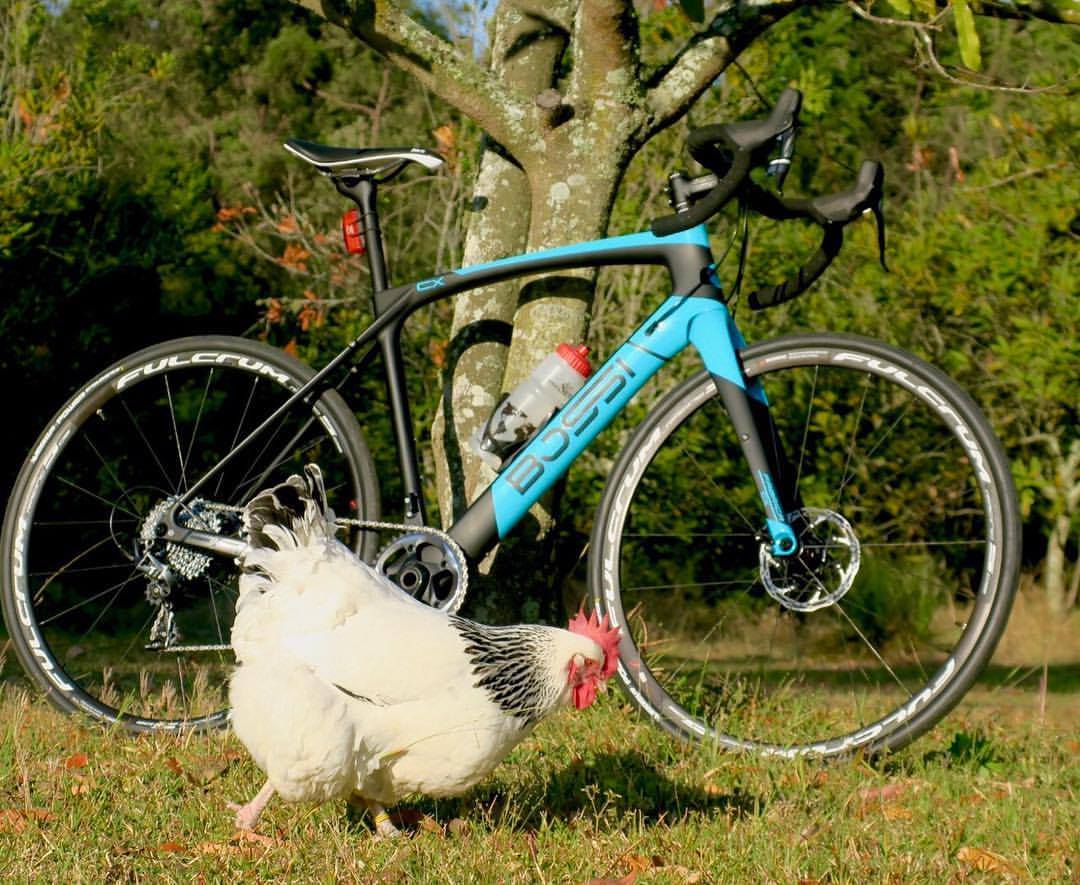 To The Road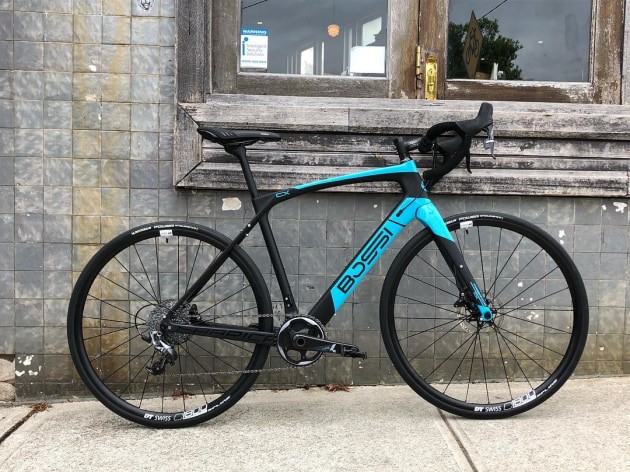 The frame's inherent precise and direct handling was clearly noticeable off-road, particularly when further tested on local gravel roads, climbs & descents. It was a stable and easily controlled platform. This was only amplified once pointing the Bossi toward Sydney's legendary Three Gorges Loop.
Three challenging climbs, some top-quality descents and a well-placed cyclist-centric cafe stop along the way, it's a rewarding 75km loop featuring around 1250m of climbing.
The Bossi handled it perfectly, was an absolute dream spinning up the climbs, fast on the descents (particularly with the ultra-responsive SRAM Force hydro disc brakes), and super sticky through the corners.
That Long Wheel Base
Take a look at the main image and yes, the long wheelbase gives it away. The Fabrica CX is surprisingly capable on fast downhill bends … throw it into a left, slide across the saddle as you push the bike into the next fast right, and the bike tracks as if on rails.The only negative here was the 'running out of puff' factor. With 1x setup and the 42t front ring, those intending to use the bike on longer descents would be well advised to consider a bigger front ring.
After a long final flat run to the cafe, the bike was leant against the fence alongside a who's who of Italian, French and assorted European beauties (yes, still talking bikes here), and guess which one they were all asking and talking about?
It's always interesting to hear and see other's reactions to a new bike not to mention relatively new brand! There was genuine interest, considerable curiosity and a fair degree acceptance of the black 'n blue Bossi.
Another day I used the bike as an urban commuter – from the bush block all the way to Surry Hills near the city of Sydney. Late in the Centennial Park was the place to be – I was enjoying a few moderate laps with friends when the high-speed bunch from hell roared by. "Let's go," the hands-on owner of this magazine suggested. Looking down at the Bossi's 1x drivetrain I tentatively replied "Why not." Again attracting many looks and numerous comments, the bike kept up, played the game and performed perfectly well, it's all-round abilities again confirmed.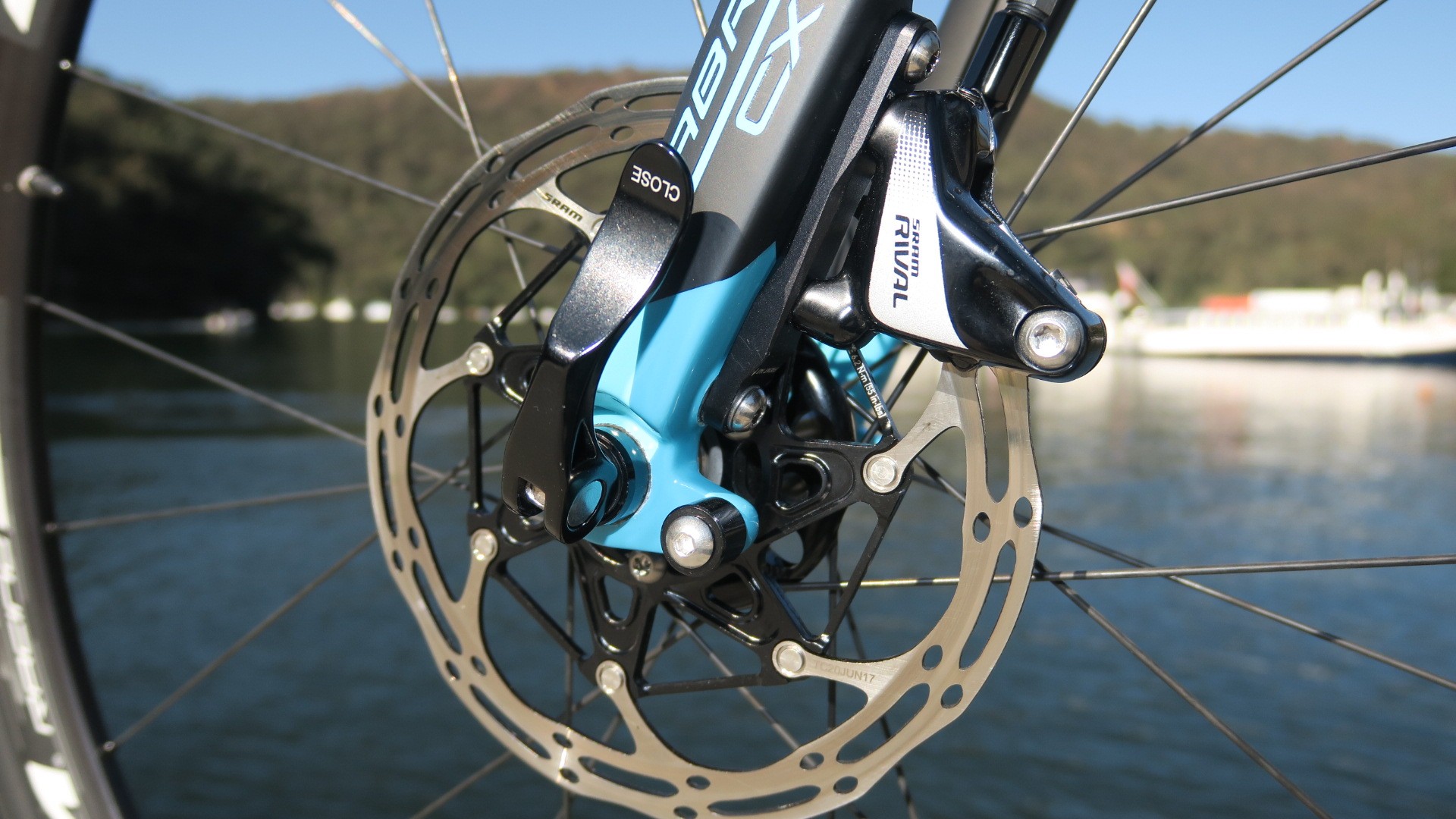 A Closer Look
Incredible versatile in design and build, look closely and you'll see mounting points for three bidons (or two and a tool / spares carrier). There are also mounting points for pannier racks on the front fork and rear stays and front fork make the Fabrica CX perfect for hauling cargo and is testament to its touring ability.
This is a seriously stiff bike – the way the seat stays morph into the top tube offers more than a hint of this, as does the no nonsense bottom bracket, 12mm thru-axles, flat sided forks and obviously the beefy head tube area.
More an observation than complaint, riding in strong westerly winds I felt considerable windage on the bike whole on a ridge top. I put this down to particularly the flat sides of the fork, and broad area alongside the high head tube – but is must be stressed it was a particularly windy day.
Overall I'd rate the bike highly. A bold bike from an equally bold business venture, Bossi have arrived and we'll certainly be seeing more of them in future.
Summing Up
Quality – 9/10. A high degree of attention to detail. A striking finish that captures plenty of attention from curious onlookers.
Performance – Responsive, quick off the mark, precise handling, close to perfect braking.
Value – A fair amount of bike for the buck, particularly coming it at under $4000 for a high-performance all-rounder with reassuring braking.
Overall – A lot of fun – as rewarding and pleasurable on the road as it is on dirt, grass and gravel. Also a sprightly and comfortable commuter.
Frame: Bossi Fabrica CX – Torayca T800 carbon w/ internal cable routing. Clearance for 27.5″ wheels and up to 50mm tyres.
Frame Weight: 1100grams
Handlebar: FSA alloy
Stem: FSA
Headset: FSA ORBIT IS 138 headset
Seatpost: 27.2mm Bossi carbon
Fork: Bossi full carbon – 420grams w/ flat mount disc brakes, 12mm Thru-axle –
Groupset: Sram Force 1
Wheelset: Fulcrum Racing 5 Disc
Tires: Michelin Power endurance 700 x 28c
Saddle: Fabric Scoop Radius Elite
Weight 8.2kg in Size 54
Available sizes 480 – 580 mm in 6 steps – 48, 50, 52, 54, 56, 58cm
RRP: Frameset price, $2990. The custom frameset is $3450 and the as tested price is around $6000.
For further details or to order this bike visit www.bossibicycles.com