It's arguably the most influential high-performance road frameset of the 21st Century. Over a period of five glorious weeks, Peter Maniaty got to know the latest iteration of the iconic Trek Madone.
What's the most fundamental aspect of any bike review? Context. So before we get hopelessly sidetracked by the eye-watering price-tag of the 2021 Trek Madone SLR 9 eTap, let's just put it out there that this, very clearly, is not a bicycle for everyone. Costing upwards of $18,000 (as reviewed), it's unlikely to be a bike I'd ever buy myself.
Nonetheless, it's one I can absolutely appreciate because, frankly, it's a masterpiece. In the right hands, and with the right bank balance, it's an epic speed machine to match the most epic of ambitions.
Styling
Not surprisingly, the shape of the 2021 Madone SLR 9 is unrecognisable from the first Madone released by Trek way back in 2003. But on the flipside, it's virtually impossible to discern any visible difference between the 2021 and 2020 framesets (aside from the rather ostentatious Project One ICON paint scheme on the review bike known as Holographic Diamond Flake) because, geometrically speaking, nothing has really changed.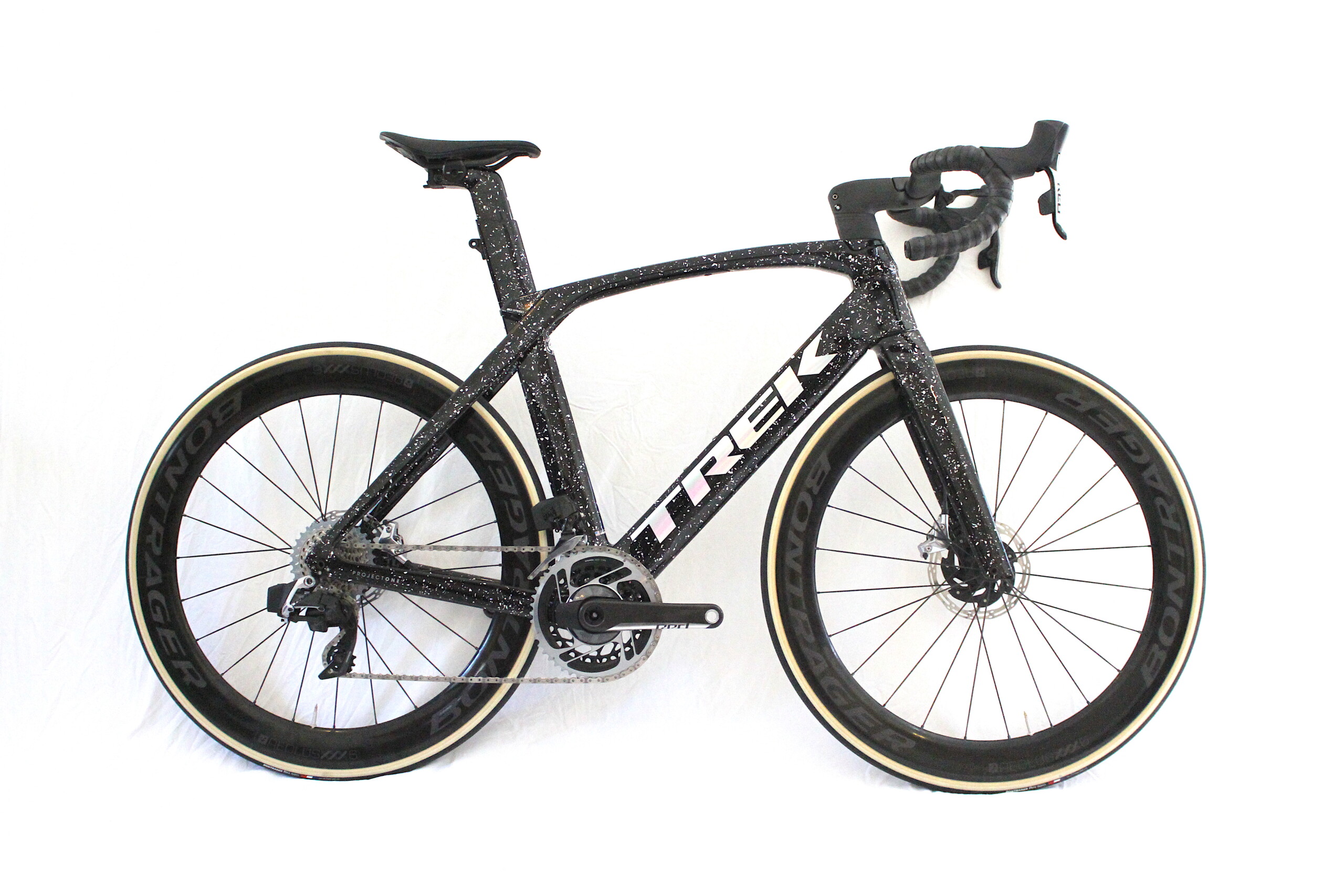 While, aesthetically, it attracts plenty of attention you wouldn't call the 2021 Madone an overly elegant bike, especially when compared to its more slender road sibling, the Émonda. Featuring oversized Kammtail Virtual Foil (KVF) tubing and knife-like blade forks, the Madone instead cuts a more statuesque and aggressive silhouette that commands
both attention and respect.
My only real gripe, which based on Google search rankings is a widely held one, is the exaggerated size of the "TREK" decals on the downtube. Yes, I know styling alone does not maketh a bike, but it just seems a shame to me.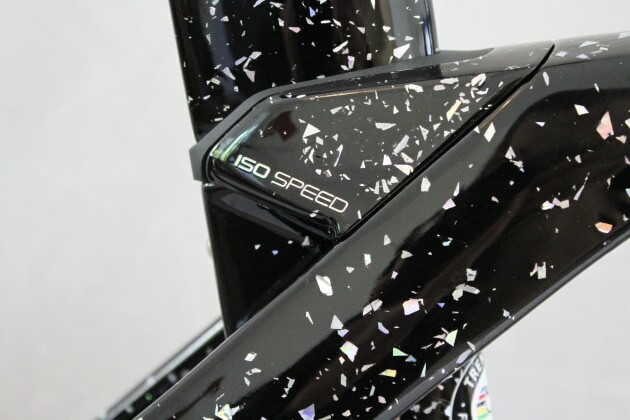 Trek's unique ISO Speed shock absorption system can be adjusted via a hex key under the top tube. 
Tech
Where to start? Perhaps simply by saying the 2021 Madone SLR 9 eTap is one of the most "tech-heavy" road bicycles I've ever had the good fortune to ride. From the all-new 800 Series OCLV Carbon (30 per cent lighter with no reduction in strength or stiffness), KVF aero tubing and Trek's ingenious IsoSpeed top tube decoupling system, to the wireless SRAM Red AXS eTap 12-speed drivetrain, this is a mighty feat of two-wheeled engineering.
There are bespoke features everywhere and, as someone who quite enjoys a bit of bicycle DIY in the home garage, just looking at it made my brain hurt at times. There's a lot going on. In one bit of good news for the world's bike mechanics, gone is Trek's much-maligned BB90, replaced by a more user-friendly T47 threaded bottom bracket.
Integration
It's been an industry buzzword for a few years now and the 2021 Madone SLR 9 eTap pays the notion of "integration" far more than just lip service. The specification of SRAM's outstanding RED AXS eTap wireless drivetrain helps tremendously, of course, and what hoses are required for the hydraulic brakes (there is no rim brake option) are routed internally, front and rear.
Keep searching and you'll find yet more integration, from the aero cockpit and seat mast with their inbuilt light mounts, to the Quarq DZero power meter in the crankset (compact 48/35), which comes as standard and alone is worth close to $2000. Interestingly, the carbon aero stem and VR-CF handlebars are not one solid piece, coming instead as independently adjustable components. More on that in a moment.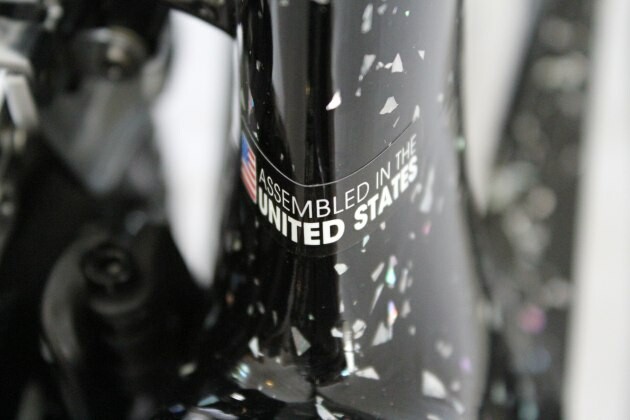 Taiwan fabricated and hand assembled in the US, the attention to detail and finish of the Madone is top class.
Wheelset
Wheels are another highwater mark for the Madone SRL 9 eTap, which has been paired with super impressive 60mm Bontrager Aeolus XXX 6 carbon rims. These things look amazing and are super stiff.
They accelerate fast, roll beautifully and, while only moderately forgiving, handle fabulously well. One curious observation is the absence of any levers on the thru axels. Front or back, you'll need to have a hex key handy – or Bontrager's Switch Lever Tool ($27.99) – should ever you need to replace a tube or repair a puncture mid-ride. Another good reason to run tubeless, I guess.
Weight
Back in July, much of the fanfare surrounding the launch of the 2021 Madone SLR centred around the 450g weight saving on the 2020 model. It's certainly a significant number. But just because the 2021 iteration is lighter doesn't mean it's light. In fact, at around 7.9kg for the complete bike (sans pedals and bottle cages), the Madone remains reasonably hefty, even for an aero bike, and certainly far from the lightest in its category.
It's also worth noting that, despite the specification of 800 Series OCLV carbon, only 80g of the total weight savings actually come from the frame itself. The bulk is trimmed through lighter components.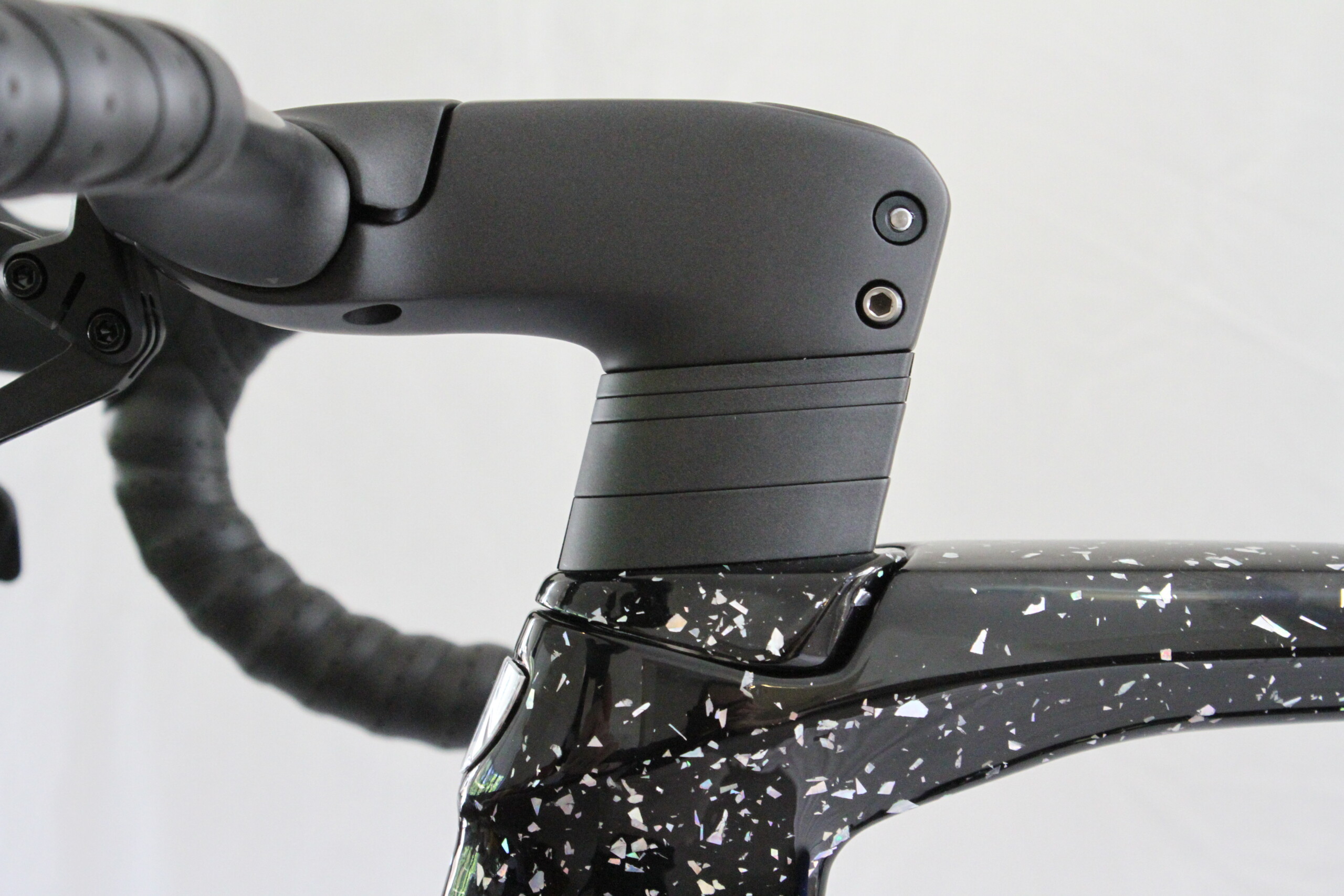 Ride
With the bluest of bloodlines, this is a racing thoroughbred to be sure. Yes, it's fast. Very fast.
But beyond that, it's also a wonderfully balanced bicycle to ride. Pretty much every time I took it out, that was my most overwhelming feeling: balance. Railing tight corners at high speeds. Punching on the pedals out of the saddle. Taking evasive action to avoid pot holes. I can't recall riding a more balanced and stable bike.
…Unlike so many modern road bikes which try to be all things to all people, the 2021 Madone SLR 9 eTap has a very clear sense of self…
It fills you with confidence which, when you're racing in close quarters, is a very good thing indeed. Of course, balance does not necessarily equate to comfort and while the 2021 Madone SLR 9 eTap is smoother than many of its aero rivals – and lightyears ahead of the notoriously-jarring ride of early aero frames – it still delivers a noticeably rigid ride.
Both frame and wheelset are designed to ensure minimal flex in order to transfer every available watt directly to the road surface and, in my experience over a variety of different terrain, you do feel more of the bumps as a result.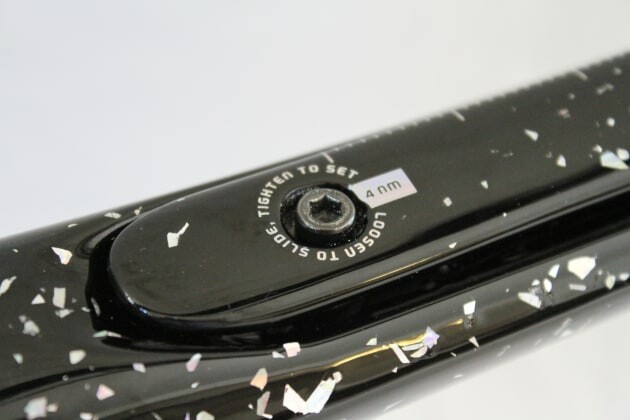 The build carries over the original ISO Speed shock dampening system for added comfort and compliance.
The presence of Trek's IsoSpeed decoupling system certainly helps to offset things somewhat. Tucked away neatly on the underside of the top tube, it uses an adjustable elastomer dampener that allows the seat tube to flex with the forces of the road and regulate the amount of vertical compliance.
Further back is stiffer, further forward is smoother. Adjusting it is simple enough, all you need is a couple of hex keys. Of course, the other option for those in search of an even more forgiving ride would be to experiment with wider and/or tubeless tyres at lower pressures, and possibly even wider rims. There's certainly enough frame clearance.
While it can certainly handle a little bit of rough stuff, there's no question the 2021 Madone SLR 9 eTap is most at home down in the drops hurtling over smooth(ish) roads at 35km/h+.
It's certainly not a pure climber's bike, but when you commit to the task it can get over punchy ramps with aplomb, especially when you're able to launch into the gradient with good speed and momentum. On longer, steeper climbs it does start to feel out of its comfort zone as the aero weight penalty kicks in (it's around 1kg heavier than the Émonda). But, again, that's not what it's designed for. Context, remember?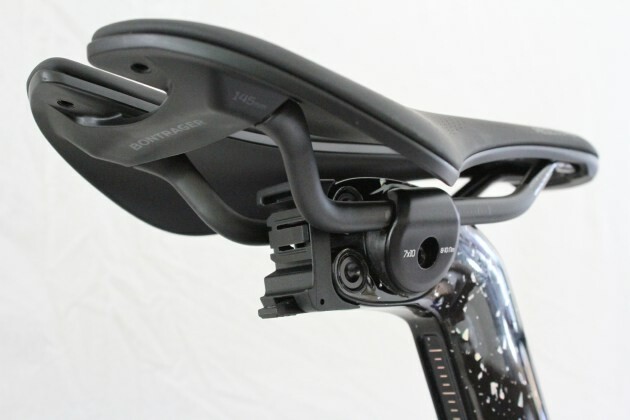 Attention to detail can be seen throughout the build, including the partially-integrated carbon seatpost.
Position
Riding position is always a tricky thing to review as every body is different. As you'd expect from such an aero machine the frontal area is compact, delivering a low and aggressive position with a frame stack of just 53.3cm (56cm frame).
By way of comparison the Émonda sits a full 3cm higher (56.3cm) while the Domane places you almost 6cm closer the heavens (59.1cm). The frame reach is also longer than the Domane, further flattening out your riding position.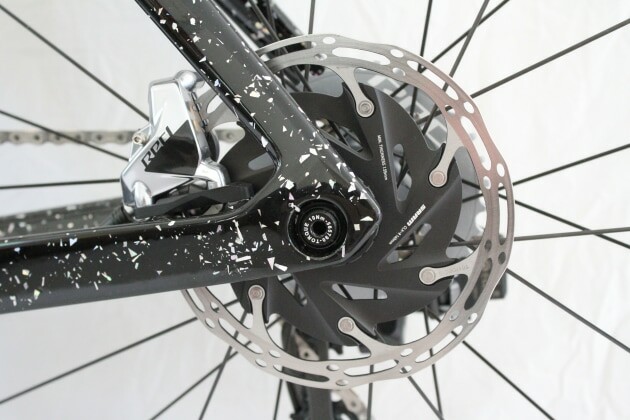 A disc only build, the test bike featured top-shelf SRAM Red brakes and rotors.
I found the Madone setup comfortable enough for mid-distances up to 50km or so, which is obviously ideal for criteriums and moderate training rides. However, any longer and you may find yourself getting acquainted with a few new muscle groups in your back, arms and wrists.
One feature I found especially handy was the specification of Trek's adjustable VR-CF aero handlebars, especially when I was up on the hoods. Rather than a single fixed bar/stem system, the carbon bars can be rotated up or down, allowing you to make subtle changes to your wrist position until you find the spot that's most comfortable for you.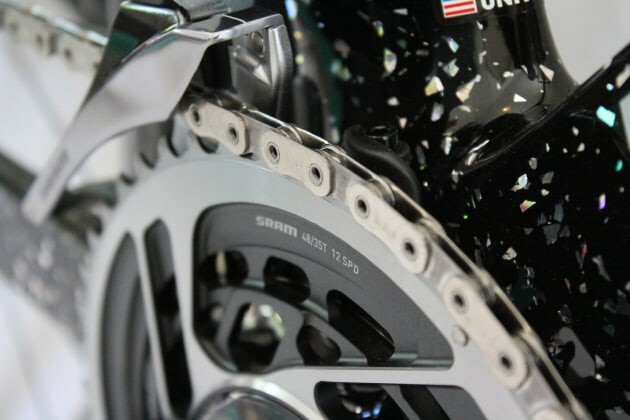 The test bike was fitted with SRAM wireless 12-speed Etap.
Overall
Unlike so many modern road bikes which try to be all things to all people, the 2021 Madone SLR 9 eTap has a very clear sense of self. For many riders, of course, this naturally leads to its only shortfall: a potential lack of versatility compared to a lot of other very good, and cheaper, options.
This is a hardcore speed machine suited to riders who take their racing very seriously. But being brutally honest, most of us mere mortals will almost certainly need and/or want another bike for more everyday riding – or at the very least, a second set of performance wheels – a fact that, on financial grounds alone, could make such a purchase hard to justify.
However, if you're lucky enough to have the cash to splash on a suitable n+1, the 2021 Madone SLR eTap will not disappoint. It's simply awesome.
Bling bling – the Madone is available in Trek's unique Project ONE paint shop colourways, but for an extra $1500.
Quality:
From sublime design and engineering to a simply outstanding level of componentry, you'd be hard-pressed to find a better aero bike.
Performance:
Lightning fast and brilliantly balanced, this carbon beast is undeniably built for racing, not endurance. It makes you want to ride as fast as humanly possible.
Value:
Value is very much in the eye of the beholder. It's a stunning bike. But at more than $18,000 it doesn't come cheap. Lower spec options are available.
Overall:
This is an unbridled speed machine for serious racers. It isn't subtle or massively versatile. But it is fabulously fast and comes with top-shelf everything.
Specifications
Colours: Navy Carbon Smoke/Blue, 
Navy Carbon Smoke/Viper Red, Matte Onyx Carbon, Project One ICON (Holographic Diamond Flake, reviewed)
Frame: 800 Series OCLV Carbon, KVF tube shaping, adjustable top tube IsoSpeed
Fork: Madone KVF full carbon, tapered carbon steerer
Handlebar: Madone SLR VR-CF (adjustable)
Stem: Bontrager Aeolus XXX
Seat post: Madone aero carbon internal seat mast
Saddle: Bontrager Aeolus Pro, carbon rails, 145mm width
Shifters: SRAM RED eTap AXS, 12-speed
Front Derailleur: SRAM RED eTap AXS, braze-on
Rear Derailleur: SRAM RED eTap AXS, 
Orbit chain management, 33T max cog
Brakes: SRAM RED flat-mount hydraulic disc
Cassette: SRAM RED XG-1290, 10-33, 12-speed
Chain: SRAM RED D1 12-speed
Crankset: SRAM RED AXS with Quarq DZero power meter, 48/35, DUB spindle
Bottom Bracket: SRAM DUB, T47 threaded, internal bearing 
Rims: Bontrager Aeolus XXX 6, 60mm, 
Tubeless Ready
Thru Axle: 142mm x 12mm thru axle (rear), 100mm x 12mm (front)
Tyres: Bontrager R4 320 Handmade 
Clincher (700×25)
Weight: 7.86kg (56cm frame)
RRP: $16,599 +$1500 Project One ICON paint scheme