Marcus Leach divulges his thoughts on a bike he has recently been spending an unnatural amount of time on—the Canyon Endurace CF SL 8.
I am, as my wife likes to remind me every so often, rather odd when it comes to cycling; how else do you explain enjoying setting off for 300km rides on a regular basis? Such a penchant requires a certain type of bike, one that rides fast and yet has the same comfort level as your favourite chair.
It also helps if it comes with high-end components and wheels that are capable of handling hours on the road. Where to find such a bike? Enter Canyon's Endurace CF SL 8 Disc, a bike that has very quickly found a place in my heart, and bike shed.
Just as most top bike brands now offer an all-road or gravel bike, to do so they seem to have an endurance offering, with Canyon being no different. That is to say they have a bike that sacrifices some of the top-end performance seen in their Ultimate range in favour of a little more comfort, as seen in their Endurace range. Within that range there are bikes to match all budgets, from the entry level CF 7 with 105 components, up to the CF SL 8 disc AERO with Ultegra Di2.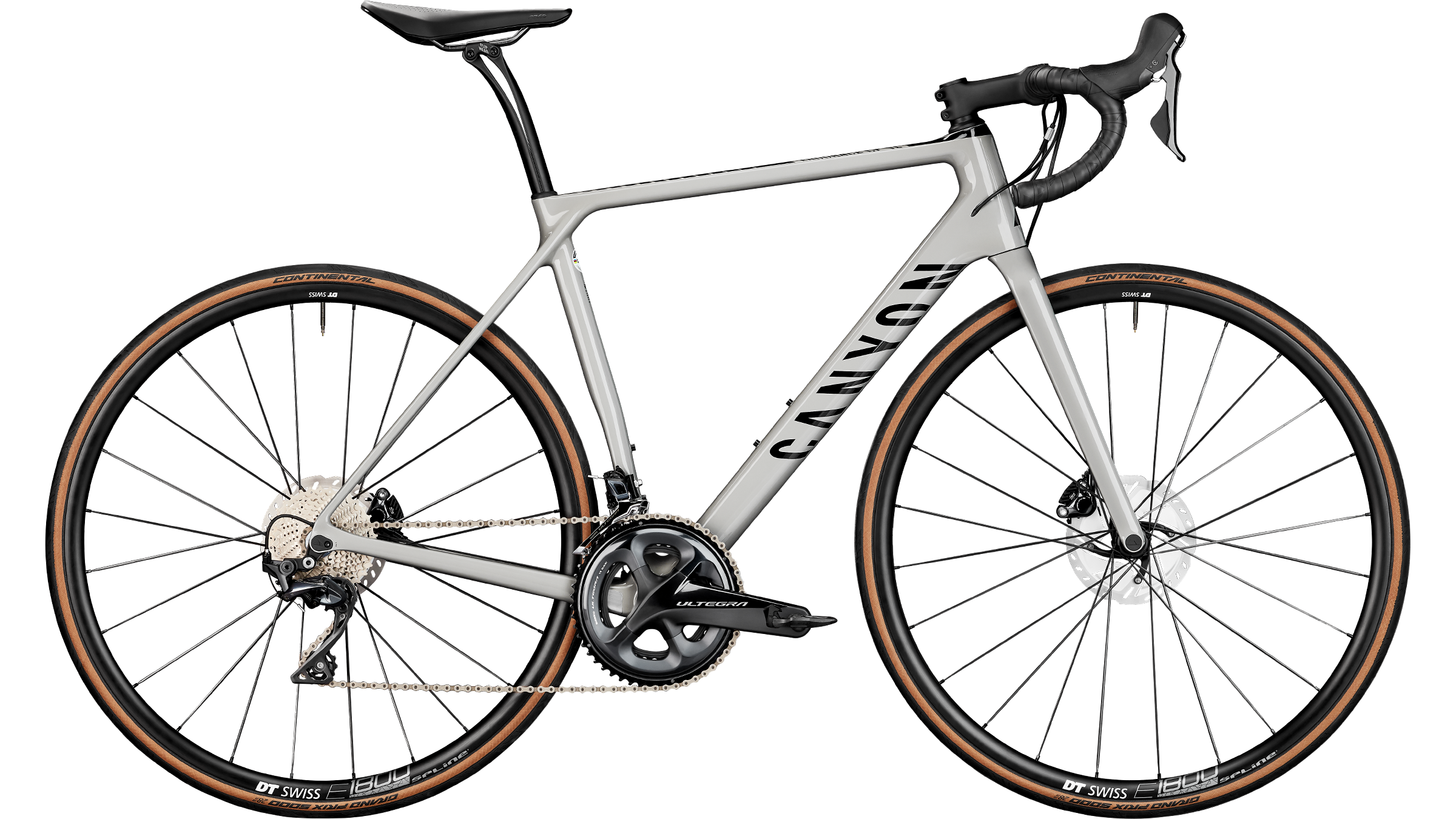 It's certainly a slick looking rig and comes equipped with Shimano's Ultegra groupset, DT Swiss wheels and skin wall Continental tyres.
And, given that Canyon cut out the middle man and sells direct to the end-user, there are considerable savings to be made. But that does come at a cost that's more emotional and physical than financial…you need to be happy to buy a bike without having seen it in the flesh first.
Two of the stand out features that grabbed my attention with this bike were the award-winning VCLS 2.0 lead spring seat post, and the kink in the seat tube. These key features are testament to Canyon's commitment to maintaining optimal performance, while providing a ride of considerable comfort.
The seat post is split into two, and while this can make it a little trickier to adjust to find your optimal riding position, it does, once dialled in, ensure that it smooths out all but the harshest of bumps in the road with its inherent vibration and dampening abilities.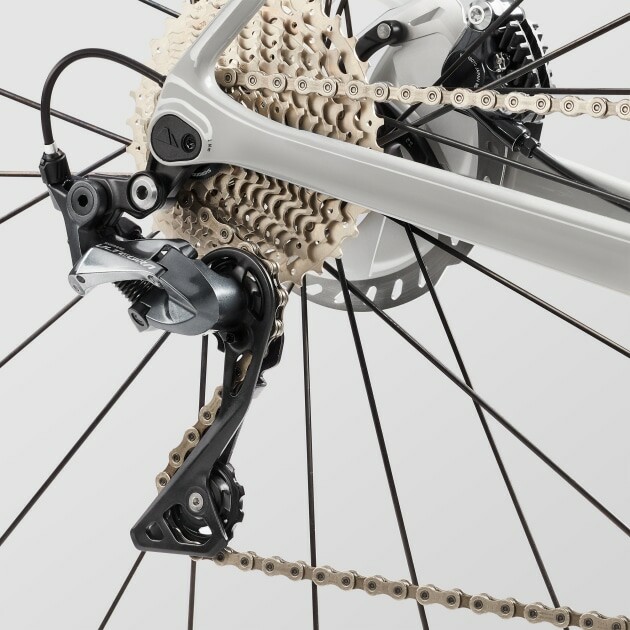 The test bike was equipped with Shimano's 11-34T cassette. 
The seat post is then topped off with a Fizik Argo Tempo R5 saddle, which is designed to offer greater stability and weight distribution through its short-nose and wide-wing design. Given that I spend more time on my bike than most people do on their sofas, I am pretty fussy when it comes to saddles, and even toyed with the idea of swapping this one out before taking the bike out for its maiden voyage.
With a good few thousand kilometres aboard it, I can safely say it's one of the comfiest saddles, and bikes, I have had the pleasure of riding.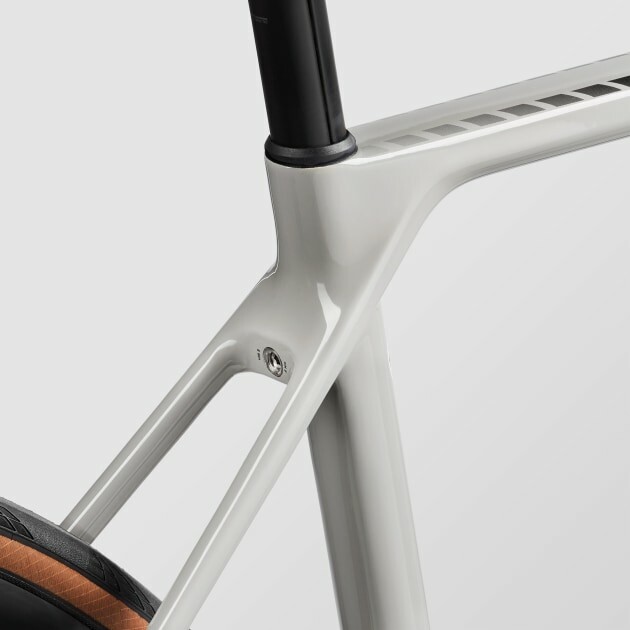 The bike features a flat top tube – it's aesthetically pleasing and also assists the overall compliance of the frameset.
To complete Canyon's attention to detail, around the seat post the seat clamp is integrated into the frame, allowing it to grip the seat post lower down, and thus offer greater flex. Which brings us back to the kink in the seat tube, which accommodates the curved-back seat post offering that added comfort without sacrificing too much in performance. But, I hear you ask, what about the rest of the bike?
…It feels every inch a race bike, while offering a planted feel on the road with its overall weight of 8kg…
The frame—complete with a broad, flat top tube—is reinforced to offer greater stiffness, which is most welcome when you're climbing after ten hours in the saddle. The press-fit bottom bracket further adds to the stiffness, thanks to a wider down tube and chain stays.
The impressive 32mm tyre clearance allows you to add an extra layer of comfort to what is an already supremely comfortable ride by running chunkier tyres, which opens up a wider variety of road surfaces for those who like to stray
onto hard-packed gravel.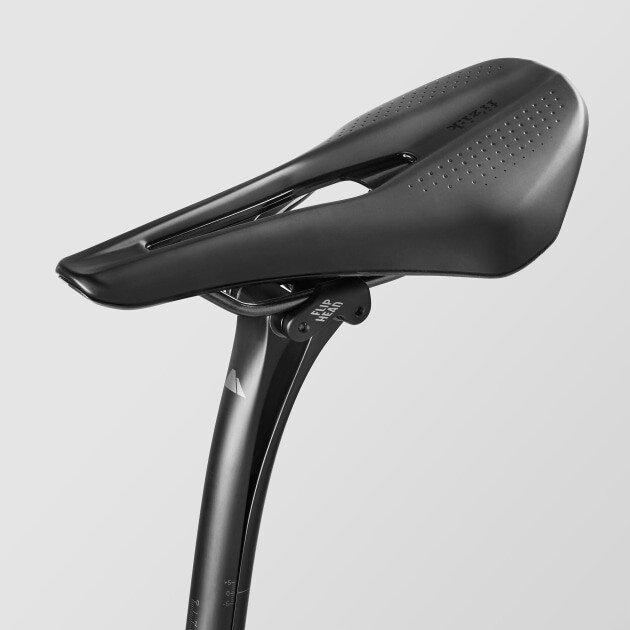 The seat post is topped off with a Fizik Argo Tempo R5 saddle.
It's unusual to get a bike at this price point with Shimano Ultegra—one of the benefits of selling direct to the consumer—but it is a frame worthy of such components. The RD-R8000 rear derailleur has, according to Canyon, a flatter profile which results in greater accuracy with chain placement.
I can't say I have noticed a massive difference with other Ultegra rear derailleurs—not to say that it isn't super-smooth through the gears, just that I have never had a bad experience with Shimano Ultegra.
One of my main gripes with bikes is that more often than not the area where brands feel it's fine to scrimp and save a little is their choice of wheels. Not so with Canyon and the Endurace CF SL 8.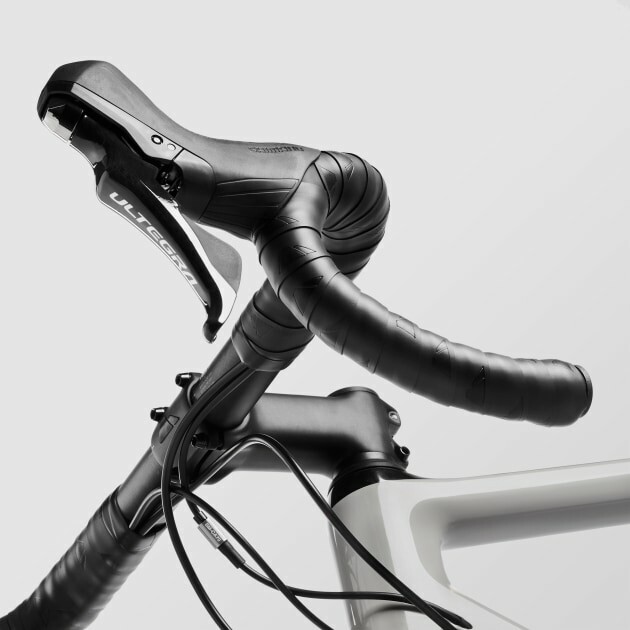 Featuring Shimano's mid-range Ultegra groupset, the cockpit is neatly finished off. There's always scope for aftermarket aero-shaped carbon bars – that's your call.
The bike comes equipped with a DT Swiss E 1800 Spline DB wheelset. In keeping with the stiff approach, these wheels offer excellent stiffness-to-weight and enhanced durability. As I say, I have already clocked close to 3000km on this bike and couldn't be happier with the set-up and smoothness of the ride.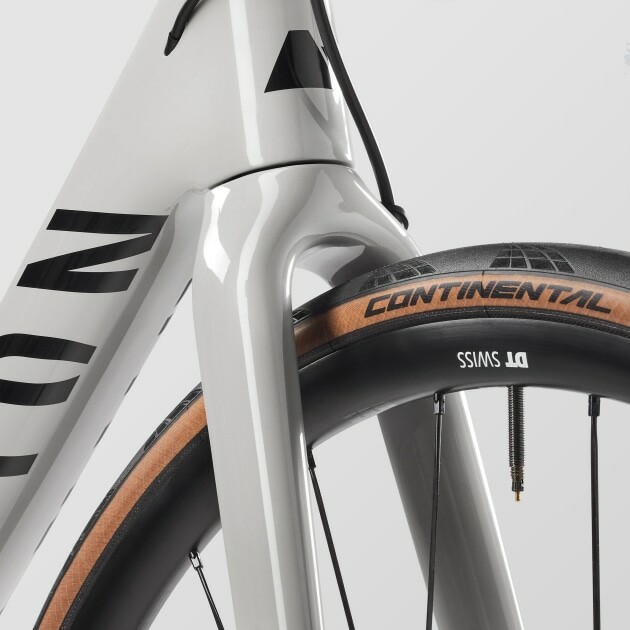 The bike offers a modern, minimalist and slick finish – it's aggressively priced and has developed a solid reputation and strong following.
It feels every inch a race bike, while offering a planted feel on the road with its overall weight of 8kg. In stock-standard build, the bike allowed me to attack descents safe in the knowledge that it could handle whatever I threw at it, which has been a fair amount over recent months.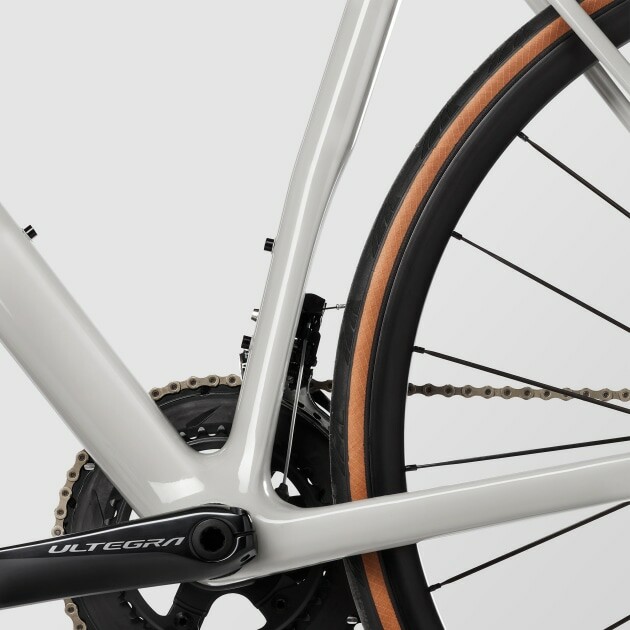 Comfort and compliance is one of the bike's key attributes with hints of this in the seat tube.
Specifications
Frame: Canyon Endurace CF SL8
Fork: Canyon Endurace CF Disc
Head Set: Canyon
Stem: Canyon V13
Handlebars: Canyon H17 Ergobar AL
Saddle: Fizik Argo Tempo R5
Seat post: Canyon S15 VCLS 2.0 CF
Shift Levers: Shimano Ultegra 
Brakes: Shimano Ultegra Hydraulic Disc 
Front derailleur: Shimano Ultegra R8000
Rear Derailleur: Shimano Ultegra R8000
Cassette: Shimano Ultegra HG800 11-34 11s
Chain: Shimano CN-HG701 11s
Crank: Shimano Ultegra R8000
Bottom Bracket: Shimano Pressfit BB72
Wheels: DT Swiss E 1800 Spline db
Tyres: Continental Grand Prix 5000, 28 mm, skinwall
Weight: 8kg
Price: $4249 
Distributor: Canyon.com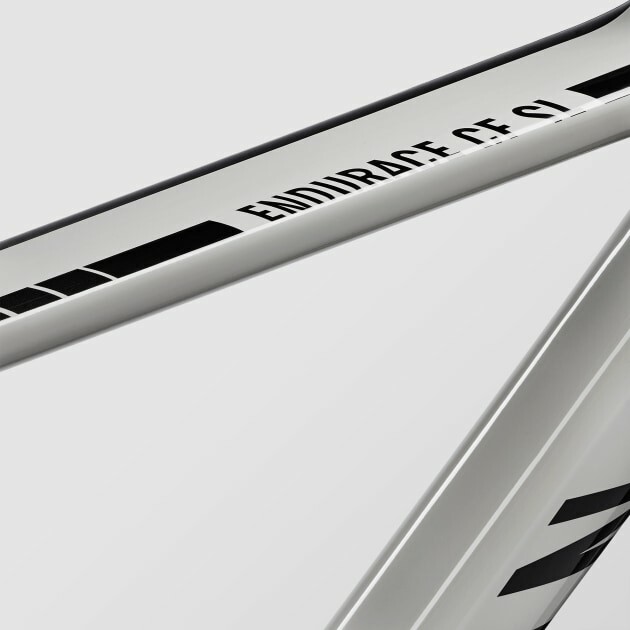 The underlying theme of this model is neatness, integration and simplicity. 
Performance
Canyon describes this steed as an endurance bike with aero-optimised tube shapes, proven comfortable yet agile for long-distance riding. And, having put it through its paces—and then some—it's hard to disagree with them. It handles with a sense of assuredness, gives back as much as you put in when accelerating and more.
Finish
From the off-navy paintwork—which looks far better in real life than on the Canyon website—through to the Ultegra components, Fizik Argo Tempo R5 saddle, unique VCLS 2.0 seat post and DB Swiss wheels, there's been no expense spared for a bike at this price point.
Summing Up
There isn't anything I don't like about this bike. It has the look and feel of a bike at a far higher cost than it's RRP, and rides the same. The greatest compliment I can give this bike is that, having enjoyed the test ride so much, I went and bought myself one. The ideal bike for those that want a supremely comfortable bike than can be raced hard and long without breaking the bank.