They have been on the radar for the past few years however, up until now, e-road is not something we've seen a lot of in Australia. That all changed in January when the first shipment of Orbea Gain electric assist bikes landed in the country.
Electric assist road are officially here in Australia with a number of local distributors soft-launching various models over the past few months. With respect to the unique features of many of the models, they all typically look like e-bikes—yes … there's an unmistakable battery unit fitted to the down tube and, in most cases, a control unit on the handlebars.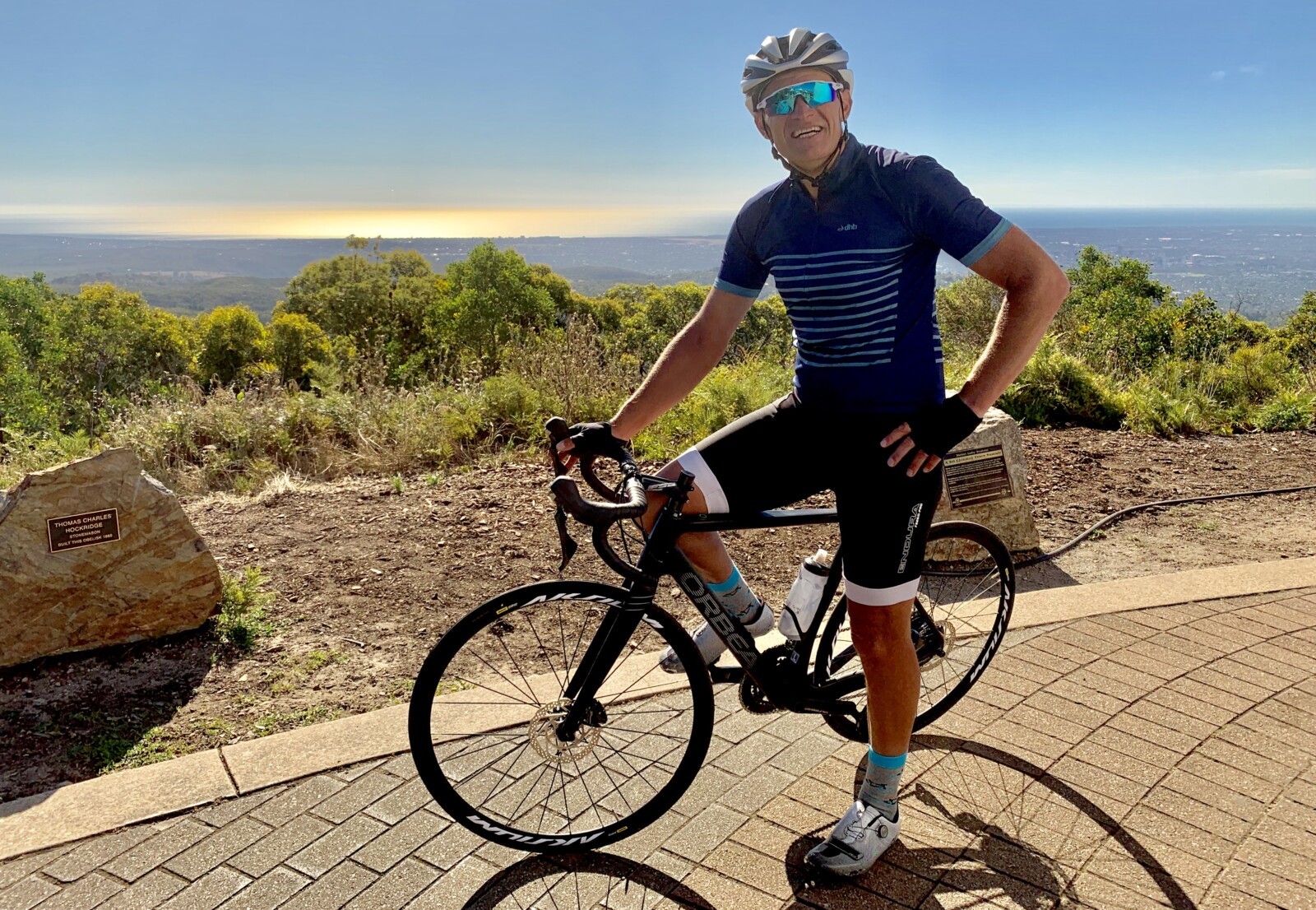 But this one is different. Bikebox, the distributors best known for Schwalbe tyres, have landed their first shipment of Orbea Gain e-road bikes—a frame easily mistaken for a standard road bike.
On display and available for demonstration at the Tour Down Under, Bicycling Australia enjoyed the opportunity to ride and review one of the first of these machines to arrive in the country.
The test bike was a Gain M20, a full carbon frame finished in matte black and featuring a Shimano Ultegra groupset and braking via 160mm discs.
First Impressions
Our first impressions no doubt mirrored yours—where the hell is the battery and motor?
Look closely at the rear wheel and you'll see this bike features an internal hub drive neatly sandwiched (and of a lower profile than) the rear disc and cassette.
This is an 'eBikemotion X35' rear hub motor to be precise—a 36V 250w offering that weighs 2.1kg and offers a maximum cruising speed of 25kph.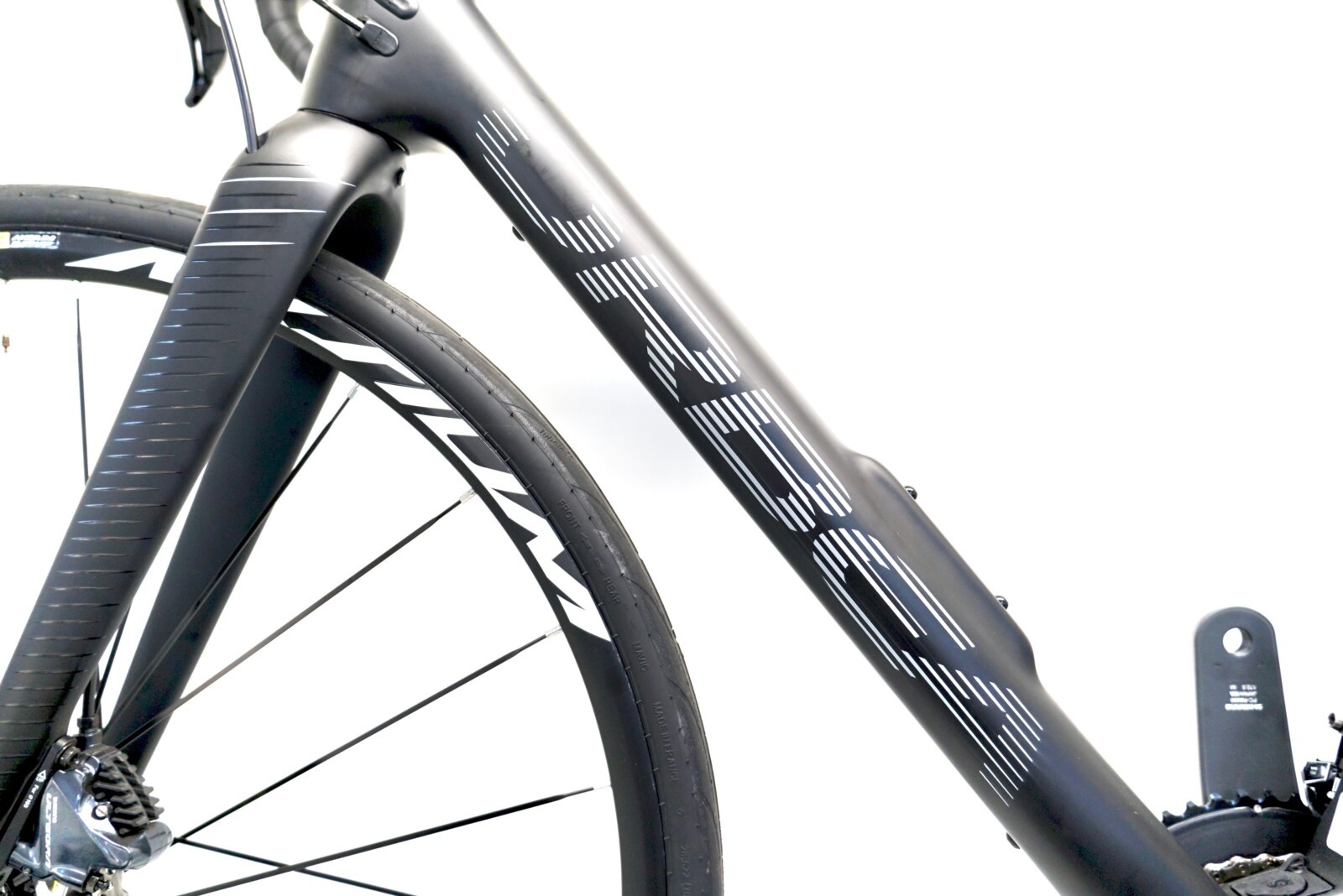 The other critical component, the battery, is equally hidden. Factory fitted inside the slightly oversized downtube—and with a subtle charge port near the bottom bracket—the whole package whispers minimalism.
Overall weight of the motor, battery and control system is said to be 3.5kg, with a total bike weight coming in at just over 12kg.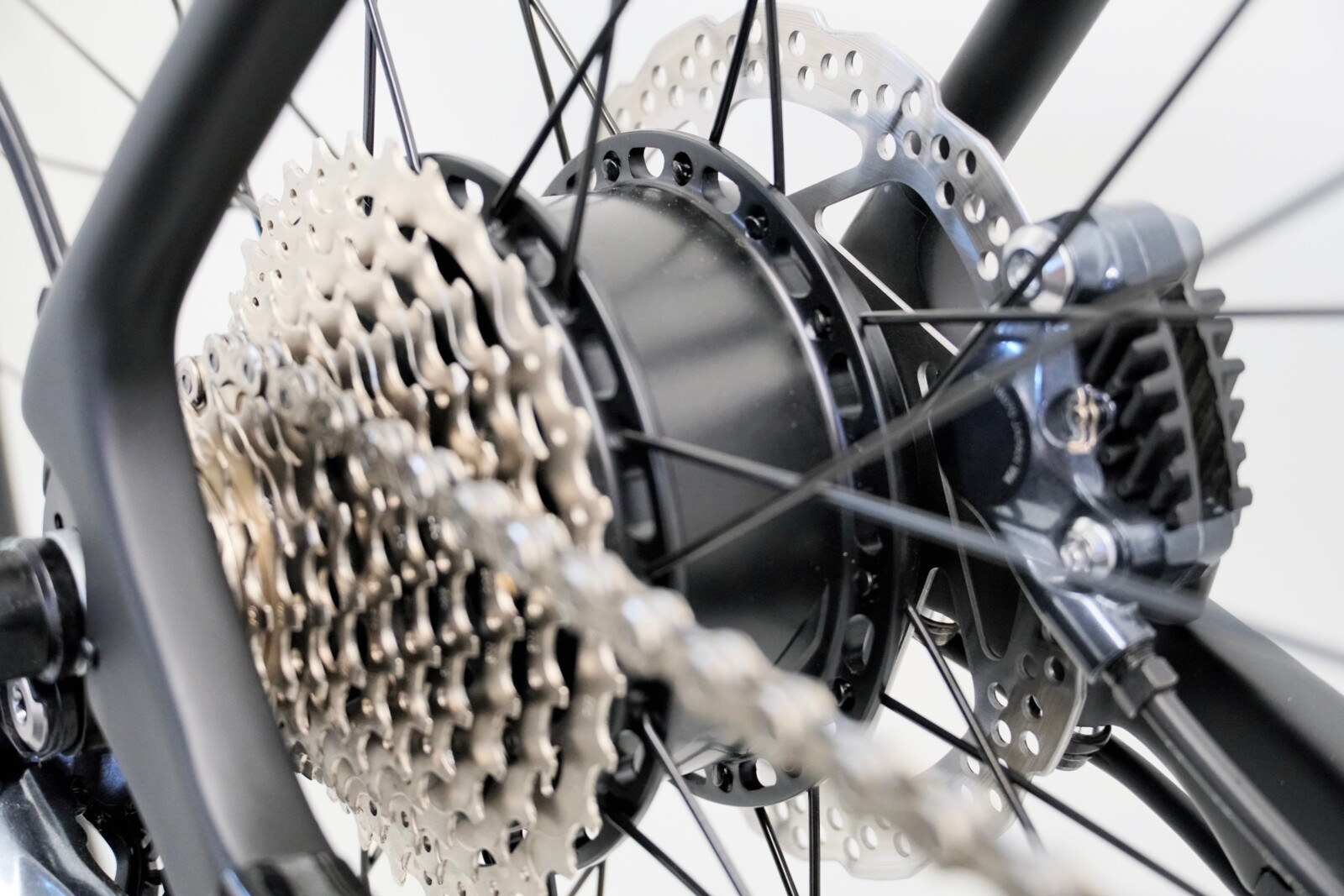 First Ride
Sitting on the bike, looking down and the only clue to this steed's hidden power plant is the coloured LED button integrated into the top tube. Click the button and you have the choice of three assist modes—white for none, green for economy and red for boost. Need more control? Power outputs can be adjusted and monitored via the eBikemotion companion app.
Speaking of the app: it also boasts a range of other features such as navigation, route planning and diagnostics and is well worth checking out.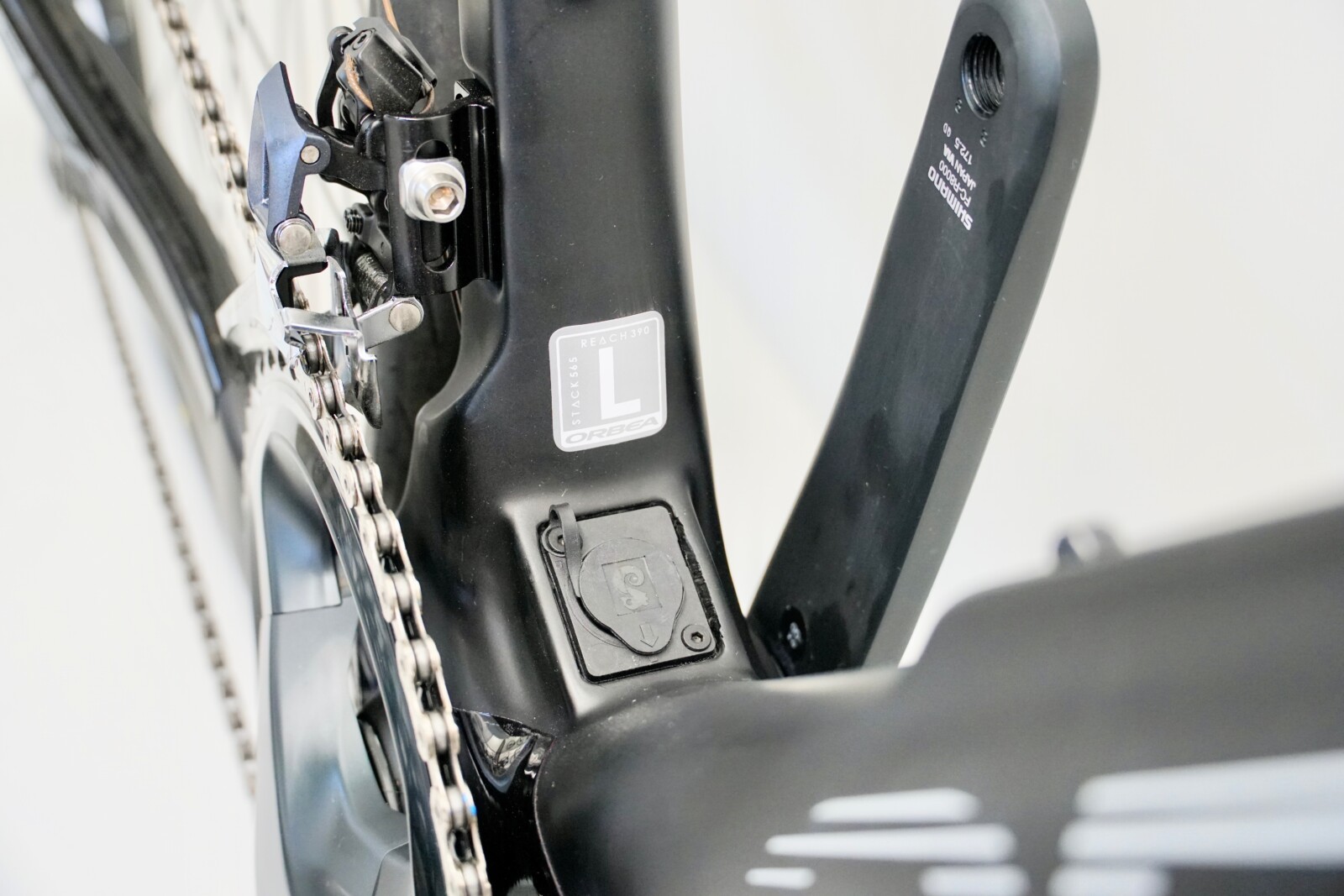 LED lit, push on the pedals and you'll feel that electric assist smoothly surge into action. But don't read e-road wrong—the rider still has to pedal!
Soon after taking delivery of the bike we took it to the Adelaide Hills, the perfect testing ground for any new bike, particularly one with the addition a motor.
Leaving Adelaide and starting a climb and it's obvious that this bike will not only be a lot of fun to ride, but add a unique dimension to your cycling and deliver new experiences—it really is an addictive experience and before long I decided "I need one of these in the fleet".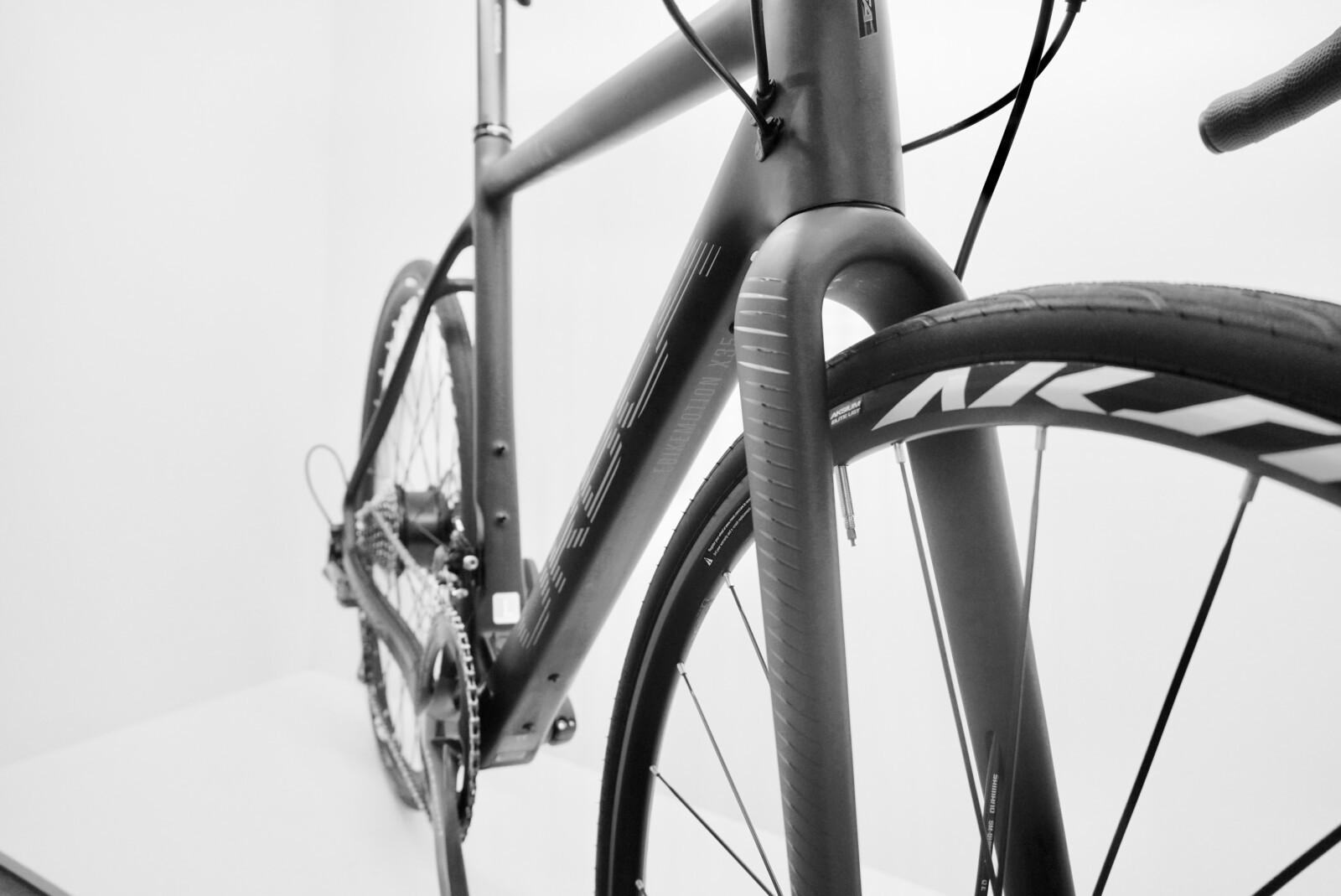 As mentioned, you still have to pedal—stop working and the motor will smoothly cut out … there's no free ride with this Orbea. With the assist switched on, what you will notice is how much faster you'll climb hills. The experience of flying up your favourite climbs considerably faster than ever before is a unique, fascinating and exhilarating experience. The good (or bad) news is you'll still be pedalling (and still suffering) through a solid workout.
Handing the Gain over to a cycling mate, experienced long-distance rider Davin Harding, he rode Adelaide's legendary Mount Lofty in boost mode and came back grinning from ear to ear.
Almost in hysterics when I met him at the lookout, Davin exclaimed "I love it, I just went down to the bollards and back up the climb in no time. I still worked it hard but it was the most thrilling climb up Lofty ever … this bike is awesome."
Battery Range
Overall range is stated by Orbea at 100km when using the bike at 25kph, and up to 1500 vertical metres of climbing. After the first 50km of testing over various terrains—from the Adelaide Hills and back into central Adelaide—we checked the battery status to see just under 50% remaining.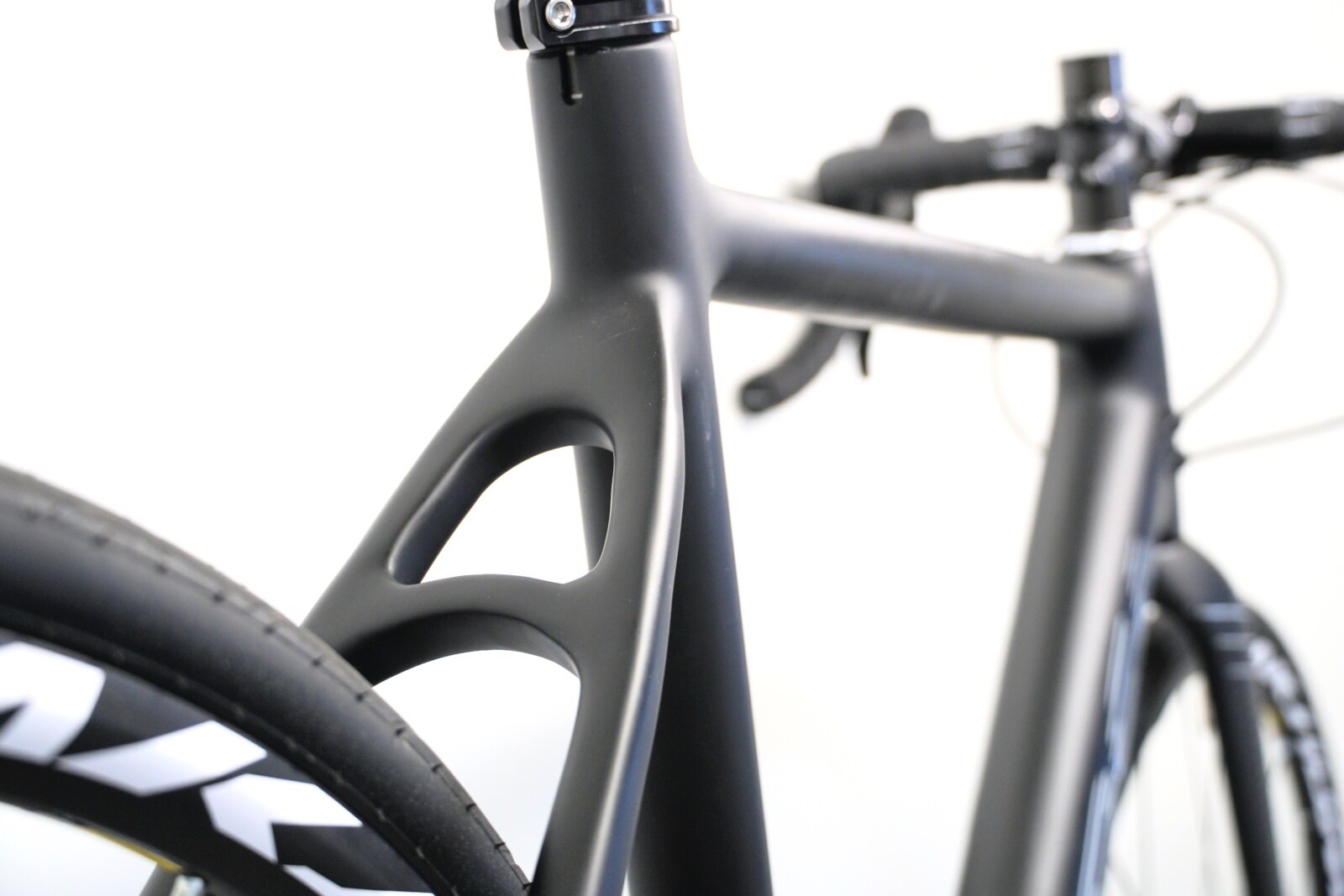 E-road Debate
The mere mention of e-road initiates vigorous discussion; take a look at virtually any social media post on the topic and you'll read all manner of conflicting opinions.
There is a lot of negativity but also many first-hand thoughts from those who have enjoyed the benefits offered by these bikes such as these recent comments on the Bicycling Australia Facebook page.
"I have just taken ownership of an e-road bike and love it. Bad knees so it helps with the hills. Couldn't recommend an ebike more for those who have injuries or restrictions."
"I've found most people that criticise e-bikes have never ridden one to understand how they work. I have an e-MTB and love it! You can still get a very good work out by keeping the assistance setting low. I still have regular bikes as well which I have been riding for many years. Now in my late 50s, I've found the e-bike has opened up more places to ride and enjoy it a lot more."
"I know of many people in their seventies or thereabouts who have been regular cyclists for decades and found a new lease of life because of their new e-bike. They are still getting a good work out and keeping active and enjoying the camaraderie and socialising that comes with cycling. Don't knock it if you haven't tried it."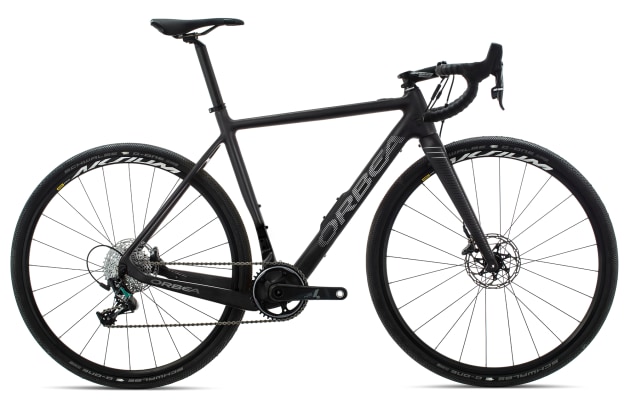 And using Strava with an e-road?
"I used to say I'd never get one but admit to now being a happy convert!
"To those on Strava thinking us ebike riders are cheats….I use Strava but when saving the ride as an ebike ride, it does NOT run the ride through any segments."
The Future Of Bikes?
"We want to make bicycles as accessible, useful and efficient as possible," said Orbea at the official launch of the Gain.
"We're developing platforms to minimize of all the potential excuses: the hills, the bad weather, the hazards of the road, the sweat, the fatigue, not being able to ride as hard as before … What would happen if we no longer had any excuses?"
Orbea say that thanks to the Gain's technological innovations, the cycling world 
is at the dawn of a new era. 
It's difficult to disagree.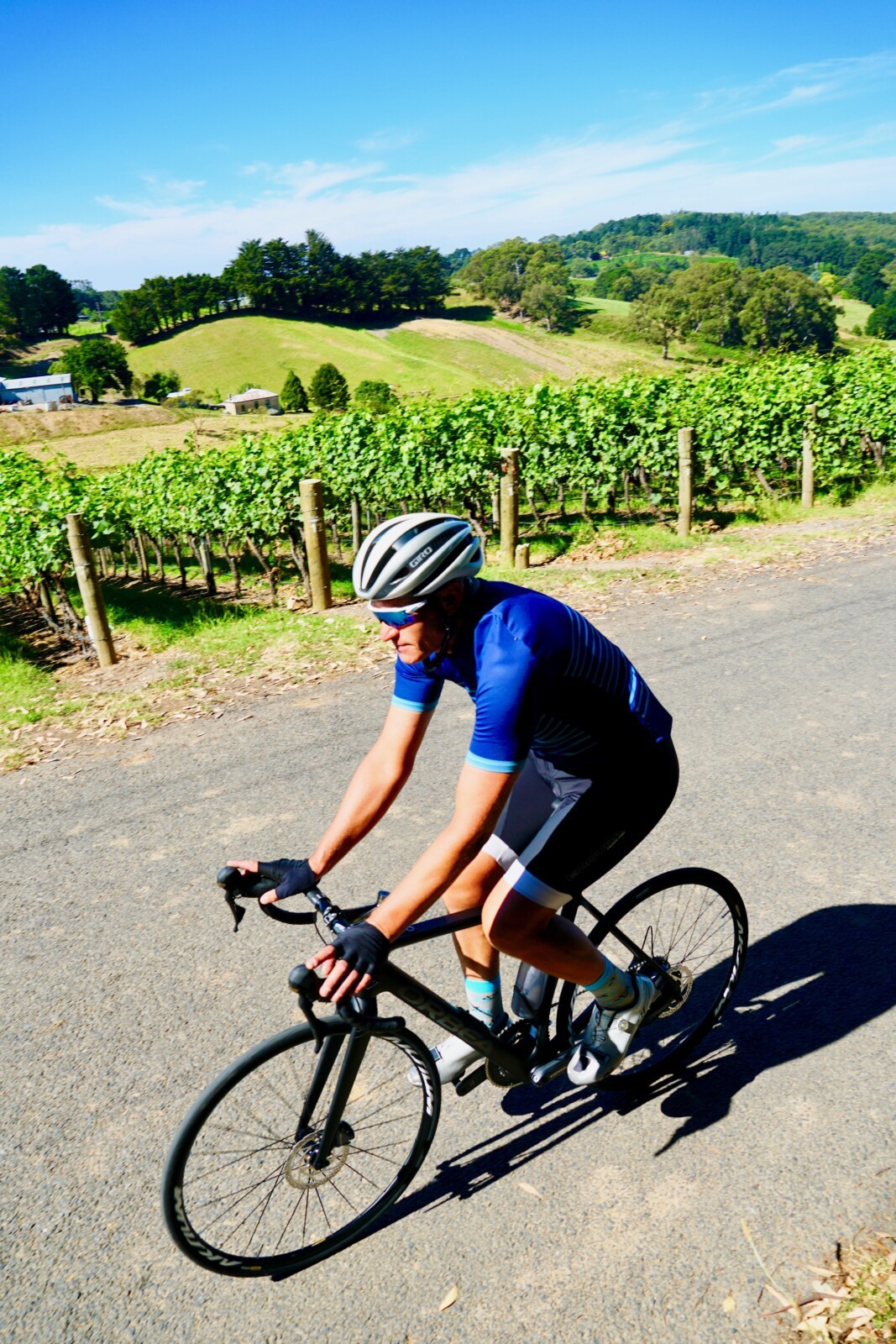 Summing Up
Quality
Clearly Spanish company Orbea have invested significant time, energy and capital into the Gain project. The overall finish is spot on, design integration truly impressive, and the bikes are proving to be a hit.
Performance
Ride without any electric assistance and, yes, you'll notice some extra weight. But on the positive side that's got to make you a stronger rider.
Value for money
At just under $7000 (as tested and with Ultegra), the Gain M20 comes in well below similar e-road bikes. The bike is also available in entry level builds (with the same battery and motor) at a considerably lower price point.
Overall
Controversial, but we absolutely love it.
Specifications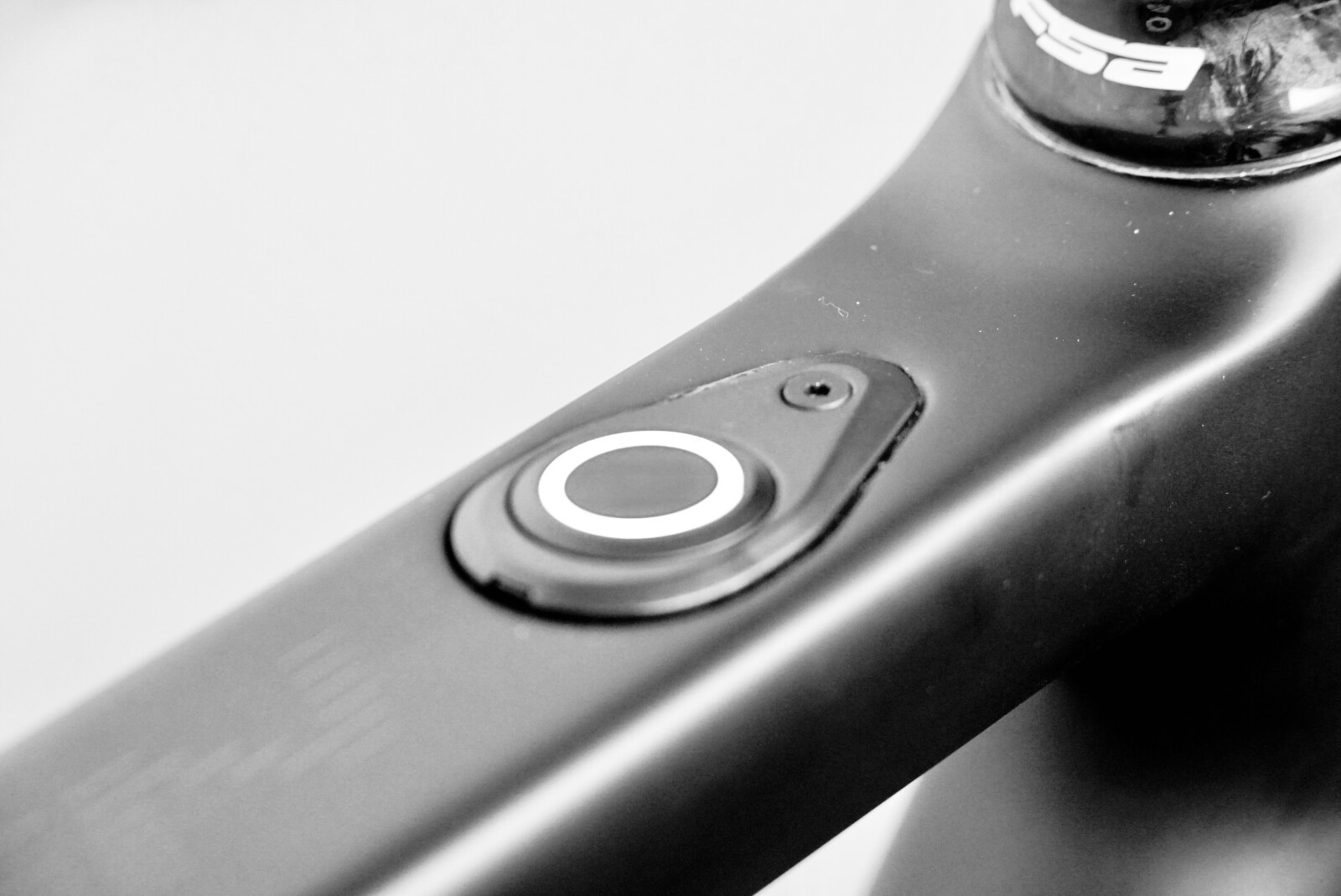 Frame: Orbea Orca carbon OME, monocoque,tapered 1-1/8″ – 1,5″, PF 86mm, powermeter compatible, brake internal cable routing, EC/DC compatible, 130mm rear spacing, 27,2mm seat tube
Fork: Orca OME carbon fork, full carbon steerer, tapered 1-1/8″ – 1,5″, carbon dropout
Crankset: Shimano Ultegra R8000 34x50t
Headset: FSA 1-1/8 – 1-1/2″ Integrated Aluminium Cup ACB Bearings
Handlebar: FSA Gossamer Compact
Stem: Orbea OC-II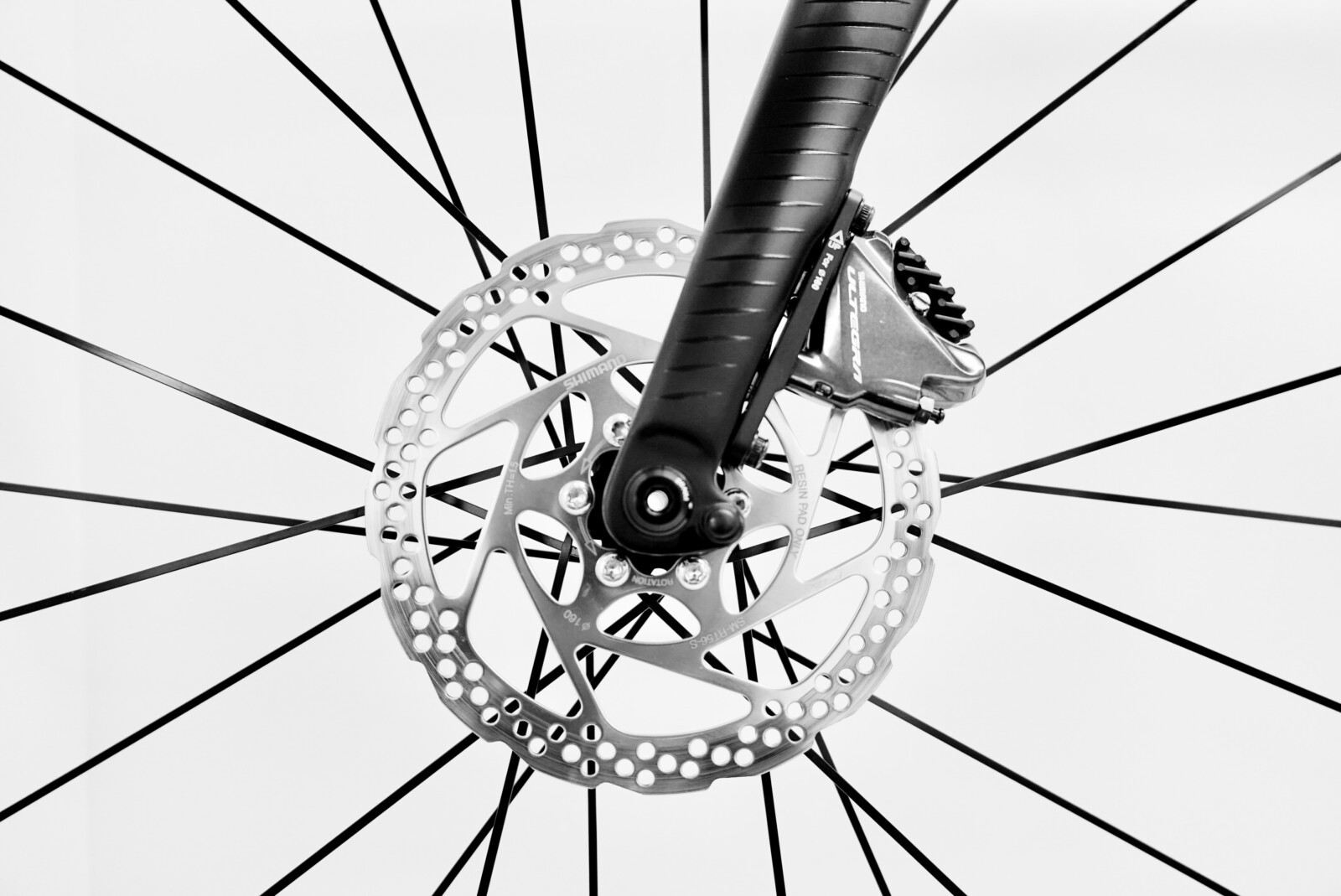 Cassette: Shimano 105 R7000 11-28t 11-Speed
Groupset: Shimano Ultegra R8000
Chain: FSA Team Issue
Wheels: Mavic Aksium
Tyres: Schwalbe G One 30mm Speed
Seatpost: Orbea OC-II Carbon 27.2x350mm
Saddle: Selle Royal Seta RS
Brakes: Shimano Ultegra R8000
Pricing: $AU 6,999