After hearing about a keen Brisbane cyclist's plan to ride up Mt Coot-tha an epic 45 times to achieve an Everest, Don McDonald thought he was crazy as he'd had only ever done one repeat himself and hated climbing. Here he explains how that led to getting the bunch together and taking on a serious challenge for a great cause.
I didn't even know it was a thing, this Everesting. A bit of a Google search and I came to realise it was quite a phenomenon.
And that got me thinking – with all this effort why don't we (Youth Enterprise Trust) lend some support and use the opportunity to raise funds for the Foundation.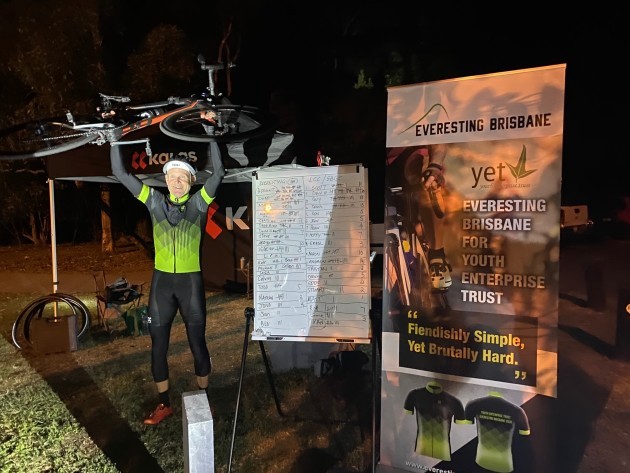 Last Sunday, on a cool 8degree Spring morning, Adrian Tillin and mate Luke Salter took on the challenge to achieve their Everesting goal. Heading off at 4.00am they were later joined by groups of friends, family and cycling enthusiasts that ride together in local bunch rides.
In all 43 riders turned up to contribute and support Adrian and Luke's Everesting, some doing just one repeat, others 3, 4 or 10 and two riders with 23 reps achieving a 'base camp' half Everest.
Fuelled by home cooked banana bread and muffins, Team Sky rice cakes and the lure of champagne and a cold beer at the finish, Adrian's effort finished in the dark 18 and a half hours later. Luke completed the challenge in just under 14 hours.
On the 2.36k Strava segment 'Full Coot-tha back', 41 cyclists completed 380 repeats, rode 1600klms and climbed 75,240 vertical mtrs equalling a combined 8.50 Everests!
It was an epic day and probably a 24 hour climbing record for Brisbane.
Ride sponsor Kalas Sports Wear supplied Jerseys near cost that were then sold with the profit going to Youth Enterprise Trust. Combined with raffles, donations and a sausage sizzle over $8,000 was raised on the day.
For further information on the Foundation and the work they do contact Don McDonald, Chairman of Youth Enterprise Trust on 0412 734512 or Adrian Tillin on 0474 224504