A machine built to race, German manufacturers Focus designed the Izalco Max with speed in mind, it's a bike that gets moving and wants to push the limits.
I am fortunate enough to own this frame and there are a number of reasons why I picked it.
In a world where we as cyclists are spoilt for choice it can become overwhelming to think about all the possible options for a new bike, and that is exactly where I found myself.
I went with my instinct and purchased the Izalco Max Dura-Ace Di2 offering, the model near the top of the Focus Road Race range. It is well specc'ed with trustworthy parts I knew would perform without sparing too much expense. It comes in at a nice round figure of $10,000, $500 more expensive than the 2015 model but it does feature some slight component alterations.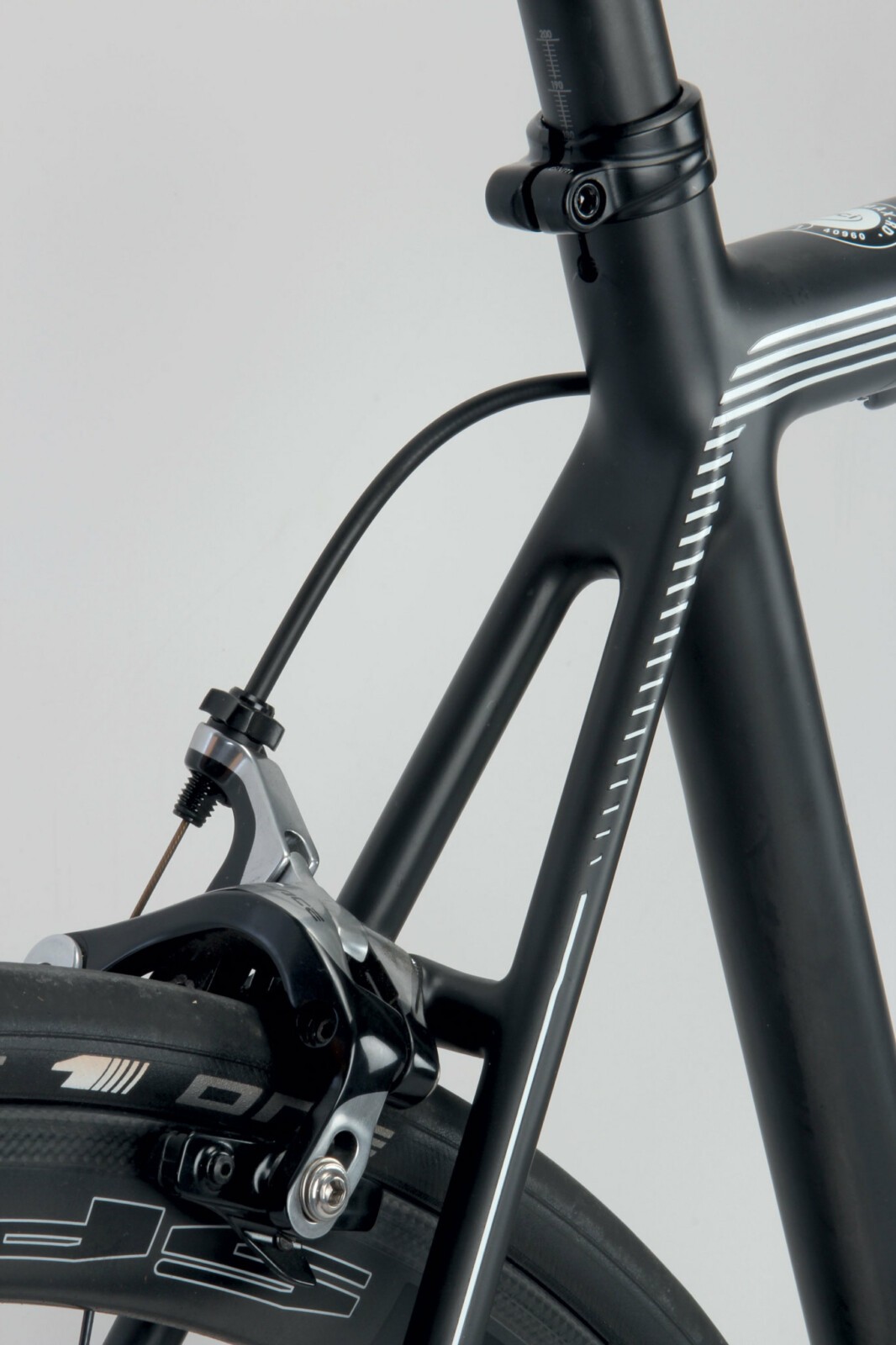 Straight out of the box without pedals, the Di2 model with a DT-Swiss RC38 Spline carbon clincher weighed a measly 6.6kilograms. The full carbon 56 centimeter large frame weighs 750 grams on its own, making it one of the lightest production bikes on the market. Matched with their one-piece carbon fork weighing 295grams, this is one seriously light bike.
The frame features a tapered head tube with a 1 1/8" bearing at the top of the steering head and a 1 1/4" bearing in the bottom. This is to reduce the steering weight of the front end and create a stiffer, more stable ride when in motion. I could already notice the difference in the first ride when tipping the bike into a corner, the combination of the long 56.5centimeter top tube and the stiff, low front end made for confident handling, something you may not expect whilst descending and cornering on such a light bike.
The fork has been designed for maximum lateral stiffness, made out of a single piece of carbon it has the ability to absorb some of that annoying road buzz but be very rigid and precise when climbing, allowing you to dance on your pedals, effortlessly throwing the bike from side to side.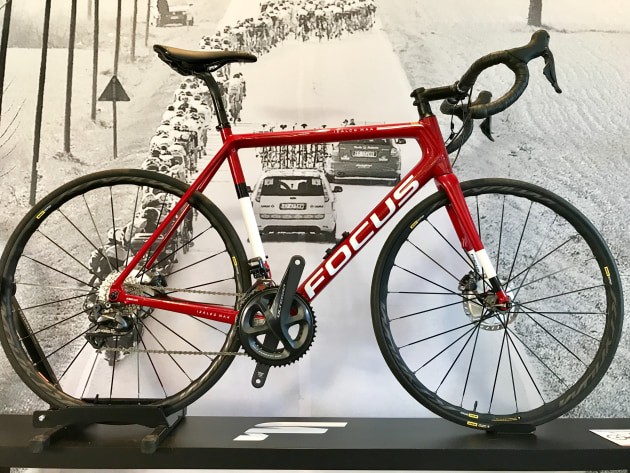 The other thing to mention when climbing is the great power transfer through a very stiff bottom bracket. It is noticeably more rigid than my previous bike when out of the saddle or doing a big effort on the pedals, thanks to the frame size at the bottom bracket and the thick cylindrical seat tube. It also features SSPS technology designed by Focus that offers the same stiffness throughout their entire range by optimising tube diameter for each frame size to maximise the weight-to-stiffness ratio.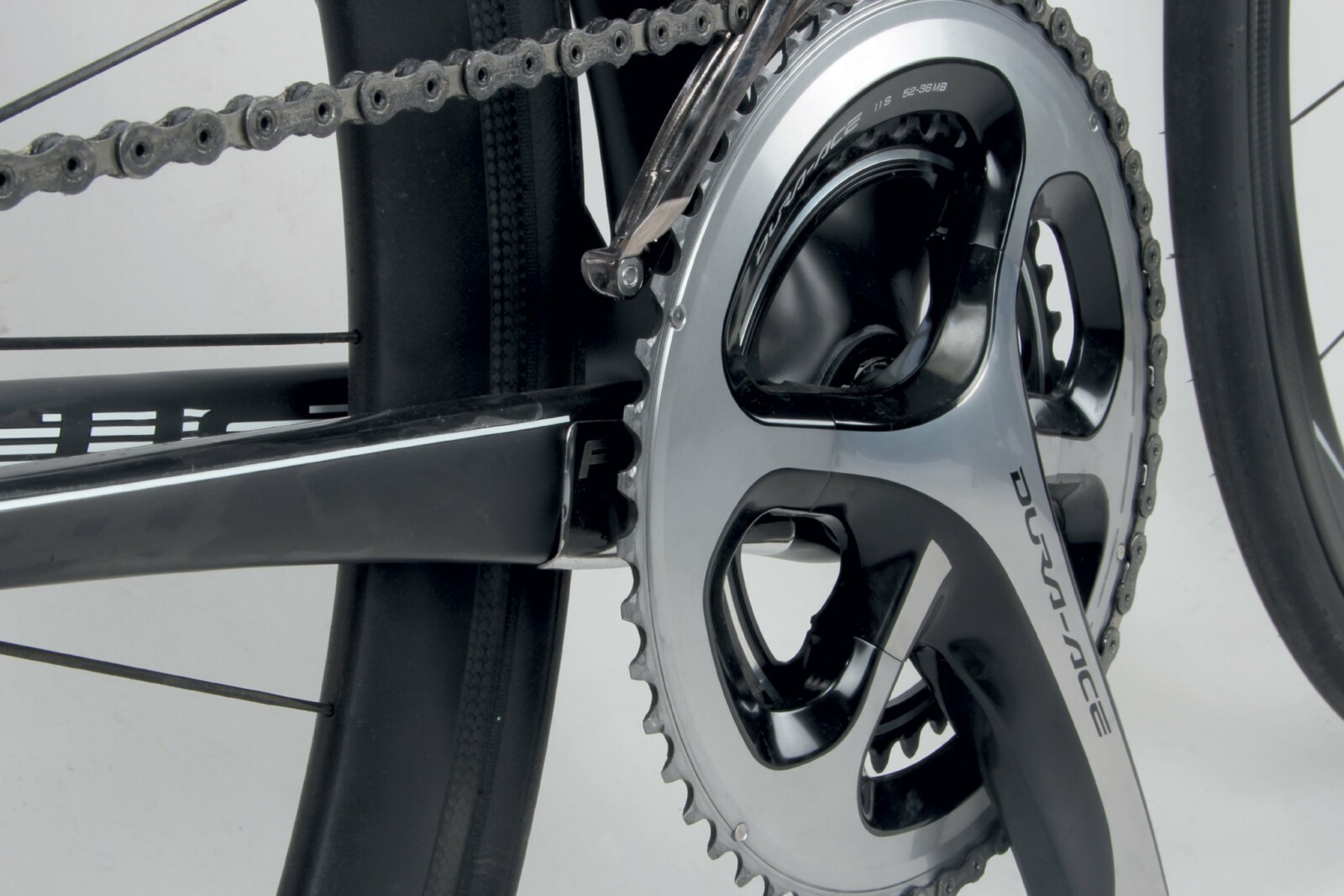 A classic looking frame without any fancy flair, the bike's aesthetic appearance understates its performance, though with just one colour scheme available for the Di2 model you aren't particularly spoilt for choice. A matte black carbon frame with white graphics is the sole option. The font used for this model's logo is quirky, it looks like it came off an early Macintosh computer screen.
The Izalco Max is a race-designated bike, built to allow you to ride fast and back up again and again with more performance.
The frame uses external brake cables for easy servicing. The rear brake cable sits under the top tube and while some people wax lyrical about the streamlined looks of internal routing my personal opinion is that it doesn't take away from the aesthetic appeal of the bike. The external routing also has a weight-saving benefit. Usually for manufacturers to internally route cables they must bore into the carbon and reinforce the opening with extra carbon, thus adding weight, but not so with the Izalco Max.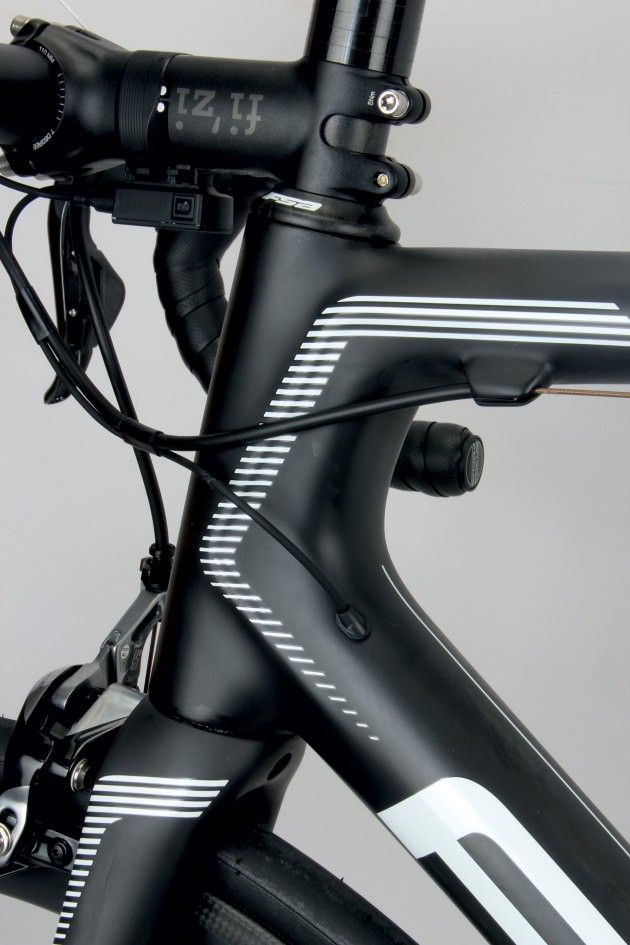 The guys at Focus have chosen to include with the bike a set of DT-Swiss RC38 Spline carbon clinchers which are tubeless ready, so if you want to go down that road there's no initial need for an upgrade. This wheelset performs as a deep-dish carbon rim should, with lightweight handling, moderate stiffness, and reasonable speed…though it's difficult to gauge actual speed differences between different wheels, frames, and roads. But in saying all that these are a good option to have in the arsenal. They're not dramatically affected by side wind but they are quite narrow and have a V-shape profile rather than a U-shape.
Braking on these carbon rims was notably different for me when I compare with my previous alloy rimmed wheels, but less effective braking is a price you will likely have to pay with carbon rims. The Swiss Stop carbon brake pads are a nice touch and of course perfectly suited to the rims. Shimano Dura-Ace calipers do the rest of the work.
The rims are wrapped in 25mm Schwalbe One tyres. There's no tread pattern but they're tacky enough to attack any corner.
The Shimano Dura-Ace Di2 electronic shifting is as reliable as always, with the junction box mounted on the under-side of the stem, and the battery hidden inside the CPX Plus carbon seat post. Speaking of which, the post features a gaping aero cutout just below the clamp.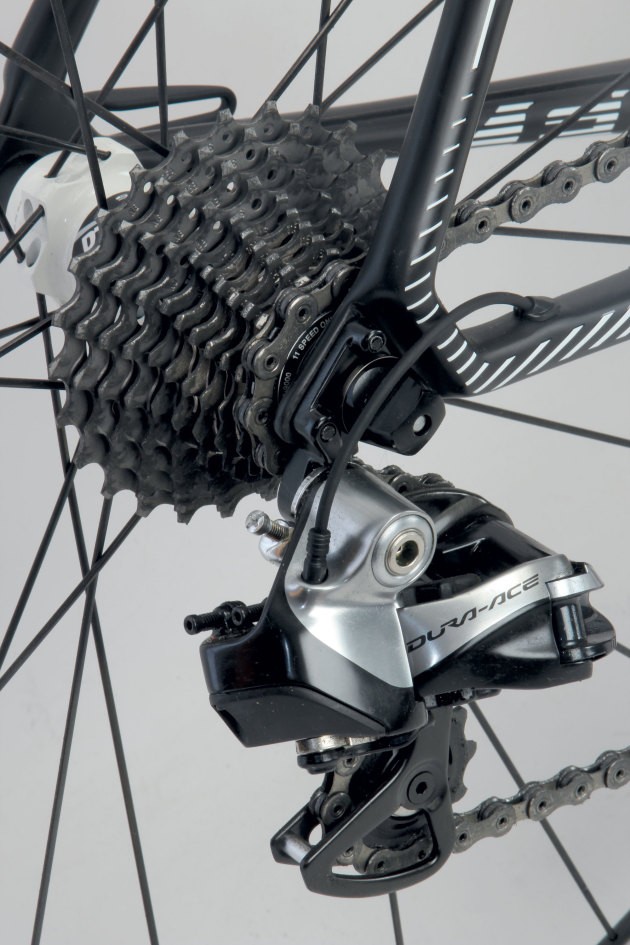 A pro-compact 52/36T front chain ring ratio and 11/25T Dura-Ace cassette means this rig is ready to race, but if you want to go uphill a bit easier without grinding, swap the cassette for an 11/28T and leave the smaller ratio for the race track.
All the gear cables are internally routed from the headset to the rear triangle.
This model in particular comes stock with the alloy fi'zi:k Cyrano R3 bar and stem combo. The stem is thin and compliments the frame's classic shape and the bars are very stiff. I did find that the 44centimeter-wide bars were too wide for me and made handling feel sluggish. Changing to a narrower bar will speed up the steering response. There is also an opportunity to save a few grams with a carbon stem and narrower carbon bars.
The fi'zi:k Antares Kium saddle is a nice lightweight offering. Made of a full carbon body and alloy rails it is comfortable and has plenty of length to shift your weight forward and back during the ride, but because it is so flat I find myself squirming for relief after a while in the saddle.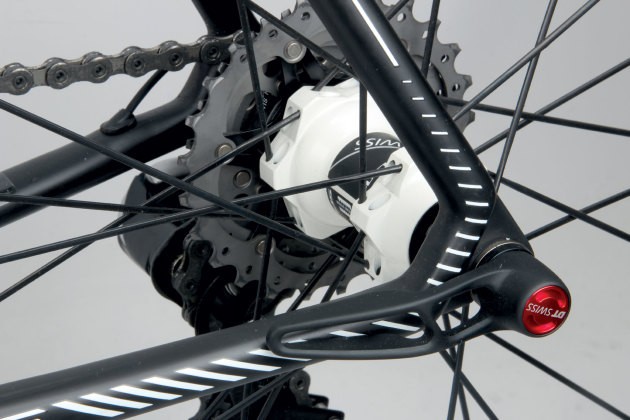 Over the long term review period I have done a variety of racing and training on the Izalco Max frame and have been impressed in every situation. I see the bike performing its best in a mountainous stage race, where the pressure is always on for those precious KOM points, however you don't need to be a racer to love this bike. It is great on the criterium track where it is nimble around corners and can hold itself in the sprints, but you could roll out of the race and continue to ride for a hundred more kilometers because this frame is just so comfortable.
It climbed superbly in the Adelaide Hills and up the side of Mt Hotham and I could not fault it one bit, regardless of whether I was seated or out of the saddle racing my friends and rivals. Don't under-estimate the speed of this bike, it is born out of the quest for performance.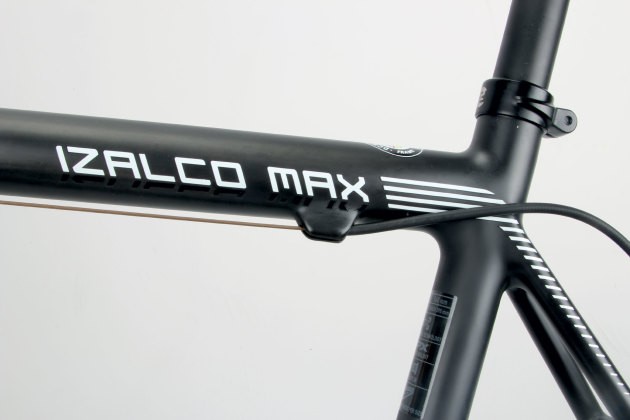 Summing Up
Quality
The attention to detail on this frame is immediately noticeable. Every aspect of the bike has been meticulously fasted over. It screams high-end European style with an even matte finish and its fluid curves; it's a modern tribute to the classic road bike frame.
Performance
An all out race bike, it is stiff and responsive on the crit track but is really at home ascending in the alps where the weight, or lack there of, is a definite benefit. Add in the surprising level of comfort and you have a bike you would be happy to ride anywhere. Di2 always does its job precisely and promptly and is a great addition to this bike.
Value
At $10,000 it isn't cheap, however for a top of the line race-ready bicycle it certainly feels like it is worth a lot more. A bike that comes standard with carbon rims is already ahead of the pack, reducing the initial need to upgrade a wheelset can save money and time. Reliable components make this Focus model a neat package for the price.
Overall
A-class handling and a round up of reliable components to compliment a very fast frame is the punch that this bike is packing. Personal touches and upgrades are only necessary if you are particularly picky about how certain parts feel when they are performing their duties, but the Izalco Max will dominate anywhere you choose to take it.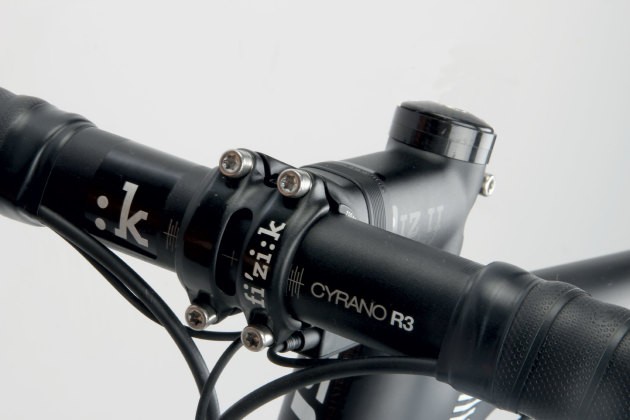 Specifications
Frame: Izalco Max P2T 10 Carbon
Fork: Izalco Max P2T 10 Carbon T4
Brakes: Shimano Dura Ace
Cassette: Shimano Dura Ace 11/25T 11-speed
Rear derailleur: Shimano Dura Ace Di2
Front derailleur: Shimano Dura Ace Di2
Shifter: Shimano Dura Ace Di2
Crankset: Shimano Dura Ace compact 52/36T, 172.5mm crank
Handlebar: fi'zi:k Cyrano R3
Stem: fi'zi:k Cyrano R3
Saddle: fi'zi:k Antares Kium
Seatpost: CPX Plus Carbon, integrated Di2 battery
Wheelset: DT Swiss RC38 Carbon C tubeless ready
Tyres: Schwalbe One 622 X 25
Weight: 6.6kg
Price: $10,000
Dsitributor: Derby Cycles