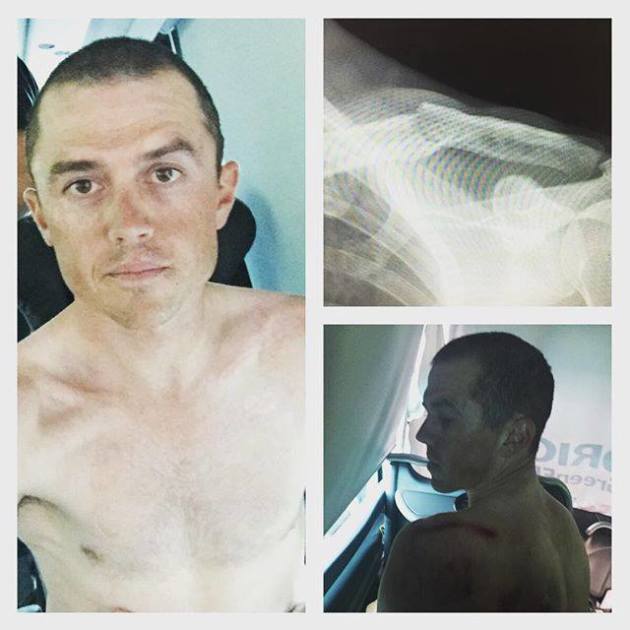 Star Orica-Bike Exchange rider Simon Gerrans has ruled himself out of competing in next month's Olympic Games after crashing out of the Tour de France.
Over the weekend Gerrans shared photos of his fractured collarbone, a devastating injury that forced him to withdraw from his 10th Tour de France. It was his third withdrawal from the iconic race in as many years.
Involved in a high-speed crash while taking a left hand corner during a descent in the infamous stage 12 of the Tour, 'Gerro' landed hard on his left side. A number of other riders were taken down in the 60kph crash but all, including Gerrans, managed to get back on their bikes and continue the 30km to the finish on Mont Ventoux.
After the stage he was checked over by his team doctor then later X-rayed by a specialist who gave the news no cyclist wants to hear – a fracture of the left clavicle.
From a hospital bed in Barcelona Simon Gerrans messaged Facebook followers to say "you think riding up Mont Ventoux is hard, try doing it with a broken collarbone. That's the end of my #TDF2016 I can't find words to describe how disappointed I am.''
There was hope he would recover in time for the Olympics but he later released a statement saying he 'should be replaced by one of the riders in the squad.'
Gerrans was considered a key member of the Australian Olympic cycling team heading to Rio in just three weeks' time. It remains unclear who will replace Gerrans in the road race, a 241.5km event around Copacabana on Saturday August 6.
Who should replace Gerrans in the Olympic Games Road Race team?