It could change the way cycling fans view the sport and, for Aussie audiences, comes with perfect timing after Eurosport was dropped by Foxtel.
GCN – the Global Cycling Network – have announced live coverage of men's & women's WorldTour races via an app-based service that can be streamed to the big screen.
GCN Race Pass will be launching in multiple markets around the world including Australia. Fans will have a localised experience and be able to watch live coverage and use interactive features and content in English, French, Spanish, Italian, German, Dutch and Japanese. They will also be able to watch on the go via their mobile devices or at home on the big screen through Chromecast and Apple AirPlay.
The GCN Race Pass sits exclusively within the GCN app as a premium subscription-based service offering fans uninterrupted live and on-demand coverage of men's and women's pro-cycling events. For each race the GCN Race Pass will include race previews, start lists, route maps and profiles, results and standings plus a live race updates feed.
The current version of the GCN app is a free resource offering news and interactive features including hack/bodge, quizzes, polls, cycling inspiration, news, GCN video and a pro section- an ultimate guide to World Tour teams, riders and bikes.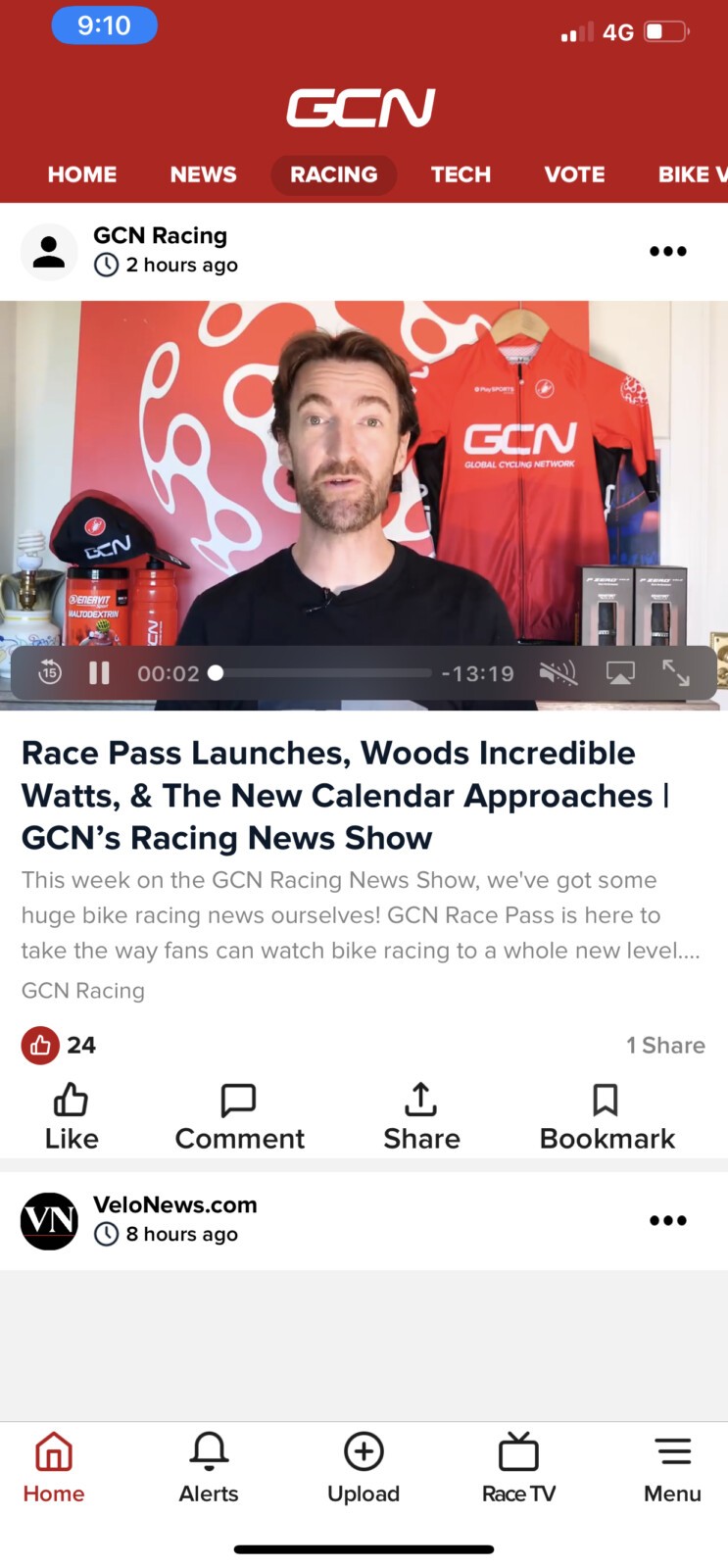 Dan Lloyd On Race Pass
GCN presenter Dan Lloyd said having been with the network since it started in 2013, today feels like "a big bloody deal".
"We've just launched Race Pass, which means we can finally show live, interactive and on demand racing coverage, from most of the biggest races on the calendar," he said.
"I almost can't believe it – I'm incredibly excited, and also really proud when I think of how far we've come in those 7 ½ years. We've always played by the book, so it was frustrating to talk about a race but only show photos – not any more. Along with the racing coverage, we'll also have start lists, route maps and profiles, written previews, results, rider stats and loads more. For the biggest events, we'll have in depth video previews and post race analysis, and we've got a brand new weekly show dedicated to racing: the World of Cycling."
Lloyd said RacePass will start with Strade Bianche (men's and women's) on August 1st.
"You'll hear your favourite Eurosport commentators, as we've been working really closely with them on this. After Strade Bianche, the monuments, Grand Tours and a whole host of other races come thick and fast.
Simon Wear, Founder and CEO of Play Sports Network, said as we move into the premium live sports business, with our extensive racing rights, we feel offering a paid subscription service delivered from our unique position and style reinvigorates the way fans can consume cycling.
"This differentiates us from traditional or competitive cycling broadcasters as we can offer more engaging, fan-focussed and interactive content," he said.
GCN are offering their Race Pass at a discounted launch price of $59.99 per year. You can download the app and subscribe via Android or iOS.