Things have been dynamic in the fat-tyred world over the past few years. Fringe elements have been adopted by the big manufacturers with increasing speed, eager not to miss the next 'thing'.
Wheel and tyre size has been the big 'innovation' – fatter tyres and various wheel sizes purporting to cure all woes and offer life-changing, category defining bikes. Fat and Plus tyres are still finding their place off-road, and on-road we're presented with a broader range of options than ever before.
Tyre girth is constantly increasing, a 25mm is almost minimum these days, and 28mm treads are increasingly accommodated by race day bikes. The bigger tyres are not any slower, and provide a stable and smooth ride. It's this simple technology, a rubber balloon filled with air, that forms the basis of Trek's all new Checkpoint 'Gravel' bike.
Gravel Riding Booming
Gravel riding has popped it's bubble and splattered all over the mainstream map in during last 12 months. Personally, I have been riding 'gravel' since before it was a thing. The allure is the adventure/perceived adventure. Generally quiet roads, nature, and riding off into the unknown are supremely appealing.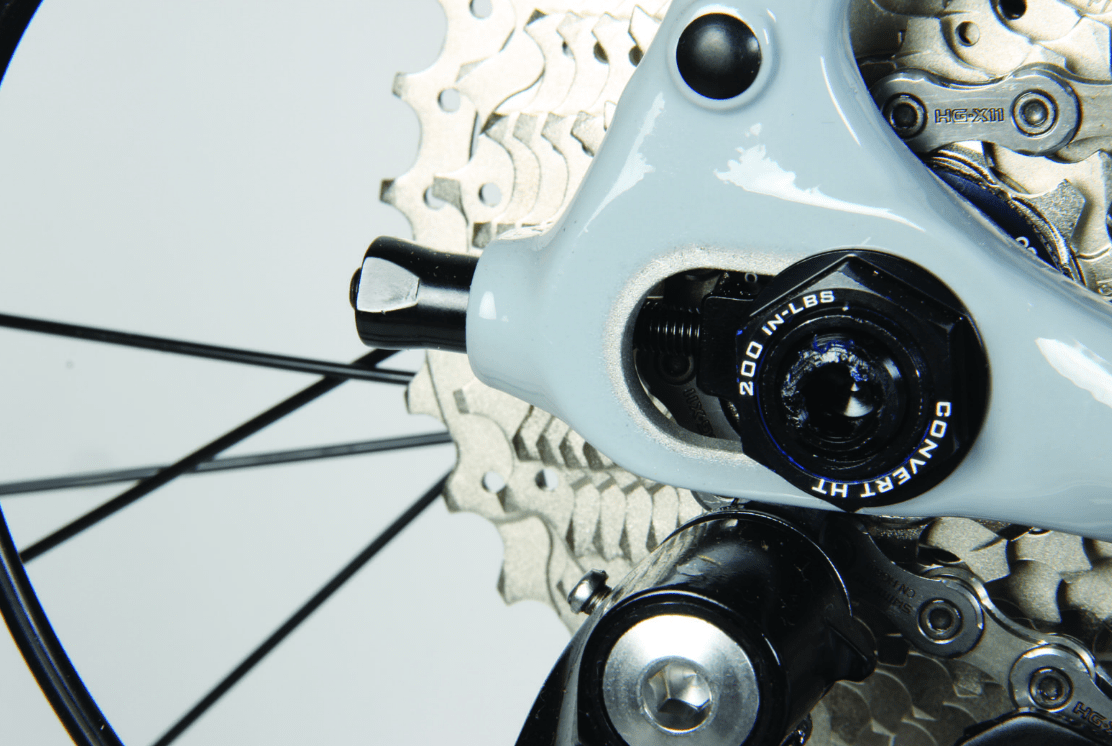 Early gravel bikes evolved from hardtail mountain bikes, touring bikes and cyclocross bikes for the most part. All bikes that accepted wide tyres and provided a slightly more stable ride than a regular road bike. There is still no set of parameters for a gravel bike, each maker seems to have their own take from bikes that are basically mountain bikes with drop bars to cross frames that have been spec'd from the factory with lower range gears and wider ties.
Trek started with a clean slate for the Checkpoint. Sure, there are plenty of existing Trek features and technologies present on the Checkpoint that will be familiar to Trek fans but the combination is an entirely new form designed around gravel based riding. Trek started off with geometry mimicking the Boone CX bike, but has ended up with numbers that closely resemble the Domane endurance platform.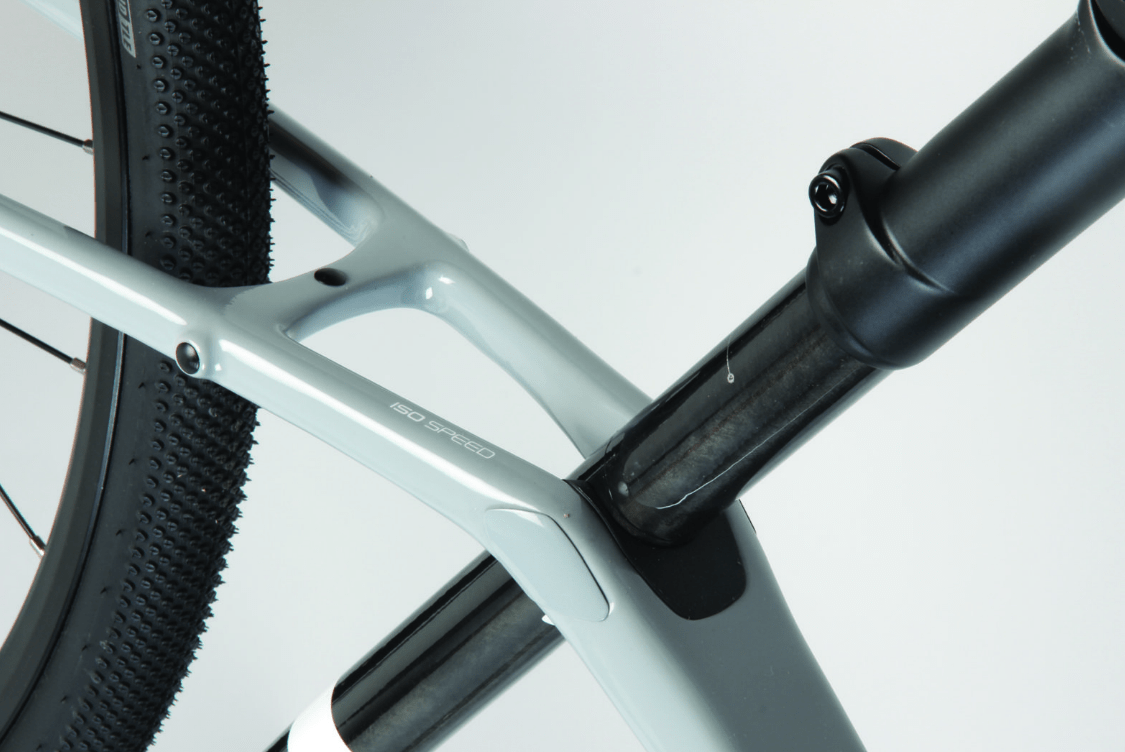 Without looking at the tech specs, the first roll out on the Checkpoint surprises you. The fat tyres roll up to speed with deceptive ease and I was able to place my stem lower that I'd anticipated. The bike felt fast and ready to move. There's no complacency or lethargy in the ride of the Checkpoint.
The stats note a longer wheelbase and lower bottom bracket when compared with the Domane, but only just. A steeper seat angle results in a similar effective top tube length, but the reach and front centre is 10mm longer on the Checkpoint, a trick that has become the standard in mountain bikes only recently. This keeps the cockpit fit comfy for the rider, but pushes the front wheel out in front a little more so that the bike feels more planted on steep descents without a truck-like wheelbase that feels slow and ponderous on shallower grades. Stack height is actually lower on the Checkpoint.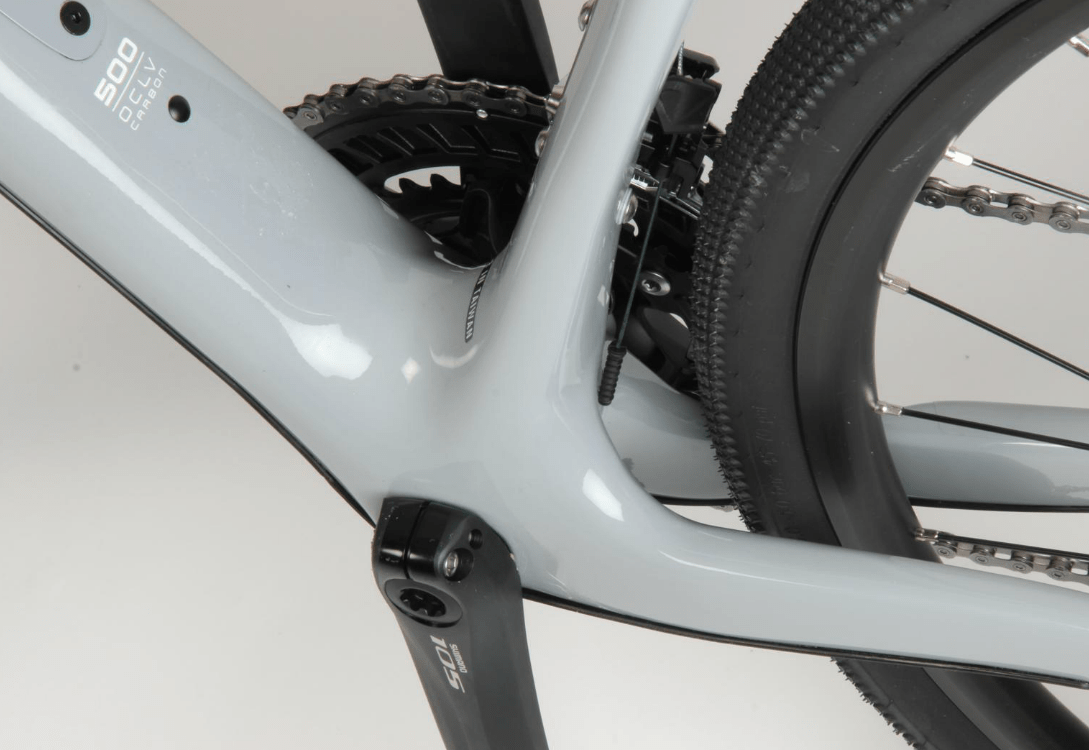 There's all kinds of Trek wizardry happening on the frame. Most noteworthy is Trek's excellent IsoSpeed 'decoupler', which isolates the seat tube from the top tube. This allows the seat tube to bow over it's entire length and act like a gigantic leaf spring in suspending the saddle. It makes no difference to comfort out-of-the-saddle, but when seated the IsoSpeed drowns out road buzz and small chatter. I have ridden this system on other Trek road and mountain bikes and I can openly say that I am a very big fan – it works, and it's perfectly suited for riding on gravel and poorly surfaced roads.
The Checkpoint frame is dotted with small plastic caps to the point it seems it could have been left in a tent full of mosquitoes overnight. The caps click into threaded mounting points in the frame and fork, enabling the rider to securely mount all manner of accessories to suit their adventures. The three biggest frames will take three water bottles in the main frame, and all frames have a mount under the downtube too. Rack and fender mounting points are integrated, as are low rider fork points and even a bento box point on the top side of the top tube. You could move house in the rain if frame, bar and saddle bags are factored in too.
The storage options are great, but for sure the Checkpoint DNA is more road bike than credit card tourer. The Checkpoint felt happiest when the speed rose; flying along a coarse dirt road or hooning on a winding buff singletrack are guaranteed smile makers. It's happy to cruise along at social Sunday pace though, and could run double duty as a sportive bike or super commuter.
I didn't have access to a full suite of tyres during the test but I'd hazard a guess that a set of 38 or 42mm Compass tyres or similar fat, supple shoes would be a blast on big days of mixed dead tar and regular country dirt roads. The Checkpoint swallowed a set of properly knobby 45mm tyres, sure they felt slower, but for a day of riding on looser gravel it's great that the Checkpoint can accept such an expansive range of options.
Treks Stranglehold rear dropout is pretty cool, allowing adjustment of chainstay length and providing tension for a single-speed build. Every adventurer has torn off a rear derailleur at some point – I would have loved to see a version of the Strangelhold that would allow an emergency single speed conversion without the need for a range of tools that you'd be unlikely to carry.
Otherwise Trek has outfitted the Checkpoint SL5 with a robust and workman-like spec that is unlikely to leave you stranded of its own volition, highlighted by the excellent Shimano hydraulic brakes, Schwalbe G One tyres and tubeless compatible wheels. The Checkpoint is reasonably dallied as an out of the box gravel muncher and all-around multi-surface device, especially if big days and long distances are the goal.
Summing Up
Quality
Paint is sharp, no creaks or groans, and everything works just so. For a bike destined to bump and rattle for days at a time, Trek has selected appropriately for the SL5. The absence of obvious bling is not a detractor!
Performance
Smart and purposeful, the Checkpoint hits it's mark. It comes alive with a little pepper on the pedals and leverage on the bars. It's stable and comfortable but still fast and willing over the terrain that it's been designed for.
Value
A super versatile bike with a fantastic propriety comfort system and solid parts spec. There is more than one bike in here and a plethora of opportunities, in addition to a ready to roll gravel racer. If you value versatility the Checkpoint delivers.
Overall
This is a fun bike! Go all day, go all places. The option is there to make what you want of this machine. You can roll some turns on a social bunch ride, or pack your kit and hit the dirt for an overnighter. Perfect for riders not committed to one sort of riding and those with adventurous souls.
Specifications
Frame: 5000 Series OCLV Carbon with IsoSpeed
Fork: Tapered Carbon, 12mm thru axle
Stem: Bontrager Elite
Headset: Tapered Cartridge bearing
Handlebars: Bontrager RL IsoZone
Saddle: Bontrager Montrose Comp
Seat Post: Bontrager Ride Tuned seatmast
Shift Levers: Shimano RS505
Brakes: Shimano RS505 Hydraullic Disc
F Derailluer: Shimano 105
R Derailluer: Shimano 105
Cassette: Shimano HG800 11-34
Chain: Shimano HG600
Crank: Shimano 105 50/34
Bottom Bracket: BB90
Wheels: Bontrager Tubeless Ready 12mm thru-axle
Tyres: Schwalbe G-One 35mm folding
Price: $3699