Having ridden more than 2000 kilometres over the past 11 days, round-Australia cyclist Greg McDermott's epic charity adventure is off to a cracking start.
Since we covered the first day of Greg's 'Ride Around Oz 2016' he's ridden from Sydney to Mackay in North Queensland – completing well over 10% of his 15,000km charity ride around the continent.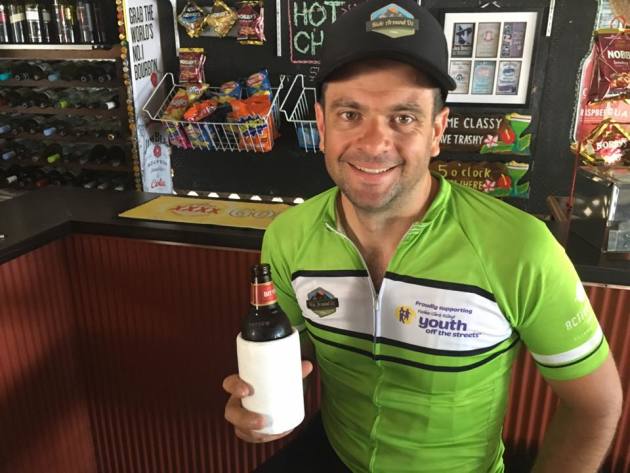 Setting out with the goal of 180km a day, Greg has put in some huge efforts with many daily totals in excess of 200k. Yesterday he covered 206km – much of that into strong headwind. Departing the central Queensland town of Rockhampton at dawn, he arrived at coastal Clairview by mid afternoon.
Aboard his new Bianchi Infinito CV, McDermott, from Sydney, is expecting to raise $50,000 for Father Chris Riley's charity organisation Youth Off The Streets. He is supported by partner April who's drives the fitted out campervan, is in charge of logistics, and helps prepare the enormous amount of nutrition required for such a challenging feat.
The couple have enjoyed wonderful community camaraderie along the way as local businesses, media outlets and supporters get behind the 79-day ride around the nation. Other than 6 to 8 hours on the bike each day, Greg has given dozens of radio, TV and newspaper interviews – promoting not just his chosen charity, but inspiring people to get outside, ride bikes and make the most of life.
Yesterday he was interviewed by broadcaster Ray Hadley and delivered his message of encouragement and motivation along with mantra of 'anything is possible' to a huge national audience.
To donate visit https://ridearoundoz.everydayhero.com/au/ride-around-oz-2016