They are loved and feared by amateur and pro riders the world over, but remain one of the highlights of our sport – cobbled climbs. London-based Aussie Amy McPherson takes a trip to Belgium where she hits the cobbles and meets up with the legendary Allan Peiper.
"A.a.r.r.e w.w.w..e.e.e t.t.t.t.t.h.e.r.e y..y.e.e.t?"
I am bumping, clacking, rattling and jolting along the Oude Kwaremont with guide Kurt Cornelis from Cycling in Flanders.
Stretching 2.2Km, it is the longest cobbled climb which features regularly in many of the professional races in Flanders. Despite only having an average gradient of 4%, riding on cobbles leaves me feeling a bit like Humpty Dumpty wobbling on the wall, with every bone in my body buzzing with the vibrations.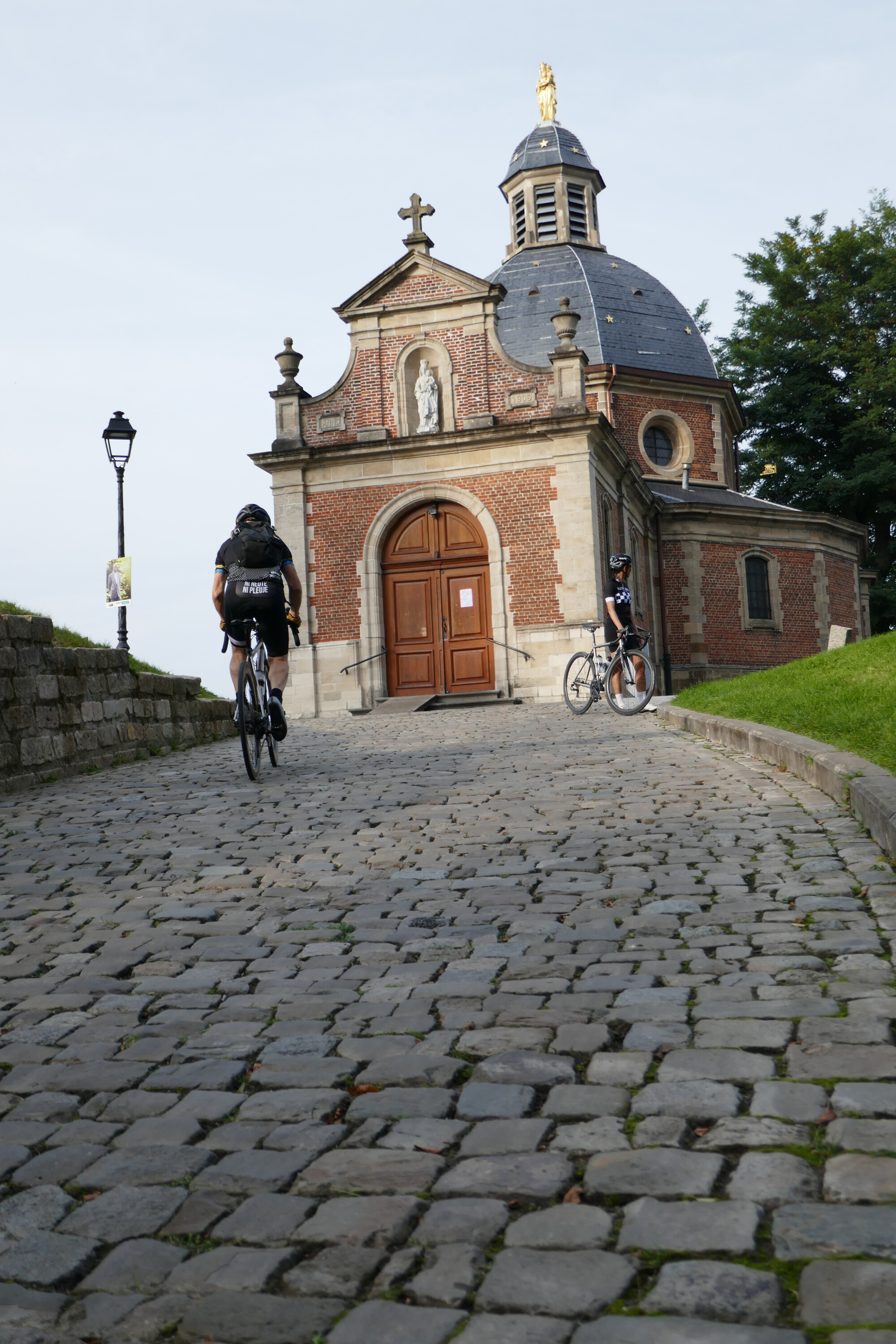 The cobbles, small chunks of granite stones which may or may not be equal in shapes and size on the same road, have a legendary status in the Flemish region.
I have always been fascinated by them through watching the Tour de Flanders. Images of riders covered head to toe in mud and blood come to mind, carrying their bikes on their backs as they elbow their way through other riders trying to get to a clearing to continue the ride.
It's akin it to mud-wrestling on wheels, but with all the elbowing and fighting for prime position during a race, it is probably more like Spartan warriors in battle.
Before my ride, I got some tips from Bernard Moerman of Flandrien Hotel & Gallery, unique accommodation in the town of Brakel, with facilities tailored for travelling cyclists. Bernard was previously a team manager and knows every edge and quirk of the cobbles.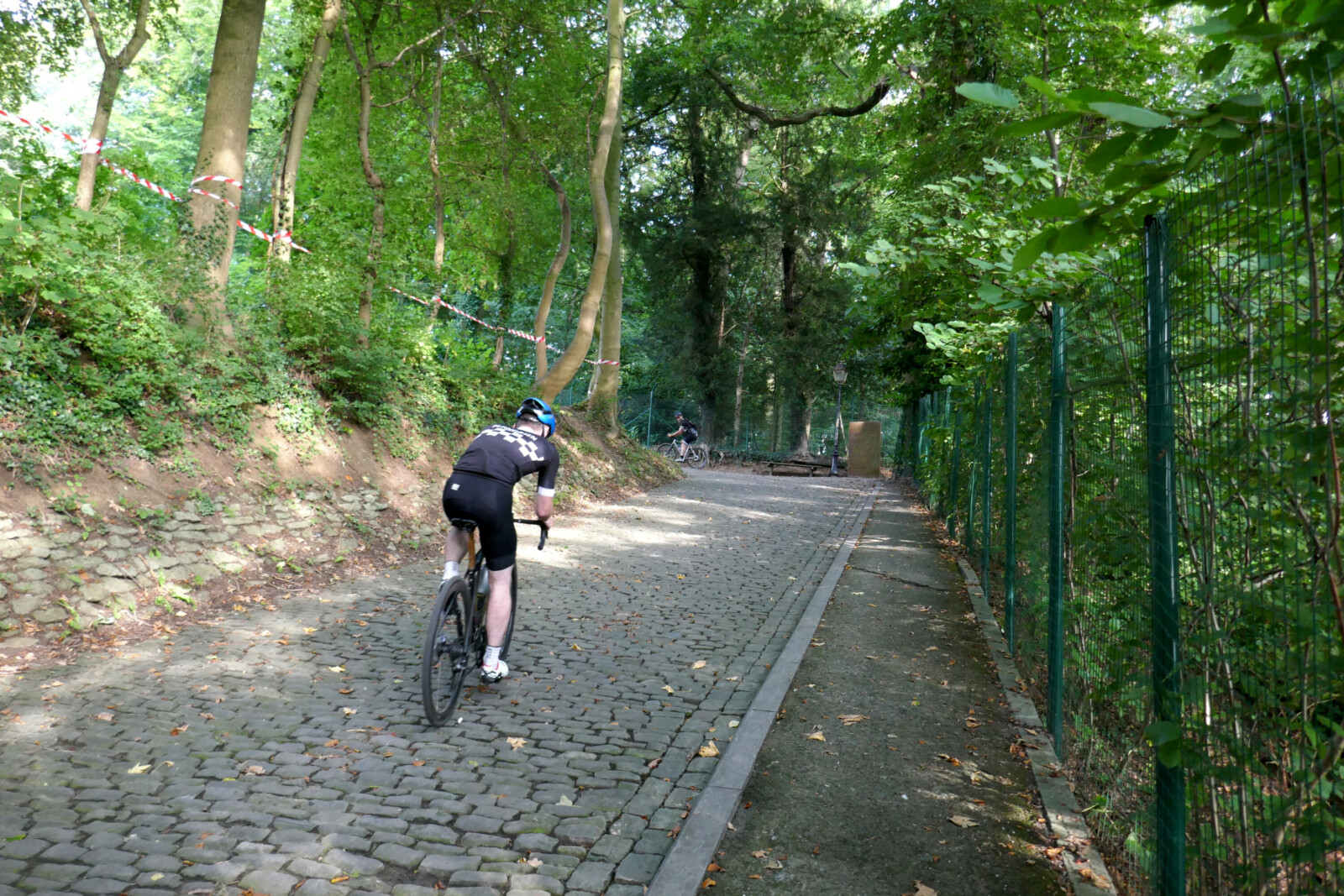 "Pick your line," he advised, "You want to be on the smoothest path as possible and this could be either going straight down the centre or right on the edges, places where the road hasn't been compressed by traffic."
"In a race, you will want to be right at the front too, and you don't want to accidentally be bumped off your bike by another rider."
Today, the roads are quiet. On race days, they would be brimming with spectators, anticipating the bunch speeding past, these same cobbles I am on being graced with the wheels of the tough professional riders. Alas, today there are only two of us on the road, there is no need to fight for position, although it doesn't make it any easier.
"Isn't it so much fun?" Kurt, from Cycling in Flanders, says as he glides effortlessly into position next to me, "This might not seem much, but the cobblestones make riding a lot more difficult than what you expect."
We started the ride out of Oudenaarde, a Flemish town which, for the average tourist, may seem unremarkable. But for a cyclist, this place is the beating heart of the sport.
In the prime centre of the town, next to the Gothic church and pretty downhill, is the Centrum Ronde Van Vlaanderen (Tour of Flanders Centre), an interactive museum that takes visitors through a historical journey of how the Tour began, the highs and lows of past races, stories of the heroes and their support and of course, the appreciation of just how difficult the cobblestones can be under varying conditions.
Kurt starts me easy, rolling along a straight and flat disused railway line that's now a tarmac bike lane, leading us towards the border of Flanders and Wallonia. He had promised a mini Tour de Flanders experience, to sample some of the segments frequented by professional races.
Sided by farmland and gorgeous hills and villages on the horizon, I couldn't imagine the challenge of the cobbles paved ahead of me.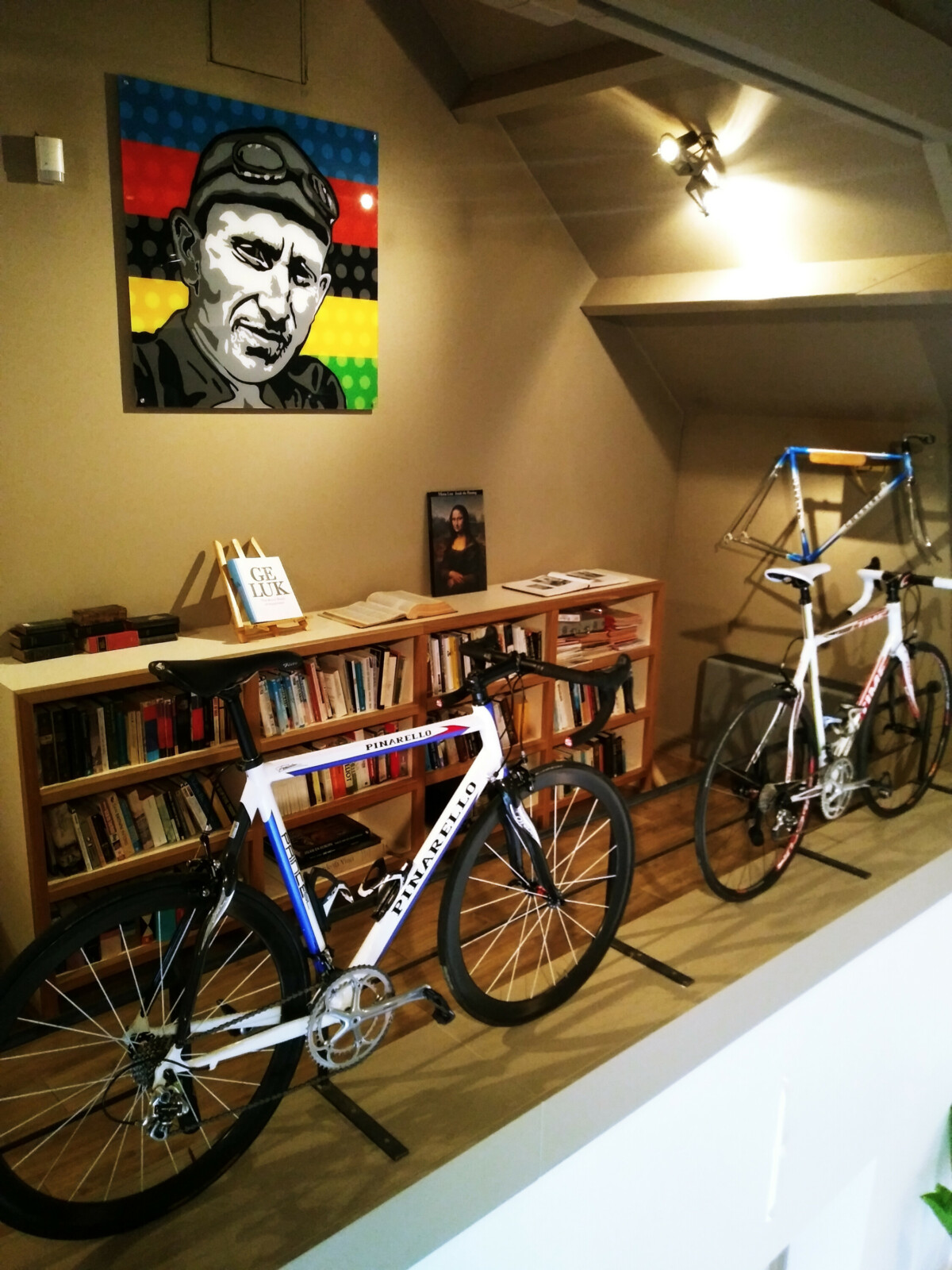 Just as Kurt said, it is definitely more difficult. 200m can feel like 800m and a 4% gradient magnifies to 10% as additional effort is required to overcome the rise and fall of the uneven stones.
Today's weather is clear and dry, which makes a more pleasurable condition for my first experience on the cobbles. Kurt tells me that when it rains, or has just rained, the cobbles become muddy, slippery, sharp and unpredictable, and even the professionals in the past races sometimes have to get off their bikes to walk.
I have never been around these parts of Belgium, yet I feel like I know it well. Struggling up the famous Muur van Geraardsbergen – affectionately referred to as 'The Wall' – I wondered why everything around me seems so familiar.
The 'Muur' is a winding and narrow cobblestoned climb which begins in the town market with a stern Gothic church and pretty townhall, gradually increasing in gradient to almost 20% at its steepest, at a spot where a Dutch poet's lyrical prose about Eddy Merckx is etched on a stone.
It didn't take long for the reason to hit me when we take a sharp right-hand turn towards the summit.
This final curved section of cobbles that leads up to the attractive Kapel op de Oudenberg (Chapel on the Oudenberg), surrounded by views over the valley shrouded in a blue haze, is the poster scene for Tour de Flanders.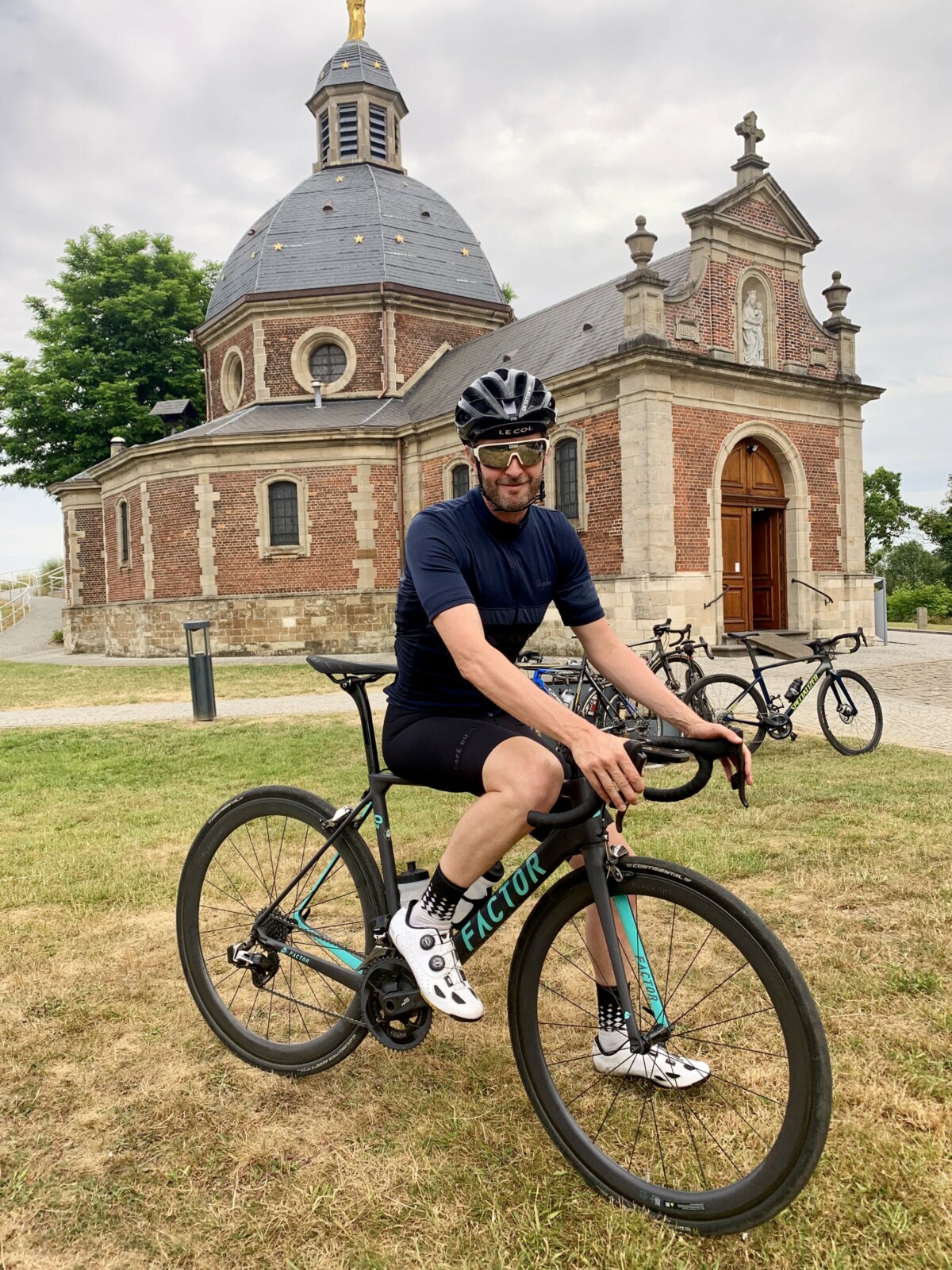 Footage of hundreds of spectators lined up along the grassy sides on race day cheering for their favourite rider is an image I recognised, a picture that appears annually on broadcasts as well as every cycling-related postcard.
This feeling of déjà vu remains for the rest of my ride, as I discover I was cycling on the same roads that made Iron Briek (Briek Schotte), Eddy Merckx, Johan Museeuw, Roger De Vlaeminck and more recently Tom Boonen, household cycling Gods. It is a bit like cycling in my own fantasy, although much slower and more painful in real life.
We take a break at the small restaurant 't Hemelrijck. The outdoor terrace has a lovely view towards the valley below and is a prime location to watch other keen cyclists (which there were plenty) appear from the steepest corner of the Muur, attempting to break their own Strava PB's.
We order beer, of course. As a destination, Belgium is famous for three things: chocolate, waffles and beer. Out of around 160 breweries in Belgium, 100 or so are in Flanders. It seems, cycling and beer easily go hand in hand.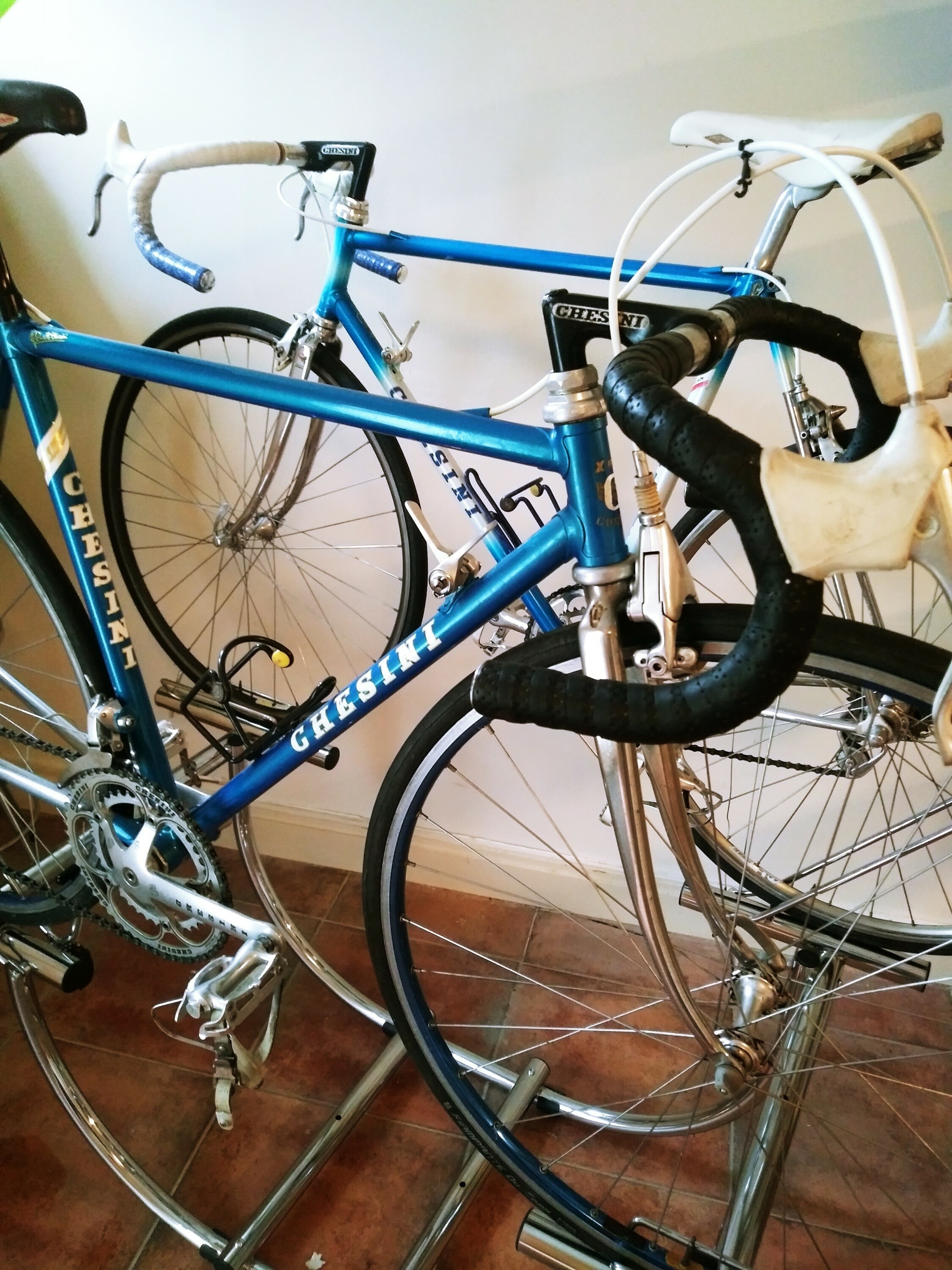 I attempt some light chitchat about the amount of cobbles here, having come from a land where cobble stones are mostly drawn out of historic picture books, it feels a bit surreal.
Kurt shakes his head in response.
"They used to be every street in the region, but slowly, they are being paved over for the comfort of modernity", he said with a sigh.
Still, there is no need to go in search of cobbles, for there seem to be around every corner, just when you least expect it. We continue our tour, past farmlands, old water mills and quiet village squares, in and out of small dusty lanes.
The air is crisp, with a hint of manure, and there's hardly any traffic about. I can't help but feel this is the calm before the storm and as we take another sharp turn. I knew I was right when a sign bearing the words 'Koppenberg' flashes right by my eyes.
The Koppenberg is not the steepest climb but it has its dangers, so I was warned. The stones here are old and sharp, and the steepest section, at 19% gradient it is surrounded by overhanging trees and is permanently moist.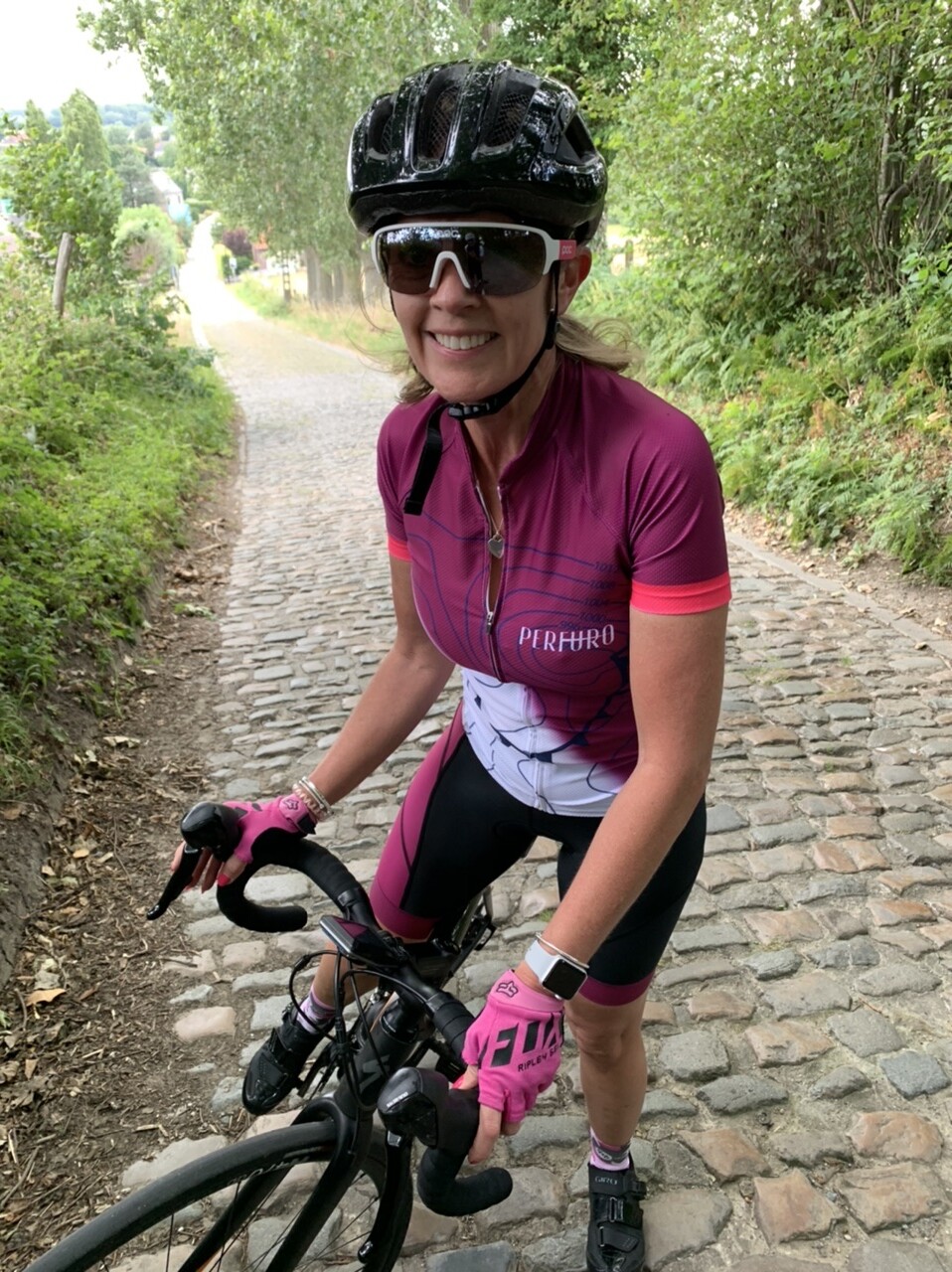 Panting at the finish line (for every segment has an official Strava start and finish line) a full eight struggling minutes later, I felt superhuman. This is what it's like to be one with the cobbles, this is what it's like cycling in Flanders.
By the end of the day, I had attempted a couple more of these similarly challenging climbs, including the steepest climb of the Tour – the Paterberg. Each left me with more knowledge and confidence, and while I did feel my legs wilt a little with each climb, I also felt a determined buzz from within, and that's not just from the cobbles.
Cycling, as I realised, is just so good here. It isn't just about how well the roads are paved or the experience of riding those same roads as the major Tours. It is the people, the friendliness towards cyclists, the appreciation of cycling, and entire atmosphere surrounding the sport.
Even on non-race days, some roads are covered with graffiti – the names of riders drawn by local residents to support and celebrate their heroes.
I can't help but feel I have been let off easy, for the weather remained calm and pleasant, and I missed out on the additional challenges of mud and rain. Pave can be dangerous when smooth and slippery, brutal when sharp and broken, it can make a ride fun but also create complete hell. In other words, riding on cobbles can quite literally be a pain in the butt.
So, why put up with the cobbles of Flanders? Because standing on the top of that climb and looking back down makes you truly feel alive.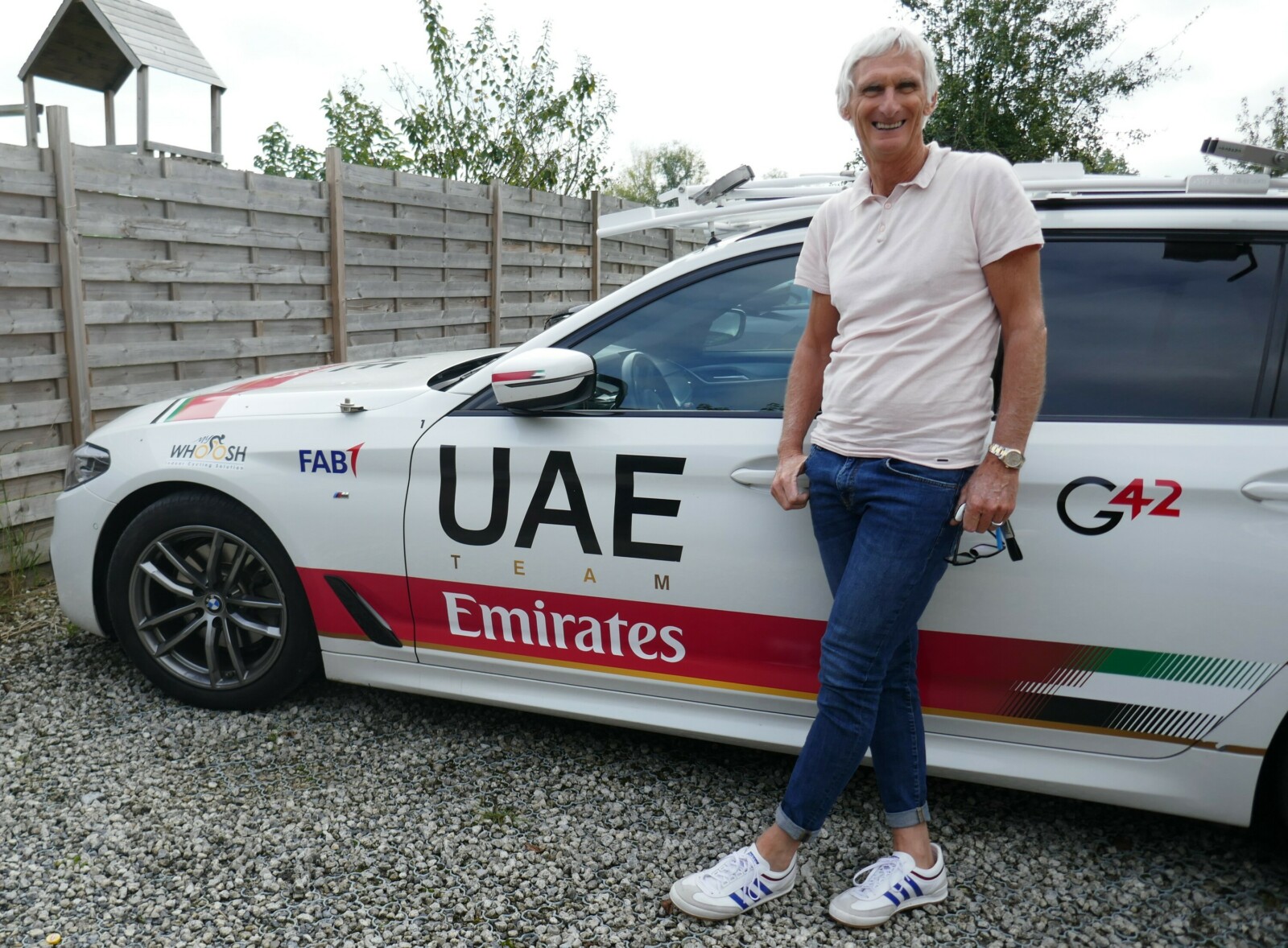 Allan Peiper's Top Cobble Tips
1 Stay seated. The moment you stand up, you are taking your weight off your back wheel which means less grip. You need even weight on the front and rear of the bike for optimum traction.
2 Choose the right gear from the bottom of the climb and stick to it. Select a gear you can control. If you are riding too small a gear, then you are getting thrown all over the place. A bigger gear will allow you to put more power into the pedals and this will keep the bike more stable.
3 Pick a good line. Cobblestones are not all the same, and you want to try to pick the line that will give you the best and most efficient ride.
4 Get a grip. Make sure you have a secure grip on the bars, either on the tops or on the hoods. Then, when the speed does drop you have nothing else to focus on except for balance and keeping the power down.
5 Stay focused on what you're doing. If you are not focused on keeping upright, keeping the bars straight and power on, then boom – you're in trouble and run the serious risk of coming off … and that hurts on cobbles!
TAKING THE FLANDRIEN CHALLENGE
For those chasing Strava segments, this would be one ultimate Flandrien experience to achieve. Track all 59 official berg & cobble segments on Strava within 72 hours' time limit to have your name proudly displayed on the 'cobble' tunnel at Peloton Café at the Centre Ronde van Vlaanderen in Oudenaarde.
Visit www.cyclinginflanders.cc/flandrien-challenge for details.
A COFFEE WITH ALLAN PEIPER
Anticipation was thick in the air when Allan Peiper drove his UAE Team Emirates team car into the cobblestoned compound at Flandrien Hotel. A couple of guests had heard of his imminent arrival and delayed their ride for the chance to meet him. He casually exits from the car to greet and be photographed with his fans before sitting down for our interview.
Allan Peiper, the former pro cyclist and Sports Director of UAE Team Emirates, the behind the scenes hero of Tadej Pogacar's win at the 2021 Tour, has been living in Flanders for more than 40 years. He was diagnosed with cancer – for the second time in his life – in 2019, and is currently undergoing treatment.
Today he is relaxed, and there is only a small trace of fatigue behind the smile. Steering away from talk of cancer, Allan chats to Bicycling Australia about living in Belgium and some of his favourite pit stops, and why he no longer goes out of his way to ride cobbles.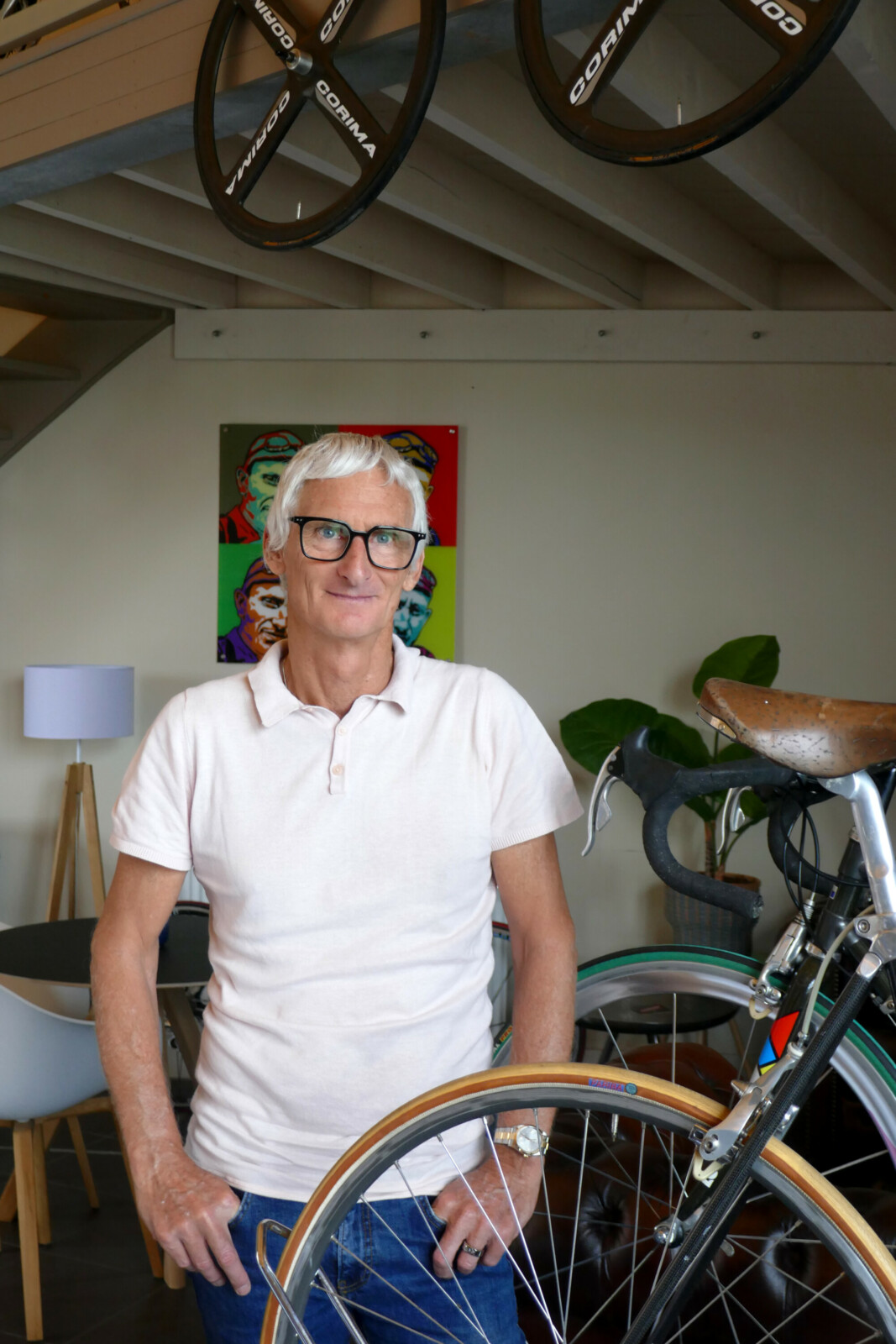 BA: Allan, what is it about this region that has kept you here for 40 years?
AP: When I first became professional and was riding for Peugeot, I'd chase races and tour a lot. I remember driving back to Belgium, winding down the window to smell the farmlands, and those scents reminded me of the place. Then there's the cycling, of course. A lot of Australians come to Belgium to ride. Many may not fully appreciate it while they are here. But they tell me they return home and pine for Flanders.
Everywhere you go there is open-mindedness about cyclists. All main roads have cycle paths, and there's no traffic on side roads. I can leave my house in Geraardsbergen and not cross a traffic light … and rarely ride the same route twice!
Of course it's cycling that keeps me here – I am bound to cycling. But also, I've been home a couple of times, and thought I could settle back there. But I am here, this is my life. Cycling holds me here and my persona has been built here.
BA: You mentioned the open-mindedness of people, why is cycling so respected here?
AP: I think Belgians associate the bike with the worker. A lot of Flemish people used to take the train to work 10 hours in the coal mines, and have this lifestyle of grafting. Bike riders here are associated with that.
And most major cycling events are often held in bad weather – riders are covered head to toe in mud, often having to carry their bikes up slippery cobblestones, well this is this is the hardy image people have about cycling. It is part of them, part of the culture.
Everywhere you go, you can feel this love of cycling. When there is an event, everyone comes down to watch. People know about the sport – the newspaper might have ten pages of football, but you still get three or four pages of cycling. There is a strong social awareness about cycling.
BA: Can you tell us about your experience with Tour de Flanders.
AP: Tour de Flanders was the race I wanted to win more than anything else. The closest I got was 7th, 10th and 16th, but actually every year I was there in the finals in some way. My heart is here, when I lived with the Planckaert family back in the 70s that's all they talked about. And of course, Eddy Merckx went on to win it in 1988.
To do well in these races in Flanders you really have to have your heart in it, and not just see it as a bike race. It is so demanding, 265km with 20 climbs and all the cobbles.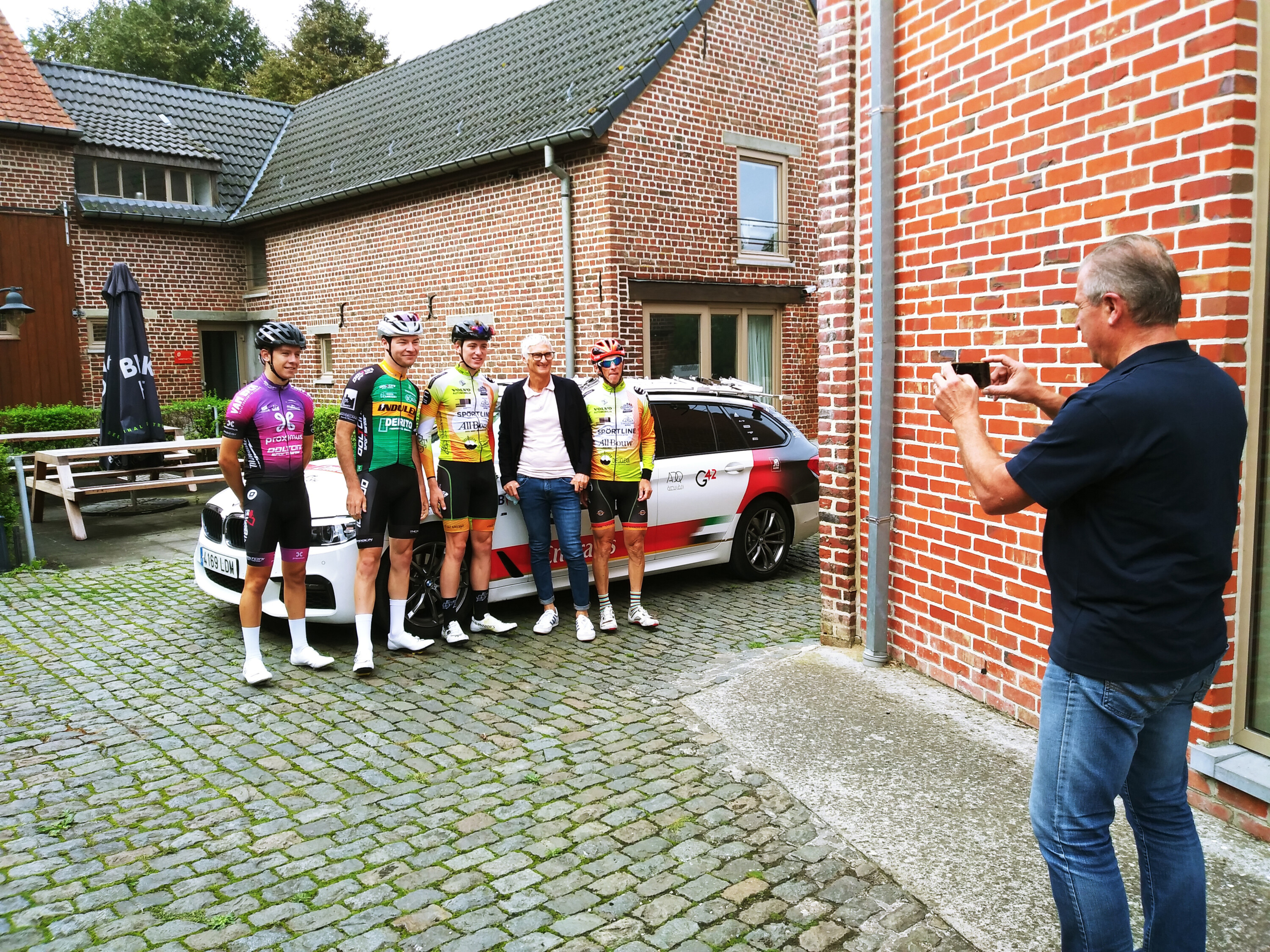 BA: Riding on cobbles is certainly demanding. What tips do you give cyclists like me, recreational riders who want to come and experience the Flanders cobbles for the first time?
AP: Well, I think first you need to understand riding on cobbles is a different skill to riding on the flat.
The first time you hit those climbs, you don't really know what you are doing. You don't know the conditions, how to tackle the climb and how to focus on what is important such as choosing the right gears, the right lines and keeping your legs moving.
You start thinking about other things like who is around you, what gears they've got, or worry about what is around the next the turn, or even 'will I be able to make it?'.
There can be a lot going on! But I think, once you've gotten over your first and second climbs you're starting to build confidence. You then stop thinking about distractions and have more focus. It's all about familiarity and practice, that's really all it is.
BA: Where do you ride when you are out and about?
AP: You might laugh but I always go in the same general area, within the triangle of Geraardsbergen, Oudenaarde and Ronsa. There are some nice climbs near Wallonia just outside that triangle, near Ronsa, but in that triangle of basically the Flemish Ardennes. We could ride a different route every day of the year because there are so many little roads, little climbs and different cobbled sections.
My favourite climb is the Berg ten Houte, which used to be a bitumen climb and I did race on it in the 80s. But 4 or 5 years ago they sealed it and put in the cobbles. It has a sort of S-bend as it winds up to the top, then becomes bitumen again. I really love the climb, it's in the forest and it's beautiful. It's a challenging climb, but it's my favourite.
Having said that, there is another. If you are starting in Oudenaarde, there is a street called Vlaamse Ardennendreef and from the top you can access a couple of other very good climbs as well.
I am not a climber, I am 60 years old. But I've got the right gears and can put it in the 39-30 and make my way to the top, descend, then again to the top. It always gives a good feeling afterwards.
Actually, I never go looking for cobbles when I am riding. I never ride the cobbled climbs. I live in Geraardsbergen and almost never go up the Muur! Why would I? I've done it so many times in races, if I've got friends over I might take them there but if I am just riding by myself, I just do bitumen climbs. It's a different feeling.
BA: Now that we know where to stalk you, got any great coffee stops to recommend?
AP: There is one really good stop in Geraardsbergen called Lathee run by Katrien. It has a relaxed environment with big windows and is near the canal so that's a great place to stop.
Another place in Sint Maria Horbeke – a little newspaper shop called Horebeekse Boekhandel. The guy's name is Tom and he makes a fantastic latte. He's a big bike fan as well.
Two years ago, I took the team to Tom's for a coffee, the day after Alex Kristoff had won the race. We went out to do a recon and Alex had wanted to go back to the coffee shop afterwards. So we went back, sat down to have a coffee. Tom had a poster of the Gent–Wevelgem race and asked Alex to sign it. So Alex signs it and Tom hangs it up. Later, Tom's cleaning lady took it down and threw it in the bin. While Tom is a bike fan the cleaning lady obviously thought it was rubbish! We laughed a lot.
BA: At the end of the day we are in Belgium and there's the critical question of which beers to try. What are your recommendations?
AP: My favourite dark beer is Rochefort in Wallonia made by the monks, but I do like a beer from Oudenaarde called Roman, they make a couple of nice beers including Ename Triple – a very nice white Trappist beer.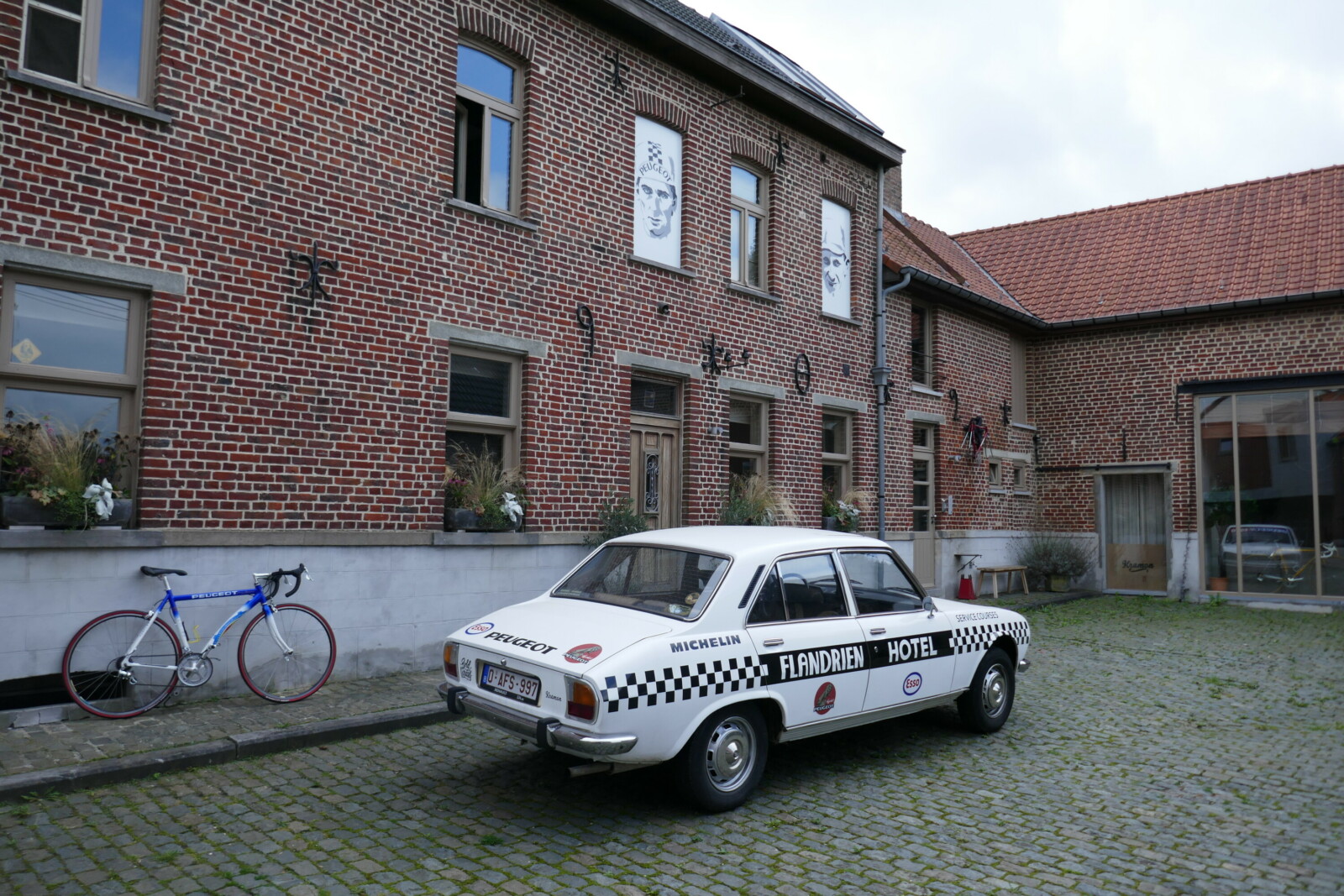 Ride With
The Cycling in Flanders website has various route suggestions you can download as GPX, including a few bucket lists to see how you fare up against the pros! www.cyclinginflanders.cc
Stay At
Flandrien Hotel & Gallery is a unique accommodation that truly celebrates cycling. From the facilities around the property and choices of meals served, every small detail is with cyclists' needs in mind. The art gallery has a rotating exhibition on cycling art and photography and the owner's bicycle collection, which is displayed throughout the property, is a ride down memory lane on the development of the race bike.
And, with the owners' cycling social connections in the region, you never know what pros you might meet just by having a cuppa in the Club House.
The Flandrien is a cyclist's home away from home, it's somewhere cyclists from all over the world can come and feel they belong. More at www.flandrienhotel.com
Drink Up
Other than the beers recommended by Allan, there are plenty of cycling themed beers such as Kwaremont, Giesbaargs Muurken and Koerseklakske (which translates as 'racing cap') you can try to quench your thirst.
Coronavirus
Check the Belgium government website for coronavirus related travel requirements: www.info-coronavirus.be/en/travels/
Amy McPherson was a guest of Flandrien Hotel & Gallery and Cycling in Flanders.