Better known for their high-performance road and gravel shoes, QUOC have launched a water-resistant, Chelsea Cycling Boot that is SPD-compatible and perfect for urban commutes and casual riders.
Bicycling Australia have recently been riding and testing the traditional, elastic-sided boot in black (and yes, they are also available in brown). It slips on well, fits true to size, and feels surprisingly comfortable to wear.
Combining a boot and sole to suit both the flexibility required for walking and stiffness required for cycling is always going to be a big ask and a difficult challenge. So while you probably wouldn't want to spend a day walking around the city or back paddocks in these boots – or embark on a 100km bike ride in them – you actually could.
Overall they fit the bill as an impressive compromise between wearing a stylish boot while being able to clip in and ride.
QUOC say the Chelsea combines 'the durable, hard-wearing qualities of a classic work boot with the pedal-efficient performance of a cycling shoe.'
"Whether clipping-in or riding flat-pedal, the boot possesses enough stiffness in the sole for solid power transfer, while maintaining the flexibility, spring, and comfort needed for a full day on your feet," they say.
Having worn the boot, on and off the bike, over the past few weeks, we agree with their claims.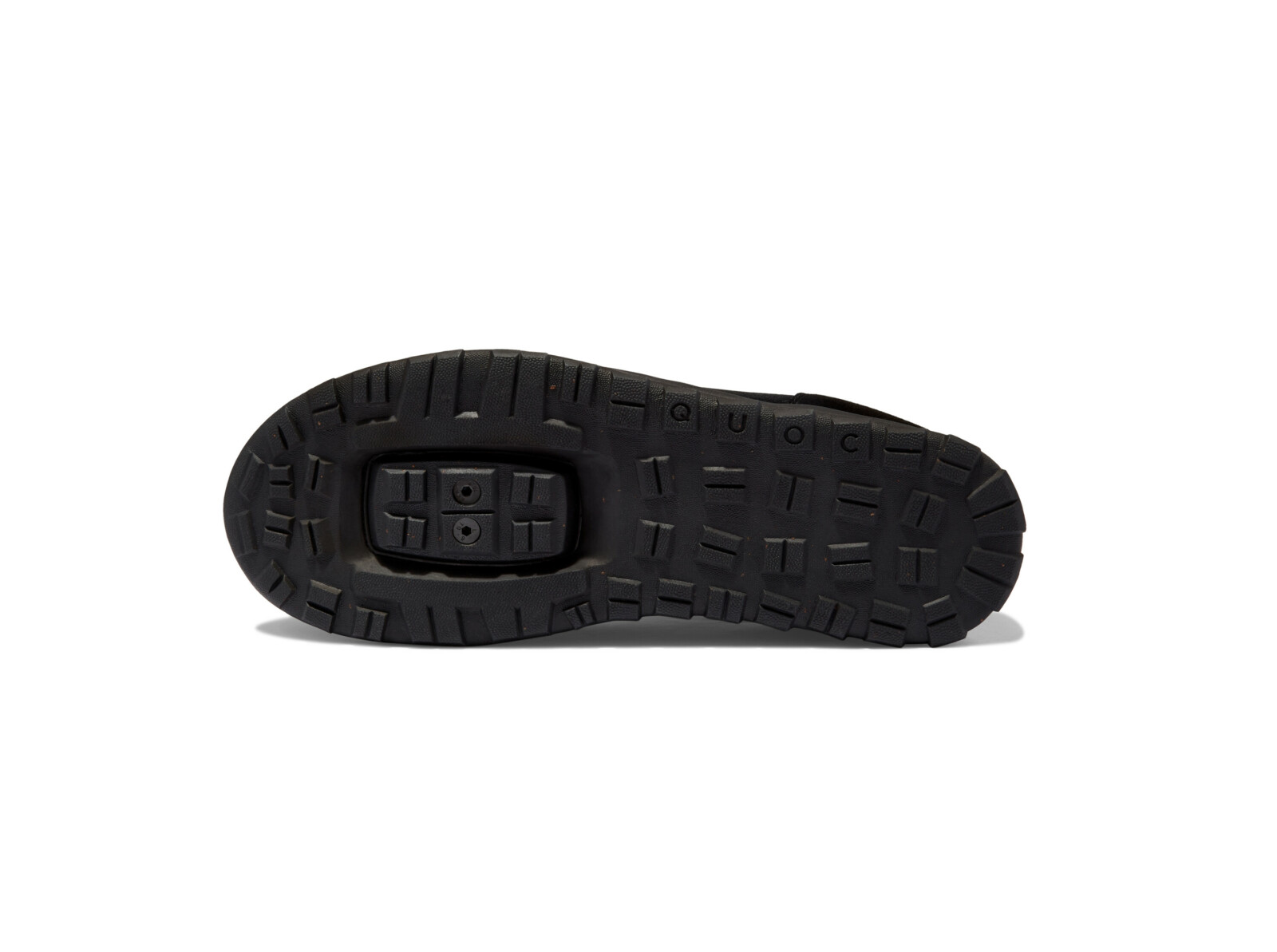 The upper features two-tone suede and is waxed to keep the foot dry through drizzly conditions, and the back of the boot features stylised reflective details. To the lower, and there's an open, grippy and quite aggressive tread.
A rubber inset is fitted over the cleat mount, this is unscrewed to allow fitting of the MTB SPD cleats. Importantly there's enough recess for the cleats to sit below the rubber and therefore not contact the ground when walking.
Overall, we've found the boot to be surprisingly comfortable and indeed feel better on the foot over time. They have proven to be a great compromise between wearing a stylish-looking everyday boot and being able to clip in for that trip down to the village or commute to work. Kudos QUOC, an impressive release!
Key Features
– Pull-on design
– MTB SPD-ready midsole with the cleat recessed.
– Eco-friendly, cork-infused EVA/rubber sole
– Crafted in a high-quality, two-tone suede, with weather-resistant, waxed front
– All-terrain traction
– 3M™ reflective dotted heel
Pricing & Availability
The Chelsea is available for pre-order on quoc.cc in Black and Brown with deliveries starting May 13. The boots retail at around $320 depending upon the exchange rate. More at www.quoc.cc