Some of the most inspirational stories from the Indian Pacific Wheel Race have come not from those three, gifted, 20-hour-a-day athletes up the pointy end of the field, but others hidden inside the pack of the 50 or so remaining riders.
70 ultra-endurance cyclists started the gruelling 5500km cross-Australia event some 10 days ago. Unfortunately a growing number have abandoned the race for a myriad of reasons.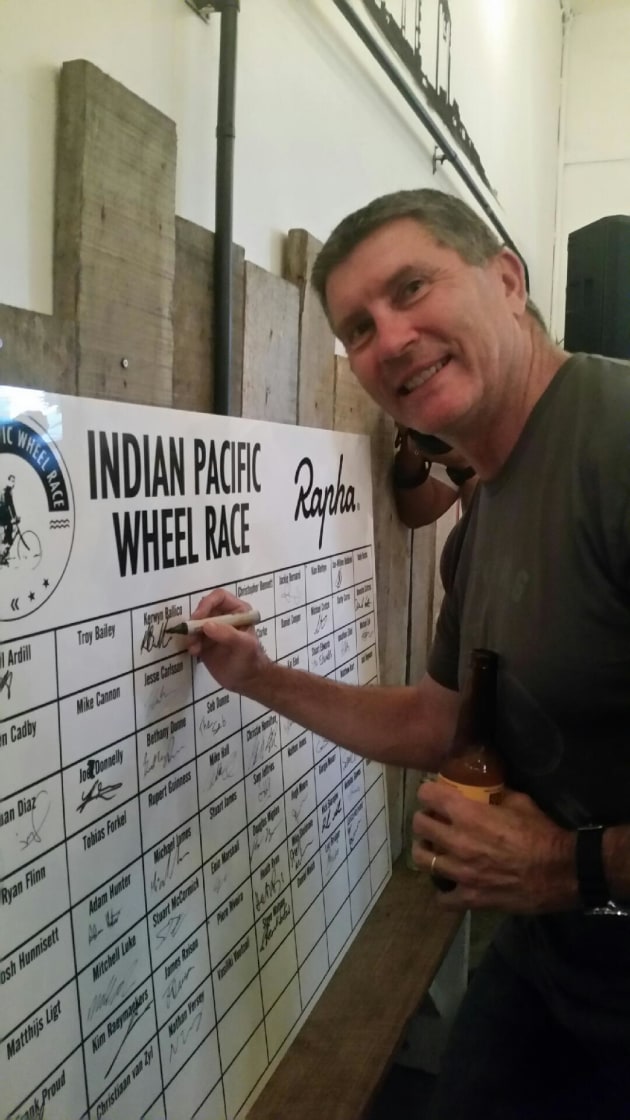 We recently spoke with 56yo Nowra-based rider Kerwyn Ballico who had to officially abandon, 36 hours after crashing heavily on the Nullarbor Plain.
"I had a crash on Saturday, about 135 km the other side of the Nullarbor roadhouse," Kerwyn told us from Port Lincoln, where he'd been treated in hospital and was preparing to box his bike for the long trip home.
"I had a severe laceration to my arm," he continued. "I had a long sleeved jersey on. After the crash I got back on the bike and never noticed the damage, I thought it was more gravel rash than anything else so I kept riding."
Blood On The Bars
"But each time I got down on the aero bars then lifted off there was blood on the bar," he said.
"My arm was throbbing, I couldn't put any weight on it, I was restricted to one hand position sitting upright. I also had a swollen knee from where I banged into the ground. I couldn't stem the bleeding. I kept riding and tried to make the 135km to the Nullarbor roadhouse. Because of the ferocious headwind, I couldn't make it overnight so I camped out."
Spending the night under his bivvy, alongside the Eyre Highway, Kerwyn rose early and managed to get to the roadhouse by 8am.
"Once there I peeled off my jersey, showered and patched myself up," he said. "I covered the wound with antiseptic cream. Some grey nomads gave me first aid gear and I bandaged myself."
https://youtu.be/VpwYaFoXBio
44 degrees on Sunday, Kerwyn spent the day in the shade at the roadhouse, along with a number of other IPWR riders.
"Myself an another guy left at 6:30 that night as the wind had changed to a tailwind," he said.
"I set off for Penong, and maybe even Ceduna. But unfortunately I found out along the way I couldn't use my top three gears because my derailuer was damaged. And I couldn't use the aero bars due to my injury."
"I was riding in one position for 10 hours … then my knee started to ache. When I got to Penong I was exhausted, my arm was throbbing, so I said enough is enough."
By this stage he'd completed 1907km since leaving Fremantle.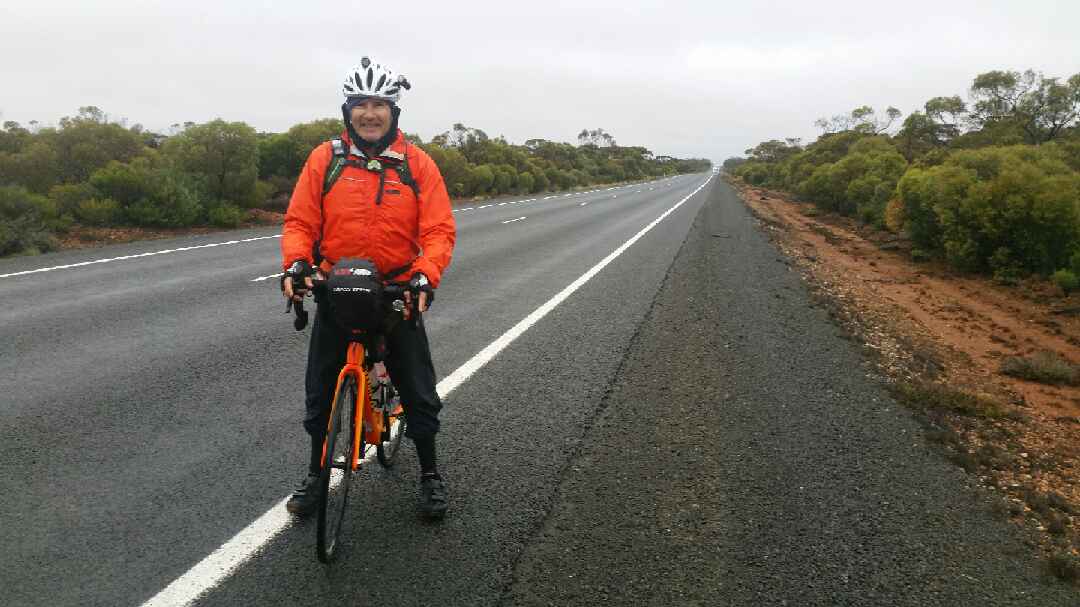 Once in Penong, Kerwyn met local surfing legend 'Kiwi White'. Familiar with the race, Kiwi had also happened to meet fellow rider Sarah Hammond 5 days earlier. Asking Kiwi how to get back to the eastern states, the surfer offered the cyclist a lift, at least part of the way.
"I was asking if there was a bus, then he came in," said Kerwyn. "He knows everyone around there, he was on his way back because the weather was changing – so he put my bike on the back of the ute with all his surfboards."
"He was taking me to Ceduna, but then offered to drive me 400km to Port Lincoln where I stayed at his place for a few days. He gave me a guided tour of the Eyre Peninsula on the way. He put himself out for me – he was very generous."
With his arm continuing to swell as the wound throbbed, Kerwyn checked himself into the Port Lincoln Hospital where he finally had his wounds treated and dressed. Doctors also administered a tetanus injection and prescribed anti-biotics.
Kerwyn's next move is to catch a bus to Adelaide then fly home to the New South Wales south coast.
Looking back over the past 10 drama-filled days, he had this to say.
"I was happy with my progress up until the crash. I was trying not to get caught up in the hype – just ride my own race of 200km a day. I think the message here is this – no matter how bad things seem to be, something will always come up. People always fear the worst but there are always others willing to help out."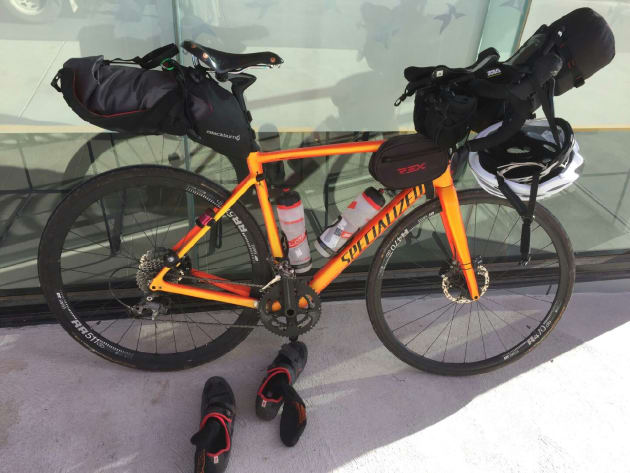 Kerwyn's IndyPac Setup
Kerwyn's steed for the Indian Pacific Wheel Race was a 2017 Specialized Roubaix.
"It was perfect for the ride – the future shock (stem shock absorbing system) was great – it worked like a treat. There were no problems at all with the bike other than when I layed it down – that caused the issues with the rear deraileur'
"The bike had the Specialized cobbler gobbler seatpost, and I fitted a Brooks saddle. Comfort wise it was spot on. A lot of guys were complaining about saddle sores but I never had any issues."
Food wise Kerwyn said he preferred to travel light and rely upon whatever he found at roadhouses.
"I'd grab a few treats as moral boosters such as lollies and a Coke. For example, if I had 100kms to go before a milestone I'd give myself a treat to keep going," he said.
Discussing the monster the Indian Pacific Wheel Race has quickly become, Kerwyn said the event was the talk of the Nullarbor.
"Everyones heard of it," he said. "Non-cyclists and all, everyone seems mad-keen to hear the latest and know what's going on. The grey nomads love it, even the truckies are interested."
"It's been an amazing atmosphere," he continued. "I think the fact people can track the riders and feel a part of the action is wonderful. I've even got a photo of my family in Queensland watching via the tracker."
You can follow the #IPWR action via https://indianpacificwheelrace.maprogress.com