Angus Lyons from ARA Pro Racing Sunshine Coast won the Queen stage of the 2022 Santos Festival of Cycling, the grand finale concluding at Willunga Hill after a McLaren Vale start.
Riding Willunga for his final time as a pro, Richie Porte was clearly the most popular rider of the day, the Tasmanian entering his final professional year after making his Tour Down Under debut as a wildcard in 2008.
"This climb is one of the most iconic climbs in world cycling and looking to the future like (INEOS Grendadiers teammate) Luke Plapp, there's some really good kids coming through and it's exciting for cycling,'' Porte said after the stage.
"In this peloton, you know we could see the next Cadel Evans that is going to win the Tour de France, it's been awesome to be a part of it," he added.
"I think I'll be back in one way or another with the kids and maybe drinking a Coopers Pale Ale at the bottom or the top of Willunga. I love Adelaide, my plan is to try and get to the race at some point and enjoy Adelaide for the city it is and not have all the pressure of a bike race."
Porte concluded by saying the TDU is "the best organised race on the calendar bar none the crowds are really fantastic and the ride up Willunga I enjoyed it for once."
Men's Overall Top 3
1. James Whelan – Team Bridgelane
2. Matt Dinham – Team Bridgelane
3. Chris Harper – Team Villawood
Roseman-Gannon Takes Out Women's Festival Of Cycling
Jayco-Bike Exchange's Ruby Roseman-Gannon stamped her name all over the Santos Festival of Cycling, the 22-year old winning the final stage and the overall title.
Roseman-Gannon, who was crowned the Australian criterium champion 2-weeks ago, said she had always wanted to win a stage at the TDU.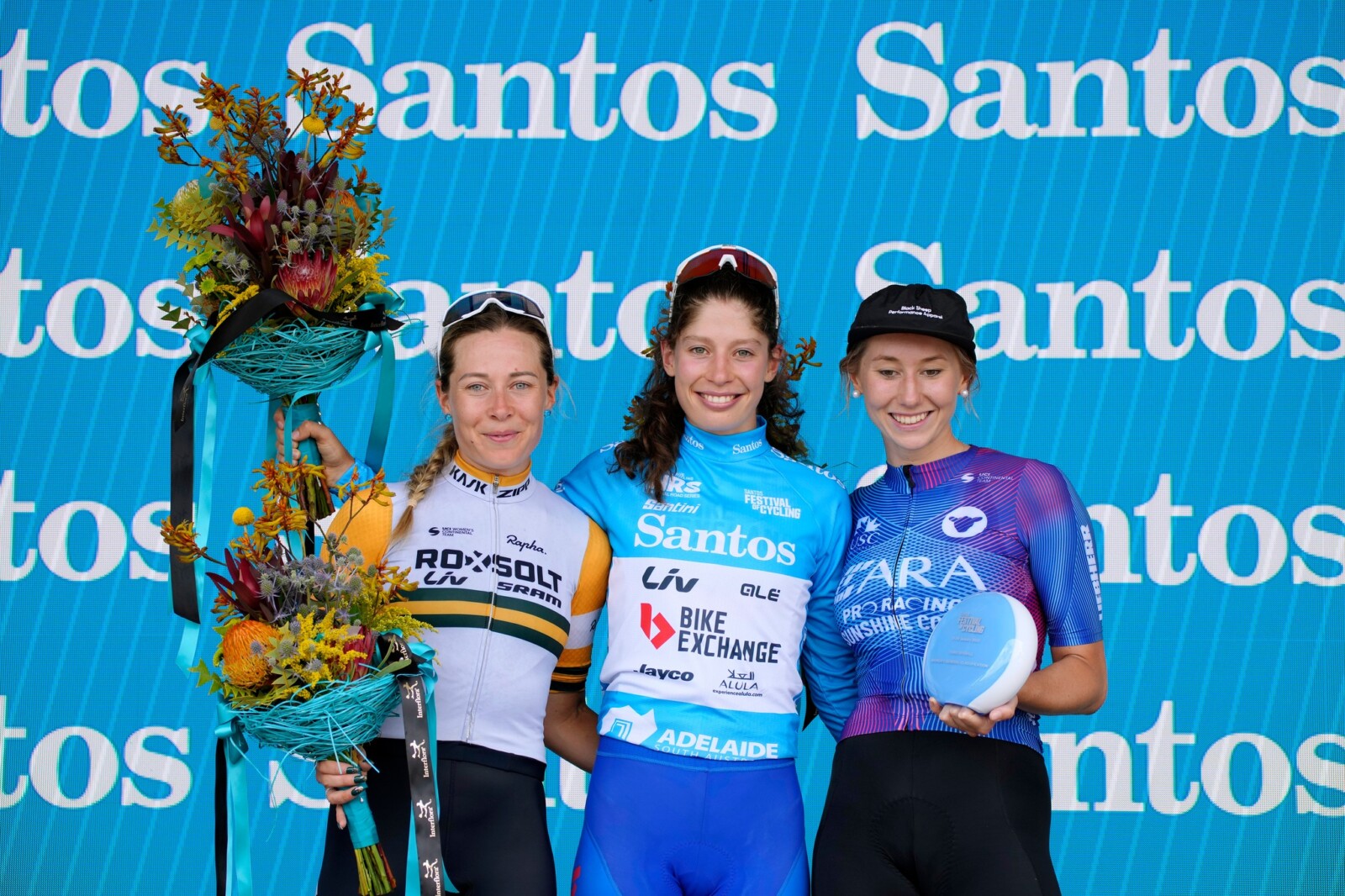 "I think we got better as the week went on, it's hard taking all the glory, but it was the team which got me this one," Roseman-Gannon said.
"I put a lot of pressure on myself, and I guess I care so much, but as soon as the race starts, I'm in the zone and I don't think much, it just happens."
Roseman-Gannon shared the podium with recently-crowned Australian champion Nicole Frain (Liv Roxsolt) along with track star Maeve Plouffe of ARA Pro Racing Sunshine Coast.
Women's Overall Top 3
1 Ruby Roseman-Gannon
2 Nicole Frain
3 Maeve Plouffe