In another big win for 1x drivetrain converts, team Aqua Blue Sport's Lasse Norman Hansen has won Stage 1 and the yellow jersey at the Jayco Herald Sun Tour.
Riding the team's innovative 3T Strada disc-equipped bike with SRAM 1x drivetrain, the Danish rider beat Steele Von Hoff (Bennalong Swiss Wellness) and former race winner Cameron Meyer (Mitchelton Scott) across the line.
First Major Win For 1x Drivetrain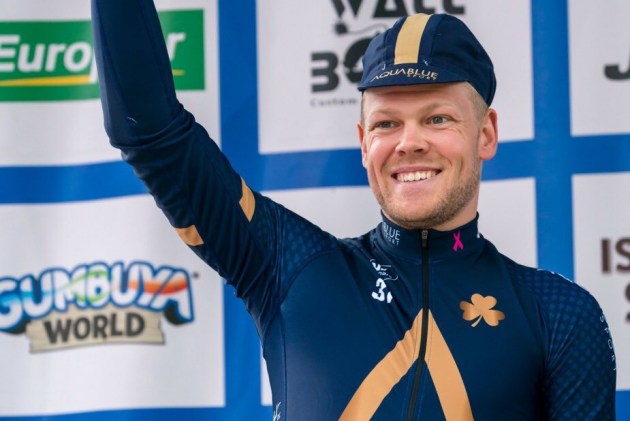 No stranger to success on the unique 1x machine, Norman Hansen also won all three KOM sprint points at last Sunday's Cadel Evans Great Ocean Road Race – the WorldTour debut for a 1x drivetrain bike. Days before that his teammate Peter Koning took out the Sprint Classification at Race Melbourne aboard the same innovative bike.
With Aqua Blue Sport obviously thrilled with Thursday's stage victory, the first UCI pro road race win aboard a 1x drivetrain bike, and of course the recent KOM jersey at the Great Ocean Road Race, we spoke with the bike's creator Gerard Vroomen of 3T Bike. Firstly, we asked his thoughts on the bike's debut race appearance.
Gerard Vroomen: '1% Can Make A Big Difference'
"Let's keep in mind that the rider does 99% of the work," Vroomen started with, clearly not wanting to get caught up in any post-win hype.
"It's not like any bike makes so much difference that I could have won myself today," he added. "That said, when all riders are at a very high and similar level, that 1% can make a big difference."
Vroomen said that he and the team at 3T Bike were very happy with how the team has embraced 1x, thrilled with Lasse and Peter (Koning's) recent successes, and the overall performance of the Aqua Blue Sport team.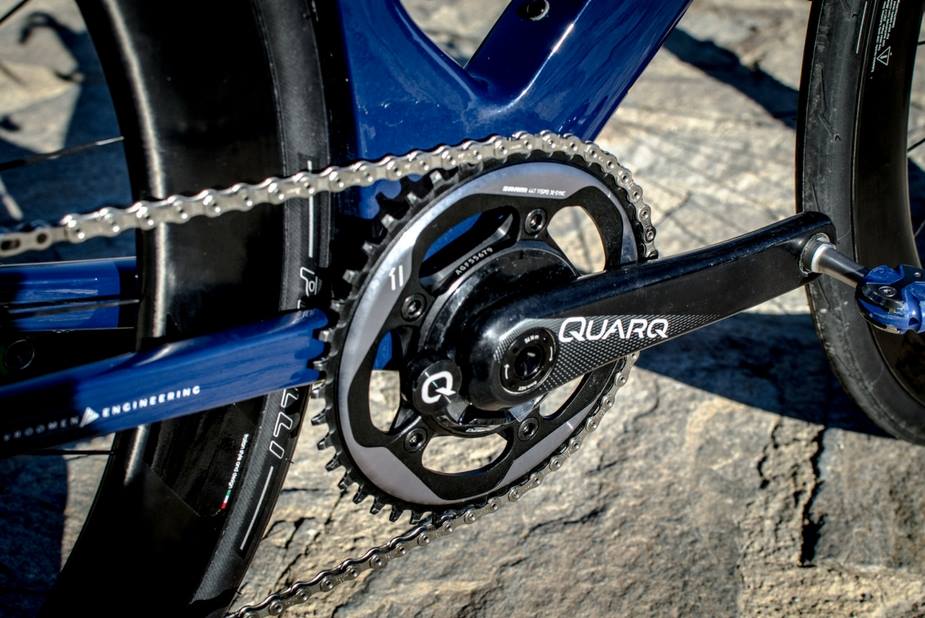 Front Derailleur Redundant?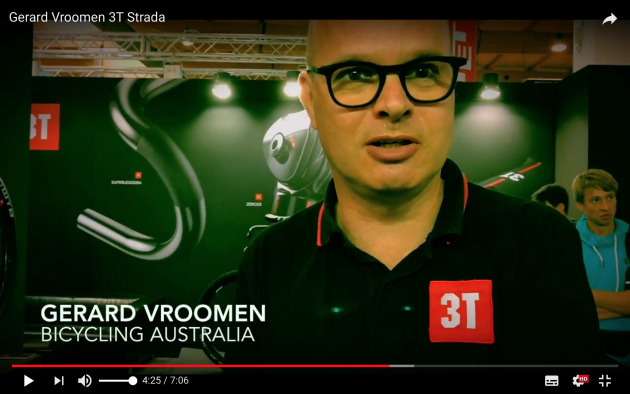 Asked his thoughts on the real-life testing of the simplified drivetrain in a race situation, Vroomen said on power climbs the strong riders are generally already using the big ring.
"It's simple to understand that a front derailleur and an inner ring don't bring any advantage if you're in the big ring… on the contrary," he said.
"On longer and/or steeper climbs, it is a bit more work to dial in the exact gear range and steps you want, so the team is definitely still experimenting with different gears," Vroomen continued.
"That also goes for the 3T cassette. Where the team is currently riding version 2 (9-32t cassettes) and they will soon have some version 3 cassettes that are quite a big improvement. So yes, still lots of testing and as we move into different races in the next months, that will continue."
More Changes To Come
Vroomen said for disc road the current Strada technology is working well however designers are continuing to develop and fine tune the platform.
"Not just related to the brakes itself but also on the approach for wheel changes, when to switch wheels and when the complete bike, different thru axle designs, etc," he said.
"Which of course is exactly the point of a pro team, to test your products and make them even better."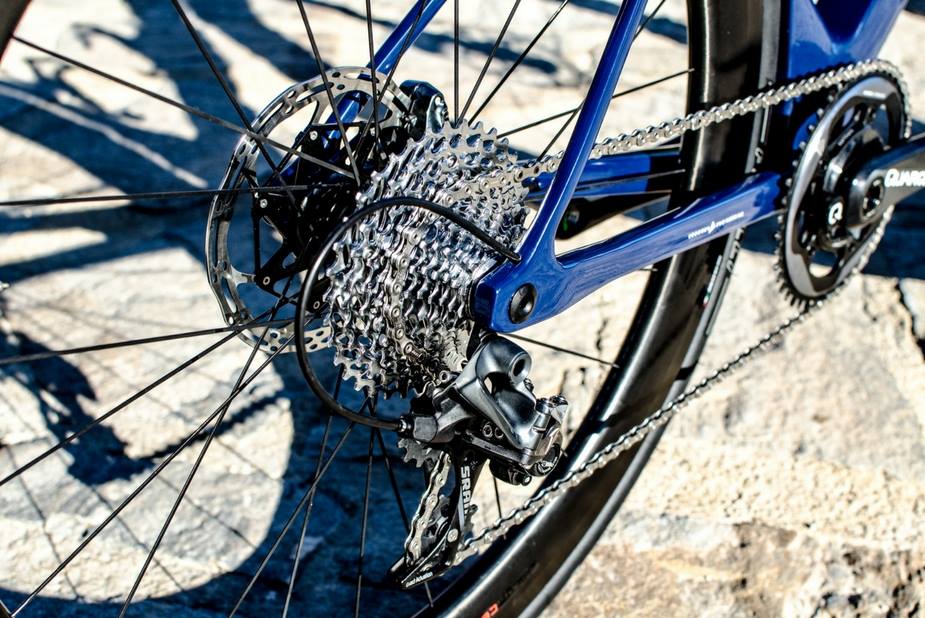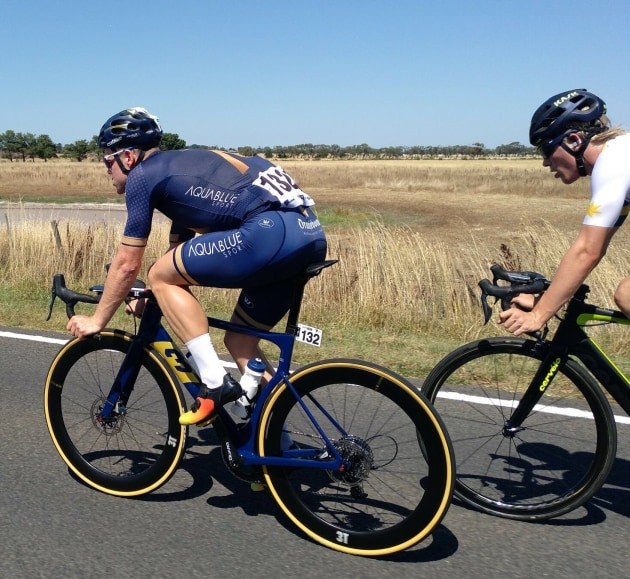 The Dutch bicycle design legend said overall it was "pretty cool" to have the bike debut so successfully in the WorldTour and UCI sanctioned events.
"Especially since I absolutely did not have that in mind during the development of the bike," he added.
"It was definitely the goal to have a bike that performs at that level (as that is in my DNA) but we never intended to have a pro team actually ride the bike."
Vroomen said it was testament to the vision of Aqua Blue Sport and owner Rick Delaney that everyone has been able to witness and enjoy the recent successes – at Race Melbourne, Cadel's Great Ocean Road Race, and the Jayco Herald Sun Tour.
The Jayco Herald Sun Tour continues on Friday with a 198km stage from Warrnambool to Ballarat. While all eyes will be on the entire talented field, there's sure to be particular attention paid to team Aqua Blue Sport and their fleet of electric blue, disc-equipped Strada 1x's. As some have mentioned on Bicycling Australia social media channels, many will also be watching with interest come Grand Tour time and particularly the gearing used for high mountain stages.