With latest edition of Bicycling Australia available now we are particularly proud to present another bumper issue of the much-loved magazine.
In this, the November / December issue, Karen Forman delivers a detailed article on coping with the struggles of anxiety and depression. Karen introduces us to four inspirational cyclists who have used the sport to manage and banish 'The Black Dog'.
Join Our Strava Mo Bro Ride!
Corresponding with 'Movember', the national campaign to highlight men's health issues, Editor Gary Hunt has come up with a wonderful way for all of us to support this critical issue.
Bicycling Australia will be hosting a Strava Mo Bro ride on Saturday November 26. Details will be on our Facebook page this week. You can also find out more via Gary's Editorial column in the latest magazine.
The GVA Express, Club Presidents Survey, Mont Ventoux & More
Inside you'll see a fascinating article on the rise and rise of Greg Van Avermaet, the Olympic Road Race champion and Team BMC star. There's also a feature on hometown hero Sean Eddie, one of the nation's finest ever track sprinters.
Peter Maniaty takes an in-depth look into the cycling club scene across the nation as he surveys 26 club presidents! Pertinent reading considering troubles and debate surrounding the National Road Series.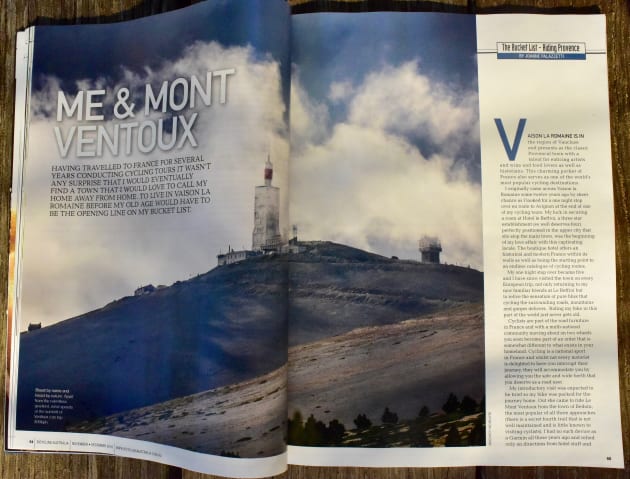 Mont Ventoux is the dream destination for so many cyclists – Joanne Palazzetti takes us on an amazing journey to the famed climb. Closer to home you can read about the Audax Alpine Classic – a challenging event with course lengths up to 320km to be held on January 28.
There's the training master class, a nutrition special, the latest products, bike reviews and plenty more.
You can't miss the bright cover shot by none other than Beardy McBeard – look for it at the counter at you local bike shop or newsagent now.
You can also subscribe at https://www.greatmagazines.com.au/magazine/BCA