It's nothing short of a triple whammy … participate in a challenging virtual global ride – competing for the same length of time as the riders at the penultimate stage of the Tour de France – and help make a life-changing difference to the lives of countless others.
It is Le Velo Virtuel, it will take place on Saturday July 27, and it's a unique fundraising campaign for the world's leading Type 1 Diabetes research organisation.
The brainchild of the JDRF Australia and their committee of passionate and experienced cyclists and executives, Le Velo Virtuel promises to not just be a thrilling and all-inclusive event, but a significant fundraiser for the highly-respected organisation.
Jamie Romanin is a keen cyclist and Le Velo Virtuel committee member. Offering an insight into the innovative event, he described it as "the most unique biking challenge you've ever experienced."
"My passion for both cycling and helping raise awareness for Type 1 research funding has allowed me to use my network to pull together the key partners whom will help make the inaugural Le Velo Virtuel possible," Mr Romanin told us. "The real work however has been the flawless execution from the JDRF team."
Bicycling Australia: It sure is an innovative concept … Can you tell us your reaction when first hearing or helping plan and coordinate this?
JR: With today's plethora of choice when it comes to cycling and giving back, we wanted to design and create a challenge unlike any other. This is not just another bike ride, this is an event that ticks all the boxes. Whether you decide to join us as an individual, for the ultimate personal challenge, or enter as a team, it has something for everyone including the entire family. It's a world first in regards to venues, scale, size and design; however the most exciting fact is its reach. Through the nature of the virtual ride we have the ability to not only connect those wishing to join us physically in Melbourne or Sydney but from anywhere in the world where you can get an internet connection. This is truly innovative, inclusive and will be a tonne of fun.
BA: Five hours in the saddle is a challenge for anyone …. what is your game plan?
JR: Whenever I tackle a physical challenge, I remind myself how tough those affected by Type 1 have it. Not for 5 hours, but for life. If you put your mind to it, dedicate some time to have a plan and a team around you, anything is possible.
BA: And your advice for others taking the challenge or considering signing up?
JR: If tackling the event solo, well its going to be a long night! I would suggest trying to simulate this both on the road bike and on a stationary bike, but keep in mind this is not a race. For the teams, well this is where it gets interesting…How often do you swap riders? How fast should each ride? A sound strategy will certainly come into play!
Whenever I tackle a physical challenge, I remind myself how tough those affected by Type 1 have it. Not for 5 hours, but for life.
BA: Finally – this is more than just a cycling challenge but is raising funds for a critical cause. Can you tell us what working with JDRF means to you and what others should participate.
JR: Ultimately this event is about helping to raise much needed funds for the 120,000+ Australians affected by Type 1 diabetes. My journey is personal, and you can read more about that herehttp://blog.jdrf.org.au/2019/05/07/six-years-ago-our-world-changed-forever/. Get involved and be part of something special!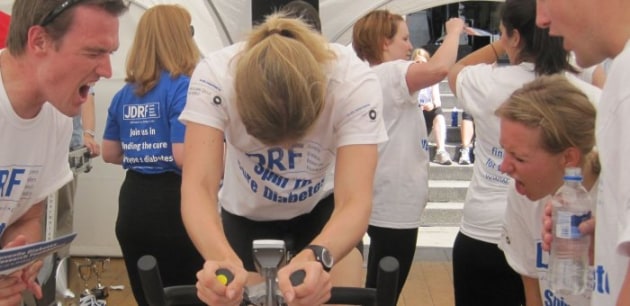 Le Velo Virtuel: Ride The Velodrome Or Sweat It Out At Home
While Sydney & Melbourne based participants of Le Velo Virtuel can attend velodromes and enjoy live music and a festival atmosphere on the Saturday night, others can join the action, excitement and fundraising via a smart trainer and Zwift account.
Going Virtual With Zwift
Participants can take the challenge from anywhere in the world simply by using stationary trainer technology and joining the Zwift event. In addition you'll experience the live race commentary stream and interviews from riders across time zones – you'll be virtually connected to teams and competitors from around the globe.
Four Levels Of Entry
• Gold (Individuals) – $100 entry pp
• Silver (Teams of 2) – $100 entry pp
• Bronze (Teams of 4) – $100 entry pp
• Virtual (Offsite) – $50 entry pp
For further Le Velo Virtuel details visit the website or to get involved contact Louise Keys on 02 9020 6115 or lkeys@jdrf.org.au
About JDRF
JDRF is the leading global organisation funding type 1 diabetes research. JDRF Australia's mission is to accelerate life-changing breakthroughs to cure, prevent and treat Type 1 Diabetes and its complications.
The organisation has invested nearly $2 billion since their inception. They work closely with academic institutions, policymakers, and corporate and industry partners to develop and deliver a pipeline of innovative therapies to people living with Type 1 Diabetes.
For further information or to assist contact the team via https://www.jdrf.org.au/about-jdrf