In August 2020 the start flag will drop on the 75th edition of La Vuelta, the Spanish Grand Tour.
For that special occasion organisers have announced the first three stages – the maiden 410km of the race – will take place in The Netherlands.
Riders will traverse the provinces of Utrecht and North Brabant visiting 34 Dutch municipalities in the three days, with the official teams presentation held on the Thursday evening prior to the weekend of the competition, in Utrecht's city centre.
STAGE 1 | T.T.T | 23.7 KM
The first stage will start on Friday evening. The riders in the team time trial will race through the streets of Utrecht. Starting at the Jaarbeurs then cycle eastwards through the city Centre. After a technical first part of the circuit they ride alongside the Singel on the Maliebaan, the oldest cycle path in the Netherlands. The route then heads at full tilt for Overvecht, where the teams make a loop towards Leidsche Rijn. A great opportunity for spectators to see their cycling heroes racing past twice. After leaving the new Leidsche Rijn Centre the teams race to the finish. From the fly-over they will hold a full-on team sprint until they cross the line at the Jaarbeursplein. Utrecht will therefore become the first city to host the official start of the three Grand Tours.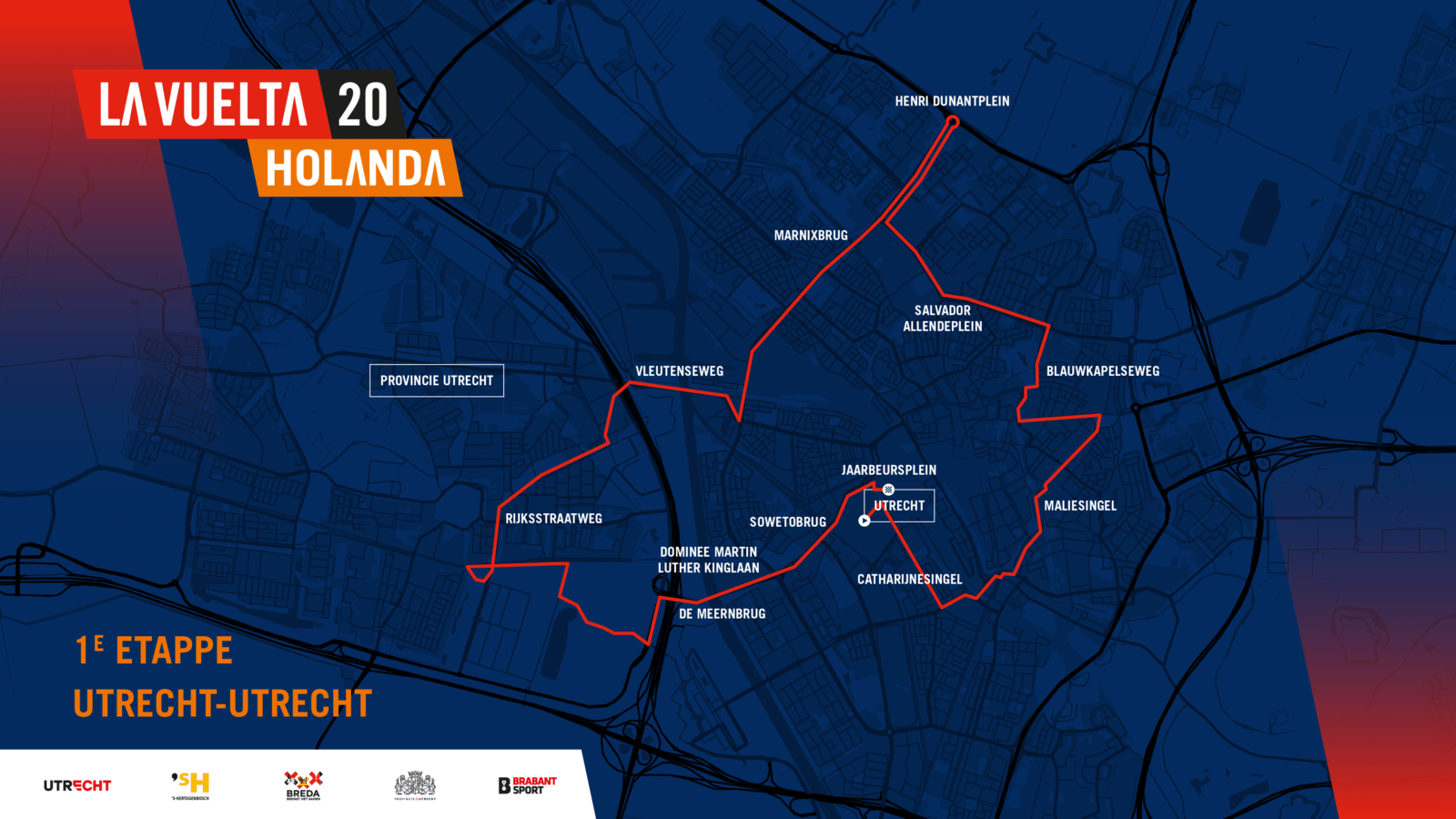 STAGE 2 | 183 KM
The second stage will start on Saturday morning is the beautiful historic centre of 's-Hertogenbosch. The decor for the first part of this stage is formed by the Zuiderwaterlinie, the Dutch military defensive line dating from the 16th and 17th centuries. After crossing the big rivers the peloton will head at full speed to the Grebbeberg, where the first mountain points of La Vuelta 2020 can be earned. The riders follow their route over the hilly ridge known as the Utrechtse Heuvelrug, with stunning views of the various country estates and castles, as they head for Amersfoort. After a loop through the city of Utrecht, they will sprint to the finish line at the Utrecht Science Park.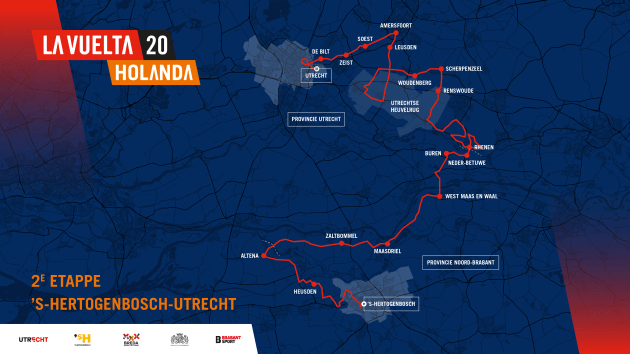 STAGE 3 | 194 KM
During the last stage on Dutch soil the spotlight is on the landscape of West Brabant. After the start on Sunday at Breda's historic castle the peloton will tour through the province. In doing so the riders will come face to face with the Brabantse Wal; the characteristic landscape of West Brabant. They will cycle through the birthplace of sport cycling in the Netherlands, places like St. Willebord, Alphen Chaam and Hoogerheide (known for the cyclocross competitions). After 194 kilometres the peloton races back through Breda for its last few metres in the Netherlands. The finish line is in front of the Chassé theatre; then we will know the winner of the third stage.