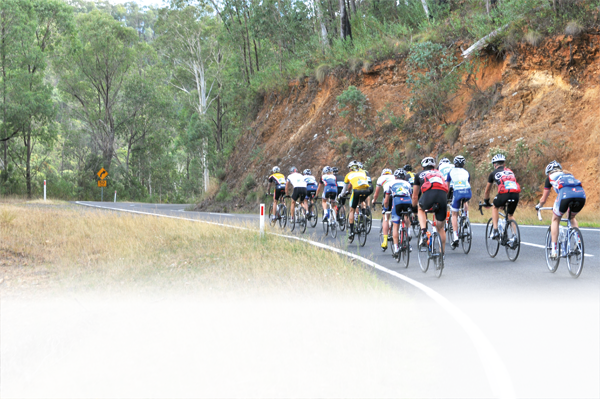 I have absolutely no idea what they put in the drinks down there but I drove back to Sydney on a serious high having just participated in this year's Bright Boot Camp (BBC). At one stage I had even considered pulling over and riding a section of the Hume where the hot mix surface looked extremely appealing!
The camp is run twice a year and is the brainchild of David Heatley and Jodie Batchelor of Cyclinginform.
In November, the camp focuses on the Tour of Bright, while the February edition is typically considered the final training session for the Scody Three Peaks challenge held in the second week of March.
Having said this, the camp is open to any serious riders eager to increase their knowledge and enhance their skills. You will need to be fit though; the general rule is that you would typically be riding around 200km a week—including a fair amount of hill climbing. Weekend punting along Beach Road sipping soy lattes, or riding the West Head Akuna Bay circuit once a week simply won't cut it.
The BBC is marketed as a supported ride, which means that you won't be left on the side of the road, however it's also designed to push your limits and inflict some necessary pain. Support vans are fore and aft and support riders are there to help if needed.
Don't be scared off by this though, as the seeding ride on Mt Buffalo is quite effective, so you'll find yourself riding shoulder to shoulder with those of a similar ability. Shorter options are also offered if you completely tank, so the program endeavours to be flexible within reason.
As I was planning a trip to Italy in late May, I thought it an ideal opportunity to take part in the camp so I could gauge where I stood in relation to the more serious devotees of the sport.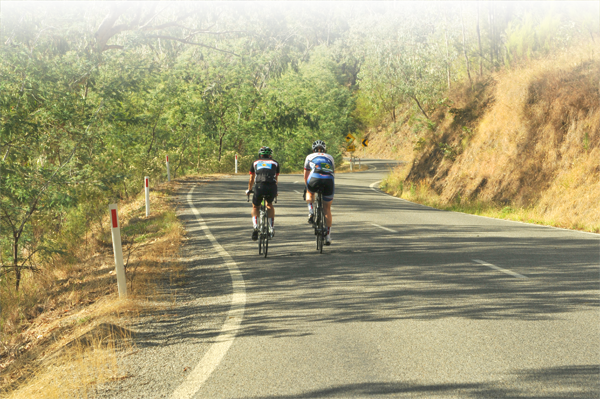 I consider myself a serious recreational rider at best, but I must admit to feeling a little apprehensive when I received the comprehensive information pack prior to the camp. This email contained essential information on what gear to bring to cope with the vagaries of an alpine environment, suggested gearing ratios for the hills and a cyclist's must-have survival guide to bunch riding. All worthwhile and well presented.
This feeling of apprehension deepened as I drove into Bright when it suddenly dawned on me how high these mountains were—I was actually looking up at the peaks through the tinted band at the top of the windscreen! In hindsight, perhaps I should have paid a little more attention to the gear-ratio chart! When I rolled into camp headquarters I was immediately confronted by bikes—Cervelo, Look, Colnago, Focus, Felt, Giant, Specialized, Pinarello—there was enough carbon here to fabricate an entire A380.
Participants in this year's camp travelled from as far away as Japan and New Zealand, though most were from Melbourne and Sydney. The age ranged from 14 years to 60, with a gender split of 70/30 in favour of males; a typical mix according to David and Jodie. Though outnumbered by the guys there were some seriously talented women in attendance, such as the current dual World Champion 24-hour solo mountain biker, Jess Douglas.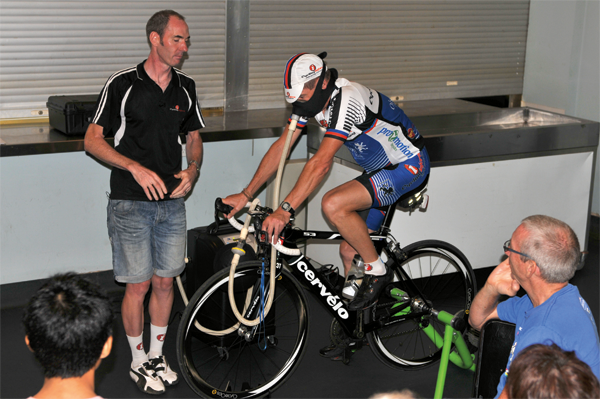 Some of the female support riders were also actively involved in state and community racing events and I found them inspiring, both on and off the road. Juniors are permitted to participate in the camp if they are coached and shorter courses are offered in order to prevent injury and fatigue for younger riders.
All the days begin at 7:15am from the camp headquarters, so you need to be up at 6:00am in order to scoff down your Weetbix and 10 loaves of brown bread. Day one is the return trip to the 'sommet' of Mt Buffalo. This climb is 21km long with an average gradient of five per cent and an elevation gain of over 1,000 metres. It took me one hour and 22 minutes to complete, placing me in group three for the rest of the camp. The cut-off time for group one was one hour and 10 minutes, with the best completing the ascent in one hour and one minute. Group two's cut-off time was one hour and 18 minutes.
Railway engineers apparently constructed the road, which makes for a steady, consistent climb with some stunning but rather smoky views throughout. It really is a 'must do' if you like riding your bike up hills, or for that matter, down them as well.
The descent is awesome—and well deserved! We pulled over at various locations for some classes in descending and ascending techniques. The Cyclinginform crew had plenty of good advice on descending and cornering and I learned a lot. The regrouping breaks allowed you to practise what you had learned. I did feel there could have been some advice on descending in wet weather but then again no one really asked. I recall that most, if not all of the riders completed the climb in one hour and 30, which according to Jodie was unusually quick.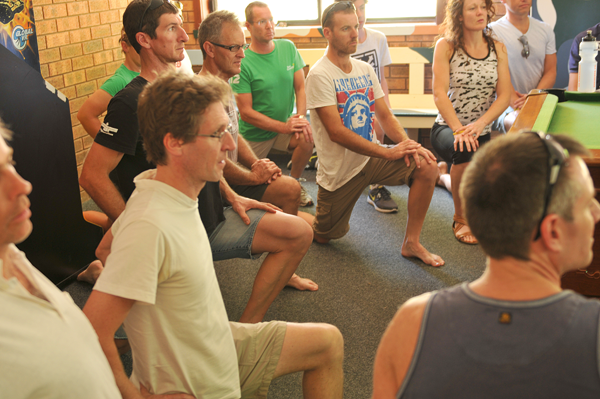 In the afternoon there was a body maintenance lecture given by Lucas Owen, who specialises in physiotherapy for cyclists. Everyone got to perform the various stretches in the recreational room; hip flexors, quads, hamstrings calves and glutes were all covered. These seminars are an integral part of the camp and to have the experts right there within reach is a huge opportunity that most riders will never get. There's also plenty of scope for questions and answers, and one-on-one sessions if needed. There were also two masseuses on camp who were available to help revive ailing bodies.
In the evening David gave a seminar on high performance training, which was packed with detail—way too much information to include here. Suffice it to say it was surprising to hear how targeted some of the training schedules actually are. Training for hill climbs is an obvious one, but how about training to make back a gap. In essence the programs can be tailored to suit various elements of a road race. I found this stuff really interesting, as did the rest of the attendees judging by the notes being taken.
After dinner there was a presentation on power analysis by David Fairburn; one of the Cyclinginform crew primarily covering the advantages of training with a power meter rather than relying on a heart rate monitor alone.
Lucas Owen followed up with a presentation on why physiotherapy is important for cyclists.
Day two held a climb up to Falls Creek via Tawonga gap and Bogong. Unfortunately due to some photography commitments, I had to ride up in the car but secretly, when I saw the hill, I was glad!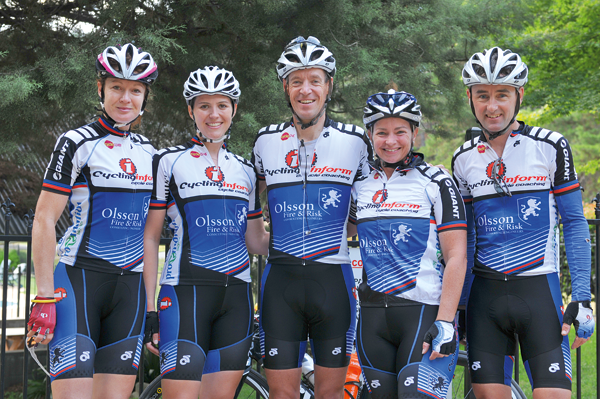 This was a 140km day; entailing riding for over five hours. Average climbing speed on the Falls route was 15 to 16kph in the leading group. The average grade is a relentless five and a half per cent and possibly higher. You can't sleep on the way down either, as the descent is fast and includes some challenging corners. Loose gravel, small sticks and lane-marking cat eyes, which have mysteriously escaped the centre line, add to the excitement. It pays to remember these sorts of hazards when you notice them on the way up – awareness can help you avoid becoming number plate meat! Some drivers don't understand what the centre lines mean, but there is generally enough visibility through the corners to manage this. The reality is that traffic is pretty light on these roads and vehicle speeds are slow.
Tawonga Gap is the prelude to the day's main event providing a slight kick in the butt before you embark on the 30km climb up to Falls. You get it again on the way back too, just to remind you that you are in fact cycling in the Victorian Alps. Adding insult to injury the road back is just that little bit steeper.
Groups one and two looked strong as I snapped away on the side of the road but sometimes strength evaporates remarkably quickly. Throw 35 degrees Celsius and a bit of altitude at the riders and whammo! It can all blow apart in just a few short kilometres.
The support riders need a special mention here.
If you found yourself being dropped (and you could get really dropped), one of them would fall back and accompany you to the top. Naturally the support van was there as well, though if you are struggling but really want to finish the climb, for your own survival you must exorcise that thought from your mind.
I watched the talented Bridget Slocam (one of the Cyclinginform crew) drop back to gently lead an ailing climber up the Falls Creek climb, half-wheeling in front and offering welcome advice and distraction to help make the assent achievable.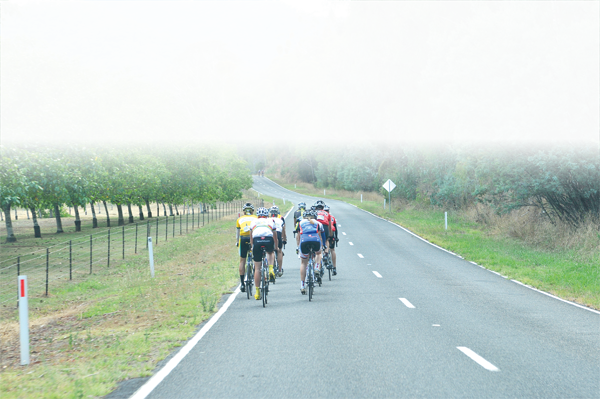 The group three riders also put in a gruelling effort and most completed the climb. Sure, there were some that cramped and others even pulled the pin entirely, but to me their efforts were impressive. It pays to remember at this point that it's a 'Boot Camp'. Gels, bars and butt cream ain't for wimps. Trust me; you will need all of them.
Day three took in the small country towns of Beechworth and Myrtleford. The only thing I didn't know was that Mt Stanley was smack bang in the way of both of them. It's a 117km day with a flat 50km to the finish. This deadpan stretch is the main highway following the valley floor back into Bright.
Groups one and two were fast and seemed to be back home before they had left, but group three started out as a straggle.
This was too much for David, and he signalled for us to pull over where we were given a quick lesson on rolling turns. After that, the group tightened up and began to work more as a team.
The ascent of Mt Stanley is a brute but the undulating shallow hills with long runoffs are a joy to ride as you head into Myrtleford and Beechworth. Most of this section is included in the Beechworth Grand Fondo and you can pretty well stay in the big chainring along here; a novelty considering the last few days of climbing.
The flat section is where I got nailed… big time!
I was happily spinning along at 28kph but somewhere along the line someone had issued a plan of attack. I don't want to point any fingers at anyone here but I suspect it was David Heatley! In a nutshell the directive was to go hard from about 10km out and we will see who blows up first! All I can remember is that someone passed me with relative ease and proceeded to crank the speed up to 36 or 37kph. From behind me I heard David say, "Hold his wheel, Andrew". What? I was already desperately trying to, actually, but the pace was now about eight kilometres faster than I had been riding! I failed miserably. The execution was swift and decisive and a few went past me, attaching themselves like limpets to the back of the small breakaway. The next time I looked up there were three brightly coloured jerseys disappearing into the heat haze. The gap was too large for me to close; I had been dropped! I reverted to my comfortably maintainable 28kph and spun my way into Bright under a sweltering sun.
That evening during another group dinner at the Star Hotel I was struck by the overwhelming sense of camaraderie of the group. The seminars were exceptionally informative but there was also a wealth of information to be gained from the people within the room. And it didn't matter which group you were in; everyone was friendly and eager to share his or her knowledge and everyone it seemed, had an interesting tale to tell. How they got into cycling, what races they were training for, how far they were riding and where in Europe had they been with their bikes. I really did enjoy hearing all the stories.
David gave the nutrition and recovery seminar in the evening. He presented some fascinating facts supported by solid evidence-based research. I had never thought about managing my fluid and carbohydrate intake separately in order to accurately manage them, nor had I given much thought to the various energy systems our bodies access when we ride. It was news to me that if you go out for an early morning cycle that is less than two and a half hours you don't really need to ingest anything other than fluid. This forces the muscles to utilise stored glycogen and in fact trains the body to not expect a constant inflow of carbohydrates. As a result, the body actually starts to use that other great energy source we all carry around with us; fat!
David also discussed the need for a plan, and to match the plan with goals. Again I was interested to learn that a plan really is a living document and there is a raft of things to consider when implementing one. Who is this going to affect? Can I devote the time required? The importance of 'partner buy-in'… fascinating. 'Bloody ignorant chauvinist' I hear some of you say. I must admit this was a revelation for me. Devoting so much time for 12 months to training for the Three Peaks is sure to have an effect on your wife or partner, your children or even the dog. We shouldn't be surprised that people get upset when we're up at 5:00am knocking out a quick 100km on the bike, followed by another hundred on the rollers in the evening. I think the salient point here is that you need to be realistic and considerate.
Day four saw another solid ride that headed out towards Harrietville but due to travel commitments I had to miss it. There was a shorter coffee ride on offer to cater for those that needed to leave slightly earlier than the scheduled 1.30pm sign-out.
So was the camp worth it? Without a doubt. I spoke with many riders from all three groups of the same opinion. You have access to a raft of formidable experts and their wealth of information. The seeding on Mt Buffalo works well too, so you don't feel like a ball and chain in your particular group. It also inspires you to try a little harder for next year's camp. You get all of this with absolutely fantastic riding, magic views, long, steep climbs, great people and sensational coffee. What more could you want?
David and Jodie run a pretty slick show in my opinion and I am sure I will be seeing them and a few others at next year's camp.