The hand injury sustained on a Poggio wall in the finale of Milan-San Remo is almost certain to rule Michael Matthews out of the second Monument of 2020, Il Lombardia, this weekend.
Speaking exclusively with Bicycling Australia's Peter Maniaty earlier today from his home in Monaco, Matthews seemed resigned to be absent from the start line in Bergamo.
"(Coming down from the Poggio last Saturday) I wasn't sure if I should go directly to hospital or finish the race. I honestly still don't know how I managed to do it (finished third)," he said, revealing the impact ripped his skin open "like a cheese grater", leaving a pair of gaping holes near the middle knuckle of his right hand.
"I took the dressing off yesterday (Wednesday) and did my first big ride since the weekend, about five hours to see if I could get through it," Matthews explained.
"I did some long climbs and a few descents to see if it was possible. But going uphill I couldn't get out of the saddle and coming down I couldn't hold the handlebars in my right hand – any vibrations and it felt like the stitches were going to explode. Over here, your right hand is your back brake too – so I can only brake with my front, which obviously isn't great."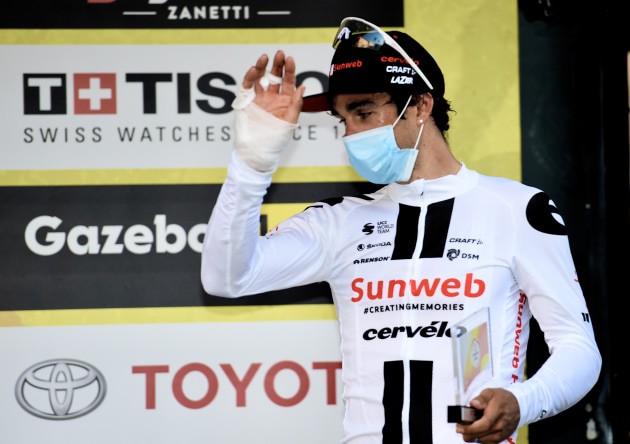 While clearly in excellent form following the season restart, Matthews was keen to put the needs of his team first, especially with the added complications surrounding Covid-19 protocols.
"The team needs to make a decision (about Il Lombardia), especially with the guys needing to be tested pre-race. Ideally I'd like to wait until Friday night to see if I can start. But it's only fair that I let the team know I'm pretty sure it won't be possible. We had a call last night with the team doctor and based on everything, he said he felt it probably wasn't safe for me, or the riders around me."
Matthew remains philosophical about the rest of season.
"In my career I've overcome quite a few setbacks. It sounds bad, but I'm kind of getting used to it," he said.
Assuming he indeed misses Il Lombardia this Saturday, Matthews is confident his next race start will be as scheduled, at the Grand Prix de Plouay in Brittany on August 23.
Peter Maniaty's full interview with Michael Matthews will appear in a coming issue of Bicycling Australia magazine.