I have been a fan of Mudgee for many years. I remember the first time I went there. It was for the Mudgee Wine Festival and I stayed in an old house on the Hill End Road. The house itself was said to be haunted and there were many stories about it. I didn't see a ghost but the house certainly made some strange noises. In those days Mudgee was a typical country town with about a dozen wineries. The wines were OK, but the consensus from those in the know was that the wines weren't as good as more established regions such as the Hunter Valley and the Barossa. Well things have certainly changed in the past 20 years.
Mudgee
Mudgee is now a thriving and popular town. The number of vineyards has increased to over 42 and the number is still growing. But even though wine is the dominating crop, it is by no means the only one. Farmers are branching out in various ways, such as cheese, beer, olives and olive oils as well as variations on the antipasto theme. A large number of artists live in the surrounding area and there are regular exhibitions. What was once a nice but unspectacular country town is now a thriving centre and being only four hours drive from Sydney, a great place for a holiday. I had been invited by Mudgee Tourism to come and see just how much things have changed. As you may imagine, tourism is now a major source of income for the area and as such, there are a large number of places to stay.
The excellent tourist office, located on Market Street arranged for us to stay at Mudgee Getaway Cottage(
www.mudgeesgetaway.com.au
), which is reasonably near to the centre of town. In this job you get to stay at a number of different places but I have to say this was one of the most enjoyable, particularly from a family point of view. The cabins are run by Elizabeth Etherington who is a keen gardener and artist. Each is self contained, stocked with food and quite comfortable, especially the under floor heating. Elizabeth was in the throes of a major renovation of the main house and once finished, it will be stunning. High ceilings with federation style rooms combined with a wonderful outdoor deck panelled with marine ply. But for anyone with families, the real gem of this place is down in the garden, which is bordered on one side by the Cudgegong River.
Here you can sit on the banks under the gum trees and watch tortoises and kingfishers. There are many garden beds full of vegetables, and guests, particularly the children, are invited to pick what they want. There is also a small golf area with three holes (clubs supplied) and best of all a menagerie of animals including ducks, Storm the pony, geese, a goat called Patch, a sheep, alpacas, Olivia the ostrich and no less than 46 guinea pigs. No need to worry about entertaining the kids! They can be occupied for hours. Of course there are many other places to stay in Mudgee and you can check them out at
www.visitmudgeeregion.com.au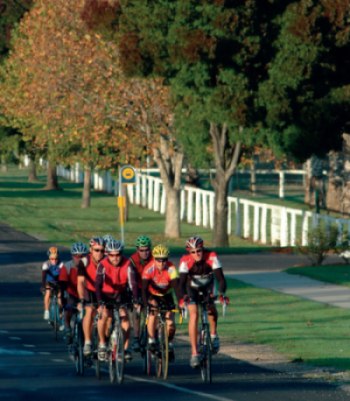 The Important Stuff-Cycling
Mudgee has an active cycling and triathlon club and their favourite rider is Bathurst boy, Mark Renshaw. You may have seen some of them in our March/ April edition at the Tour Down Under sporting their 'Lance with a chance but Renshaw for Sure' T-shirts. One of the riders you may meet is Phillip van Gent from the famous Peter van Gent winery. Phillip, a keen cyclist and multiple Ironman, is one of the organisers of the Mudgee Bike Muster, a cycling festival held every Easter weekend. Events are held over three days and range from serious races to 'come and join in' activities. Now in its third year, the Muster has grown to accommodate several hundred riders. You can camp on site at the Australian Rural Education Centre just outside of town. Showers and nightly entertainment are provided. Or you can stay in town and join the festivities from there. There are numerous rides for all abilities, trivia, winery tours, treasure hunts and special lunches. As the Muster continues to grow, so does the entertainment. You can have a look for yourself on the website (www. bikemuster.com) and while you're there, download the pdf of the Cycle Mudgee Region booklet.
This book is packed with maps and directions for you to ride in the Mudgee area. If you're looking for some serious riding, there are a number of group rides, with the main meeting place being the 'Cheese Factory' which is in the High Valley on the Cassillis Road just opposite the racecourse. Saturday morning is the popular time and several bunches head out. These vary depending on whether people are away racing but you can always check by calling Innovative Cycles on (02) 63 72 9135. I went with a couple of groups and was shown some excellent riding. First up was the out and back ride to Yarabin. This is a fairly flat ride with a couple of hills out near the turnaround point. Later on after having reading the Mudgee Cycling Book I combined two shorter rides to make an excellent longer one. These two rides were Rocky Waterhole and Queens Pinch. Rocky Waterhole Directions are as follows:

Yarrabin Ride
From the Cheese Factory head back into Mudgee and turn right at the clock tower (1.7km) into Market Street. Follow past post office, and keep going till you see signs pointing to Hill End at 5.5km. About 15km into the ride you will come to the Yarrabin Road on your right. Take this road. You'll know it's the right one from the line of poplar trees further up the road. Follow this for some way until you hit a fork in the road. To the right, Yarrabin Road continues as dirt. To the left, the tarmac goes until you hit the Meroo River at 33.8km. This is the turnaround point to head back into town.

Rocky Waterhole and Queens Pinch
Once again, begin at the Cheese Factory and head back towards town. Turn left after the racecourse into the Lue Road and at 5.5km turn right into Rocky Waterhole Road. Follow this to the end where you will hit Sydney Road at 10.6km. Turn left here and then 800 metres later turn right into Queens Pinch Road. Stay to the right at the Y-junction at Bocoble Road and the road begins to climb very steeply. Once you reach the crest you can continue until the 28.8km point where and retrace your steps.
Once you get back into Rocky Waterhole Road, take the first left at 47.7km into Burrundulla Road. This keeps you off the highway for a bit. Then turn right into the Castlereagh Highway (Sydney Road). At 53.6km turn right into Lewis Street and a kilometre later left into Market Street. Once pass the clock tower continue straight on and back to the Cheese Factory where the ride finishes at 55.5km. After all that riding dinner was most definitely in order. Mudgee is full of great places to eat, but one I marked out for special mention is the Mudgee Brewing Company. Located in Church Street the Mudgee Brewing Company is a very successful attempt to resurrect a past industry. The central location is superb. Inside is raw brick and the huge copper brewing equipment is a spectacular setting.
The brewing company is open for breakfast, lunch and dinner and I can tell you from experience that the food is superb. Brewer Gary Leonard makes three beers, a wheat beer, a porter and a pale ale. Each was excellent and there are plans to introduce a couple more. This is one place you shouldn't miss. Mudgee is an excellent place for a cycling holiday. It has wonderful riding, good accommodation and plenty to do with the family. Wineries, a brewery, arts and crafts as well as a bike festival, it has it all. You should really consider visiting.