It's hard not to talk about transfers this time of year, but before that, and something closely related, is the emergence of Lance Armstrong's all powerful, supposedly all-conquering, Team RadioShack, set to make its 2010 race debut at our very own Tour Down Under.
The Wal-Mart of electronics stores reminded me of an episode of Seinfeld I saw recently on Channel 9's new digital channel, 'Go!', which seems to screen an entire series in a vicious week-long loop that – if you're a fan of Jerry & co. – is very difficult to escape. (Constant note to self: it's rather unhealthy to watch more than three hours of television in one sitting.) Part of the episode revolved around Jerry being asked to give a speech at a careers day at his old school. For a stand-up comedian (in my opinion, the bravest of occupations), no big deal – until he got bumped. And bumped again. And again.
George: You got bumped from career day?
Jerry: It was a mix up, I'm sure.
Kramer: They're trying to screw with your head.
Jerry: Now why would a junior high school want to screw with my head?
Kramer: Why does RadioShack ask for your phone number when you buy batteries? I don't know!
I found this scene hilarious; hilarious for its basic truths – after all, Seinfeld is ostensibly a show about nothing other than the triviality of everyday life. So what are those truths? Well, one is the fragility of a man's ego; the other is the ulterior motives of corporations, and the individuals behind those behemoths. Which brings me to Team RadioShack.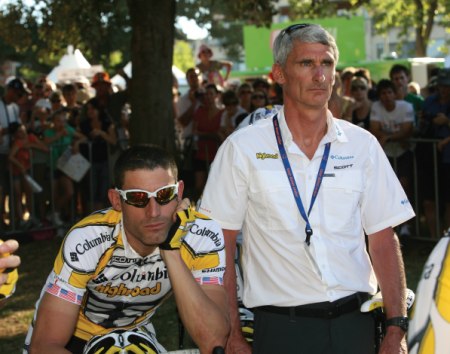 At the time of writing (this being early November 2009), there was nothing more than a homepage when I paid a visit to teamradioshack.com on the Web, a page emblazoned with the words: "Get Ready. Team RadioShack." My timing's fairly lousy at the best of times, but shouldn't they be getting a move on, I mused? To the professional cyclist, the thought of riding on the same team as the world's most adulated, most recognisable cyclist sounds appealing enough, but the reality is a number of 'Lance's most wanted' were slow to jump on the Shack bandwagon. Some chose to bypass it. George Hincapie, the only man to ride in the company of Armstrong's teams throughout each of his seven Tour de France victories – and whom Lance once referred to as his best mate – won't be there. He'll be joining another American-registered outfit, BMC Racing, where he'll get the chance to spruik the benefits of his eponymous clothing line, to be worn by the team's riders.
As much as they say cycling is a team sport, it's really about numero uno – you – and at 36 years of age, Hincapie is clearly planning his exit strategy with eyes wide open. Still, Lance sealed the deal with another of his old acolytes, Levi Leipheimer, also 36, who, despite being a podium contender at the Tour, seems happy to ride in service of Armstrong – so long as he gets paid for it. Which is really what signing for 'The Shack' boils down to: If you want to ride with Lance, don't expect to win yourself unless he says so, though you'll be well compensated for your loyalty and sacrifice. They wanted Simon Gerrans, but didn't get him. Gerro's a natural aggressor and a proven grand tour stage winner, so Team Sky's a far better place for him, where individualism will be more accepted. The Shack only just got the signature of Chris Horner, the man who I believe is one of the world's three-best super-domestiques – if not the best. Apparently, it came down to a relatively measly sum of money, but in the end and to their credit, Lance & co. Showed the money – unlike the Belgian buffoons at Lotto, who at the end of the 2007 season, gave away the best lieutenant Cadel Evans' ever had, and in my personal opinion, the best chance he'll ever have of winning the Tour. Speaking about winning the greatest bike race of all, it's something the fledging Team Sky is shooting for in the next four years. Despite recruiting a trio of Aussies in Gerrans, Chris Sutton and Matthew Hayman, as well as plentiful other foreigners including the über-talented Thomas Lövkvist and Edvald Boasson Hagen, the Sky guys want this Tour-winning lad to be British – hence their unbridled desire to land the signature of 2009 Tour revelation, Bradley Wiggins.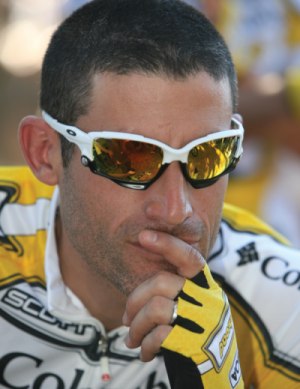 Thirty-seven seconds was all that separated 'Wiggo' (whose contempt for the majority of press hounds is on par with Armstrong, once referring to us scribes as 'trolls under a bridge') from a podium place in the last edition of La Grande Boucle, number 96. It's the closest the Poms have come in years. The last winner from the British Isles was Stephen Roche, in 1987. And now, armed with a staggering 20-million-plus Aussie dollars annual budget, Team Sky feel they are well set on the path of success. The only problem is, Wiggins isn't defecting the Garmin-Slipstreamers – yet. If not in 2010, however, Sky team manager Dave Brailsford knows it's only a matter of time before Wiggins changes his argyle-motif Lycra to a more Britishlooking strip. If he were to pull off the coup of his career, it's unlikely it will happen until at least 2011 or 2012, so Brailsford's most likely thinking Garmin can have him till then. Should Wiggins switch to Sky and ride the Tour in 2011, he'll be 31 – still well in his cycling prime. So, just as Cosmo Kramer questions the motives of RadioShack asking for your phone number when buying a set of batteries for your shaver, it should be known that things in professional cycling are not always what they seem.
And with that in mind I leave you with the words of British newspaper pioneer, Lord Northcliffe, whose century-old doctrine I attempt to follow with my own work. "News is what somebody, somewhere wants suppressed. All the rest is advertising. The first question we should ask ourselves before covering any story is: 'Who cares?' "