The November/ December edition of Bicycling Australia Magazine is out now, and this one is packed with quality local, national and overseas content.
'Life In The Fast Lane' is emblazoned across the cover and for good reason. One of the lead articles is an exclusive interview with Aussie pro rider Tiffany Cromwell and her partner Valtteri Bottas who's currently #3 in F1 rankings.
In this exclusive interview we speak with the power couple of cycling and Formula 1 – Tiffany and Valtteri from their home in Monaco.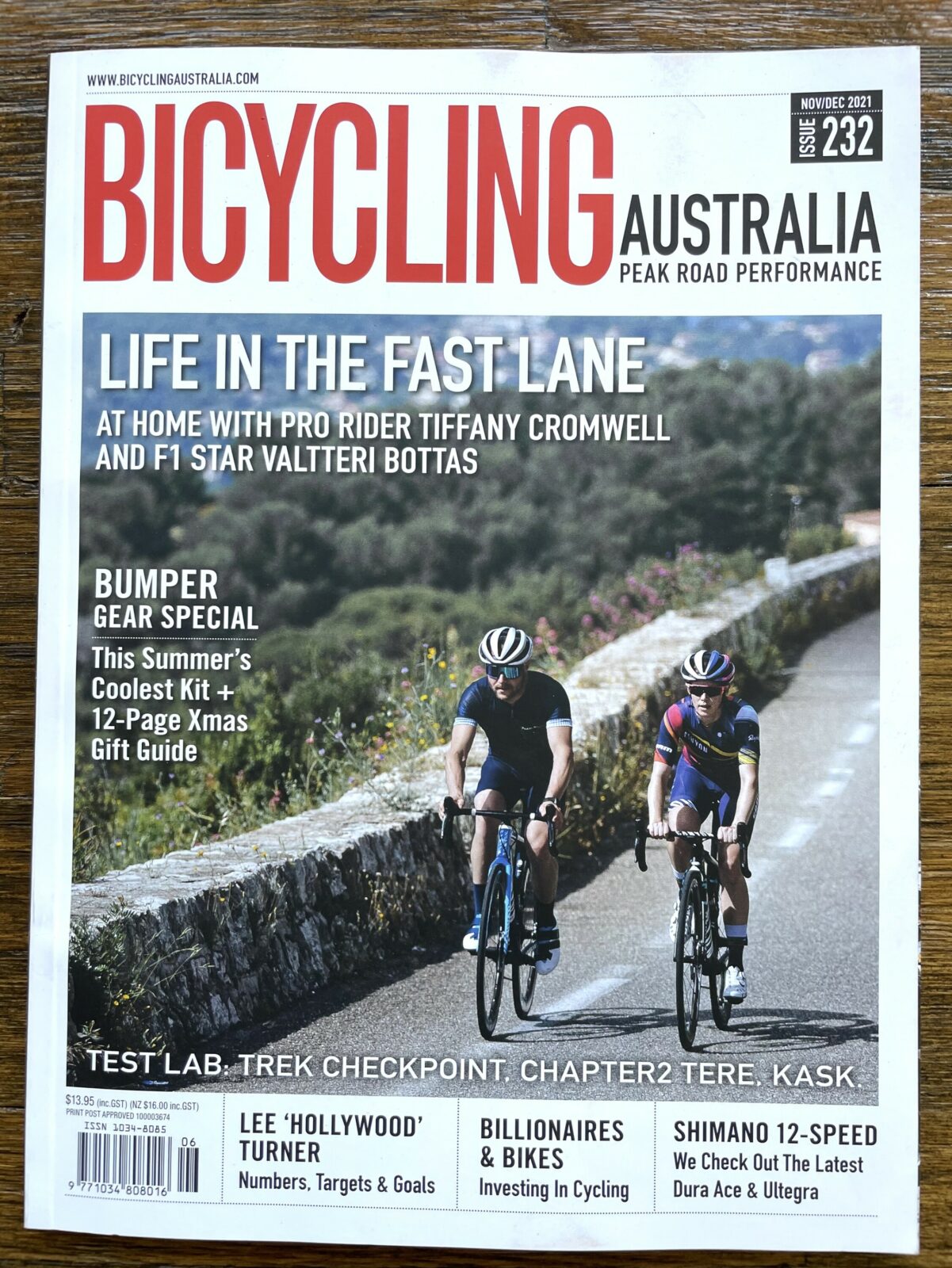 Also inside the 116-page edition #232 of Australia's favourite cycling publication you'll find –
* Shimano 12 Speed: It has been a long time coming but it's now here—Shimano's new Ultegra and Dura Ace 12-speed groupsets. We also trace the company's 100-year history.
* Lockdown Cycling: Lockdowns have been a period of history that we will never forget, but this group of riders came up with a novel way of staying in contact and improving their cycling.
* Summer Kit Guide: After a long, cold winter the mornings are warming up and it's time to think about summer kit. We've got you covered with this comprehensive guide.
* Christmas Gift Guide: Cycling—it's the ultimate accessory sport, and this huge guide features Christmas gift ideas for the fussiest of riders.
* Pedaling Portugal: Marcus Leach takes us on the most impressive of bikepacking trips as he spends a week touring Portugal.
* Last-Minute Training: Sarah Hunter answers the commonly-asked question: 'can I get fondo-fit in four weeks?'
* Chain Waxing 101: Luke Meers takes us through seven simple steps to more efficient cycling and less wasted watts, the act of waxing a chain.
* SciCon Aerowing Eyewear: We road test the latest styled in Italian styling, cycling eyewear from SciCon.
* Jet Black Trainer Suite: We ride and review the full indoor trainer suite from Jet Black Cycling.
* Hunt Gravel Wheels: These wheels are wide, fast and transformative—the Hunt 42 Limitless.
* Kask Valegro: Peter Maniaty rides and reviews the updated Valegro helmet from Kask.
* New Trek Checkpoint: We explore new trails aboard the latest gravel / adventure platform from Trek, the 2022 Checkpoint SL7
* Chapter2 Rere: A review of a unique, fully customised Chapter2 Rere. Is this the perfect platform for a road bike that can also handle time trials? It sure seems so!
Plus all our regulars including Top Gear, nutrition, training along with James Yaffa's Publisher's Note, Bang BANG with Lee Turner and Spin Cycle with Anthony Tan.
It's available at your local newsagent now, and you can subscribe to have BA home delivered –https://www.greatmagazines.com.au/magazine/bca