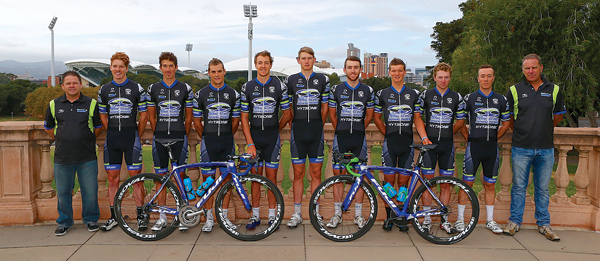 When you compare its budget, staff and roster against some of the other National Road Series competitors, Team Scody Downunder might have the appearance of being on the smaller side; but when it comes to looking at outside the square, the Gold Coast based team is 'big picture' all the way.
A chat with sports director and self-described 'tyre pumper upper' Garry Elliot reveals some progressive thinking and planning is going on behind the scenes of the team that started out in 1998 as Australia's first pro cycling team export, raced in Europe, underwent a series of name changes, returned home to grass roots and is now emerging as a premier development team within and without the NRS. Not to mention a few key differences…
Although Team Scody Downunder is not the only team positioning itself to take on young and inexperienced riders to give them experience at national level and perhaps even a pathway into a pro team, it is perhaps the only team that doesn't have a website. And further – there is every chance it is the only team whose director has applied for a liquor licence as a means of funding the team's future.
"Yeah there are a couple of key differences between us and the other teams," Elliot muses down the phone from the Gold Coast, where he lives and works.
"We use an App instead of a website and I am planning to create an income stream to fund the team via a club, footie club style, rather than rely on sponsorships, which are getting harder and harder to come by. As well, we don't really give our riders all that much money…they get a bike and kit obviously, but they are encouraged to learn the realities of life on tour so there is a bit they and their parents have to pay for."
There's also talk of building the team up to take on Asia and America.
First – why an App?
"Everything is Apple or smartphone. People carry their phones with them everywhere these days. And the new Windows 8 is App-based, so you can go there to our App whenever you like and see what we are doing instead of us paying a fortune for a website."
Second – a liquor licence?
"I am in the process of getting a gambling and liquor licence and getting a pub and pokies so we can fund our own team," Elliot says. "That's what the (cycling) clubs should be doing – like the surf clubs and football clubs."
Is the sale of alcohol and promotion of gambling really an appropriate way to make money for a sport that is working hard to clean up its image, and a team that is actively developing younger riders?
"Well, cigarette companies obviously we don't go near…but alcohol I don't have a problem with. Obviously we don't use alcohol sponsorship for juniors," says Elliot.
"But it's the only way to fund a team and if we do decide to return to pro continental status, it's the only way to fund a pro team. The way the global economy is, it's hard to find sponsorship to sustain it for more than a couple of years."
Third – why not Europe? Don't all the teams desire to head for the birthplace of pro cycling?
"Since Fuji and Scody came on board this year we have been getting heaps of exposure and getting invitations to Asia and America," Elliot says. "But we don't have a UCI licence this year; just a national team licence. Next year will have a continental team licence. To be honest it will be cheaper to race in Asia than in the NRS. The cost of entries, accommodation and flights in Australia are quite high. I was running the team in Belgium for less than it costs to run a team here. But I am not interested in going back to Europe. I think Asia and America are probably a good focus for our team."
Fourth – what do you mean you don't give your riders much? Surely that's not very attractive?
"We have a no free ride policy. They get given bikes and clothing, but they pay for accommodation and food and those sorts of things. That way we can go for another hundred years. I never had anything paid for me. I think a lot of these other NRS teams give too much to their riders; they don't end up producing the goods. They need to work for it.
"That's the problem with NRS. There are a lot of teams trying to be Budget or Genesys but they don't last. We have no funding. Some of them have $100k and they blow it all in the first six months. I could make $100k last three years."
Team Scody Downunder first made an appearance back in 1998 as the Team Down Under, with six riders – Glen Chadwick, Robert Piccolo, Trent Wilson and others.
Originally a plumber and an ex-Victorian who had raced with Blackburn and Northcote cycling clubs, and independently in Belgium and America, did a couple of Sun Tours, a Tour de Pont, New Caledonia, etc, Elliot formed the team as a marketing opportunity to promote Peugeot Bicycles in Australia – which he was wholesaling at the time.
"It was cheaper to do that than advertise with in magazines and stuff like that," he said, "so I thought I would give it a go."
In its first year the team won the Tour of Tasmania, stages in the Sun Tour and stages in the now defunct Commonwealth Bank Classic.
In its second year Elliott – who also had a company called D&D Promotions in Belgium – decided to send the team to Belgium as an Australian continental team.
"We headed over there with a squad of 12 riders for seven years," he recalls. "I had a day job back here so I let the Belgium side of things handle it, but used to go over occasionally.
"The idea back then was to take on riders who didn't make the institutes, or who were a little older (so the institutes wouldn't touch them) and to give them an opportunity to race overseas; give them the opportunity to say they've had a crack.
"We were a feeder team for Londaanbar Credit, a pro team two (equivalent to pro continental) based in Belgium in Booichot.
"Our good riders would get a stagiare ride (apprenticeship) for the Classics. Chadwick, Mathew Wilson, Cameron Jennings, got starts with them. Matt Wilson went to FDJ and has kicked some goals over the years."
At first Elliot was heavily involved but the team management wanted to take it to pro continental status which he says he couldn't afford to.
"I came home to Australia and back to plumbing but the team continued to use my Team Down Under company name so they could register the team as an Australian based team.
"I was no longer calling the shots, no longer screaming at the riders in the car, but as part owner I was looking after the accounts at home. Cycling News.com then got involved and the team's name changed to Cyclingnews.com Downunder in 2004-05. Once they pulled out after a couple of years, we had Cinelli come on board and called ourselves Cinelli Downunder.
"Our GC rider was Frank Vanderbrook who had won Paris Roubaix, but very sadly he ended up committing suicide and so I put the brakes on everything and pulled out of Belgium and returned to basics in Australia. We started up with local Queensland riders five years ago but only because a bike shop on the Gold Coast had promised a heap of young kids a team to do NRS events and asked me to look after them – but it turned out they had nothing – so I got involved.
"We have 11 riders on the books at the moment. Two from Victoria – Liam Hill and Todd Bruceneil. Adelaide – Brad Davies and Scott Sunderland. Two from the ACT – Shaun Whitfield comes from Formula 3 kart racing; Ben Comfort had been riding for Australian in MTB World Cup. We have two Kiwi riders now moved to the Gold Coast, Nick Miller who has an MTB background and Chad Hillston who has won a few national medals on the velodrome, and here in Queensland our team captain is Sam Volkers. Then I have Lee Masters who has come from triathlon and Aiden De Jager from AMA Supercross in America to cycling.
"Sunderland has just gone to Belgium; he has matured really well, he is by far the quickest man I have met in my life. It would be a shame if he doesn't get selected in the team pursuit. He is the fastest man in Australia over a standing start in the kilo. It's an honour he wanted to ride with us."
Elliot believes Team Scody Downunder's job is to find young riders and develop them and send them on their way.
"The clubs aren't developing a lot of riders at the moment. I think it's because the clubs are not for profit and volunteer based, I think they get head clashes. It all gets too hard. They need to run them more as a company rather than a volunteer set up.
"For the last three years I keep losing riders to Genesys, Drapac, Budget Forklifts, so I must be doing something right. We want them to move onto bigger teams. Not move sideways or backwards. It gives me a kick and I hope they don't forget me when I they are on the podium.
"Our biggest goals are to improve on our team's classification so we have a whole group of boys riding for each other, not as individuals. That's our main focus all the time. Our sponsors appreciate that and see it as more of a plus, but I am using that AFL culture. We have a leadership group within the team, just getting that whole team dynamic happening.
"To me, team dynamic and team work is number one then being able to back up and if they can back up more than likely will get a stagiare ride or a ride with a bigger team."
As for the NRS?
"I think the NRS is fantastic. I think it's a good thing for Australian cycling.
"It is creating a lot of interest. I receive resumes from all round the world, a lot of riders from the UK, Belgium, even France, who want to come and ride. I think long-term Australia needs to get more backing behind these events so they can make them a continental event, especially the ones the Cycling Australia owns now. Gippsland, Murray, Tassie, Warrnambool…if they can get UCI status on those tours that would be fantastic.
"I think if they get to that level would make it cheaper for all of us. They need to look outside the square and look at television rights rather than just relying on SBS, we should be able to sell the rights and use the money towards making it UCI status.
"We should be franchises like V8 Supercars. The top-10 teams should have automatic right to the racing, because there are a lot of composite teams, a lot of inexperienced riders it can get quite dangerous."
That said, Elliot is a 'keep it simple' kind of man.
The team has recently appointed a manager, Stephen Keen, who lives in Adelaide and his wife Megan does behind the scenes – books, accommodation. "We keep it small, simple, take little steps, I'm not interested in having $100,000 worth of vehicles to get around."
You can check out Team Scody Downunder at all 2014 NRS events but Perth because it is doing Tour of Rwanda instead.
"We will use it as a bit of a camp, it's at 2,500-3,000 metres so it'll be good training for the nationals in January," Elliot says. "And it's expensive to fly across Australia."