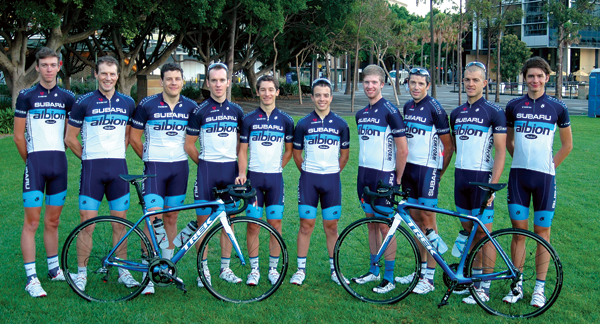 GRASS ROOTS: – 1 – the common or ordinary people, especially as contrasted with the leadership or elite of a political party, social organization, etc; 2 – the agricultural and rural areas of a country; 3 -the people inhabiting these areas, especially as a political, social, or economic group; 4 -the origin or basis of something; the basic or primary concept, rule, part, or the like. 5 – Subaru Albion Development Team.
Ok, while www.dictionary.com may not have actually added the fifth definition, with a roster of 14 riders from a diverse range of ages (16-41), places (Ireland, New Zealand, Sydney, Coffs Harbour, Queensland), and professions (school students, CEOs, nurses, tradespeople), this National Road Series registered team definitely fits the bill.
Formed and registered for the first time last year, the team, based out of the Albion Cycles, Waverly, bike shop owned by Director Sportif Frank Conceicao for the past 36 years, is all about taking grass roots bike riders, giving them experience via the NRS, and developing them to the point they may be able to progress to higher level NRS and even World Tour pro teams.
"The team goal is the same as the Australian Institute of Sport (AIS) – for whom I used to work," says Conceicao, who shares the team director's role with fellow Eastern Suburbs Cycle Club director Colin Iremonger and Tony Aitchinson.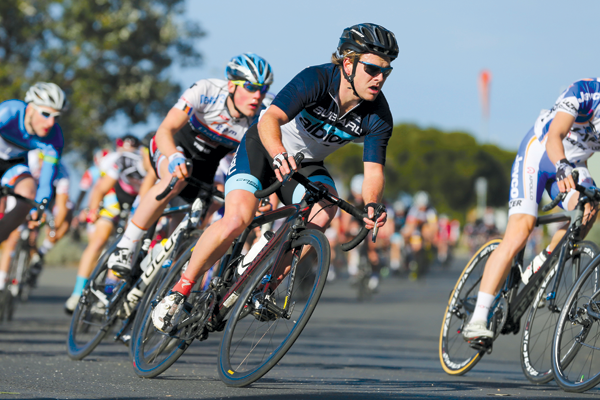 "That is, to develop the riders to go to a better team. That's the whole purpose of us being there. In Australia there are no races on unless you are in the NRS, so it is the way for young riders to get through to the pro teams. And unless there are development teams like ours, it's hard for them to get onto the bigger NRS teams."
Conceicao, who even after so many years around bikes, still believes he still should be giving back to the sport, has amassed some worthwhile knowledge about racing and teams and coaching over the past couple of decades.
He worked with AIS for many years as a team mechanic, was the manager for the Australian team in the 80s and mechanic for the national team for the AIS back in the 90s. He attended the 1992 Olympics and 1994 Commonwealth Games, and then worked in triathlon for a number of years.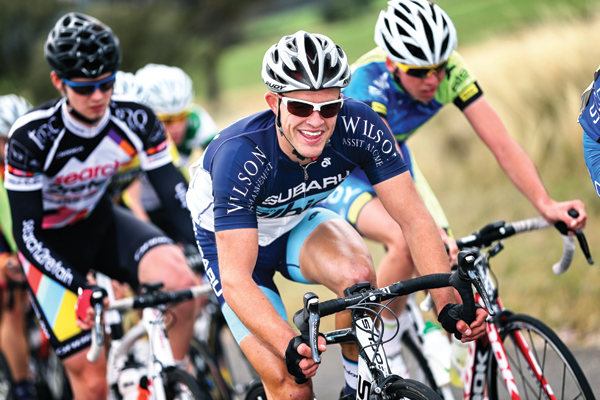 More recently, he has worked "24/7" in his Sydney bike shop, runs a junior coaching program for his club, some of the riders in the team, and provides private coaching for 94 people.
"I had had no intention of going into team politics again," he says. "Seriously, I'd had enough. Then a friend of mine came along and said, `wouldn't it be nice to have a team at the Irish milk race in Ireland…we had two guys from Ireland in our club. The next minute we had three Irish people in my team. So we went over there and did it. Our first rider finished in 64th place."
From there, things unfolded as they often do. The friend offered to throw in some money.
All of sudden people were coming from all walks of life asking Conceicao to put together an NRS team.
Then Subaru came on board as well as Trek and Subaru Albion was born.
Filling the roster wasn't at all a chore. "We didn't chase anyone," Conceicao says. "Everyone wants to be part of a development team because you don't have to win. There is no expectation on riders in a development team to go out there and take first place; they can just be there, ride and learn without huge pressure.
"Other teams are about getting out there and winning. Some aren't thinking long term about what they are doing.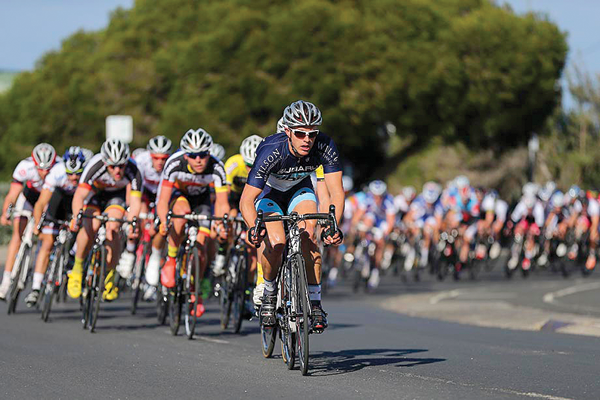 "The reason I agreed in the end to forming the team was because I wanted to be able to open the doors for the guys to go on. There was an obvious need. People had heard about our team and have all sent resumes from as far as France, South Africa, America, wanting to come here to race. We thought we would take most of the guys from here and the guys from New Zealand were in a different team. Their team folded so they came across."
Before Subaru Albion could ride the NRS, it needed to go through the process of registration with Cycling Australia. That mean lodging a registration form, a rider biography and achievements, form, a team budget for the series, copies of rider contracts (all team members must have signed a contract with their team), a list of proposed NRS event the team planned to contest and securing sponsorship.
Finally, all was in place and Subaru Albion became a fixture at five of the 14 events of the NRS schedule.
"We went okay, nothing marvellous," Conceicao says. "It was our first year and we are still trying to develop. We have been growing. We were given a van, and it just got bigger and bigger, to the point we have a world champion in our team already – Tirian McManus, the 4,000 metre junior world pursuit title holder, from Southern Highlands. "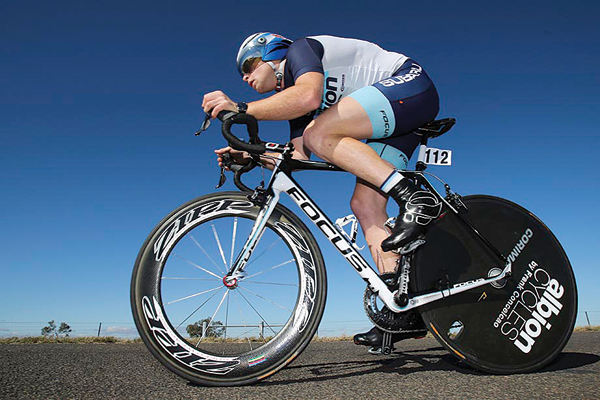 This year the team plans to contest most of the events except for series opener, the Woodside Tour in Perth in March, which he has dubbed at this point in the team's life, "too costly and too far".
"There are 13 events on the program this year and we will try to do most. Plus we are sending some of the boys to race in Belgium and will come across the Ireland to race the milk race."
Subaru Albion riders include Darcy Norton from New Zealand, Kieran Lewis from Newcastle, Josh Aldridge from New Zealand, Douglas Freeburn from Queensland, Keegan Aitchinson from Sydney, two juniors – Sam Iremonger and David Bleakley, both from Sydney, Anthony Murray from Ireland, John Pappard from Ireland, Cameron Harrison from Sydney, Alex Beedie from Coffs Harbour, Paul Edelstein from Sydney, Douglas Freeburn from Queensland, Cameron Harrison from NSW, Kieran Lewis from Tamworth, Ben de Groot from Sydney, John Peppard from Sydney (team captain) Eastern and Ian Gardiner from Sydney.
"We thought it was important for us to have young guys and older ones on the team, so the older ones could act as mentors to the youngest ones," Conceicao says.
"I believe that pretty much all our riders will go to an Australian team sooner or later. I have spoken to Drapac before about opening the doors to our riders if they are good enough. We are also a feeder for the Trek world team, given Trek sponsors us."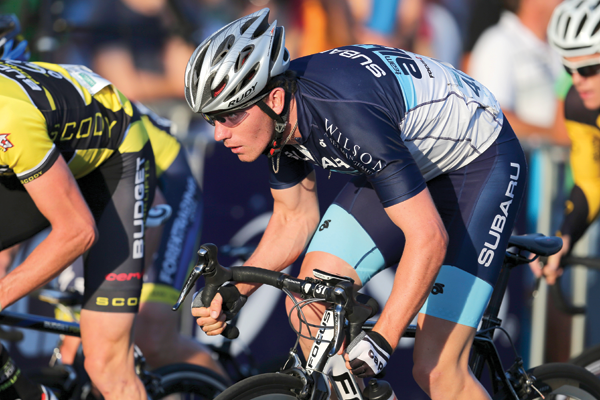 Despite the sponsorship and support already forthcoming, Conceicao concedes that not much comes for free in cycling teams, even professional ones.
"You have to work for it," he says. "A lot of people think that everything is free. In big teams I have worked for, at the end of the year, the bikes have to be paid for or be returned. Our guys get their bikes fairly cheap but have to pay for them. We think that works well, as they own them, so tend to look after them. They also have to pay for their own flights.
"Everything else – clothing, food, accommodation, shoes, is supplied, so they and parents don't have to put their hands in their pockets.
"We have a couple of training camps and of course they come together for sponsor and team presentations which is required in their contracts, which they sign for a season.
"We're no different to any other team. We have a small budget but in cycling nobody is better than anyone else, nobody says that. We're all out there to do the best we can for the bike riders. Everybody is very friendly. If somebody has a mishap, someone will be there to help."
While Conceicao is pleased that the NRS exists – he says while various national level events existed previously, the series only started getting some structure about four years ago – he believes it will take a while yet before it achieves the status that could be possible.
"I think they need some heavy sponsorship."
He is disappointed that NSW only hosts one NRS event – the Grafton to Inverell.
"A lot of riders come from NSW but have to travel all over Australia to contest these events," he says. "I would like to see Cycling NSW take affiliations and do something for cycling by putting on more of these events. Victoria and Queensland are doing a lot. We need more races in this state. The Grafton is a great race, it's well run, has been around for a long time.
Maybe the Dinnerville Handicap (in Wollongong) could be an NRS race. Or it could be on the Saturday and an NRS races could be on the next. There is so much that could be done."
Away from the NRS and his team, Conceicao has also found himself in the news recently when six of his club's members were hit on Southern Cross Drive in Sydney by an SUV and all taken to hospital, some with serious injuries.
Having narrowly escaped being one of the victims after leaving the ride early, he was quoted in the Sydney news media calling for urgent protection for cyclists on roads. Like his team, he is a grass roots kind of bloke. "I just want to grow the young blokes and make the roads a safer place to ride," he says.