Taiwan may not be front of mind as a great riding destination but as Steve Thomas found out, it is home to superb roads, spectacular scenery and one of the biggest bucket list rides in the world.
I'd been in Taiwan for less than 24 hours and already I was battling the grinding lower slopes out of Taiwan's Taroko Gorge. The gorge marks the start of an 80km mountain climb and but a hint of the pain of the climbing, the relentless climbing that is before me.
For sure there are higher climbs around the world, and many of them, but they usually start from a reasonable altitude in the first place, unlike this sea level to summit beast.
Don't bother looking for average stats and pitches on this climb; they are just way too adverse to figure out – after all, the distance is somewhere in region of six major Tour de France climbs, all stacked on top of each other, and just about all without so much as a pedal-free section between them. It simply doesn't bear contemplation.
It's all hunky dory to start with. Following a sweet and flat ride in, the road turns a hard left into the Taroko Gorge; one of central Taiwan's most popular tourist attractions. The road thins here and climbs gently through the steep sided and craggy marble-studded gorge. It really is quite an amazing place, and the road twists and carves its way right through it, occasionally blacking out through tunnels and crouching beneath rocky overhangs.
Climbing ever higher the road winds its way slowly along the side of the valley, clinging like a snake to the densely tree clad sides.
The afternoon clouds were setting in and the temperatures dropped to a feint chill, leaving my sweat soaked jersey smouldering with evaporating sweat and camouflaged in white salt marks.
All around the mountains became enchantingly shrouded in mist, peering through at me every few minutes or so. It was an ominous feeling which almost had me hoping that the weather would turn to something terrible, meaning that I could hop into the van and respectfully say that I'd done my best and that in such conditions it simply was not safe. Unfortunately it just didn't get that bad, even after a lengthy halfway coffee stop, of which there were to be no more.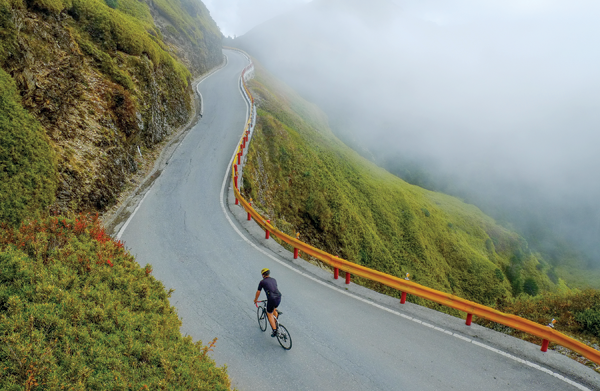 Setting off into the transient early afternoon mist was a sobering experience – I was cold, aching, lethargic and totally lacking in enthusiasm, which is why I generally prefer not to stop. But it's not every day that I ride 80 odd kilometres non-stop up a mountain.
From head to toe, and even into that sometimes glowing aura that surrounds you, there is a drenching in lactic acid; it's like being weighed down with concrete blocks and being tossed into a bath of the stuff, both freezing and yet boiling at the same time.
Long periods of darkness haunt the second half, but either side of you the lush green vistas ease the pain. Glancing back you can see the road slithering down behind you, giving some scale to the ride and a small amount of satisfaction too.
Mist turns to drizzle, clothes become sodden and then eventually it whirls around and thins out. In many ways I wished that I had not seen the climb profile in advance; a short descent breaks the final dragons tail. This only serves to lure cramp and fatigue in even more, hurling you at the final climb with leaden legs and throbbing arms.
Realising that you 'only' have another 28km or so of climbing to go is somehow encouraging, although I didn't much think about it, as I'd heard that the final blow of WuLing was by far its hardest punch.
With a snap under 15km to go, the road veers straight up. A narrow and winding open wall greets you like a slap in the face but neither tears or gears are a satisfactory reply at this point. Think of riding the Angliru, only after five major Tour climbs all stacked on top of each other, and then take away any fair share of oxygen. It's inhuman, unthinkable, undoable – yet, the end is in sight, well, relatively speaking.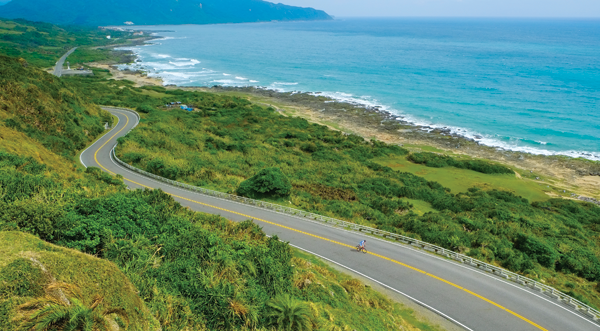 Over the top and after a few mini-breaks, the road levels out slightly and contours the hillside. At this point it's easy to assume that you've made it, that you're home – especially if you happen to have an altitude function on your computer (which I don't).
Then, and only then, your eyes gaze to the right and see a ladder to hell pinned to the opposite side of the valley, and you realise that you're almost level with its top rung. This climb starts below you, way below you, down around where those small cars and rooftops are. Between you and that final entry to the mile high club lounge lurks the steepest and most twisted of all sections of the day's darkness. A whipping leads you to the top, all the while lugging a sack of lead and gasping for every breath.
The views may well be mind blowing, but that last 1.5km or so of hell has to be conquered to seal the deal on your right of passage. This is WuLing; probably the toughest road climb in the world, and what an introduction to the riding in Taiwan. From here on everything would be just all plain sailing.
Where to Ride in Taiwan
Taiwan may stretch for less than 400km in length and be just 140km at it widest, but it's blessed with an abundance of superbly ordered and surfaced roads – many of which have little traffic on them and are perfect for riding.
Here's a selection of the island's classic riding.
Around the Island
Many cyclists take on the 900km round-island route, and for obvious reasons – it's a challenge, and it's hard to go wrong. But it's far from the best choice of route.
If you do decide on this as a plan, be sure to avoid the eastern coastal highway towards Huellian; it is very dangerous. Likewise the western side of the island can be busy, although you can find side-roads as alternatives.
An ideal plan would be to take a road trip, or train/bus hop around the island, cherry picking at the following locations.
The Spine
We've already talked about the epic Taroko ride, which is perhaps the ultimate Formosan challenge. If you're up for a lot of climbing then there are other routes around here too, and you can also tackle the climb from Taichung or even Sun Moon Lake – which also has a couple of very scenic and hilly days of riding close by.
The East Rift
The East Rift Valley and coastal region has some great flat and rolling riding, some of the most natural in Taiwan, and is well worth a visit.
Kenting
At the southern tip of the island is the Kenting region, which is quite contrasting to the rest of Taiwan. Here you'll find some dramatic and hilly coastal riding, arguably even the best on the island. There are several circular options, as well as a couple of place-to-place rides here, but do expect some tough winds at times.
Kenting is also a great place to relax by the coast for a few days.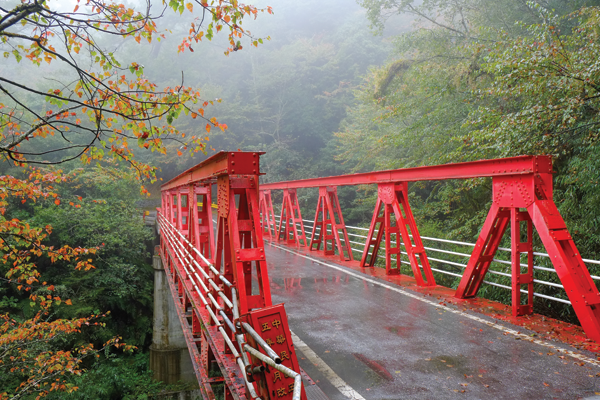 Out of Taipei
Some of the best circular routes in Taiwan are within an hour or so of Taipei itself. Many can be done as day rides from the city, or better still linked into a bigger island hop-around tour.
There's some good riding around Wulai which is famous for its hot springs, and a couple of very scenic mountain routes around Shimen Reservoir too.
A favourite weekend ride destination for locals is the Yangmingshan National Park, which is north of Taipei. It's hilly and very scenic, both in terms of mountains and coastal vistas.
Taiwan KOM Challenge Essentials
The 103.5km Taiwan KOM Challenge is fast establishing itself as one of road bike climbing's biggest single-day 'bucket list' events, and is beginning to attract riders from all over the world to its fearsome slopes.
Around 500 riders take part, and start en-masse at dawn from Huellian, and ride the one-way closed route to the summit finish, from where transfers back to the finish are available. Drink stations are positioned along the route, and back up vehicles are there to lend a hand if needed.
After finishing in 33rd position Orica GreenEdge pro Simon Clarke rated the climb as tougher than any stage in last year's Tour de France, which gives some indication of just how gnarly it is.
Racing takes place on the second Saturday in November (TBC), which comes towards the end of the week-long Taiwan Cycling Festival. On the Sunday following the race there is a mass start sportive style ride around the scenic Sun Moon Lake, which is a 35km rolling ride with 3,000 riders taking part. You can get transport from the finish of the KOM across to the lake for the following day's ride (a one hour mountain drive or a superb ride if it's not a race day).
During the week before the KOM the Taichung Bike Week (dates TBC) also takes place, which is a major gathering for the bike industry.
Check out www.taiwankom.org for event details, profile maps and invitations to go and suffer.
Battling the Beast
You can, of course, go and ride the climb at any time – and take things a little easier too (as I did).
Although Taiwan has more than 100 mountains over 3,000 meters high, the climb is not hard to find – it's along the central trans-island highway which runs between Hualien and Taichung, and climbs right through the Toroko Gorge.
If you're bike is bagged you can take the regular train from Taipei to Hualien and the HSR (High Speed Rail) link from Taichung back to the airport/Taipei – but do check for permissible times and restrictions in advance.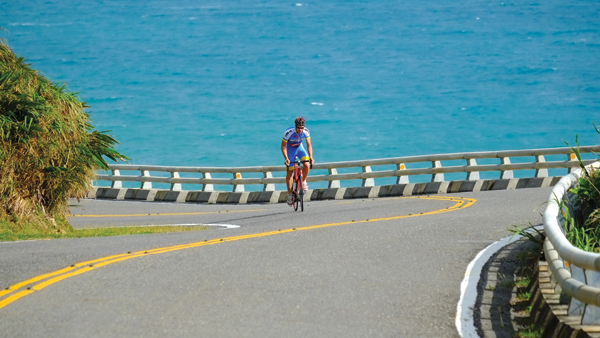 When to Ride
Weatherwise Taiwan has it all, and it often gets misty and rainy in the mountains during the afternoon. October to March typically provides the best weather for riding while May to late September is the rainy season in many parts of the island and can make riding tough.
Early in March the UCI Asia Tour ranked Tour of Taiwan taking place, usually on a circular route around the island. The race coincides with the Taipei Cycle Show, one of the biggest bike trade shows in the world – although it is largely a bike industry lead show, but being six months ahead of the other major shows it makes for a great place to get a feel for what is coming for the following season.
March is also a great time to ride in Taiwan, particularly in the central and southern regions, which receive less rain than Taipei.
Check out www.taipeicycle.com.tw
Transport
Getting to Taiwan is very easy, as numerous international airlines serve Taipei directly from Australia and even more indirectly; but be sure to check bike carriage policies if you plan to take your own along.
Taiwan is considered quite safe and regulated, and compared to most Asian countries getting around is a breeze, and not expensive by Australian standards.
There is a good domestic air network, but most people use the regular trains and HSR trains instead, they're almost as fast, cheaper and more frequent – but bikes are restricted on some services so you do need to check in advance.
You can find links and more info on taking bikes on trains at www.taiwancycles.blogspot.com
Eat, Drink, Be Merry and Sleep
Compared to Australia the cost of travelling in Taiwan is very low, although it is more expensive than many parts of Southeast Asia.
You can find great deals on accommodation with online booking agencies, or outside of peak holiday seasons you can opt to take your chances on arrival – but if you're travelling by bike, it is not always easy.
The Taiwanese love to eat, and they seem to eat all of the time. Every region has its own specialities and the quality is always high. You might find the dishes a little less spicy than you would imagine. In major towns there are also plenty of western eateries. Restaurants often close early – with last orders at 9pm, so be sure not to get caught out.
I found the Taiwan Beer, particularly the Gold Medal version, especially good. There's also no shortage of tea and good coffee – every 7-11 store has fresh coffee.
If you happen to pass through Taichung (which is the capital of the world bike industry) then drop by Caffé Terry, a cycling themed coffee bar and restaurant, which is frequented by the local cycling and bike industry communities.
Check out www.taiwancycles.blogspot.com
Bikes and Bits
With the lion's share of the world's bikes and accessories being produced in Taiwan you can be sure that you will not struggle to find a decent bike shop or repair facility, although retail prices are similar to Australia for branded products.
If you don't want to take your bike along then you should check out the huge Giant bike rental network. You can hire medium grade bikes all over the island, and even do one-way rentals if you're planning a tour.
Check out www.bike2taiwan.net for listings and cycle route info.
If you're looking for a supported or guided option, check out the Kiwi-run www.inmotionasia.com site.
Be sure to check out www.taiwantourism.org too.