Brad Ewings is a 44yo MAMIL from Geraldton in Western Australia.
A mad-keen cyclist, this father of three daughters is involved with the Geraldton MTB Club and Spokes Cycle Club, the local road crew. But Brad's been AWOL from local club activities for the past couple of weeks. And a long, long way from home, it's unlikely he'll back until well after Easter.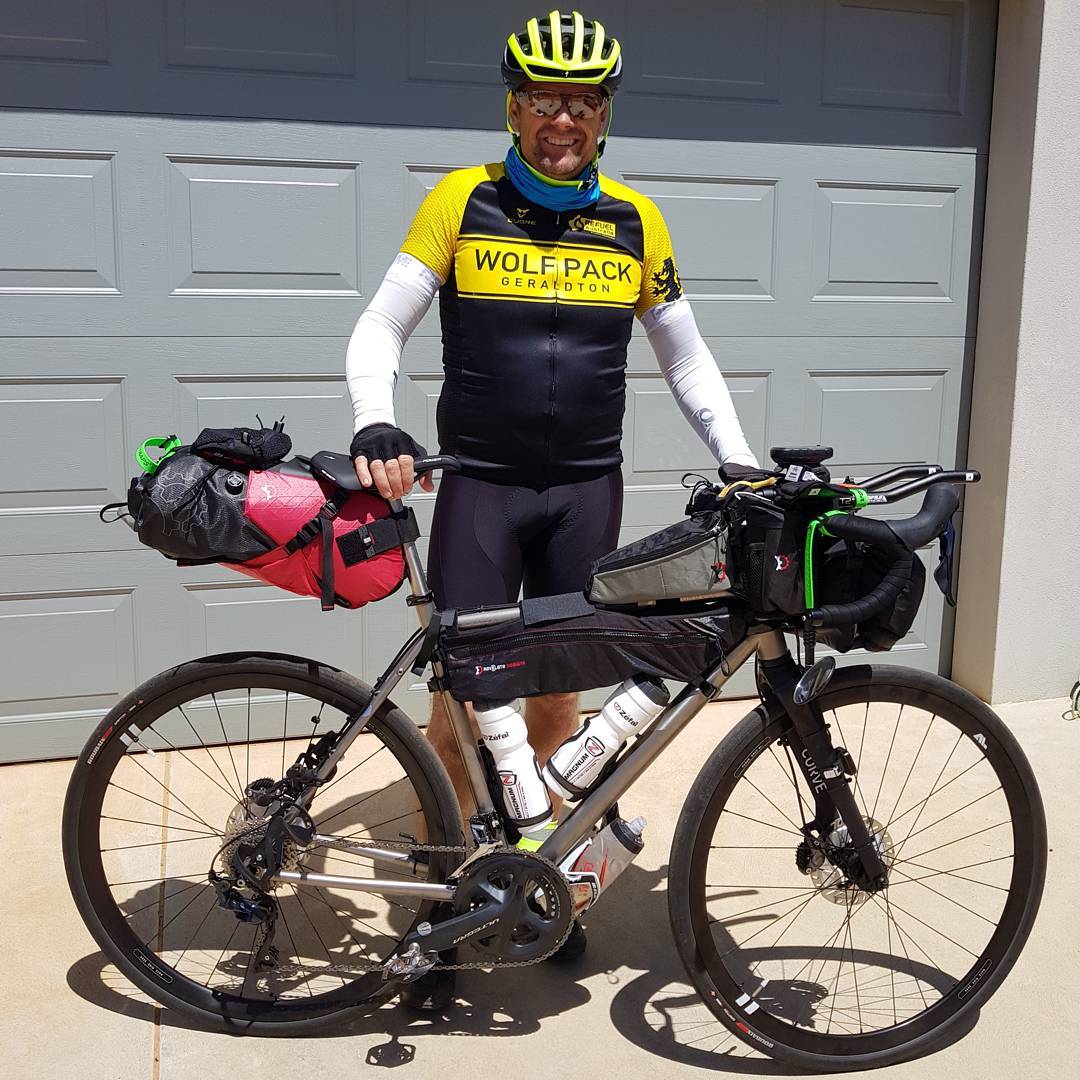 "This is my first attempt at an ultra distance cycling event," Brad told us while taking a break from this year's 'official unofficial' Indian Pacific Wheel Race – a 5500km cross-Australia epic from Fremantle to Sydney.
"I made the decision to participate after being inspired by last year's riders," he continued. "The bike I am riding is a Curve V2 titanium frame with a Curve Gravel wheelset including front dynamo hub."
"I am running a twin chainring compact road ultegra setup with 11-34 rear cassette and hydraulic disc brakes," he continued. "Tyre wise they are 32mm Specialized Roubaix-pro tubeless, it's all been built up by my local bike shop and sponsor, Geraldton Bikes."
Notice the stuffed sheep onboard? Brad told us this mascot was chosen by his girls after they lost the original beanie boo – a ladybug that was meant to help Dad fly.
"Alas, I got the slow, fat, old sheep which is quite fitting really," he said. "The sheep's name is Dixie, now also my bike's name."
Brad told us that more than a week into the adventure there's not much of his body that doesn't hurt.
"The road has been interesting so far with heavy traffic and road works," he said.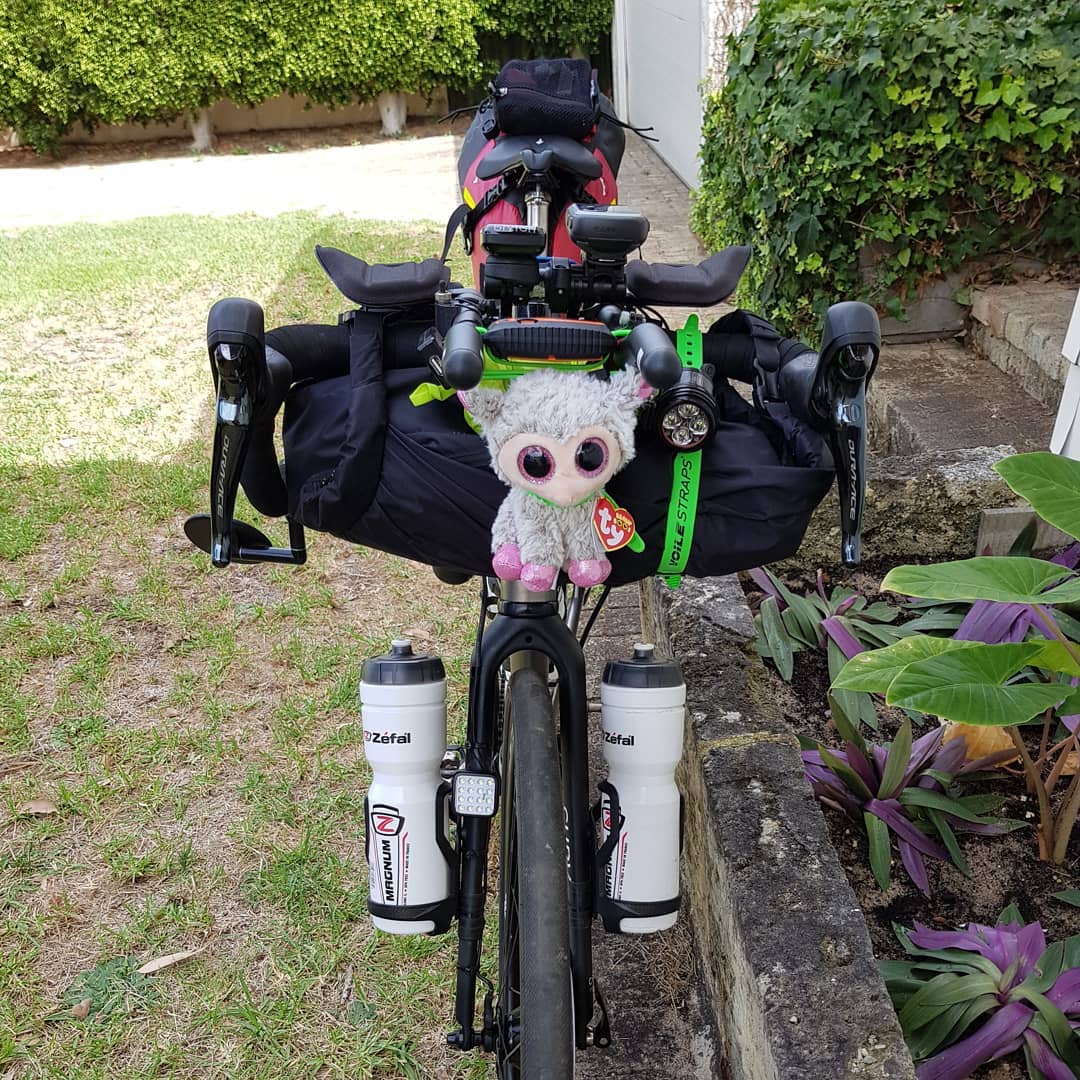 "The real IPWR fairies have been out in full force and have been very generous, offering plenty of water, isotonic drinks or chocolate etc. Truck drivers appear to be very supportive of the event which is great to see. The headwinds have made things really tough but I always expected a challenge and that's exactly what we're all getting. Day 3 gave me some real pain challenges from my ITB which was unexpected but I've gotten on top of it now to push through to the next stage."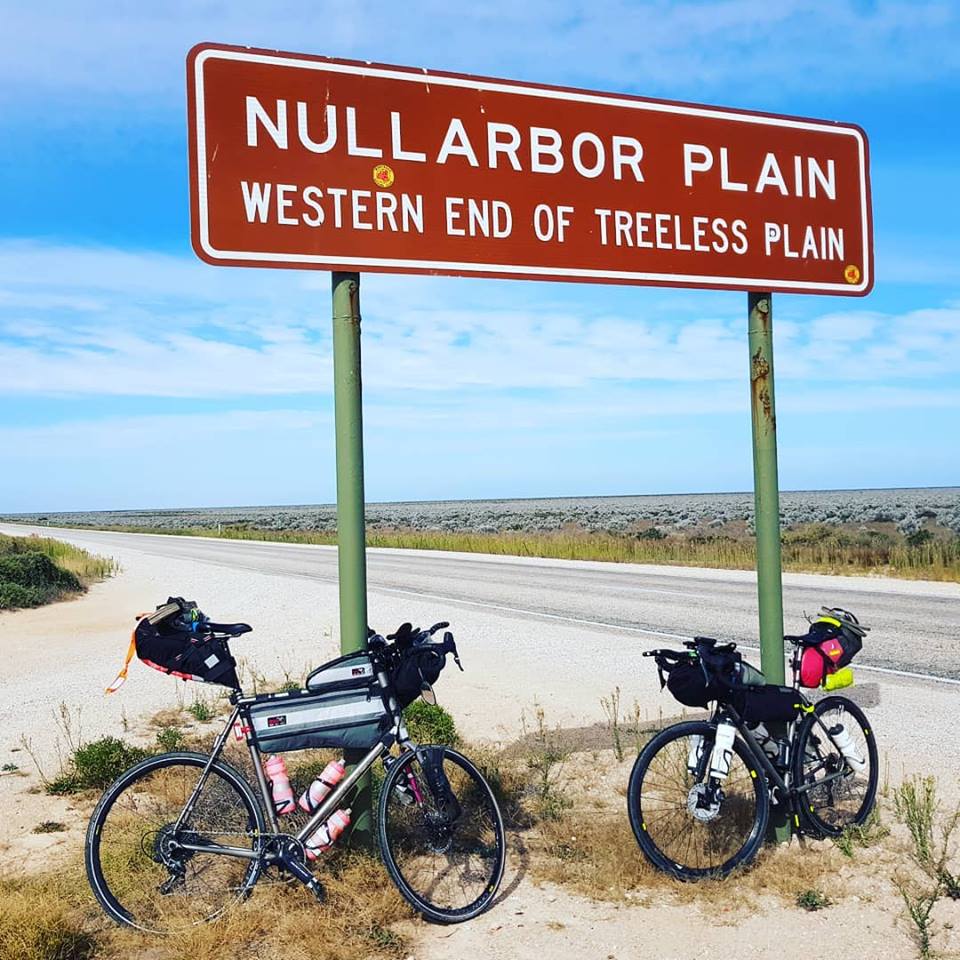 Brad said he started with shorter sleeps, then had a really solid sleep in Coolgardie at the end of Day 3.
"Since then they've been a little longer since, providing good rests as preparation for the next day. I've mostly been sleeping in locations just outside major stops," he said.
"The bike has been performing really well and I've had to make no real changes along the way other than altering my load to suit what I'm carrying according to conditions."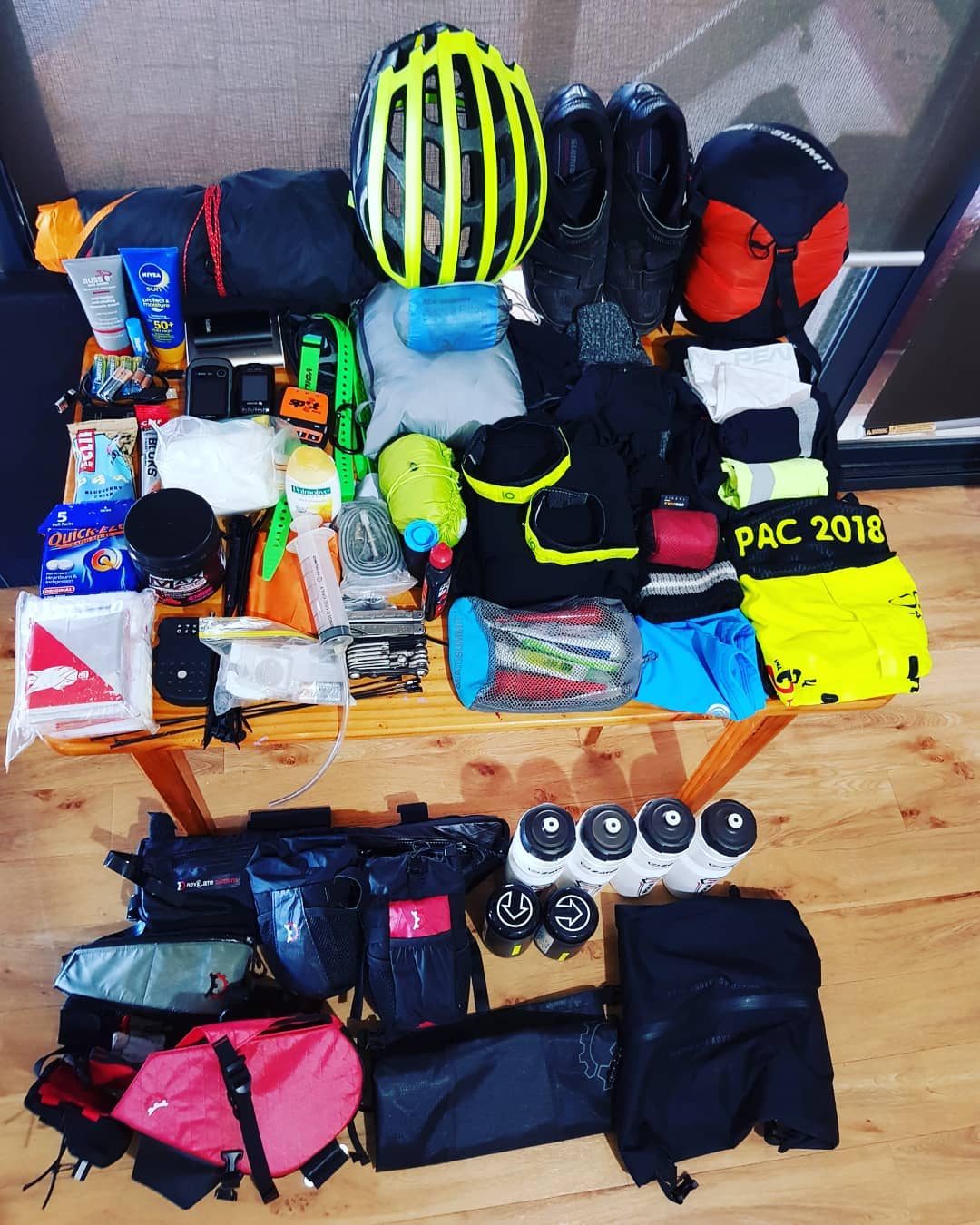 With an original goal to cover 200km a day, Brad's been sticking to that and hopes to keep maintaining the same level of progress.
"One highlight for me was Day 1," he said. "It was such a big build up to get to the event, I was really looking forward to just getting pedalling after all the preparation. Meeting all the other riders was inspiration in itself and to set off all at once from my home state was a real buzz. "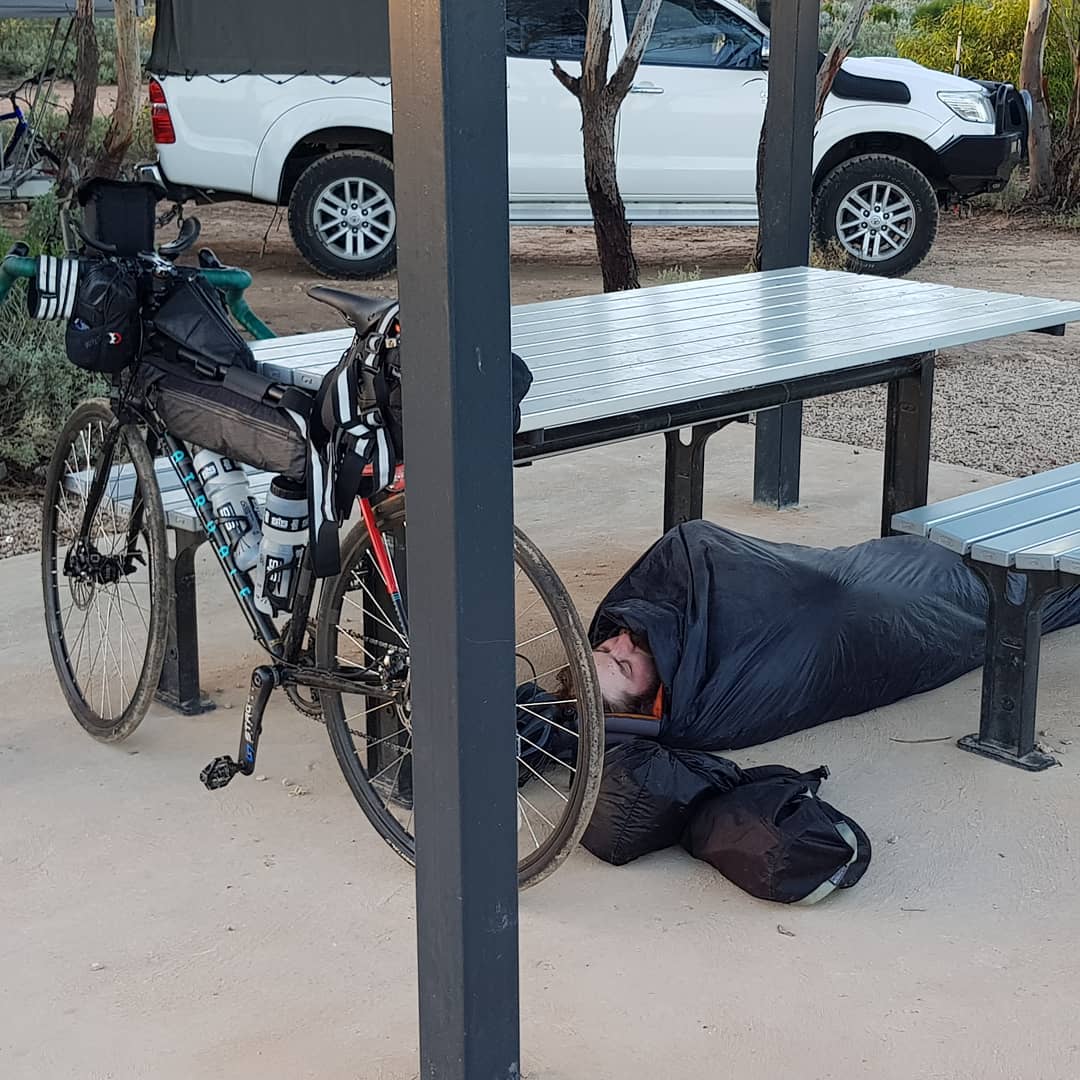 Thanking the close-knit 'dotwatching' community – enthusiasts at home and on mobile tracking and commentating each riders' progress, Brad said messages from supporters at the end of each day helps build energy levels for the next long leg.
"I'm ready to tackle the next part of the adventure," he said. "I'm very grateful to all my supporters for their help and kindness along the way. The IndyPac is an awesome adventure I will not forget and I am very proud to be a part of it."