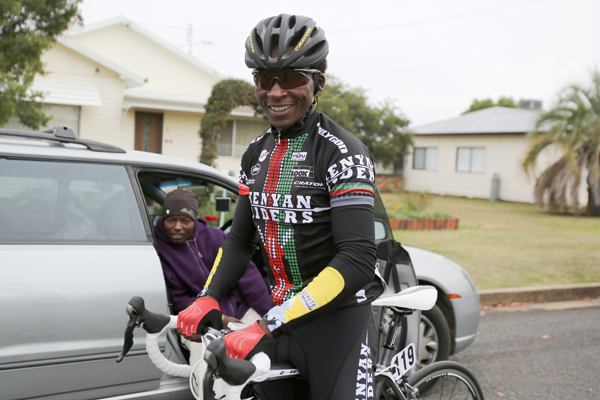 There's been a lot of talk in recent years of the imminent coming of a cycling 'Messiah'; a black African Tour de France winner, and why not?
Those close to the sport on the 'dark continent' predict that this day will come really soon; perhaps within the next six years, others are more conservative and err on the 10 to 12-year side, although many are pundits from outside of the sport, those who perhaps discount or underestimate the current dominance of the English speaking generation of champions, those who have slowly but surely taken an equal control over the reins of the pro peloton alongside the traditional holders of power – the central and southern Europeans.
We've also recently looked at the thriving Asian scene, which is also very slowly making an impact on the pro scene, and China will surely explode with talent within the next 10 years or so if thins continue as they are doing.
If crystal ball gazing or wise betting was called for, then many would put the full wad on the nose of the Colombians for the foreseeable future of the grand tours, and they are very much already into their 'second coming', one which has a whole lot more depth than the first very successful Colombian era of the '80s; and let's not forget the depth of talent dripping through from other regions of South America, a drip which will surely gush with the imminent staging of the Rio Olympics.
What this trend points to is great for the globalisation of cycling, and within a decade or so the results of the major European pro races should see a whole new array of colourful flags flying over the podiums – and there's no doubt that there will be African flags up there too.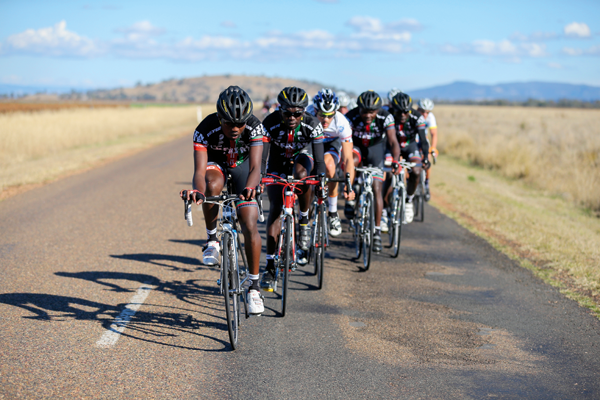 This does also mean that the whole sport will be a lot more open than it once was, and ever tougher for these aspiring African athletes to make their mark, much as it was for the early Australian pioneers in Europe.
Just a few months back the pelotons of the NRS and several other local races around the country had something a little different from the norm in their midst – the Kenyan Riders team from deepest Africa.
This group of young and aspiring Kenyan racers had come from the broken dirt roads of the high mountains around Iten in Kenya's interior to Australia to learn the wider craft of bike racing; something which is very difficult for them to do on home ground as there are so few opportunities to race, let alone against such quality opposition as we have here.
Being able to make such a journey is well beyond the average Kenyan, both in terms of visa restrictions and of course financially. For many of the team members it was not only their first time out of Kenya, it was also their first experience of flying. Having an Australian support crew naturally lead them to our shores.
The town of Iten may sound familiar, at least if you're into distance running; the high plateau around the town has produced more of the world's top distance runners than anywhere else on earth, and it's hard to throw your spare inner tube and not hit a world or Olympic champion in this region, although it has yet to produce a champion cyclist.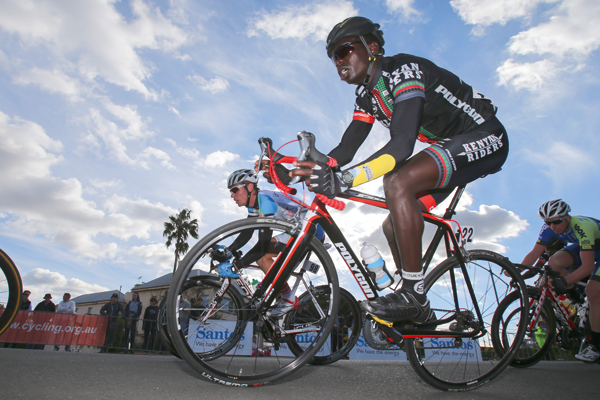 Kenya has had a small, low key cycling scene for some time, albeit hit and miss and plagued by issues with the national federation. Bikes are an everyday part of life in the country, although they are usually the all steel rod-braked Black Mamba variety, which are used as a means of transport; often carrying truck-like payloads from village to village. These bikes are also sometimes raced in 'Mamba' only events, which can attract huge crowds.
Back in 2006 former Singaporean photographer and investor Nicolas Leong had just watched the Singapore marathon, which was dominated by Kenyan runners. He couldn't help thinking that athletic this talent could surely be turned to cycling, Tour de France winning cycling even.
Without too much time for reflection he booked himself a flight to Kenya, following these runners home. His plan was to see just what was 'in the water' that made them so special as runners, and then to try and persuade some of these seemingly 'natural born killer runners' into cyclists, and to eventually take them to the Tour – a possible self-admitted mid-life crisis reaction.
Those in the know would call him crazy, yet there is some logic in there – athletically these high-running machines have superb engines and amazing willpower; perhaps it is just a case of converting them to bikes.
Starting from ground zero, Leong began testing potential local cyclists in a timed hill climb, on Black Mamba bikes; and that's how it all began.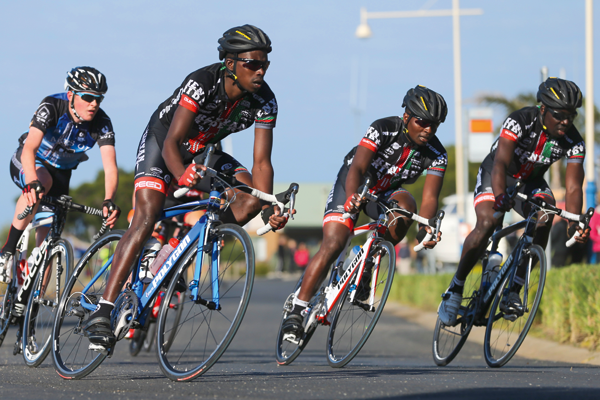 Poverty is widespread in Kenya and by winning, a major marathon a runner can earn enough to set himself and his family up for life. Even a minor placing could feed and house his family for a year or two, something that is a major driving force in the mental willpower of the Kenyan runner. Cycling, on the other hand, is a different ball game – it's far more of a structured ladder to climb in financial earning terms, there is no short-cut based on pure physical ability to earn the starting pay of a grand tour; it's a long game.
With this in mind it was necessary to effectively set things up as a virtual pro team from scratch, providing potential team members with a salary, equipment, housing, everything they needed to be able to potentially become pro riders and allow them to feed their families. While they were in Australia they were actually very surprised to find several quality riders racing the NRS while also holding down full-time jobs.
This early grass roots funding came directly from Leong, and in 2009 he officially formed a company with two fellow Singaporean based investors, who now provide the bulk of the team's funding while they search for long-term investors and sponsors to help them to achieve their ultimate goal of becoming an all Kenyan Tour de France squad.
On the ground the team has a base camp which houses the riders and staff, has a basic outdoor gym and a BMX track that is used for skills training. On-site coaching and management is handled by Australian running and cycling coach Simon Blake and is overseen by Rob Highly.
The approach taken to the riders' training differs from the traditional 'miles-make men' approach. Currently the athletes train three times a day – the morning is gym/mobilisation, followed by on-the-bike intensity work and rounding up with evening skills work. This may not be the cycling norm, but it does seem to be getting results – and they managed to place riders high on the GC in the super tough gran fondo stage event, the Haute Route, in the Alps last year, and also had a rider on the podium in the Tour of Rwanda. Not bad considering their near total lack of exposure to mainstream racing and their very limited baseline equipment.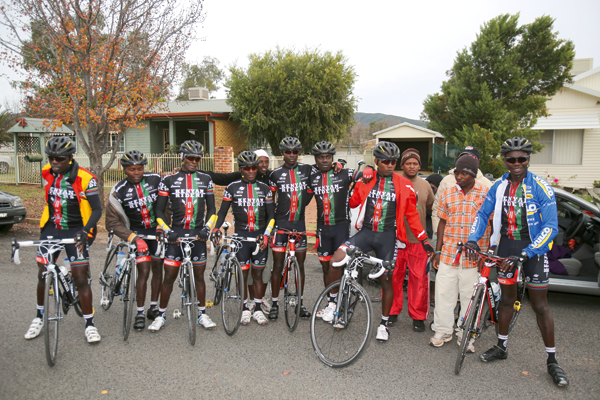 It could well be that the potential redemption from poverty will drive Kenyan and other African riders to greatness on two wheels, and few could argue with the force of such a drive. Combine that with their growing passion for the sport and a fast developing skill set and it makes for an interesting and colourful future for the sport.
The African Dream Makers
World Cycling Centre Africa
The UCI's African continental cycling centre (WCCA) was set up in 2005 and has so far seen more than 200 cycling students from all over Africa pass through its doors, some of whom have taken the next step – earning a scholarship at the UCI's main World Cycling Centre in Aigle, Switzerland.
Former South African pro Jean-Paul Van Zyl has been the main driving force behind the centre, which is located at altitude in a remote region of South Africa.
The main aim of the centre is to help to develop cycling throughout the continent by providing training and education to athletes, coaches and their federations.
Graduates of the WCCA have already made it to the World Tour, and there are several other riders in pro continental teams right now.
Safari Simbaz
One of the most worthy and inspiring cycling projects around also comes out of Kenya – Safari Simbaz. The organisation was set up many years ago by David Kinjah, a black Kenyan racer who has recently come to mainstream prominence thanks to the guiding hand he lent to a certain Chris Froome in his younger years, a hand which well and truly helped to put him on the right road for Tour de France victory.
Kinjah himself has an amazing story to tell; he was the first and only ever black Kenyan athlete to become a pro rider in Europe. He rode in Italy with the Alessio-Bianchi team – which included the likes of Magnus Backstedt and Laurent Defaux. Unfortunately the team fell apart before Kinjah had his fair crack at the big time, and he was left destitute and was forced to return to Nairobi having lost most of his teeth from the stress.
He continued racing at a lower level, he even won a stage in the Crocodile Trophy and is still riding today as one of the best in Kenya.
The project, of which Froome was also a by-product, helps under privileged orphans and street kids of Nairobi through cycling. The overall aim of Simbaz is to help them to gain a sense of being and worth through developing as athletes, and also to help provide them with a trade – bike mechanics.
Simbaz riders regularly attain good results on home, and regional racetracks, sadly though the project is desperately in-need of funding and support.
Qhubeka
By now we've all heard about team MTN Qhubeka, Africa's only Pro Continental race team. The team itself hit the headlines when riding as a wildcard entry German rider Gerald Ciolek won the Milan-San Remo classic early in the spring of 2013, yet the team and its predominantly African roster have been making waves for some time, albeit slightly smaller ones.
The team has become the 'out-of-Africa' face of Qhubeka, which is the African arm of World Bicycle Relief; an organisation which was set up to empower and mobilise people in impoverished areas by providing them with bikes, therefore giving them a means of transport, which in turn greatly helps them to earn a living – it changes lives in a way that it's hard for us westerners to imagine.
The race team also supports a cycling academy, which sits somewhere between the baseline project and the pro team, helping (in conjunction with the WCCA) young African hopefuls achieve their competitive dreams.
Team Rwanda
Probably the best known and definitely the most publicised of all African cycling projects is Team Rwanda, which was created back in 2007 by bike industry guru Tom Ritchey and has been lead ever since from the ground up by former top American pro rider ,and the first American rider in the Tour de France, Jonathon (Jock) Boyer.
Rwanda was devastated by tribal genocide a few years back, and the project was set up by Ritchey in order to help rebuild the lives of a small and select few of those who were affected by those tragic events, namely those with the will and potential to make it as bike racers.
The project operates in a similar way to the Kenyan Riders, although its riders have arguably had a rougher ride to get there, and it does also receive better funding.
The Rwandan riders have so far achieved some commendable results on the African circuit, and their story is told in the superb documentary Rising From Ashes.
Continental Overview
There's little question that Africa is the most poverty and war stricken of all continents, yet in certain pockets it has a surprisingly rich cycling culture and heritage, largely through its past, and sometimes still present colonial roots.
South African (mostly white) riders have been making their mark on the world scene for many years, since apartheid was banished and they were officially allowed to compete in the west, that is.
From the far northern coast of Algeria to the southern Cape of South Africa, the continent you'll find bike racing in some form or another, with both white and black African riders competing together. Burkina Faso has a long held passion for bike racing, and thanks to the ASO's (the Tour de France organisers) perseverance their national tour has received great publicity, as are several more developing tours in former French and Belgian colonies.
Ethiopia has many promising young riders too; but what may surprise many is that the highly impoverished Eritrea has perhaps the deepest pool of quality riders, with some 200 riders riding as professionals in the country, making for a thriving race scene.
Unfortunately due to enforced travel restrictions it is extremely difficult for Eritrean riders to be able to leave the country to make their mark elsewhere, and financially it's even more difficult. Yet Daniel Teklehaimanot managed to do just that when he signed with Orica Green Edge, although he has joined the MTN-Qhubeka squad for 2013, which will greatly help their cause.