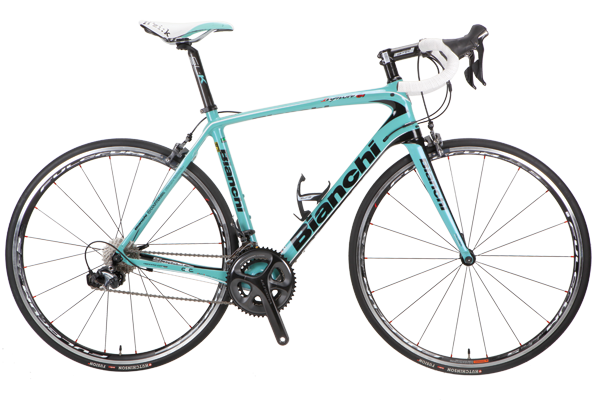 Let's get this out of the way right up front. Unless it happens to be a crystal clear summer sky or perhaps the alluring waters of a pristine beach, I've never been a big fan of the colour celeste. But this highly subjective and shamelessly cosmetic observation is the only ill you'll hear me speak of the superb 2014 Bianchi Infinito CV. Yes, yes, I know celeste, turquoise or even Bianchi green as it's sometimes referred to, evokes over a century of bicycling tradition linked to such legendary names as Coppi, Pantani and Gimondi. Doesn't mean I have to like it though. Besides I'm reliably told the 2014 model will also be available in white.
Founded by the man considered by many Italians to be the Henry Ford of cycling, Edoardo Bianchi, from a small Milan shop in 1885, Bianchi is the world's oldest bike company still in existence today. Whilst I've seen a few amongst my local bunches over the years, this is first one I've ever had the chance to ride. What a way to start. Handmade in Italy (yep, some frames still are) the Infinito CV is Bianchi's top-of-the-line endurance bike and will form a central part of Belkin Pro Cycling's on-road arsenal in 2014, particularly in that harshest of cobbled crucibles – the Spring Classics. Messrs Boom, Vanmarcke and co will be well served on the unforgiving pavé, judging by the view of the recently retired Spaniard, Juan Antonio Flecha. He described the Infinito CV as the best classics bike he'd ever ridden after placing 8th for Vacansoleil-DCM in last year's hell of the north, Paris-Roubaix. After riding it you can see why.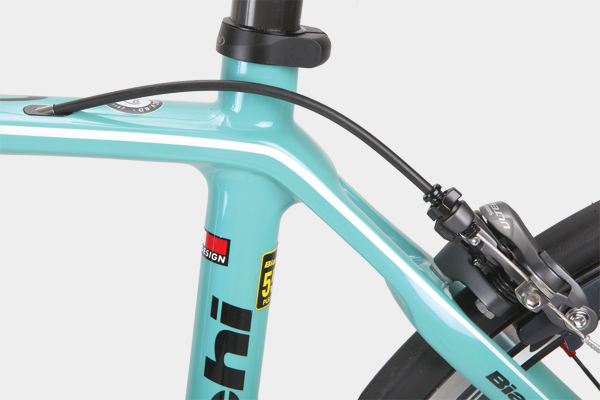 Since the Infinito was launched in 2009, it's formed the central pillar of Bianchi's high endurance/low fatigue Coast to Coast (C2C) range which also boasts the Intenso, Vertigo, Impulso and Nirone lines. Its first high profile public outing was at the 2009 Giro d'Italia, where it was the steed of choice for South Africa's Robbie Hunter, riding at the time for Team Barloworld.
The 2014 iteration of the Infinito sees an exciting reinvigoration of the line most notably due to the addition of two simple letters. CV. They're short for 'Countervail', and they represent Bianchi's patented new vibration cancelling technology developed in trans-Atlantic collaboration with USA-based composites engineering business, Materials Science Corporation.
Initially created with an eye to aerospace applications, the base technology behind Countervail has reportedly been applied by none other than the rocket scientists at NASA and is already in use within the snowboard and ski industries where its high-strength, lightweight vibration dampening properties carry considerable cache. But what exactly is it?
Whereas some manufacturers have opted for external solutions in their attempts to dissipate on-road vibration, such as the addition of dampening inserts into forks, seatposts and frames, Countervail is an integrated system that sees a layer of viscoelastic material – essentially a cloth polymer – embedded within the carbon weave itself at strategic points of the bike's frame and forks when it's being produced. In other words, it isn't just added to the frame. It's an inseparable part of it.
Bianchi says this innovative layering process delivers reductions of up to 75% of road vibrations with no additional weight or performance loss compared to traditional carbon frames. This, in turn, reduces muscle fatigue over physically searching rides and races; something few cyclists would argue is a very good thing indeed. (For a rather curious demonstration of the Countervail technology at work involving ping pong balls – yes, ping pong balls – visit www.youtube.com/watch?v=ILEFlG0vrbo)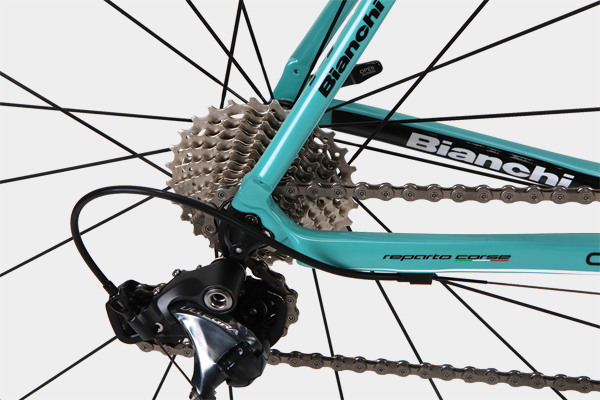 Now a 75% reduction is rather a lot. Out in the real world – that is, on the type of roads we Australian cyclists regularly traverse – I'm not sure the Infinito CV was 75% smoother. But I did notice a genuine difference to my usual (Italian-designed-made-in-Taiwan) carbon road bike. My hands and derriere, in particular, were most appreciative on the atrociously butt-numbing roads I sought out especially for this review, but usually avoid at all costs. Based on Señor Flecha's Paris-Roubaix observations I can only imagine if I'd had the time to ride it further than my furthest journey, about 60km, the benefits would have been even more pronounced.
Of course, as you and I well know, on-road comfort isn't everything. It often comes at the expense of rigidity and something just as close to the heart of most aspiring road cyclists: performance. This is the true genius of what Bianchi and their rocket scientist colleagues have done with this bike. You can have your carbon cake, and eat it.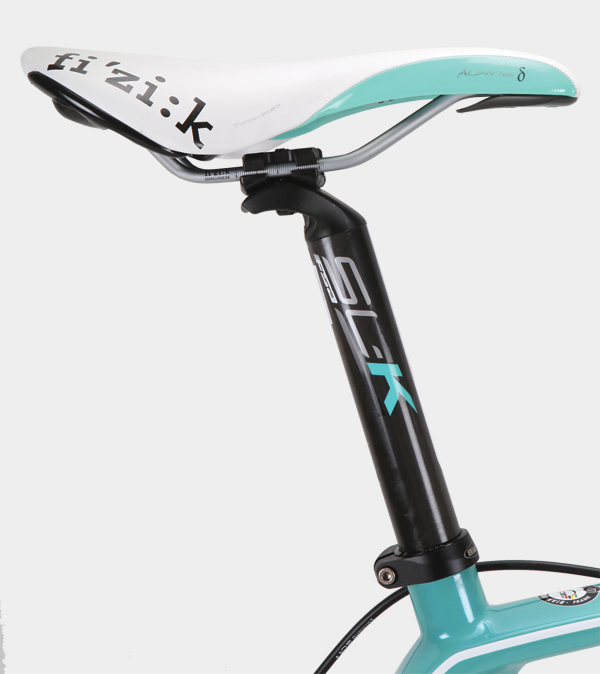 The cushioning effect of the Countervail dampening system isn't the only reason you'll feel more relaxed on the road. Bianchi's C2C geometry featuring a slightly taller head tube and longer wheelbase, together with a Fi'zi:k Aliante saddle and 50/34 compact crankset on all models combine seamlessly for an undeniably comfortable ride on the flat or hills. But don't be fooled. Throw your leg over for even just a few kilometres and there's no mistaking the Infinito CV is still a genuinely slick and obedient race bike when called upon to be so.
Having ridden a few Classics-specific bikes brimming with cosiness yet bereft of grunt or feedback, I found its nimble handling, assured descending and snappy out-of-the-saddle acceleration a real eye-opener; far more responsive than I'd ever anticipated. Whilst I didn't want to push my luck by racing on it, even though deep down I desperately wanted to, if it was mine I'd be just as confident throwing it around a well-surfaced, winding criterium track as I would rolling out for a 150km sportif on potted country roads. This really is quite an achievement, particularly if like me you find it hard to justify having two high-performance and not inexpensive bikes in your personal riding stable.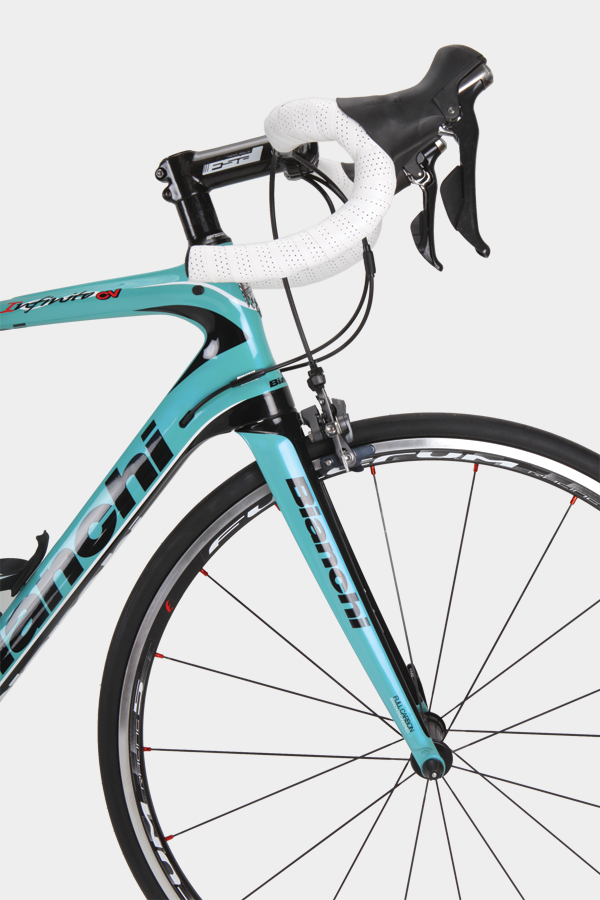 So how did Bianchi do it? Well, clearly Countervail is a lot more than just hype. It works. But as I assembled the gleaming review bike straight out of the box on my living room floor (a great way to get to know any bike) it took all of two minutes to realise there's also a lot going on with the Infinito CV frame design. From the intriguingly-shaped head tube and wishbone seat stays to the top tube, forks and flat bottomed down tube whose cross-section is almost triangular, run your hand over pretty much any section of the immaculately finished surface and you'll feel a superhighway of bespoke ridges, channels and contours no doubt honed through hour upon hour of computer simulations and on-road testing. In sharp contrast with the vintage of the business that created it, this whole bike screams contemporary engineering and has clearly been sculpted with an unwavering purpose and attention to detail. Up close I also found its lines refreshingly sleek and angular, especially for an endurance road bike. It looks modern. It looks fast. And it is.
Internal cable routing for the 11-speed Ultegra groupset and an old-school metallic head badge bearing Eduardo Bianchi's name complete a hugely impressive ensemble that's sure to draw plenty of admirers wherever you take it; the only exception may be hardcore Italian purists who will no doubt be horrified the groupset is Japanese. In such instances tell them to take a deep sip of their macchiato and relax, for it also comes in an 11-Speed Campagnolo Athena groupset if it bothers them that much. (While I'm at it I should mention the frame is fully electronic compatible and a higher spec 2014 model will be available in Australia with Ultegra Di2 should you prefer buttons over levers. The Di2 option also boasts an upgraded Fulcrum Racing Quattro wheelset.)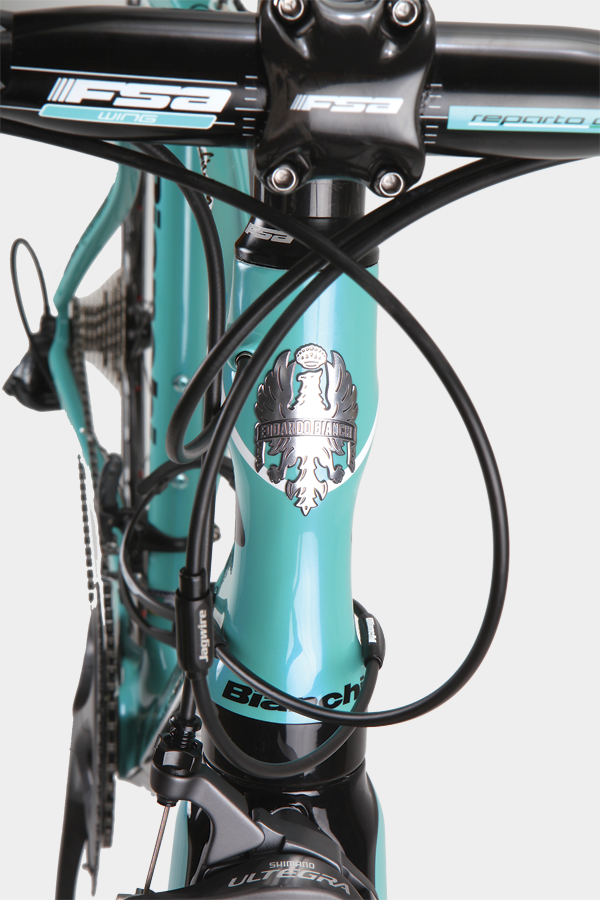 Without hint of exaggeration, the Bianchi Infinito CV might just be the finest all-round road bike for Australian conditions I've ever ridden; a seriously impressive piece of Italian bicycle engineering that looks the goods and delivers out on the road. Beautifully balanced and hand-finished, it has something to offer pretty much everyone from dedicated club racers to long distance weekend rouleurs. Better still, unlike many of the largely homogenous bikes on the market nowadays, it also has a wonderful story and heritage behind it, so you'll have just as much fun talking about it in the café as you will riding it on the road. If you really pushed me, my only advice to improve on it would be to perhaps swap out the ever-reliable but largely unexciting Fulcrum Racing 5s for your favourite carbon rim wheelset. Do that and you may just be in bicycle heaven. Now about that celeste paint job, Edoardo…
Summing Up: The 2014 Bianchi Infinito CV is magnificent. You'll struggle to find any other road bike that so perfectly suits the majority of riding conditions you're likely to experience in Australia. If I was in the market for a bike right now, this would be at the top of my list.
Performance: Comfortable, confident and quick. Beautiful balance and excellent handling everywhere from criterium circuits to wide open country roads.
Value for money: It isn't cheap. But if you consider you're essentially getting the best of two superb road bikes in one bike, it's worth every dollar. If you already have a good set of wheels at home, well, you're laughing.
Overall: The Infinito CV isn't for everyone. But that's purely because of the price tag. If you have the money and want to treat yourself to a hand-made, technology-loaded Italian gem you can ride virtually anywhere, buy it. For mine it's the classic Classics bike. It was very hard to give it back.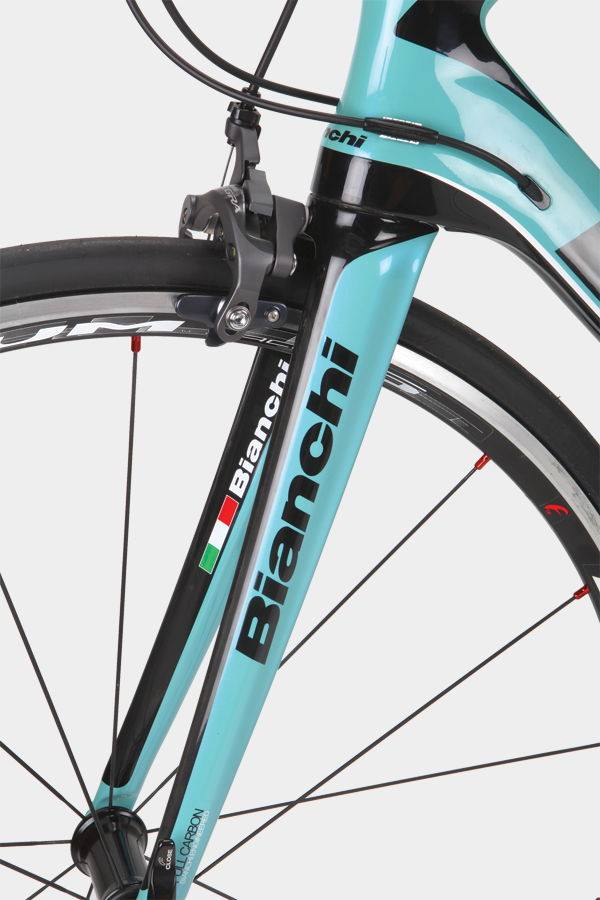 Specifications
Frame: C2C Infinito CV Carbon
Fork: C2C Full Carbon-CV – 1,1/8"-1,5"
Head Set: Fsa Orbit C-40-ACB
Stem: Fsa Team Issue, carbon
Handlebars: Fsa Wing Compact, alloy
Saddle: Fi'zi:k Aliante
Seat post: Fsa SL-K Carbon
Shift Levers: Shimano Ultegra 11sp
Brakes: Shimano Ultegra 11sp
Front derailleur: Shimano Ultegra 11sp
Rear Derailleur: Shimano Ultegra 11sp
Cassette: Shimano Ultegra 11sp 11-28T
Chain: Shimano Ultegra 11sp
Crank: Shimano Ultegra Compact 50-34
Bottom Bracket: Included in crankset
Wheels: Fulcrum Racing 5
Tyres: Hutchinson Fusion
Bidon Cage: Elite Paron
Pedals: N/A
Weight: 7.73kg
Price: $5,499.00